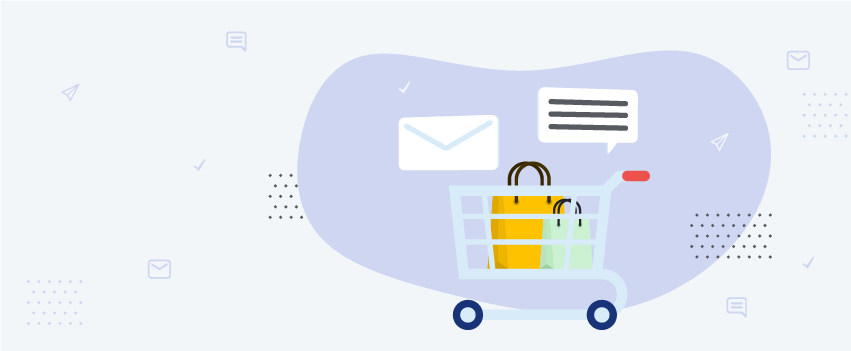 How to Combine Email and SMS for a Successful Abandoned Cart Strategy
Abandoned carts - every eCommerce store's worst nightmare, the industry's biggest black hole.

In 2020, just over 88% of all eCommerce shopping carts were abandoned, an all-time high. That means 9 out of 10 people who put something in their cart decided not to go through with checkout.

If you choose to look at it from the negative side, that's a lot of lost revenue.

However, it's also a great opportunity.

Customers that abandoned their orders still showed purchase intent, meaning they are in fact interested in your brand and products. Something stopped them in their tracks, though, and that's where you can make a difference.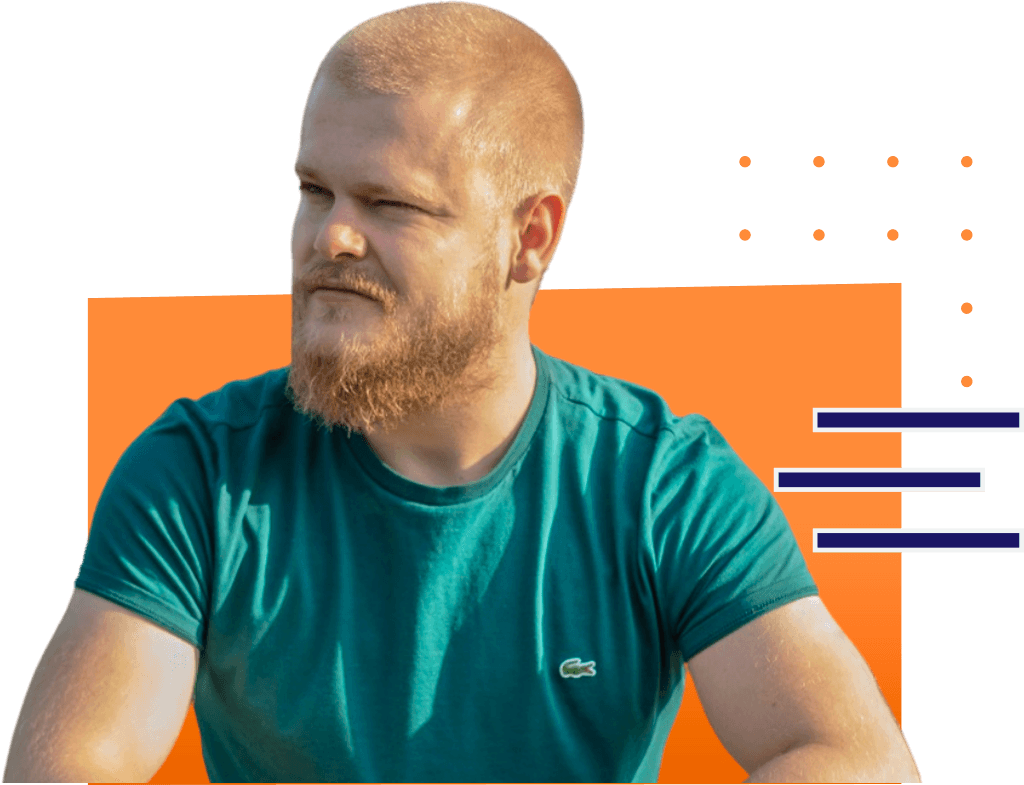 We've invited email and SMS marketing expert and CEO of Ragnar-Email Agency Florian Beaumont to give a little bit of a different read on abandoned carts, and first-hand strategies on how to leverage email and SMS to recover orders.

"We have developed a very powerful strategy, which allowed us to generate €6 000 000 in 2020 for our clients. I'm pleased to have been invited by SMSBump to discuss my techniques, tips and advice for building an SMS strategy that will increase your sales!"
Email & SMS: Connect and Engage with Customers

"People need to have a human relationship, to have contact that they don't have anymore because of the health crisis. That's why emails and SMS are so successful! They allow brands to establish a dialogue, to communicate directly with clients, to accompany them during these challenging times."

With COVID-19 causing eCommerce to grow at an unbelievable rate, getting customers all the way through the checkout line has become even more challenging. As more and more online brands continue to develop, consumers are naturally getting more eager to explore different options and are becoming less brand loyal, thus more prone to abandoning their orders, as proven by the statistics.

Besides more likely to leave their cart behind, consumers today want more personalized communication and offers online. Florian and his team realized that the current situation is calling for human, personalized and on-point customer interactions, every step of the funnel. Those kinds of interactions are exactly what he is after when working with brands to recover abandoned orders.

Because of its direct nature, SMS enables brands to engage with their customers in a true, one-on-one conversation, which immediately shortens the distance between them and builds trust. The fact that customers can simply text their favorite brand back with a question or an inquiry, and get an instant response, helps nurture the relationship and loyalty. Тhe 98% open rate of SMS and the growing habit to check our phones every couple of minutes, or over 150 times a day for the average consumer, make it the perfect channel to keep an ongoing conversation with customers, knowing your texts will always reach them and will get a quick reaction. And will successfully convert abandoned orders.

On the other hand email can help eCommerce stores showcase the complete value of their products and everything about them, tell their brand story, give customers advice, suggestions, point them to interesting reads, important information and updates, and much more.

While different in their approach, both email and SMS have the same goal - help your brand connect with customers. So how do you know what channel to use and when?

To Florian, there is no other answer than: use both.

Leverage Both Email and SMS to Recover Orders

"People are mainly multi-channel, so take advantage of it!"

Personalizing the communication goes as far as ensuring the right content reaches the right crowd and on the right channel. This is why when recovering abandoned orders, it's always a good idea to use both SMS and email.

For instance, over half of consumers would rather communicate with brands over text messages because of its directness and immediate reach. In addition, text messages almost never go unnoticed, making them perfect for brands to communicate important notifications, alerts, reminders, confirmations etc. that require the customer's immediate attention and action.

"An SMS should be short and provide the maximum amount of information in the minimum number of words. "

For longer content, though, a customer will usually prefer a beautifully-styled and formatted, brand-centric email.

This is why when working with brands to improve recovery rates, Florian always advises that they take the multichannel approach.
Email Strategy for Cart Recovery
Florian's recovery flow always begins with an email notification, launched only 10 minutes after the cart was abandoned, which ensures the customer still has the brand top-of-mind and will be more likely to return. This first email would usually just be a simple reminder that they have an order waiting for them.

Provided they don't convert, the customer will then receive a reassurance email that will give them a peace of mind by including some reviews and testimonials about the store's responsiveness, delivery speed, quality of the products and so on. This is an especially valuable step for any customer that's new to the brand and is hesitant to purchase from an unknown store.

In case that email doesn't get shoppers back to their basket, Florian advises to continue being persistent and offer them a promo code in a separate email. Only at this stage does Florian suggest leveraging a special offer because promos are great for big sales occasions, but are generally a "cheap" way of luring in single-time buyers and increasing returns. They can become difficult to keep track of and ultimately - can hurt your profits.

To maximize cart recovery, make sure to follow up with customers if they don't take you up on that offer. Nudge them even more by reminding them the discount is soon to expire, which will urge them to return and shop so they don't miss out on the special offer.

To keep customers engaged later on, Florian recommends that brands keep the conversation going by sending informative and educational emails about their products, how-to guides, use-cases, inspiring personal stories, blog articles etc. And leverage the full potential of email marketing.

To make the most out of his abandoned cart recovery strategy, Florian never forgets to enable an SMS sequence, which has proven to be more successful by a long shot.

The 10x ROI Abandoned Cart SMS Strategy

"I find that abandoned cart recovery is REALLY the specialty of SMS Marketing."

Following the first email reminder is an SMS notification, sent 20 minutes after the cart was abandoned. And he explains why this combination and timing work:

"By sending the SMS and email reminders only 10 minutes apart from each other, you increase your chances to be seen by your customer and therefore, to sell your products. If they didn't see your email, they will see your SMS. And vice versa. "

As you've probably already gathered, one of the significant factors when it comes to abandoned cart recovery is message timing. You want to make sure that:

You neither send too many reminders, nor too few

You neither send them too early, nor too late
For his clients, which are primarily beauty, sport and clothing brands, Florian has found out that a 3-step SMS sequence works miracles in recovering abandoned orders: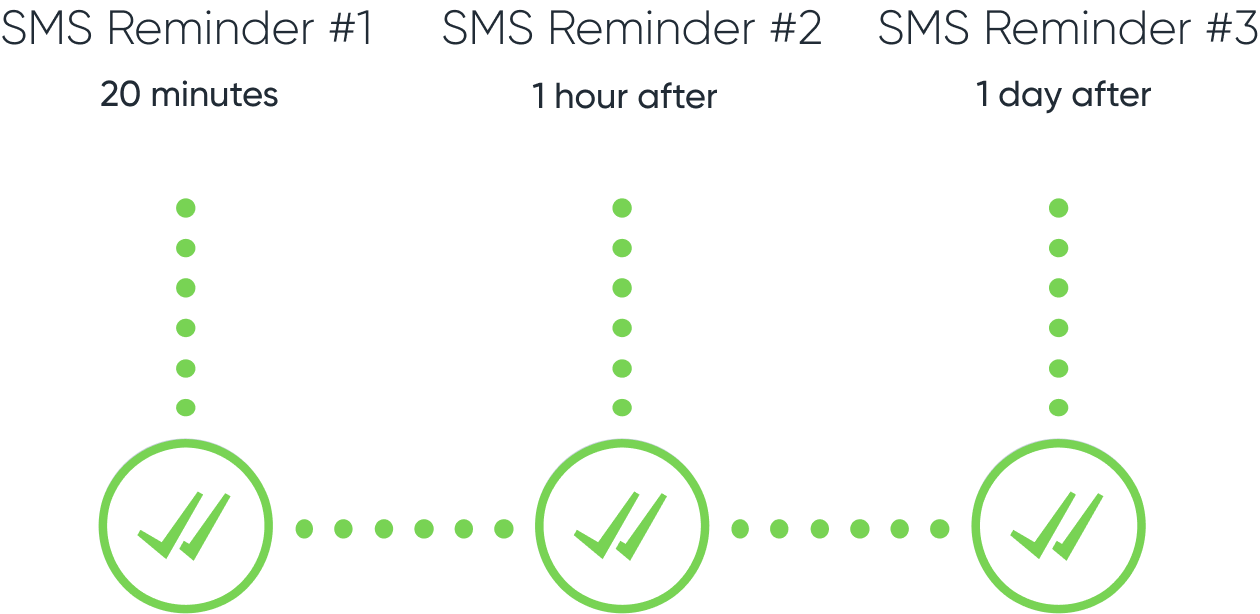 So it's really a matter of testing and trying out different strategies until you get it right for your individual business.

Of course, as much as timing is key, so is finding the right nudge that will get your customers to return to their carts. Just like with his email strategy, Florian's approach to SMS is not so much about reducing the price and giving discounts, as it is about using psychological levers to appeal to customers.

The messages use the so-called scarcity principle, i.e. they urge customers to act quickly so they don't lose their cart and all the products in it. The copy emphasizes the lack of stock, the popularity of the product and that it is trending with customers at the moment, so quantities might not last.

"Offer a discount only on the third SMS, because money is not the number one objection and you will reduce your margin unnecessarily. Instead, use FOMO, scarcity and urgency in order to succeed in generating conversion."

Florian's rich background in eCommerce has shown him that when people leave their cart behind it can be for a variety of reasons, but it's rarely because of price. So offering a discount too early in the process will only take away from your profit and might decrease the worth of your product, ultimately affecting your customer's decision to buy.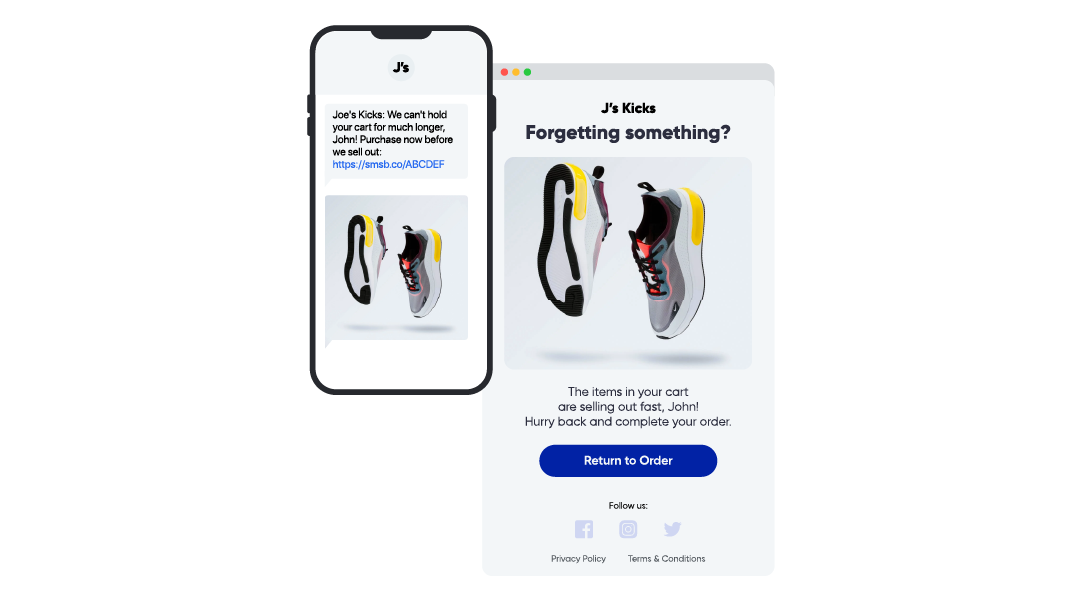 Combining the strengths of one of the oldest marketing technologies and one of the most effective communication channels nowadays, has proven to be a successful eCommerce recipe for Florian and his clients. So much so that he believes the future of the industry lies exactly in email and SMS marketing.

What Does the Future Look Like for Email and SMS
Especially now, with the depreciation of the cookie and third-party data, eCommerce communication is going to rely more and more on owned marketing. The future is in personalized messaging and strong customer relationships, both possible with SMS and email.

"For me, the place of email and SMS marketing in eCommerce will grow continuously, year after year. People are more and more looking for relational contact, and this contact is mainly found in email inboxes and SMS."

As long as you are respectful to your customers and their privacy, you can continue leveraging both communication channels independently or combine their strengths for the ultimate customer experience.

For those of you looking for a more detailed email and SMS strategy, feel free to connect with Florian and his team of marketing "vikings" at Ragnar-Email Agency. They'll be more than happy to help you out on your way to maximizing sales and minimizing abandoned orders.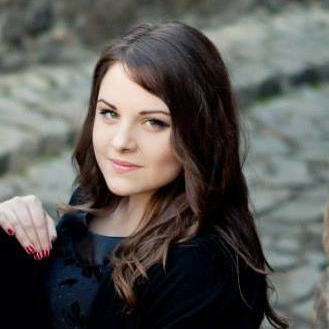 Start growing today
Sign up today and join 90,000+ eCommerce businesses making it big with Yotpo SMSBump