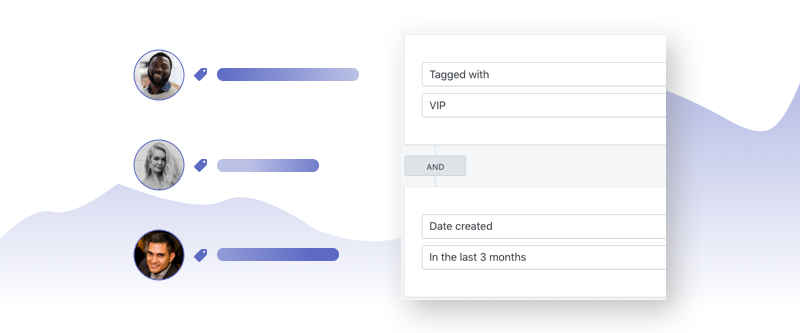 Shopify Customer Attributes: The Better You Segment, The Better You Convert
This is the second tutorial about SMSBump Segments and today we're going to show you the next Segment rule category in the app - Customer Attributes.

In case you missed it: How To Segment Your SMS Audience By Customer Behavior

Let's overview the second category of Segment rules to discover more combination variants for building an audience for SMS marketing in Shopify:


Customer attributes consist of 3 types of information about your shoppers: Tags, Account Status and Date Created.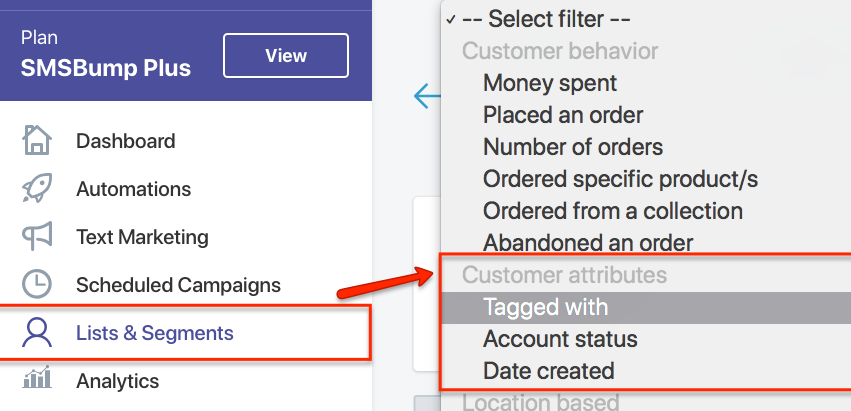 Important: You can build segments using just a single segment rule or be more specific and combine different rules to narrow down your audience further.
---
Let's create a new segment in the SMSBump app and explore the Customer attributes:
Tagged with
Customers who were tagged depending on their actions, status or behavior.

You can add the Customer tags from your Shopify store to the segments you're building in SMSBump.


Tags are used in Shopify to add unique labels to your customers. For instance, "wholesale" or "VIP". They are based on your preferences for filtering customers and giving them tags to group them for better organization.
The SMSBump Segments let you use those tags to make your audience more narrow. For instance, you can build a segment with all the customers in your Shopify store with a VIP tag.
Tags are managed in your customer details pages: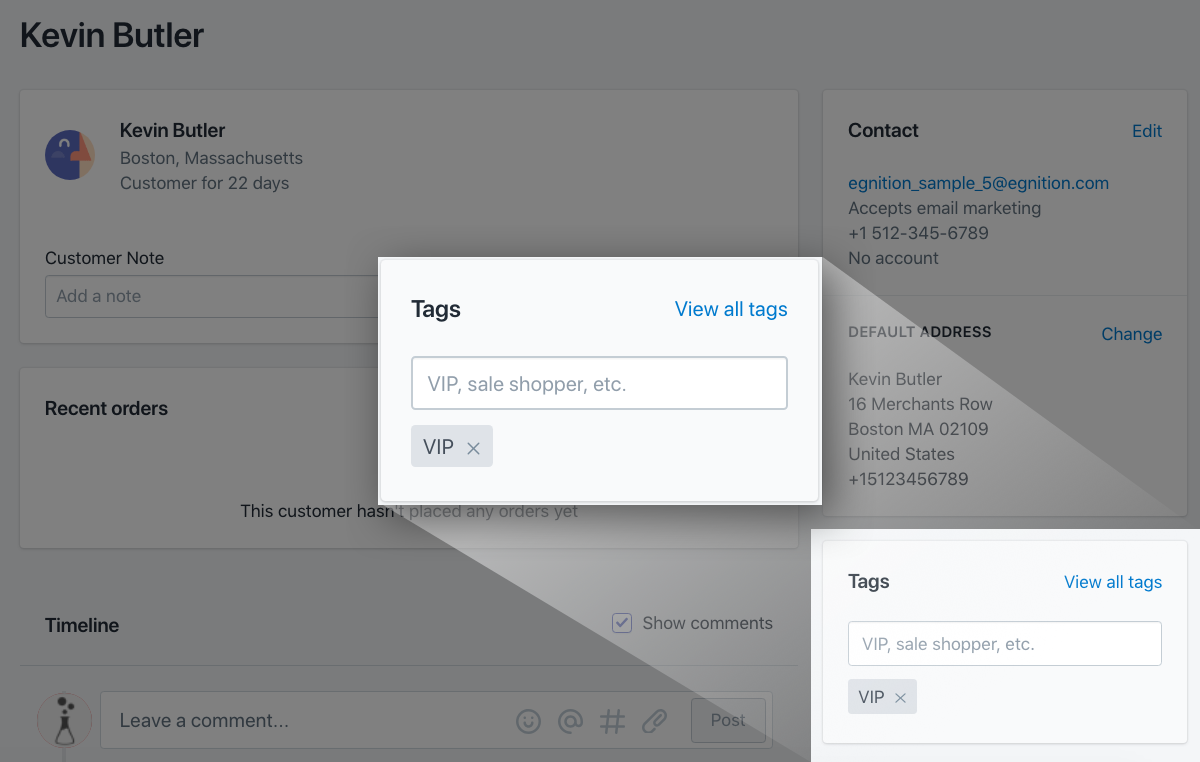 Account status
Customers with different account statuses can be messaged based on your goals.

Customers have four possible account statuses in Shopify and you can add them to the Segments you're building with SMSBump.

You might want to filter the customers in your segment and only leave the ones with an enabled customer account in your Shopify store.
This way you're not wasting your credits on messages that will be sent to customers who are disabled or declined your invitations.
​
Date created
Customers who have signed up recently or ones who have been shoppers for awhile.

Use the Date created customer filter to separate your audiences between new and existing customers.


When you're creating personalized marketing campaigns you can use this Segment rule to build a different approach for older customers and new ones.
Your promotions for customers who have been with you for a while can be sent as rewards for their loyalty.
Meanwhile, your new customers can be encouraged to continue shopping with small but sweet discount codes after their first purchase.
---
Example Strategy
Activate New Customers
Build a segment of customers who have signed up in your Shopify store but haven't made a purchase or made just one or two orders.
Since they're not engaged enough with your store to open it on their own, you can send them gentle SMS notifications to reach them.
SMSBump Dashboard > Lists & Segments > Create New Segment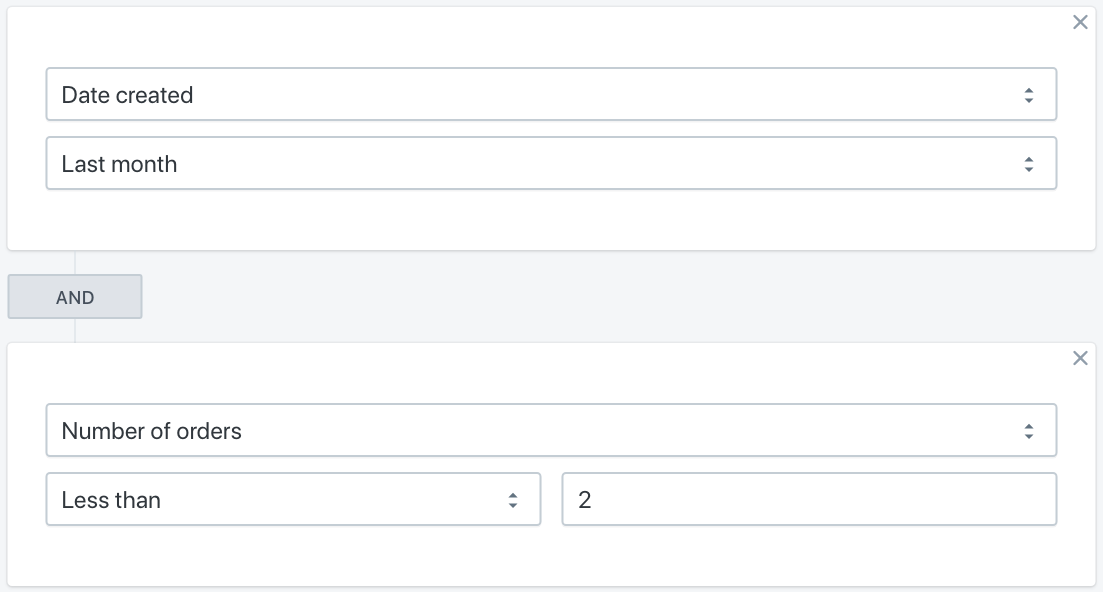 Engage them with a welcome offer or introduce them to some of your new products.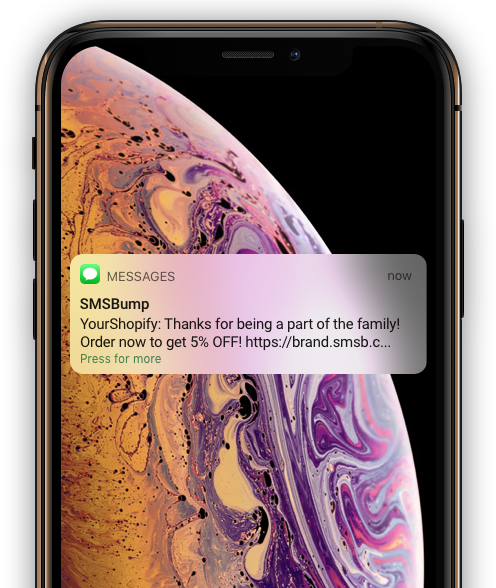 Segment Better to Sell Better!
However specific your brand's niche, each of your customers is an individual person with their own preferences and habits. This is why customer segmentation is such a big part of marketing the right way to the right customers.
---


Start growing today
Sign up today and join 90,000+ eCommerce businesses making it big with Yotpo SMSBump