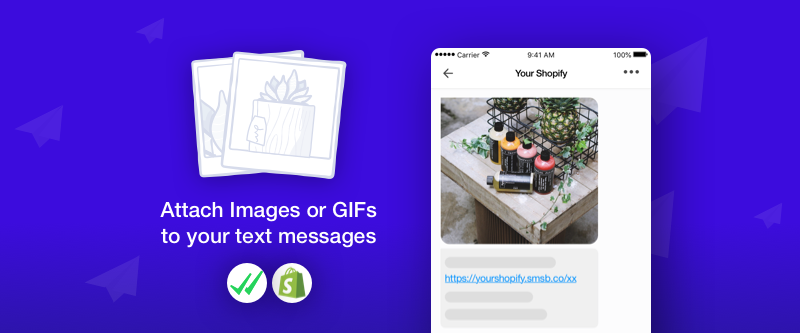 All You Need to Know on Using MMS for Boosting Sales in Shopify
Let's talk a bit about getting your SMS marketing strategy to the next level and how to use SMSBump to keep growing in Shopify.
More specifically, we'll talk about the new MMS feature and how it allows you to use images and GIFs in text messages going out from your Shopify store to your customers.
MMS messages were just launched and here's what we like the most about them in a nutshell:
1600 characters including emojis

Images or GIFs to complement your message

Better conversion (15% increase in our closed beta)

Higher click-through rates (10% increase in our closed beta)

Better brand recognition (Use with the branded URL shortener for optimal results)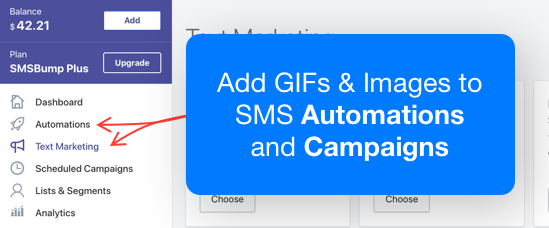 You can use the new MMS both in your SMS Automations and SMS marketing campaigns!

What's MMS?
Literally, MMS means Multimedia Messaging Service and it's a highly effective mix of text and graphic content such as images and GIFs to generate more interest in your marketing message.
Simply put, you can now add visuals such as product photos to increase the engagement of your text messages and boost their promotional power for displaying your store's special offers.

The other healthy bonus is the significant increase in the number of characters you can use in a single message.
Going up from 160 to 1,600 characters is a huge difference when it comes to presenting your brand, advertising your products or giving details about a promotion.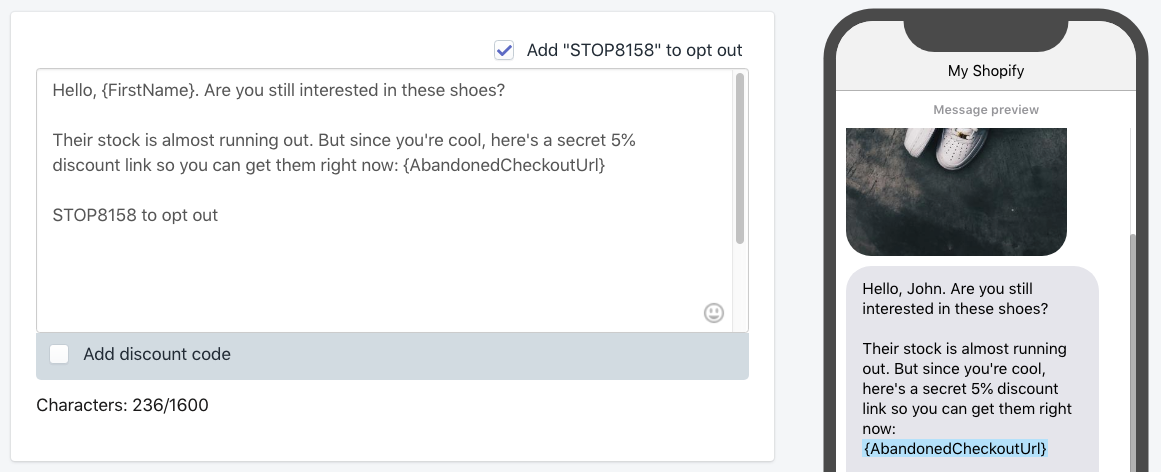 This is a good example of one way you can use MMS to increase the effectiveness of your abandoned cart SMS automations.

How do you use MMS in Shopify?
With SMSBump, it all happens with a single click.
MMS is now available for all automations and SMS marketing campaigns. This means you can find the Attach image or GIF field in any text message creation screen in the app.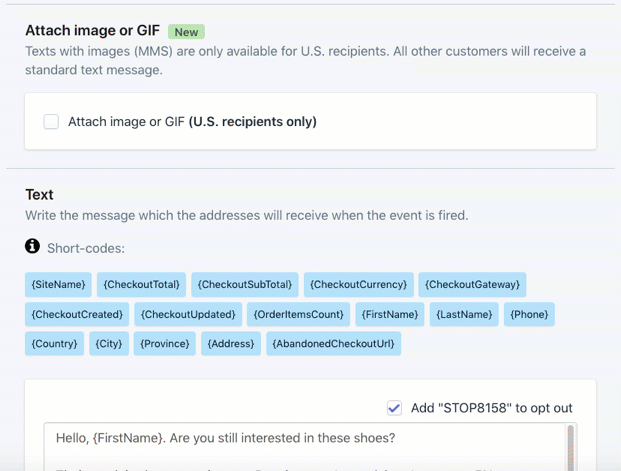 Upload the image from your device and it will be processed and optimized to fit into the preview the same way it's going to be displayed in the hands of your customers.


You can upload JPEG, PNG or GIF image formats, as long as the file is less than 1 MB. Leave the optimization to us.

How do you benefit from MMS?
There are a few key factors that make MMS messages so awesome for E-Commerce sites:
Product images, banners, GIFs. Customers always perceive visuals much better and faster. Plus, a great first impression especially if the image looks as good as this one: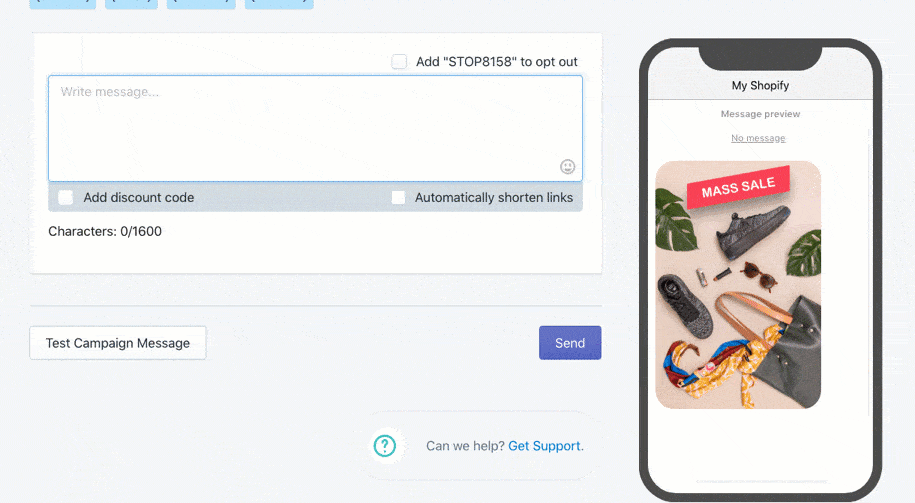 Dramatically increased character count. From 160 to 1,600 characters in a single message is a huge boost that marketers will appreciate. It's only enabled when you turn the normal text message into an MMS message by adding an image or GIF.


All the emojis you want. Emojis no longer cut the character counter and you're not limited to a smaller message just because you added a smiley face.

If you felt limited by the 160 symbols so far, this is what's truly going to set your creative juices free so you can create SMS promotions, notifications and updates to impress your customers.

How does MMS marketing improve your customer engagement?
Announcing your deals turns into a whole new experience for your customers now.
Using the visual element to demonstrate your style, capture attention with gorgeous graphics or product photography, it all combines into an impressive and engaging way of promoting your brand.
​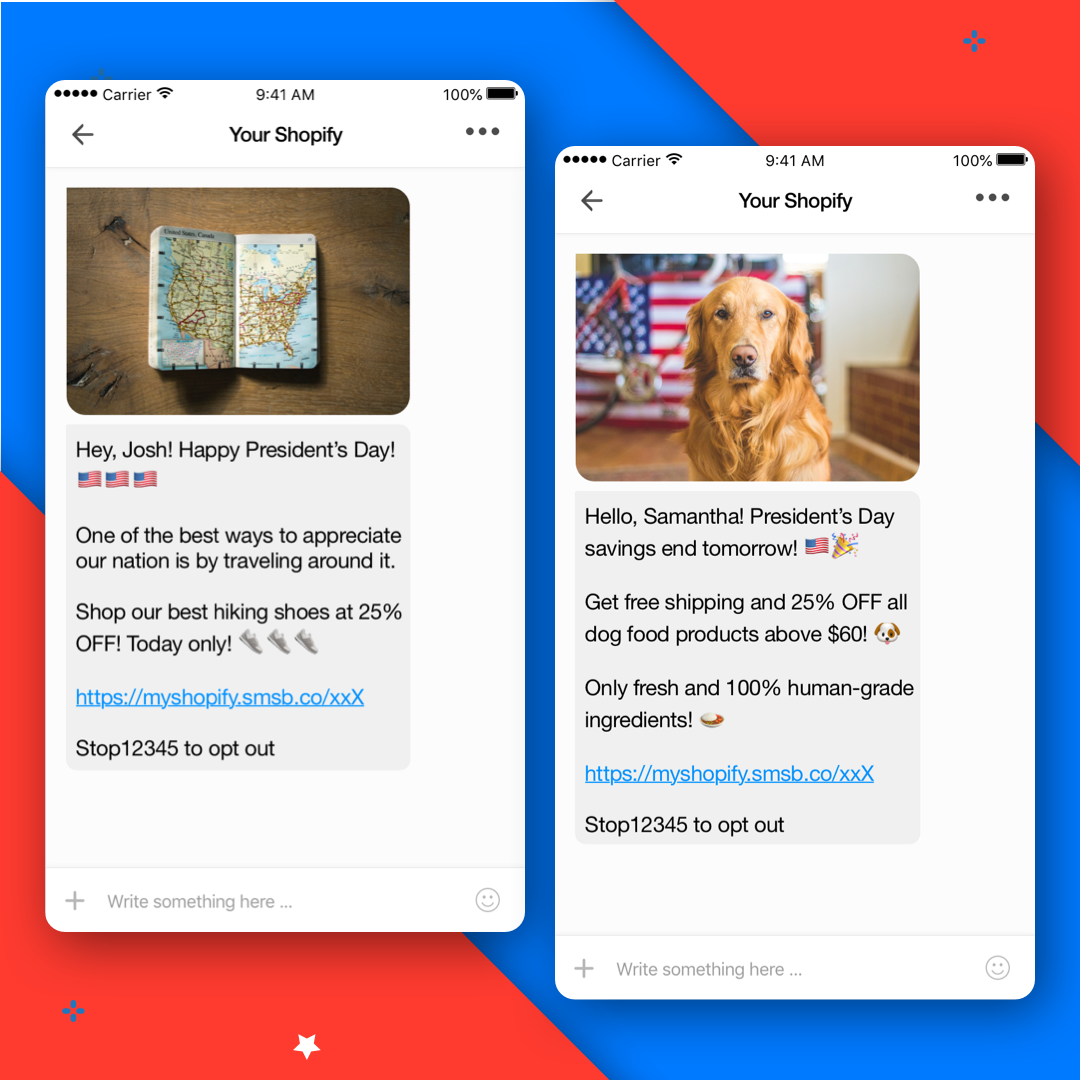 A Better Customer Experience
Text messages paired with images (MMS) provide much better experience for customers since a picture is always more powerful than words. Images make the message more attention-grabbing and easier for customers to instantly understand what you're trying to say.

Increased Engagement
Sending an MMS message that attracts more attention ultimately increases the engagement rates and click-through rates. The more recipients interact with the message, the more likely they are to take advantage of the offer you're sending.

Better Brand Recognition
Seeing an image or a GIF in the message means that customers instantly recognize the business sending the message and relate to the products presented right away. The more impressions your business gets, the better the chances of conversions.

Boost Sales & ROI
A more detailed message paired with visual content to seal the deal turns normal SMS marketing into a whole different mobile experience for your customers. An experience that ultimately leads to more sales and much better ROI for your SMS / MMS automations & campaigns.

Image Optimization
SMSBump adds multiple layers of image optimization before the campaign is scheduled to ensure the best possible visual quality is delivered and all carrier requirements are met.

Backup SMS Plan
All U.S. carriers support MMS messaging but since these messages are only available for recipients based in the United States, recipients from all other countries will receive the same text message, just without the image or GIF.

Optimal MMS Sending Routes
SMSBump only uses the best possible carrier routes to deliver your SMS & MMS messages so we don't let important multimedia messages be undelivered.

Just in case...
Just one important note: If you happen to reach the max 1600 character count your message will end there, instead of being sent out as two messages. Basically, you should try to stay within the 1600 characters, although it sounds like a good idea to challenge the biggest SMS marketing enthusiasts.
---


Start growing today
Sign up today and join 90,000+ eCommerce businesses making it big with Yotpo SMSBump