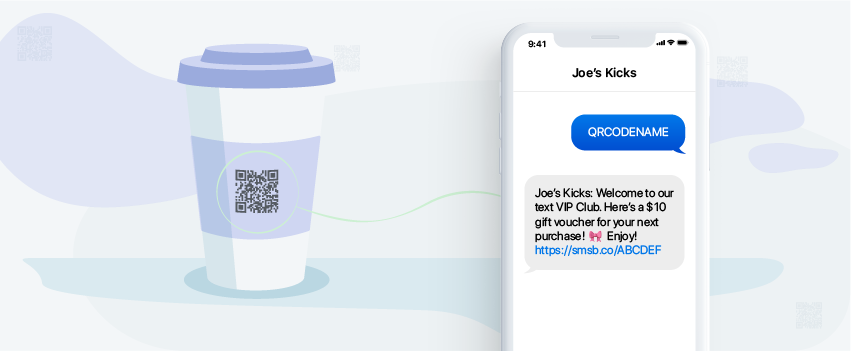 Use QR Codes and SMS to Create a True Omnichannel Experience
Over two decades after QR codes were first announced, they are now making a huge comeback. They are growing in popularity and use, especially in the current global situation.
QR codes provide businesses with plenty of opportunities to grow, by combining traditional and modern marketing strategies to present consumers with fun and engaging interaction with brands.
General Benefits of QR codes
With QR codes potential customers could get access to an exclusive mobile-ready digital content within seconds. They simply need to scan the QR code through their phones and will be instantly redirected to a designated landing page with a special discount, personal message or a YouTube tutorial video.
Another great benefit of QR codes is the fact they allow an omnichannel experience, since they can be used across multiple platforms, combining online marketing with print and outdoor advertisement. They are also highly customizable, and easy to implement. And last, but certainly not least - their use can be easily tracked, allowing brands to analyze ROI on channels where that was not possible before.
Overall, QR codes are a great tool for merchants to connect with people, improve their shopping experience and enjoy a solid boost in sales.
Applications of QR Codes
Due to their versatility, QR codes have countless applications, and businesses, both online stores and B&M, can really benefit from them.
B&M stores can use QR codes to stimulate purchases at points of sales by providing customers with useful information about the products they are interested in, or help shoppers envision what they would look like/feel like after the purchase. This is why some B&M stores put QR codes on the label tag of certain products, let's say a silk dress. By scanning the code customers are redirected to a video of people with different body types modelling that same silk dress. Or a page with trendy looks and combination of accessories that go along with this particular piece of clothing and are also on sale.
Another way to use QR codes at points of sale would be to display a banner at a B&M store with a QR code leading to an active promotion on their online store. People can make the purchase without even entering the store, and come back another day just to pick it up or have it delivered at home.
QR codes are a great option for B&M stores to remain engaged with their customers even in the ongoing pandemic situation when contactless shopping and delivery have become key priorities for shoppers. Check out the way Walmart implements completely contact-free payment, pick up and delivery services for all stores. Instead of using touchscreens on self-checkout devices, customers in stores simply need to scan a QR code with their devices in order to pay completely free of contact.
Businesses can combine QR codes with offline marketing tools in order to reach out to customers, collect subscribers or increase brand awareness. It used to be almost impossible to track the results of an outdoor advertisement campaign, but with the help of QR codes marketers can determine which outdoor positions are more successful than others in terms of driving website traffic, sales or any other metric they want to keep an eye on.
Online stores can achieve a direct boost in sales by sending print catalogues where each product has a designated QR code, leading potential customers to the exact product page on the website. This is how they will immediately find out if it is in stock and available in the color or size they want.
QR codes serve as the missing link between the moment someone sets eyes on your product and the checkout process where they are already making an order from your store. It is a major game changer for brands that want to combine more traditional tactics with innovative solutions and mobile marketing.
SMSBump & QR Codes
With all those amazing applications of QR codes and opportunities for brands, it should not be a surprise that we decided to implement QR codes within SMSBump!
By combining the power of text marketing with QR codes Shopify stores will be able to successfully grow their subscribers and afterwards send personalized offers, leading to improved customer experience and boost in loyalty.
QR Codes to Grow Subscribers
In order for your business to grow you need to continuously nurture and expand your lists of subscribers. QR codes are the perfect and very subtle way to build your SMS audience while offering great deals.
Brands can include QR codes in their regular brochures, flyers, leaflets or other print materials sent out per mail or distributed through physical locations. Other options include adding them to magazines, newspaper ads, posters at subway stations, car stickers, store windows, etc.
From there on subscribing is really easy and just 1 click away. Once potential customers scan the code on their phones, they are redirected to the text messaging menu, where they see a message with a predefined keyword included. They only need to hit the send button to be subscribed to your text marketing list! To have a shot at an immediate purchase, offer your new subscribers a small discount along with your welcome message. This will give them an additional incentive to make an order.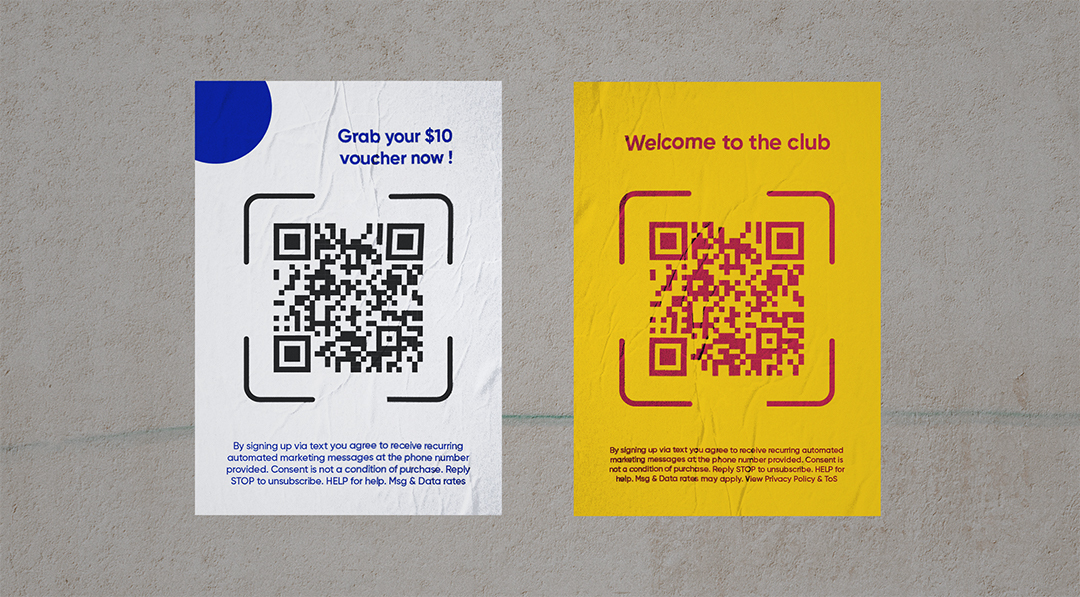 Usually print and outdoor advertisements are limited in space and QR is the perfect tool to make the most of it and spark interest. People will be curious to scan the code and see what comes next, especially if the rest of the poster and your CTA nudge them to. Remember that QR codes are highly versatile so they can be used on all kinds of places and materials, allowing for brands to reach out to different communities in many different channels and forms.
One of the best advantages of using this powerful combination, except the boost in subscribers, is that the QR code will give you the opportunity to track the ROI of your offline marketing advertising which is not something that could have been achieved easily before (if at all).
Now that we have taken care of growing subscribers it is time to move to the next step and think of ways to approach and keep them engaged to your brand.
Send Personalized Offers
Personalized offers can help you better engage with your audience and establish a long term relationship with your customers. By making each interaction with your product a personal and customized experience, you will soon enjoy the benefits of shoppers coming again and again to your store, and remaining loyal to your brand.
One way to send personalized offers with the help of QR codes is to include them in your product packaging. So whenever a customer receives their order from your store, they will notice a printed QR code with a short & sweet personal note. Scanning the code with their phones and becoming a subscriber, they will be rewarded with something exclusively for them. What that would be is entirely up to you! You can use this opportunity to offer a personal discount for their next purchase, exclusive access to your latest collection, complementary products, etc.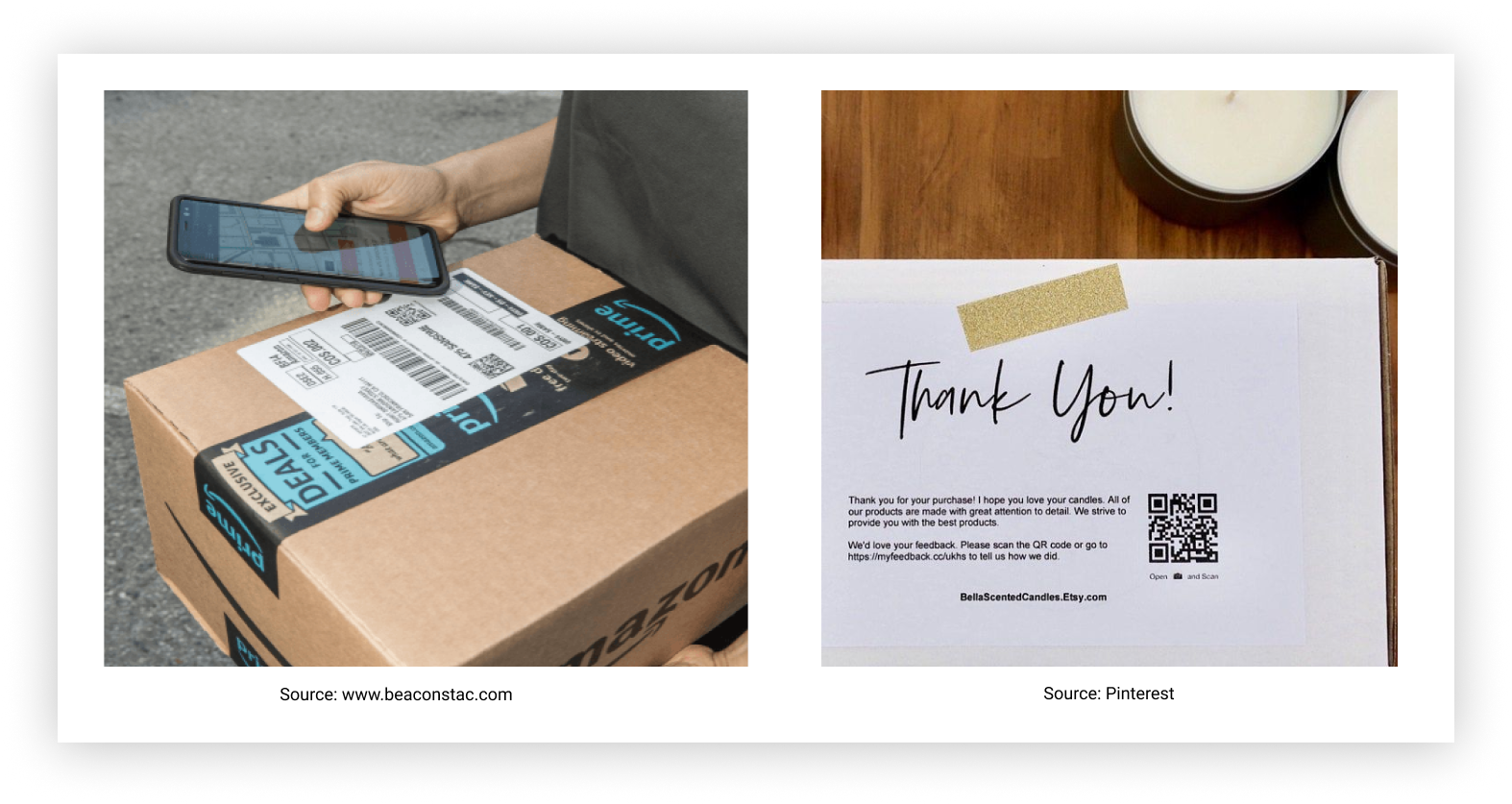 With QR codes and SMS marketing businesses can have direct access to their audience, engage with them freely and in multiple locations (both on and offline), and offer targeted promotions to boost sales and brand awareness.
Final QR Thoughts
QR codes are very powerful tools for every marketing strategy and when used properly can bring a lot of value for your brand and business.
Just remember that not all people are that familiar with them (yet) so it is always helpful to provide brief instructions alongside any QR code, explain where it will lead visitors and provide a link to a site or mobile application where users can download a QR code scanner.
If you need further inspiration on how to implement them to your business, check out this article with 16 great examples of brands benefiting from QR codes.
Mariya Arabadzhieva Todorova
Start growing today
Sign up today and join 90,000+ eCommerce businesses making it big with Yotpo SMSBump