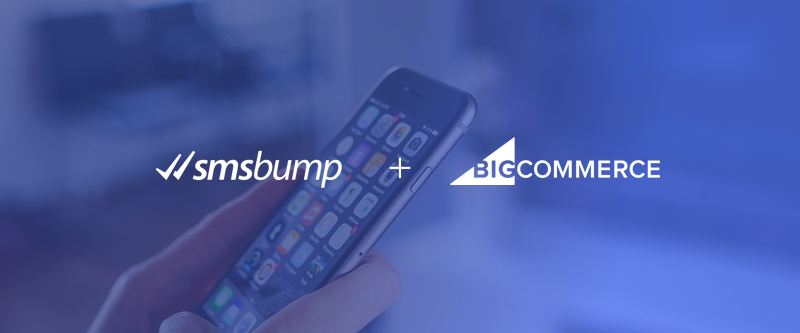 Meet SMSBump for BigCommerce: All-in-One Text Marketing Automation
Introducing our brand new text marketing automation app for BigCommerce!
SMSBump just got a major makeover and we're eager to tell you all about the powerful new interface and features under the hood.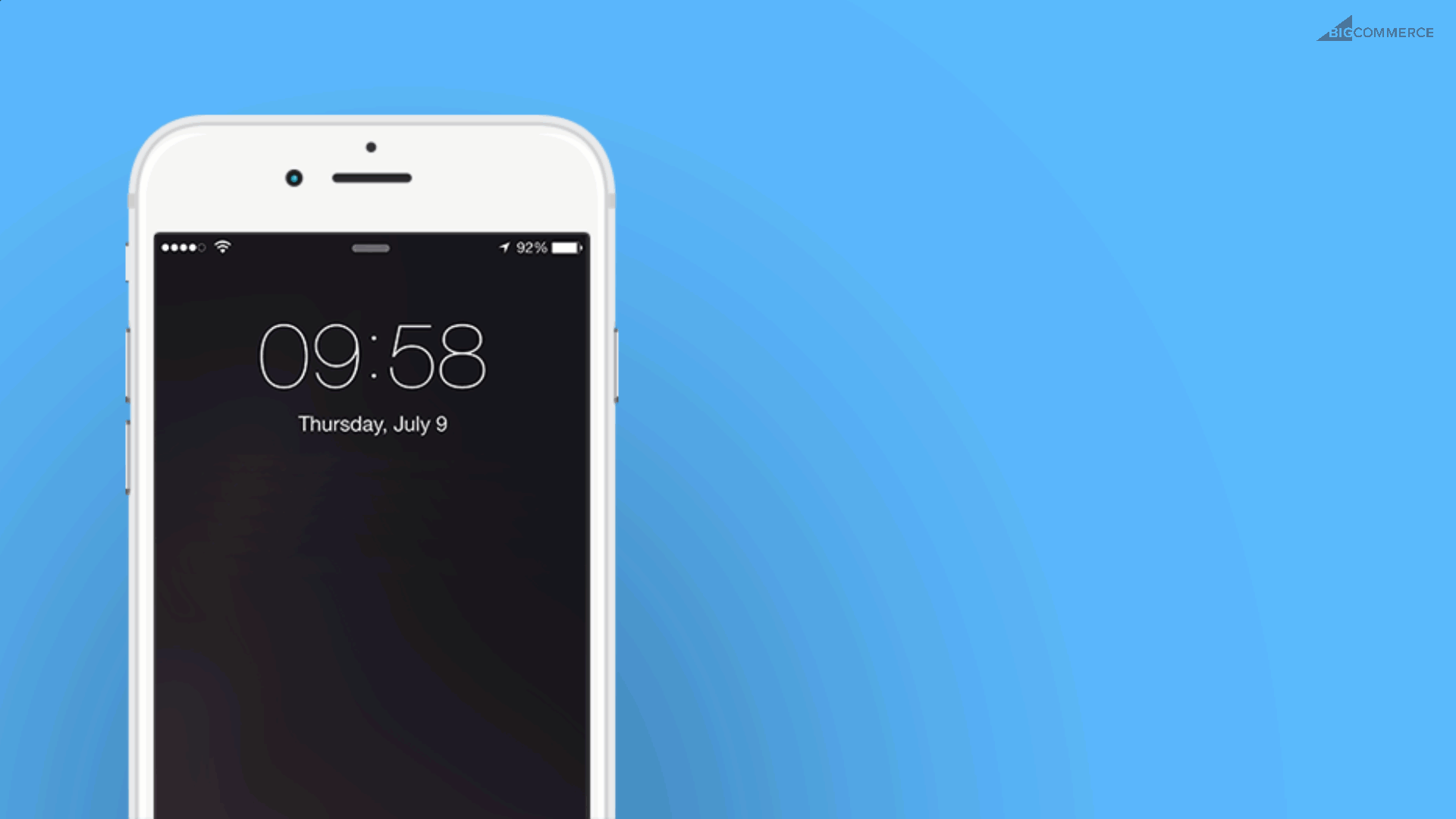 New Design: Improved user interface and intuitive workflow.

More Control: Targeted, flexible and customisable text marketing campaigns.

Autopilot: Text automations for customer actions (new order, abandoned cart, new customer registration, etc).

Analytics & Tracking: Data for ROI, clicks and orders from text marketing campaigns and automations.
Your New Secret Weapon to Sell More in BigCommerce

SMSBump is your new best friend for growth hacking your way up to more sales and conversion.

While E-Commerce businesses are struggling to leverage social media advertising, email marketing campaigns, video ads and more, we decided to take a different path.
We wanted to get away from the noise and clutter of mainstream marketing solutions and give entrepreneurs a more direct and effective tool to grow and succeed.

Text marketing is all about the ability to use texting (SMS) to reach your customers.
It lets you reach them straight to their mobile phones ensuring they will see your message and will have a one-click way to complete the action you want.

Friendly UI: Simple, Fast, Optimised for Productivity

Your main navigation includes shortcuts to everything you need to tell SMSBump what to do.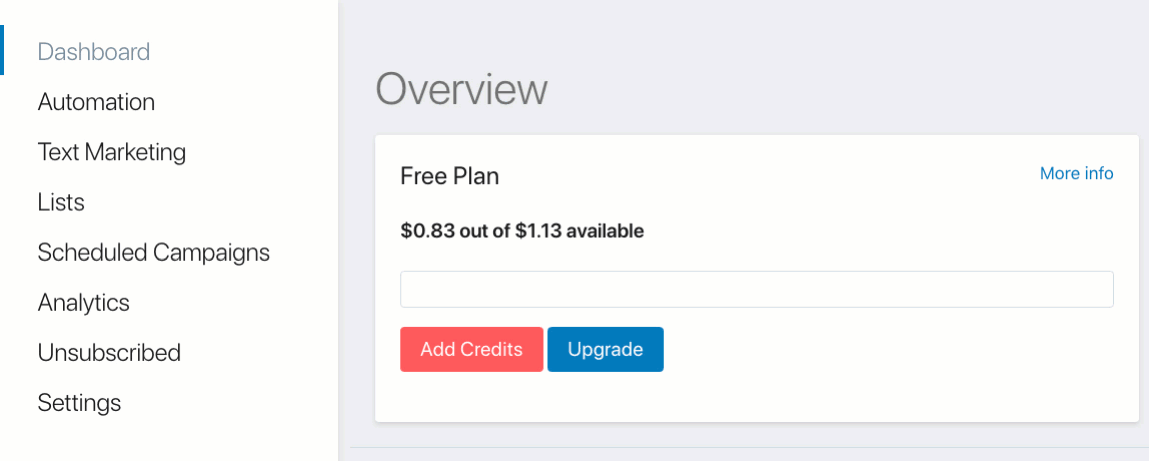 ​
Automations

Text Marketing Campaigns

Subscriber Lists

Scheduled Campaigns

Analytics

Unsubscribed Users

Main App Settings

The dashboard also gives you quick view & access to the latest messages you sent to your customers.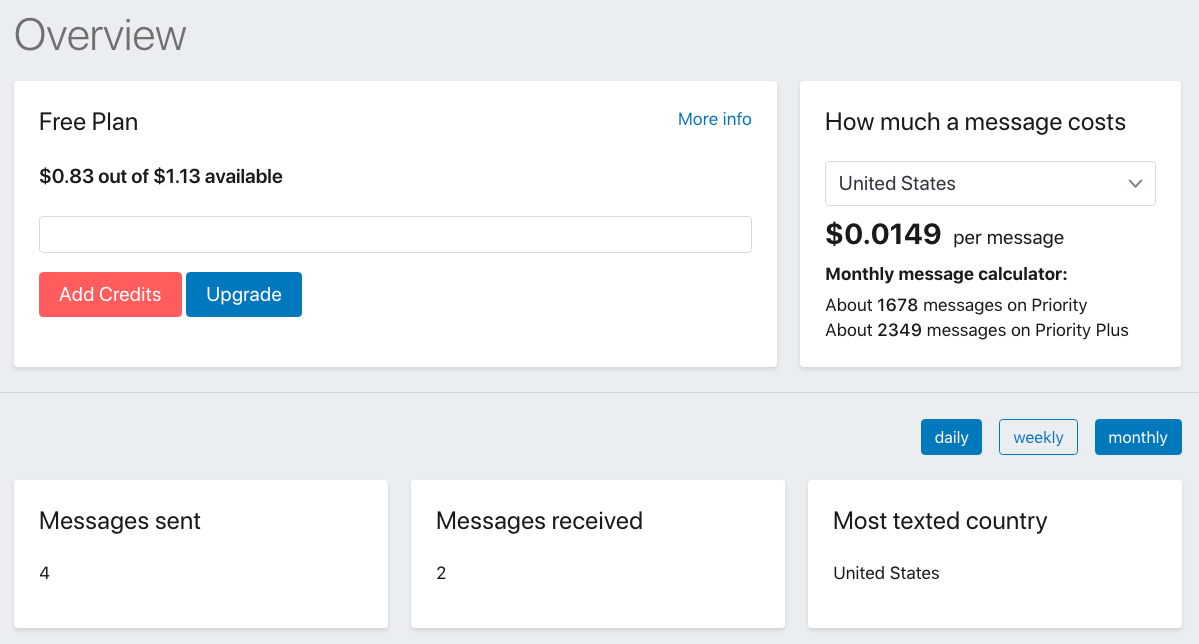 You can now easily track important information such as:

Global pricing

Total number of sent & received messages

Your favorite country for texting

Your account balance & credits

But enough with that, let's get into the good stuff!

Ready to Activate Your First Marketing Automation?

You have much more options to choose from for increasing your sales with the new SMSBump.
You want to set an automation that sends text messages to customers whenever they complete a certain action?
Easy.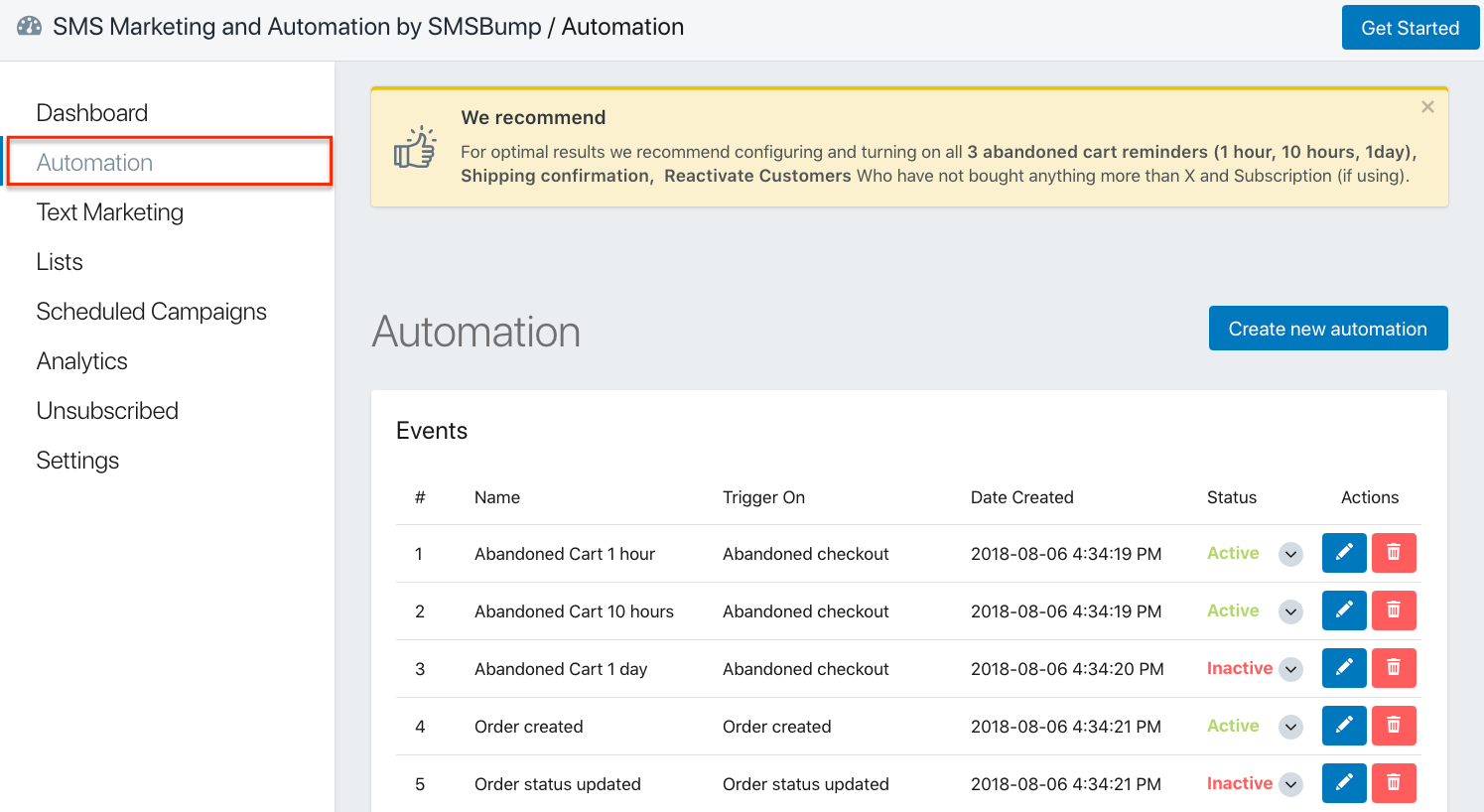 We have a few automations ready for you to start with.
Customise and activate them to begin.
You can use the built-in customer actions to select what triggers your BigCommerce store to send a text message.
A customer has abandoned a cart without purchasing? Very likely, since this happens to nearly 80% of all shopping carts around the world.
No worries, we got you covered.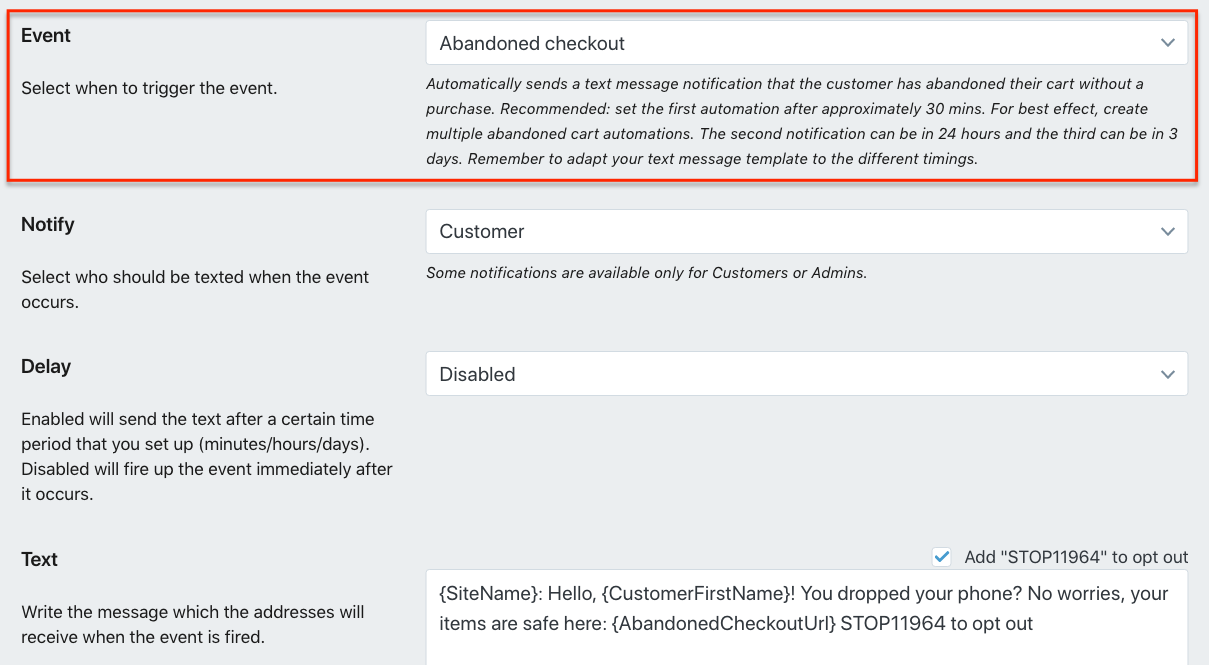 Set an automation that reminds your customers of their forgotten products at the right time and sit back as you watch those carts roll back through your checkout.
...successfully!
Meanwhile, other transactional SMS notifications such as a new purchase or shipping updates are conventional for the E-Commerce industry and help build more trust and show customer appreciation.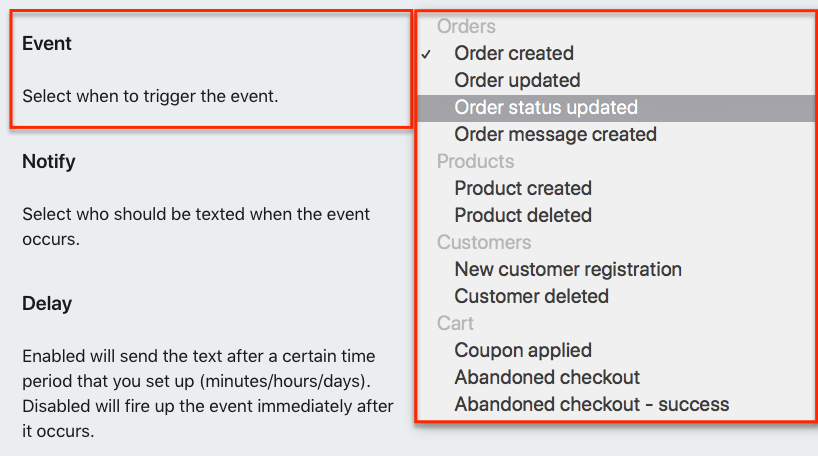 Activate the automations for Order Created, Order Updated and New Customer Registration to automatically notify customers with concise and straight-to-the-point text messages.
This helps customers to be certain that all their account information is confirmed and their goods are safely on their way.

Ready to Launch Your First Text Marketing Campaign?

Running a sale and want to promote products with a text marketing campaign?
Easy.
We have prepared custom targeting filters to help you reach the exact customers you want.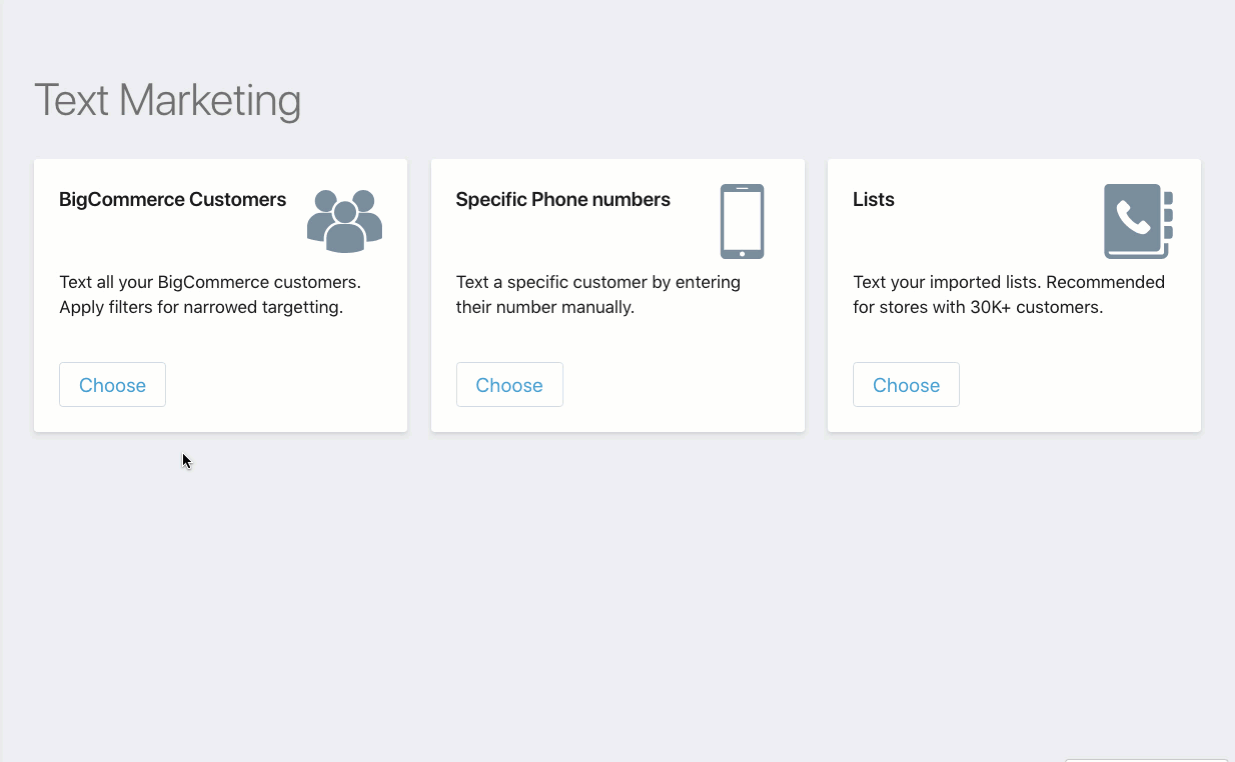 You can target all the customers in your BigCommerce store, or you can craft targeted text marketing campaigns for…
Specific customers

Customers who spent more or less than $X.xx

Customers who ordered products in a specified period (Example: Last week)

Customers who have made an order and might need a shipping update

Customers with more or less than a specific number of orders

Customers who registered in a specified period (Example: In the last 3 months)

Customer groups

Customers who accept marketing

You can surely imagine unlimited possibilities and scenarios already.

Personalize Text Messages with One Click

Increase conversion even more with personalized text marketing messages.
Personal texts are much more powerful than messages that are obviously sent by a robot.
Start with the customer's name and talk about their individual actions. It feels much more like a personal conversation and it's easier to appeal to customers and make them feel special.
You have short codes for all the important customer details, links and names you want to enter in your text message.


For example, this is the Abandoned Cart Automation template where you have predefined short codes for:
Abandoned Checkout URL

Cart Total

Cart Product Count

Cart Currency
These short codes will automatically get the specific data for each customer and their cart.
This way, you will be sending personalized messages starting with the customer's name and including all the information from their abandoned cart.
Same goes for all other Automations and Text Marketing Campaigns.

Make Sales, Not Angry Customers

Text messaging is powerful, but if you cross the line and make a customer unhappy with unwanted messages, they will want to unsubscribe.
That's why we have this small checkbox available:


Always add the STOP unsubscribe option with a single click to let customers easily opt-out of your messages in case they want to.
If we follow this example, all customers will have to do here is text back STOP11964 (the numbers after STOP are unique for your account and will be different). That way, they won't receive any more messages.
Imagine getting aggressive advertising texts you don't want and you have no way to stop receiving them. It can drive you insane, right?
Don't do that to your customers.
They will appreciate it.

How Much to Spend? When to Send? You Decide.

It's easy to get carried away when you see how good SMSBump is in bringing your BigCommerce store more sales.
However, there are a couple of things you shouldn't let go out of hand.

Quiet Hours
Don't bother your customers during specific times of day, especially at night. Nobody likes to get bumped at 2AM with a shopping cart reminder.
Enabling the Quiet hours option in the SMSBump Settings lets you prevent the app from sending any text messages within a specified time of the day.
Please mind that this setting is triggered based on the Timezone of the store owner.
The recommended time to stop sending texts is at night between 10PM and 9AM.

Max SMS Price
Sometimes texts can be more costly than you might expect.
For instance if you're sending messages to countries where the SMS price is high or you've send a message that counts as more than 1 SMS.
This helpful option lets you safeguard against such accidents. Enable it and set the Max Price you don't want to go over with your text messages.
This should be an estimate you make after you send a few messages and establish your own preferences for the approximate price you consider normal for your BigCommerce store.

Track and Optimize. Always.

Always keep an eye on your Analytics. SMSBump comes with data tracking for all the important metrics your text marketing campaigns need.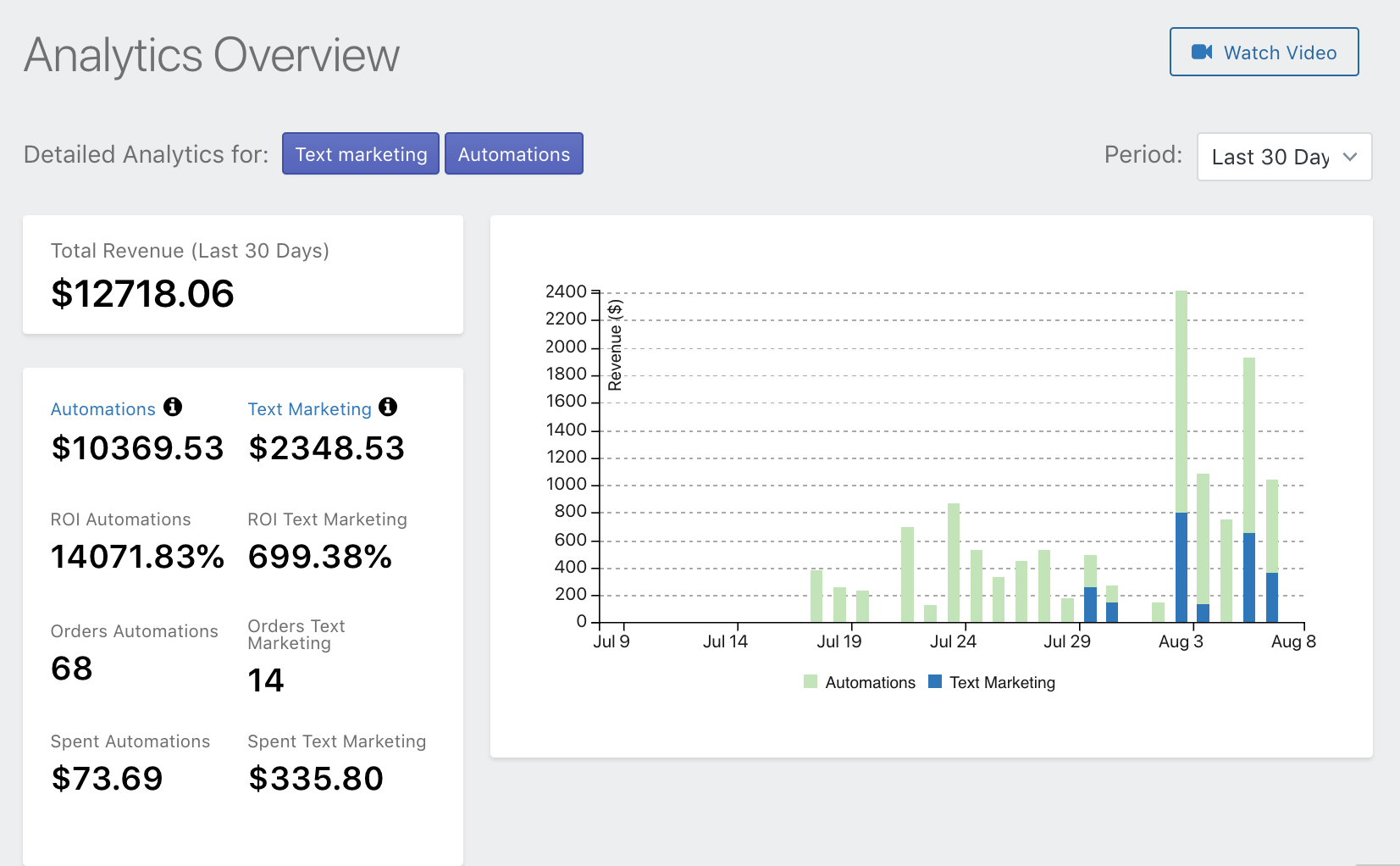 (Numbers generated entirely by SMSBump)

Budget Spent for Automations & Text Marketing

Orders Made via Automations & Text Marketing

ROI Gained from Automations & Text Marketing

Total Combined Revenue

That's great, you know how much you're spending and how much you're gaining.
But how do you get more in-depth knowledge on how the campaigns are performing and how users are interacting with your messages?
To go even deeper into your SMSBump data, there are individual Campaign Analytics for each text marketing campaign or automation you're running.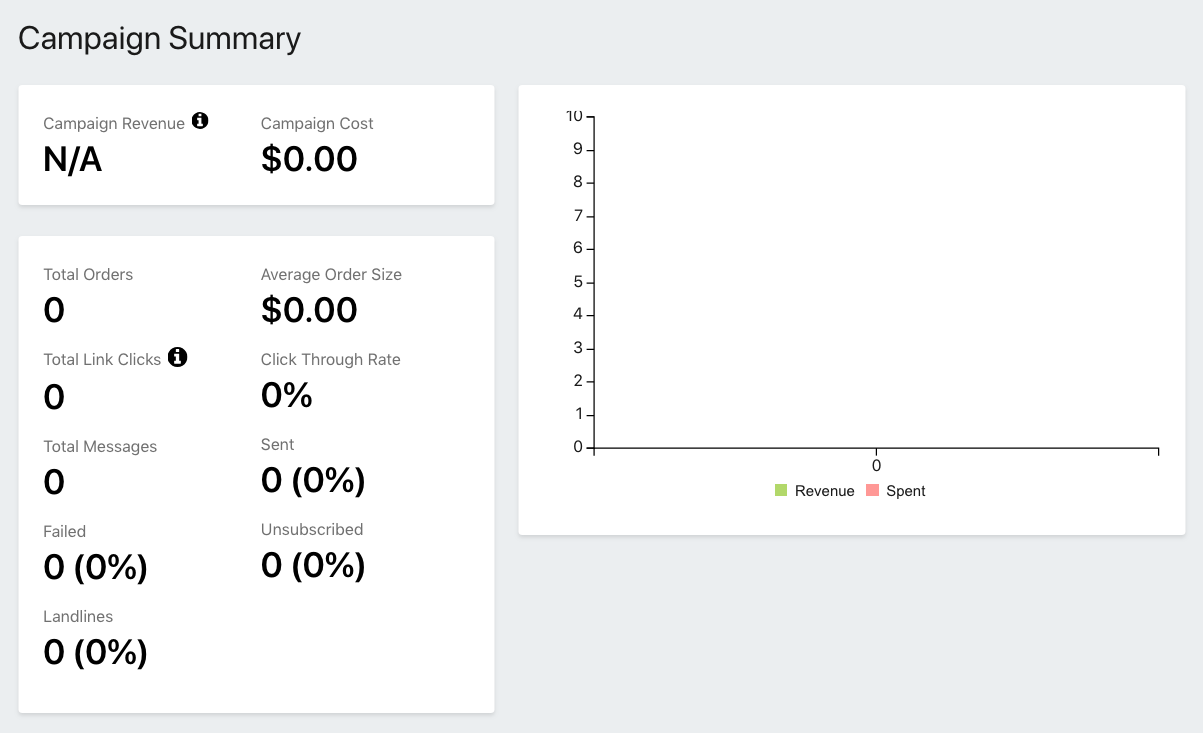 Use the Campaign Summary to keep an eye on:
Campaign Revenue & Campaign Cost

Total Orders

AOV (Average Order Size)

Total Link Clicks

CTR (Click Through Rate)

Total Messages

Sent / Failed / Unsubscribed

You can use this data to decide whether you need to switch up the tactics, make a change in timing, optimize your texts, audience or budget.
You can even connect SMSBump with Google Analytics - Watch Video Tutorial.
Give it a go!
SMSBump Automations and Text Marketing campaigns are already running on thousands of E-Commerce sites and we've seen some mind-blowing numbers. We're eager to see what you think and waiting for you to share some amazing stats in the comments as well!

Start growing today
Sign up today and join 90,000+ eCommerce businesses making it big with Yotpo SMSBump