Welcome New Subscribers with a Flow
Shoppers expect to receive a welcome message after signing up for a service. Yotpo SMS & Email users can easily live up to those expectations with the help of a fully automated welcome flow. Make an excellent first impression, introduce yourself, and show gratitude with a personal discount.
The following article will show you how to enable and edit the Yotpo SMS & Email welcome flow.
What is a welcome flow?
A welcome flow is an automated message sent to every new subscriber. No matter what the subscription source is - it can be from a pop-up, a keyword, or even Shopify checkout! Welcome flows are fully customizable, so you can personalize your messages, add pictures or GIFs, and even include a small discount or free shipping. Once you set it up, you don't have to do anything but enjoy your conversion rates.
How to activate a welcome flow?
Navigate to Flows & Automations in the main dashboard menu and click Explore more flows.

Type "Welcome" in the search bar and click on the Welcome New Subscribers flow template.

A pop-up with an overview of the flow will appear. You can choose whether or not to add a discount to your welcome flow by clicking on the toggle button. Click on the Activate flow button to complete the setup!

You'll find the active welcome flow in your Flows dashboard, where you can track its performance, edit or disable it.

Editing your welcome flow
If you wish to change the pre-written message and add a little something to match your brand's voice or add a condition, you can simply click on the Edit flow button, which will lead you to the flow editor.

Adding a checkout condition
You can create a special welcome message for the subscribers coming from your Shopify checkout. All you have to do is add a condition in the flow builder to check if the SOURCE IS CHECKOUT.
Important: The New Subscriber Confirmation trigger includes checkout subscribers. This condition can be added to create diverse messages for different subscription sources.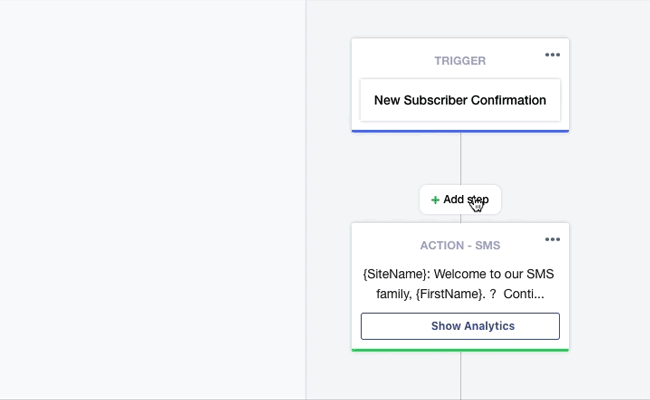 After that, you can craft two different messages, including various discounts or even voicing!

This was our quick tutorial on activating and editing welcome flows. Feel free to play around with the flow editor, as there are so many available options that you can choose from! Contact us if you have any questions or feedback.
---
Related articles