The Complete Guide on Timezones for SMS Marketing in Shopify
Yotpo SMSBump lets you set your timezone to ensure accurate SMS campaign scheduling. This article will show you the steps required to set your timezone in the SMSBump settings.
How Do You Set Your Timezone?
From your Yotpo SMSBump side menu select Settings.

Click on Timezone settings under General Settings and select your store's timezone from the drop down list.

In case а customer hasn't entered their phone number with their country code (i.e. +1), it will be automatically added according to the country you select in the Specify country field.
​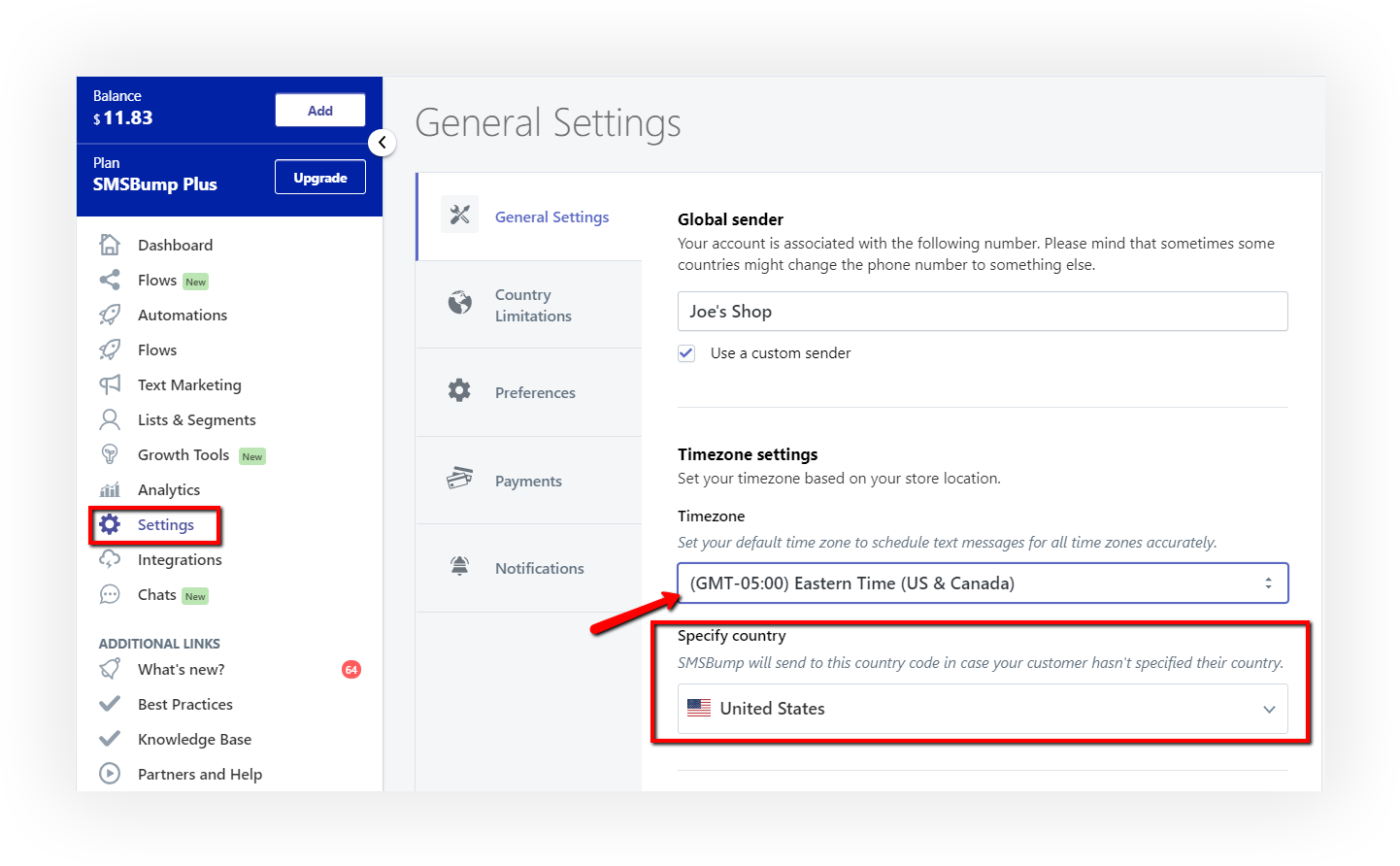 Important: Your message will be sent to your customers according to your store's timezone.
Scheduling Campaigns Based on a Customer's Timezone
The solution for merchants who send messages to different time zones is the setting for scheduling campaigns based on the recipient's time zone. It's a checkbox you can see when creating your text marketing campaign or automation.
Go to Text Marketing > Shopify Customers to start a new SMS campaign.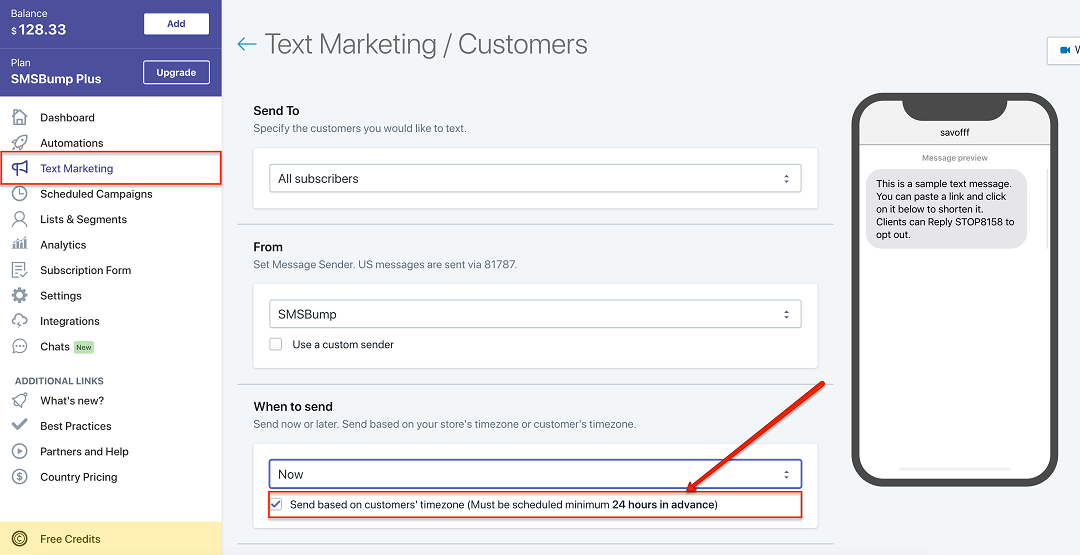 To schedule a campaign, click on Text marketing from the side menu, and select Shopify customers.
Important: This option is only available on the Yotpo SMSBump Growth plan and above.
2. Under When to send you can schedule the campaign for Now which would send your message as soon as you launch your campaign, or Later with a specific date and time according to your customer's timezone.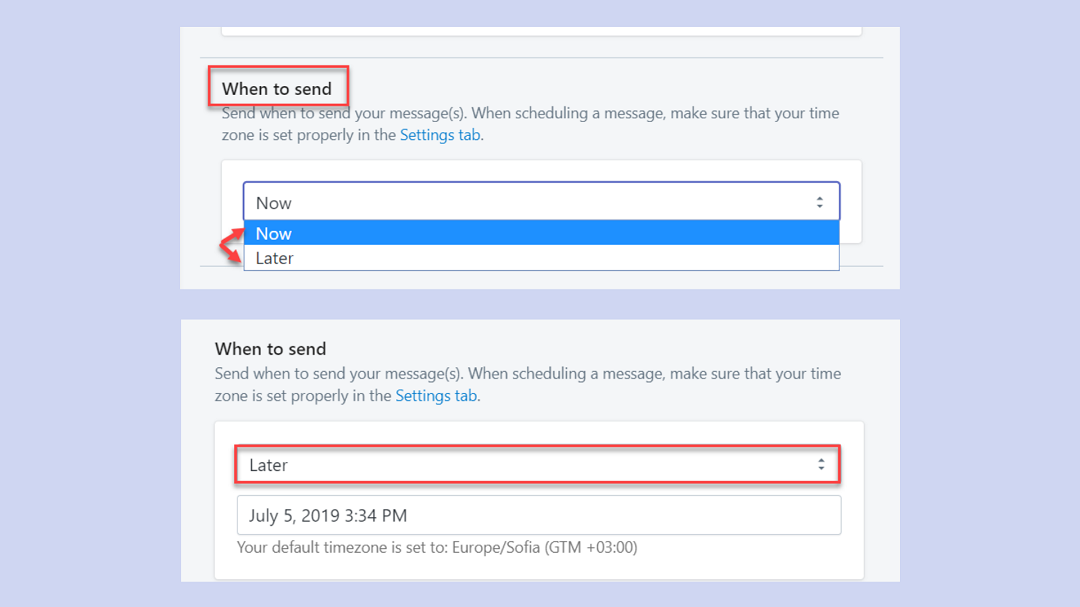 Important: Keep in mind that you need to schedule your campaign at least 24 hours in advance for the timezone sending to work.
Setting Quiet Hours
Another way to make sure your customers won't receive text messages from you in the wee hours, is to set Quiet hours.
Setting Quiet hours will ensure that during the specified time span your customers will not receive any text messages. The text message delivery will be postponed to a later time and will be sent as soon as the quiet hours period has ended.
1. From the side menu click on Settings. Scroll down to Quiet hours in the General Settings and select disable or enable. If you choose to enable this feature, then:
In the From field select the starting time of your quiet hours period (e.g. 9 pm)

In the To field select the time the quiet hours period will end (e.g. 9 am)
​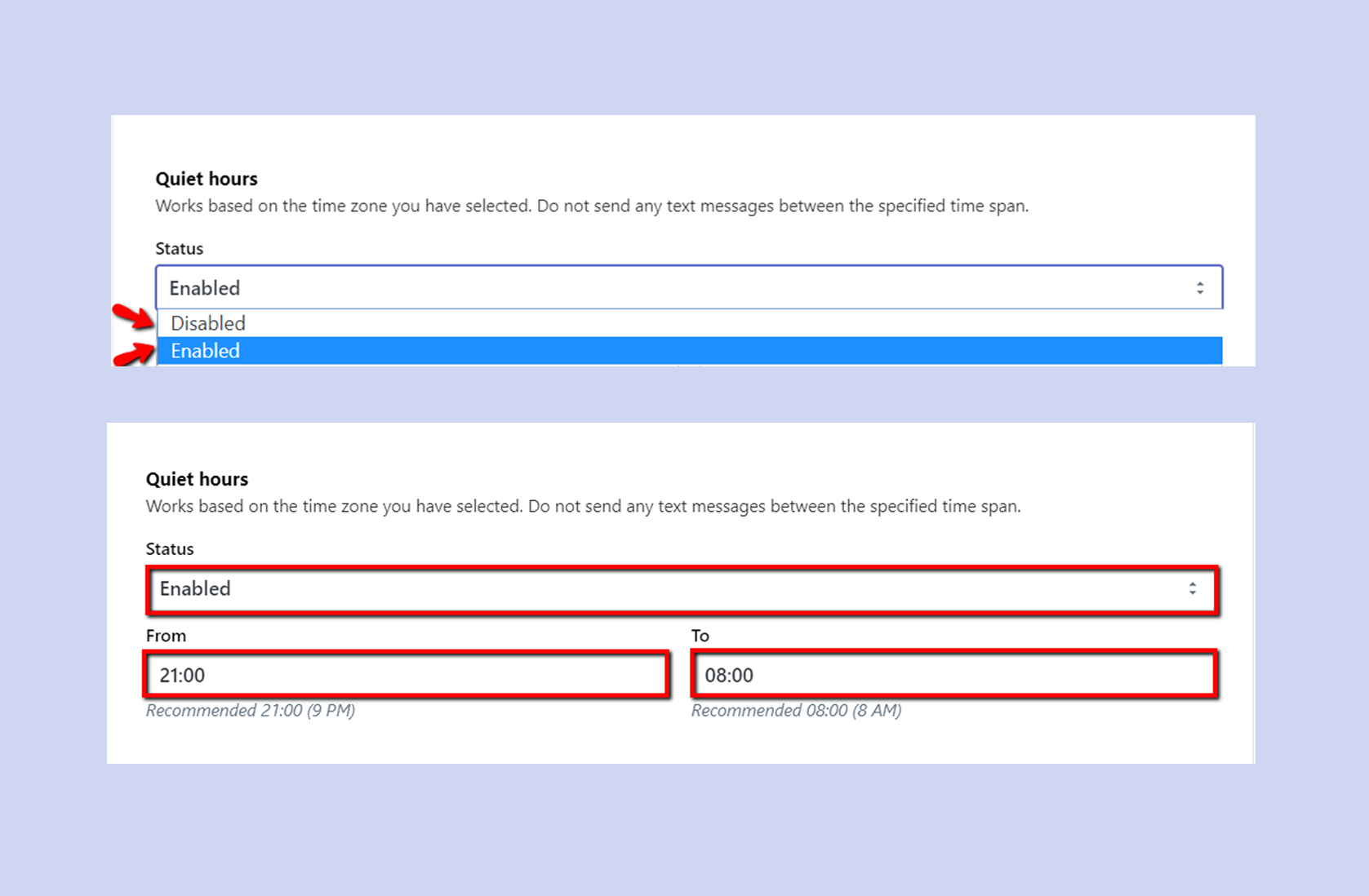 Important: Quiet hours period are configured and messages are sent based on your timezone, not your customers.
Excluding or Including Specific Countries
You have the option to either include or exclude specific countries from receiving your text message.
In the Country limitations section go to Limitations and pick one of the options from the Send SMS only to the following countries drop-down menu (exclude or include).
Тype in the name of the country/countries you wish to exclude/include from the list of your recipients.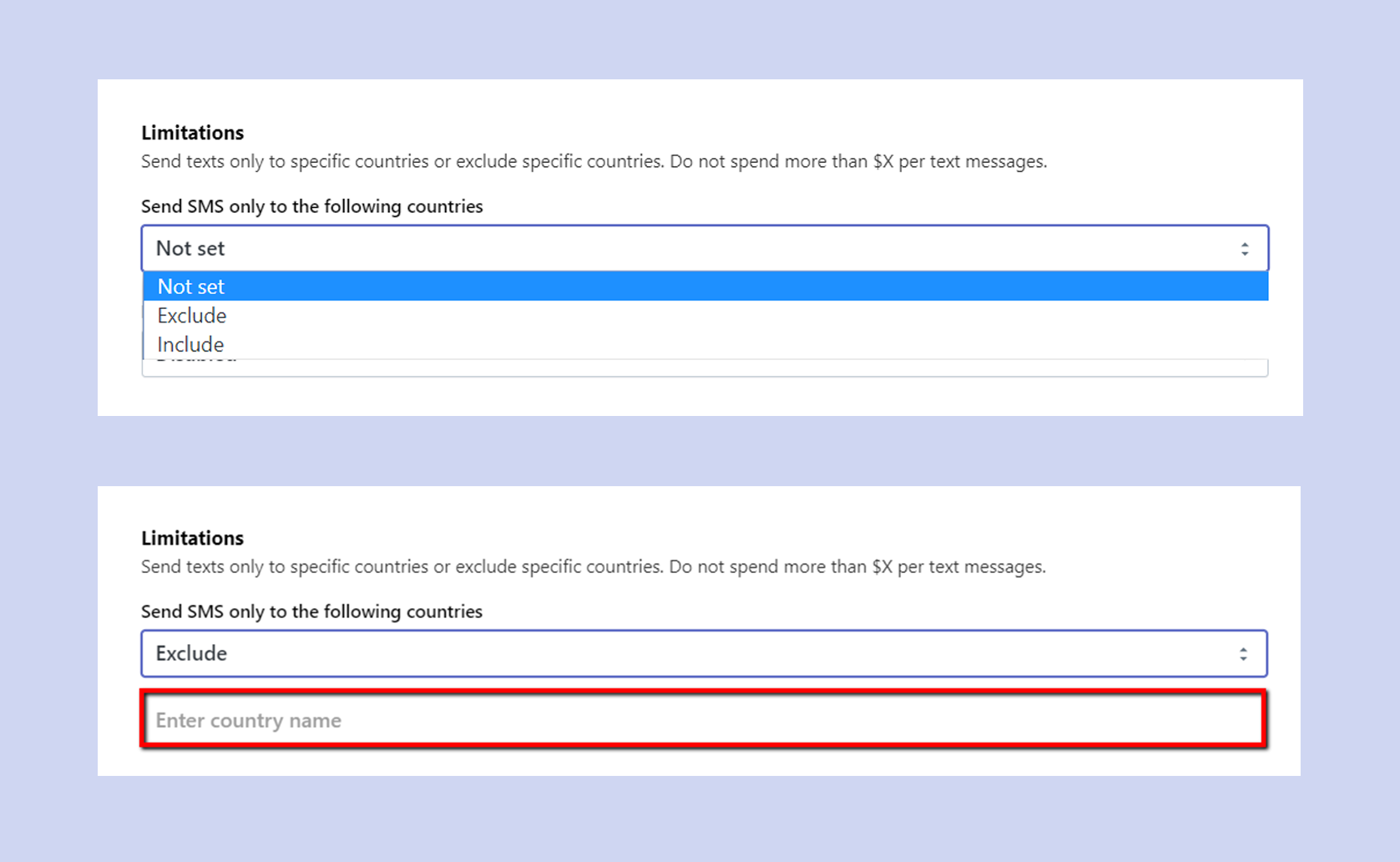 Important: You cannot select both options at the same time - you can either exclude or include certain countries.

To better predict and manage the cost of your campaign, you can also set a Max message price. In the drop-down menu select either Disable or Enable. If you choose to enable this feature, type in the desired maximum cost of a single text message.

Example: If you have excluded a country and have set the maximum cost per message to be $0.10, then Yotpo SMSBump will not send messages to anybody in this country and also to anywhere else where a single text message costs more than $0.10.
Don't Overwhelm Your Customers
To avoid sending your customers more than 1 text message in a short period of time, set a Smart Sending Period in the General Settings section.
In your SMSBump Setting's menu go to the Smart Sending Period field and set the time frame within which you'd like your customers not to receive messages from you.
Pro Tip: We recommend leaving a 16 to 20-hour-pause between text messages.

Example: If you set your Smart Sending period to 16 hours and try to send a customer a message 12 hours post sending them one, Yotpo SMSBump will identify that and will not send the message.
If your messages aren't sending out, check your Pending messages section and look for the warning tags that might include DND (Quiet hours) or Max message price which will be explained in another article.
---
Related articles