How Frequently Should I Text My SMS Subscribers?
At Yotpo SMS & Email we split our messages in two groups: automated (including automations and flows) and one-off campaigns. Normally, they go hand-in-hand, as a big part of our automated messages are more transaction- and order-triggered, while campaigns are often purely sales-driven. This is why it is important to find the balance and make sure your store doesn't just run on autopilot, but also benefits from targeted marketing campaigns, and vice versa.
While there is not really one universal number or combination of messages that will bring you the highest click-through rates, conversions and return on investment without a doubt, there are some messages we know for sure will help your brand connect with customers and enjoy a steady growth in sales.
Let's first look at what automated messages you should definitely consider in order to build a bullet-proof strategy that will run the show behind the curtains from day one.
Automated Messages

Every Yotpo SMS & Email automation serves a particular function, all of which are equally important and able to contribute to your store's success.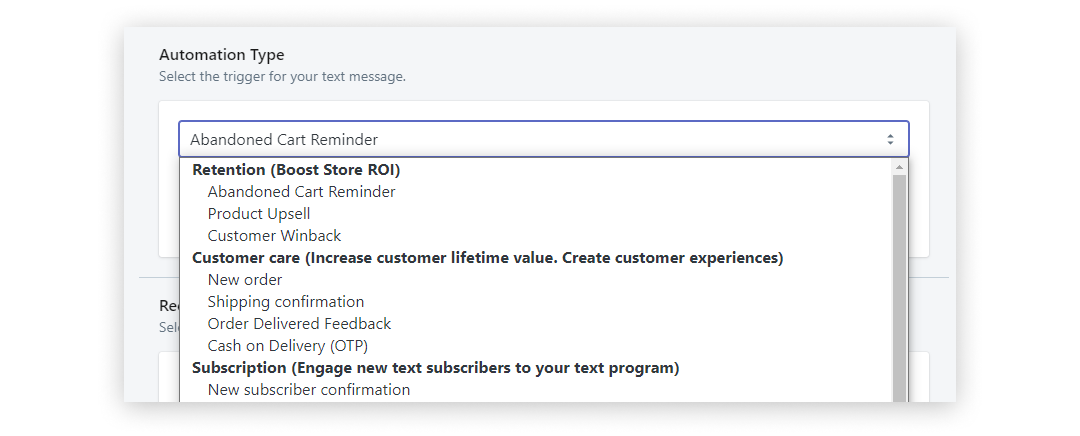 Overall, we would say that in order to have all your customers well taken care of, and for your business to run smoothly even without constant supervision, you should at least have these 6 automated messages enabled.
Disclaimer: although 6 automations might seem a lot at first, remember that they will not be sent every day but are trigger-based, meaning they will launch only when a subscriber/customer meets the criteria you've set up for that particular automation (if they've been inactive for 30 days, e.g.).

Of course, there are several more automations (and numerous variations of flows) you can choose to enable instead of some of the ones we propose here. Just make sure you don't go over the top and you always time them correctly.

Besides these 6, very basic automated messages, it's important for brands that are just starting out with SMS to reserve part of the marketing budget for one-off campaigns.


One-off Campaigns

With one-off campaigns it's predominantly about the occasion. Like we said above - such campaigns are often purely sales-oriented, so making sure you don't overwhelm your subscribers with salesy messages three times a week is crucial.
That being said, the perfect occasion for an one-off campaign is around a major retail event. And if you think about it: there is something big going on in retail literally every month.
Depending on HOW BIG this big retail event is, we'd recommend you set up anywhere from 3 to 5 text marketing messages per event: one as a pre-promotion, one right before the event or on the day, and one as an extended sale with much more generous discounts.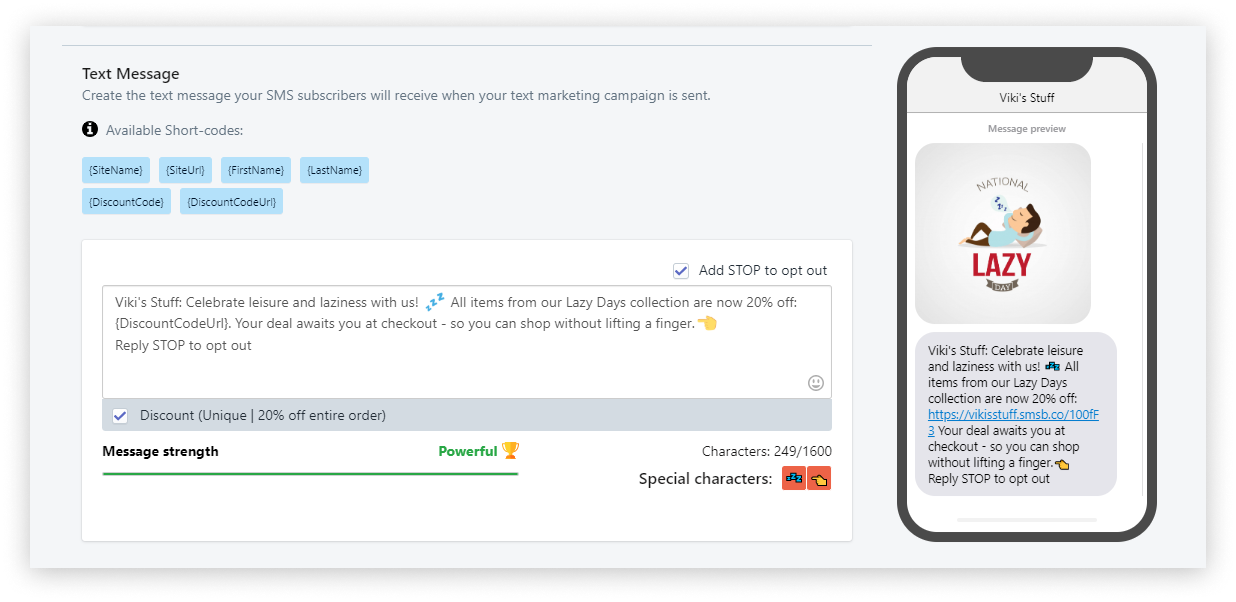 Pro tip: launching one campaign doesn't mean launching one message for all of your subscribers. For best results, make sure to segment your customers, send different deals based on what they're interested in etc.
On top of the regular retail day sales, all brands have their individual sales - whether it's end-of-season promos, or a quick Flash Sale to clear off some shelves, it's worth sending your subscribers a notification to let them know about this bonus sale you are running. One message will do the trick, especially if followed by several automations that will save the purchase if the customer leaves without completing it, or will offer them something in addition.
(For more practical tips and additional information on the types of campaigns you can run with Yotpo SMS & Email, refer to our eBook "Your Ultimate Guide to Text Marketing Campaigns That Sell")
To sum it up, we'd say that launching a text marketing campaign 2 or 3 times a month, and rarely 4 to 6, is the golden mean. Because remember: besides these manually-set campaigns, you have your automated messages running the show in the background.
One Last Thing…
Regardless of if you decide to follow our guidelines to the tee, just remember: SMS is one of the most direct marketing channels out there, which reaches customers no matter their location, whether they have a smart phone or internet, not at all disrupted by factors that usually affect all other marketing channels. As it is something so personal, it should be used with consideration of the subscriber in order not to lead to shopper's fatigue and ultimately - a growing number of unsubscribed customers.

On the bright side, if used with thought, it will bring your brand a healthy recovery revenue, click-through rates of 35% and more, and return on investment easily up in the thousands. Look at how some of our users adopt these strategies and make the most out of SMS marketing.
---
Related articles