Syncing Klaviyo Contacts with SMSBump
The Klaviyo and SMSBump integration enables you to create a fully cohesive email and SMS marketing experience: collect subscribers in full compliance through a single interaction and sync across platforms.
In this article we will walk you through the process of integrating SMSBump with Klaviyo, synchronizing subscribers from both platforms, and creating engaging and high converting customer experiences.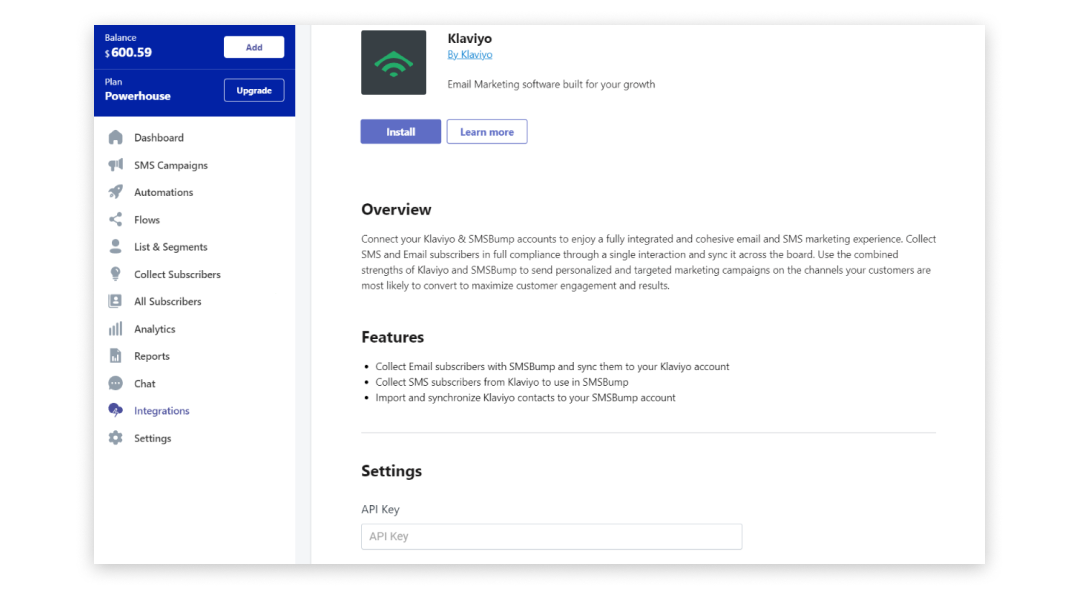 Before we get started, please note that in order to use the integration you should have an existing Klaviyo account.
Setting it up
1. From your SMSBump app side menu go to Integrations, where you'll find all available options. Click on Klaviyo in order to start setup.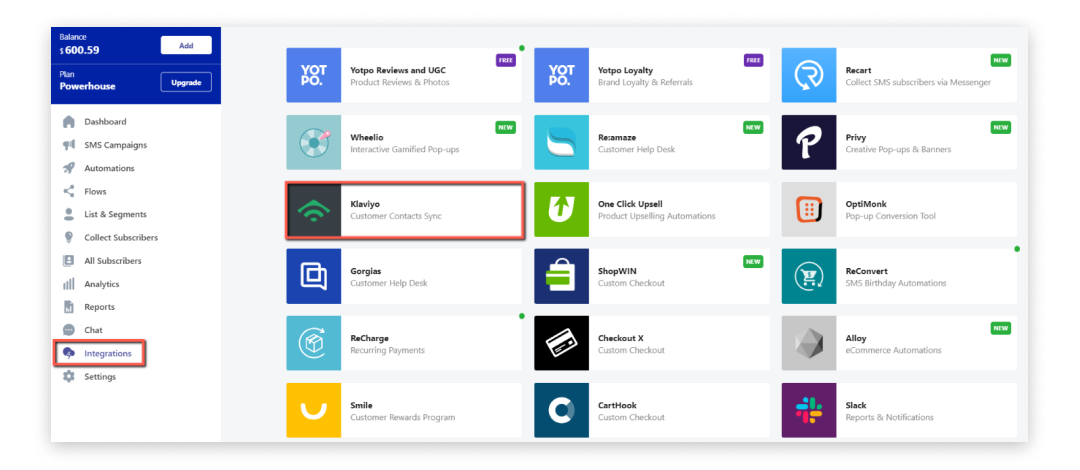 2. You'll need an Application programming interface (API) key. To obtain one, open a new tab and go to your personal Klaviyo account and click on Account.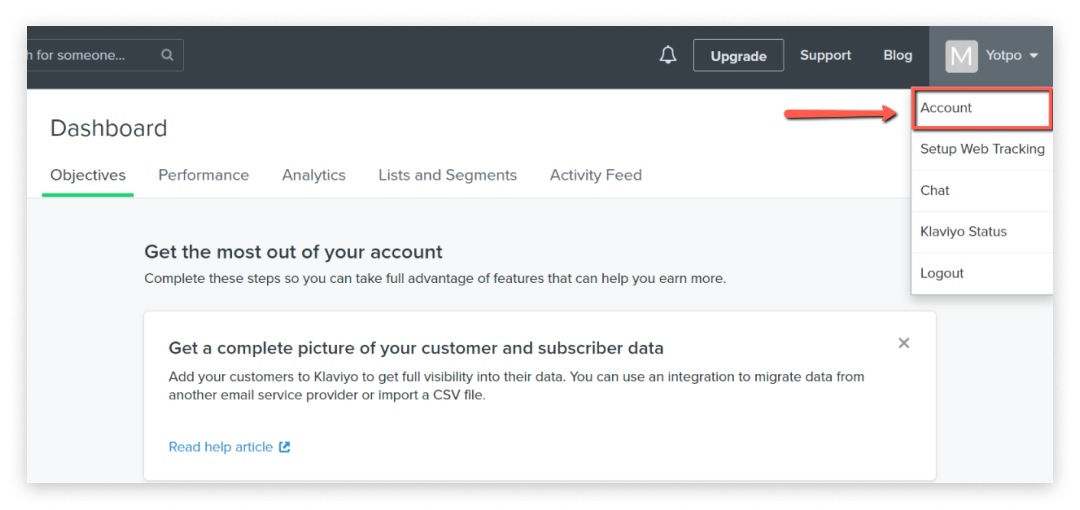 3. Next, click on Settings and select API Key from the drop-down menu.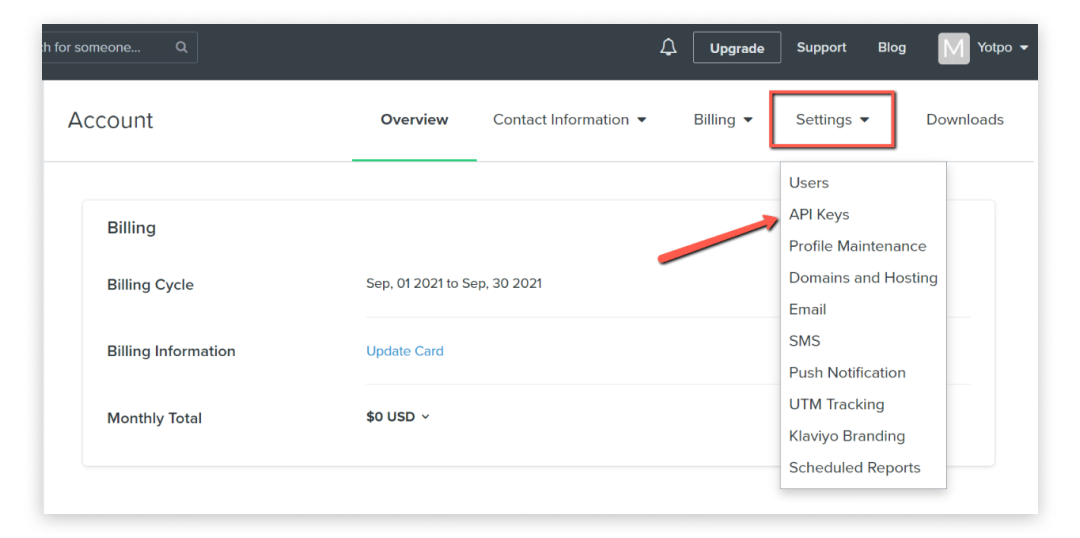 4. You will see a Create API key button that creates your private API key when clicked.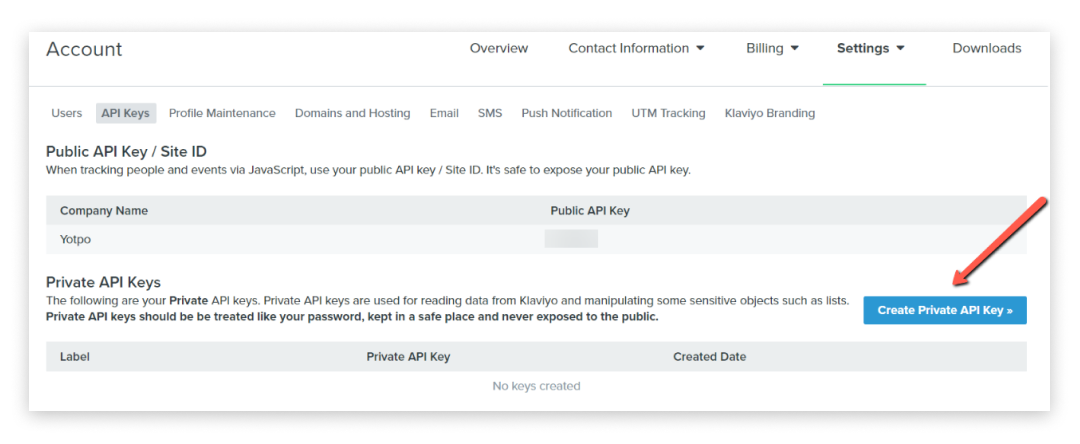 5. An automatically generated API key will appear. Make sure to copy it as you will need to place it in the SMSBump app in order to configure the integration with Klaviyo.
6. Return to your SMSBump app tab.
7. Paste your private API key in the field here: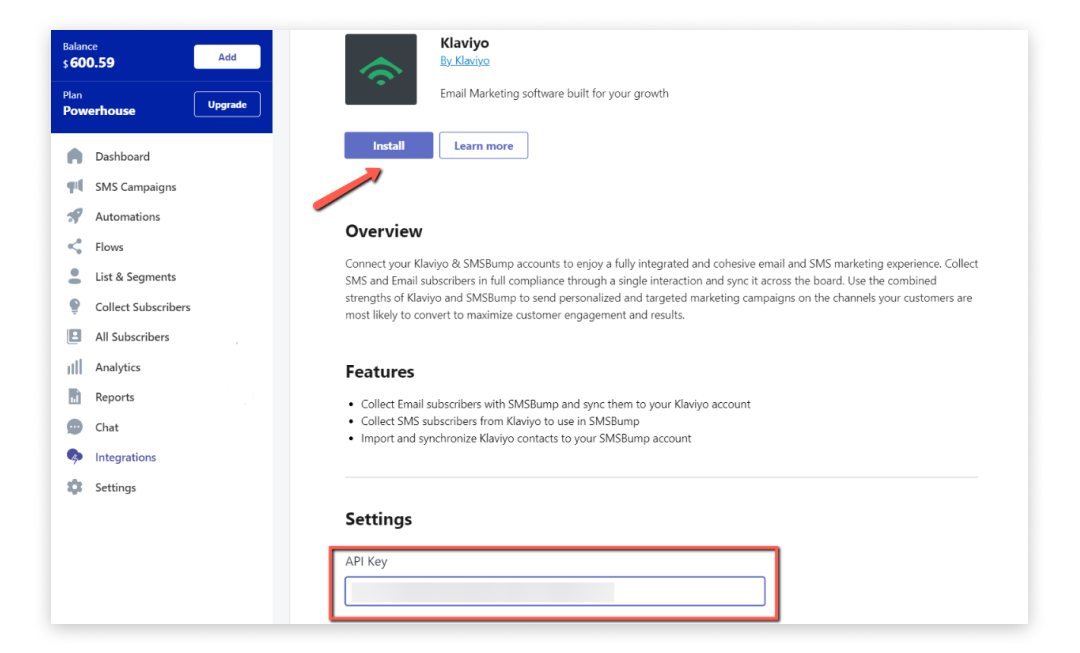 8. Click Install and you will receive a confirmation that your connection is complete. Click Continue to proceed with syncing your Klaviyo lists.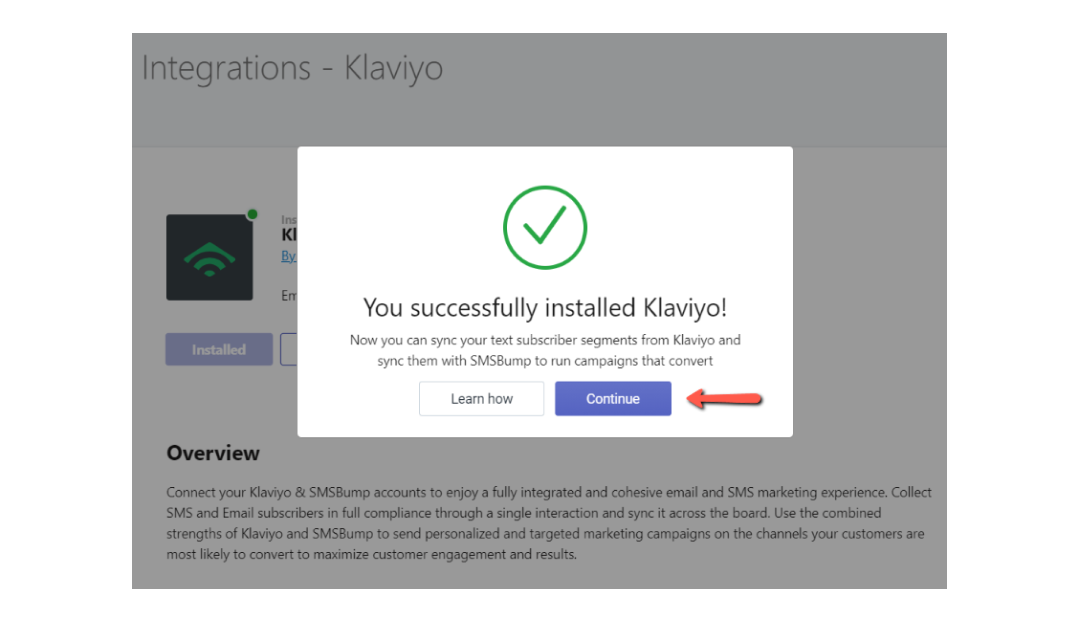 Good job! Now let's see how you can start syncing email and SMS subscribers from SMSBump to Klaviyo and vice versa.
Syncing email subscribers collected in SMSBump to Klaviyo
In order to sync SMSBump to Klaviyo simply click on the toggle button on the right.

Once activated, choose a list you want to synchronize - it will take just a few seconds and you'll get a confirmation status message.

You can select one list at a time to be synchronized with Klaviyo.
Syncing Klaviyo contacts to SMSBump


Now, it is time to move on and learn how to synchronize Klaviyo contacts in SMSBump.


Klaviyo lists


This is where you get to sync your Klaviyo SMS subscribers to your SMSBump account. Choose lists or segments you want to synchronize from the dropdown menu. Select one or more of the existing lists or segments by clicking the checkboxes. You can easily see the number of subscribers within each list/segment right next to its name in the dropdown menu.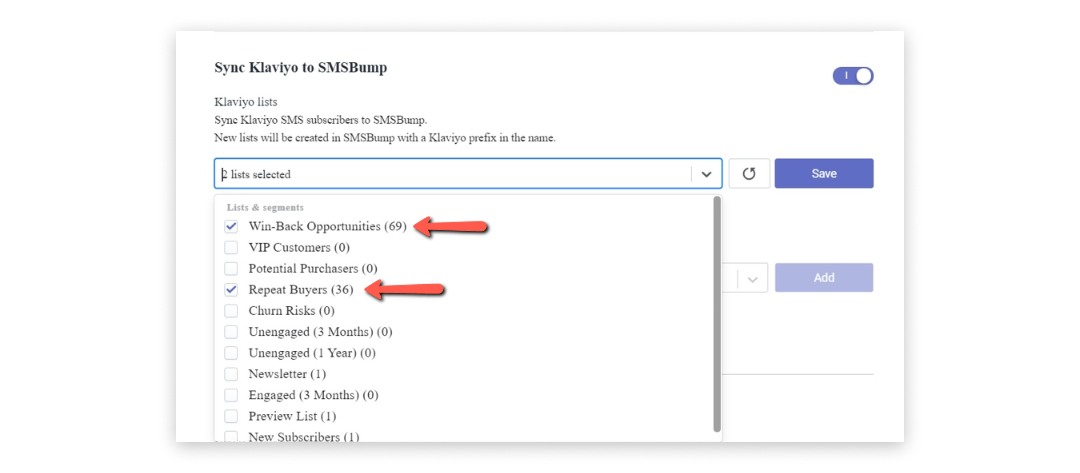 All you need to do now is to click on the blue Save button on the right side of the menu. Keep in mind that this button is active only after a change has been made - when a list is added or removed.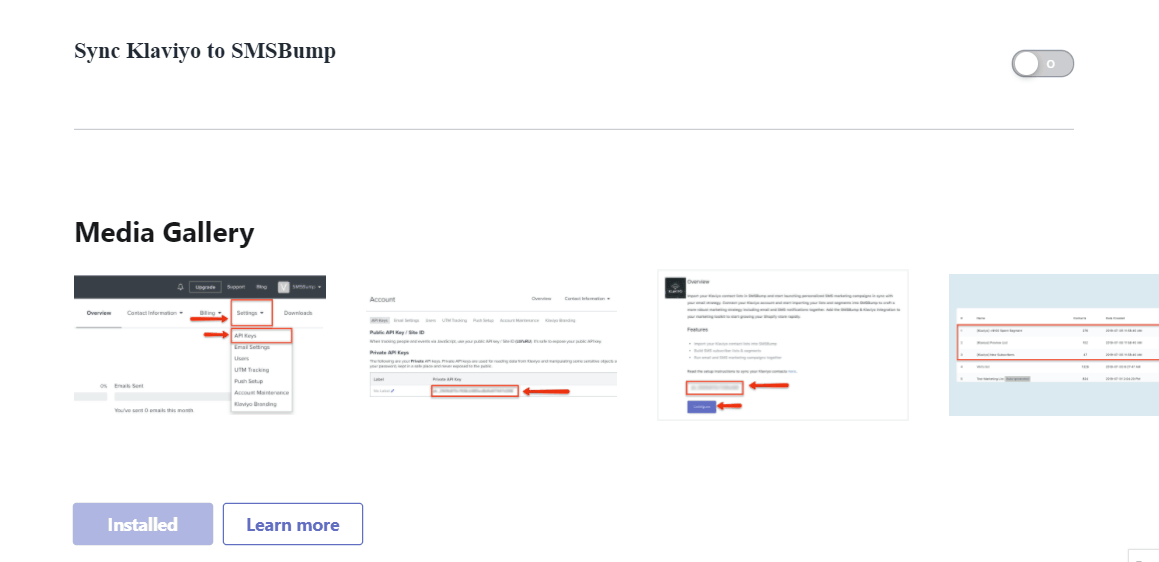 Once you click Save, you'll see a green status bar, as a confirmation that the process has already started. Keep in mind that depending on the number of subscribers, syncing can take a few hours. You can check the progress in the List & Segments menu within SMSBump.


Once the sync is completed, new lists will be created in SMSBump with a Klaviyo prefix in the name.
Klaviyo forms
The integration between SMSBump and Klaviyo helps merchants synchronize SMS subscribers from Klaviyo forms to lists in SMSBump - in real time!


All you need to do is choose the Klaviyo subscription form you want to use and link it to a list of your choice in SMSBump. Keep in mind that this works only with 1- step Klaviyo forms that include a phone field.


Step 1: Go to your Klaviyo account and open one of your subscriber collection forms. You will find its unique code in the final part of the URL of the page. In the example below the unique code is: UQpAsK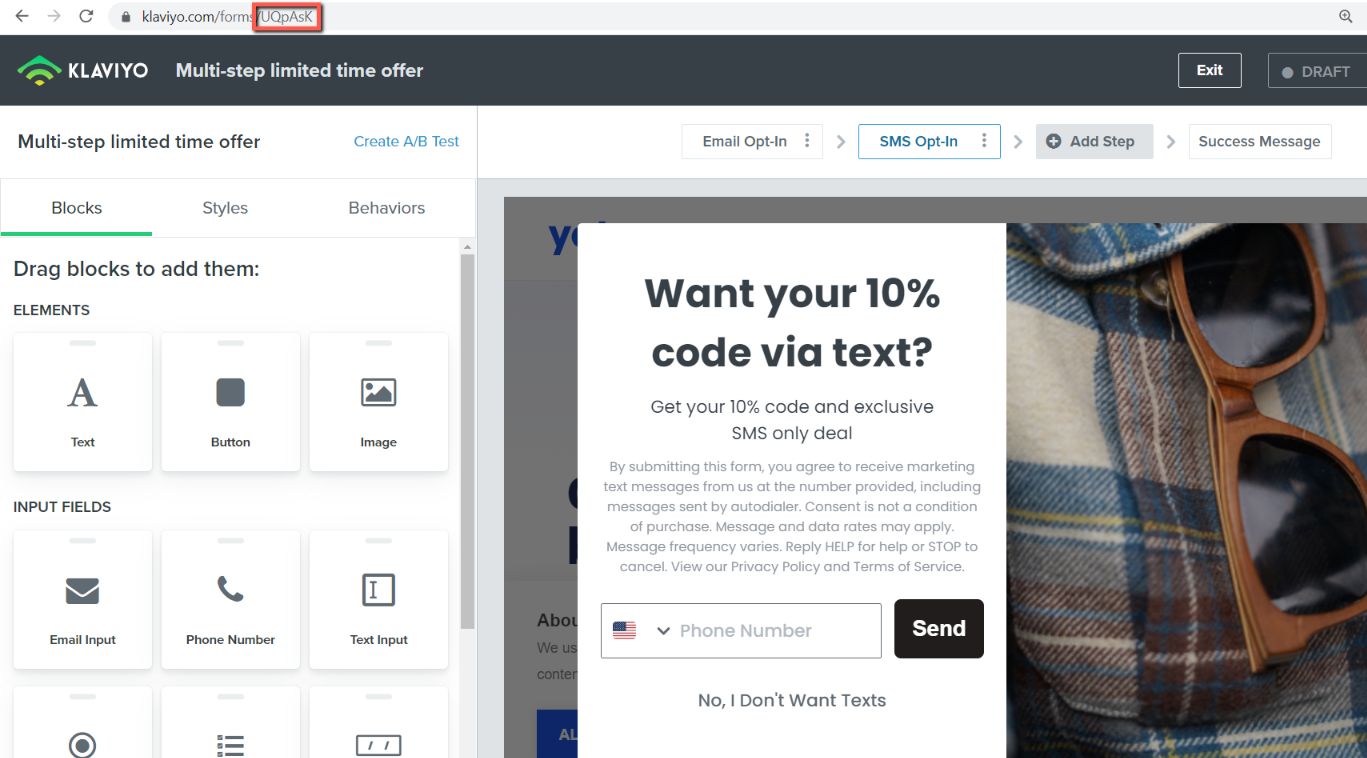 Simply copy and paste the code of the form in the SMSBump integration page, as shown below:

Step 2: Select a list in SMSBump for your new subscribers from the Klaviyo form. Use the dropdown menu: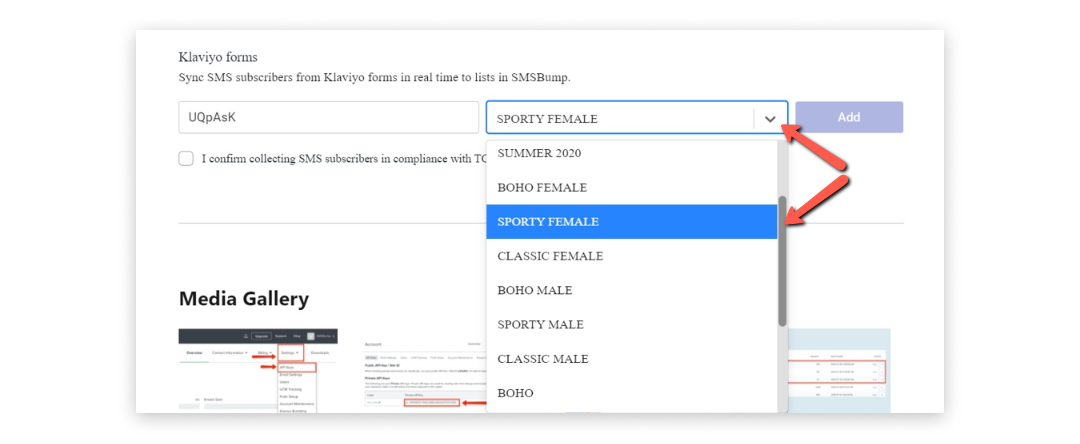 You can link multiple Klaviyo subscriber collection forms to a list in SMSBump, but one form can be linked with only one list.


Step 3: Confirm that you have collected your SMS subscribers in Klaviyo in compliance with TCPA & CTIA, by checking the box below.

Click Add and your Klaviyo subscriber collection form is now synced to your SMSBump list.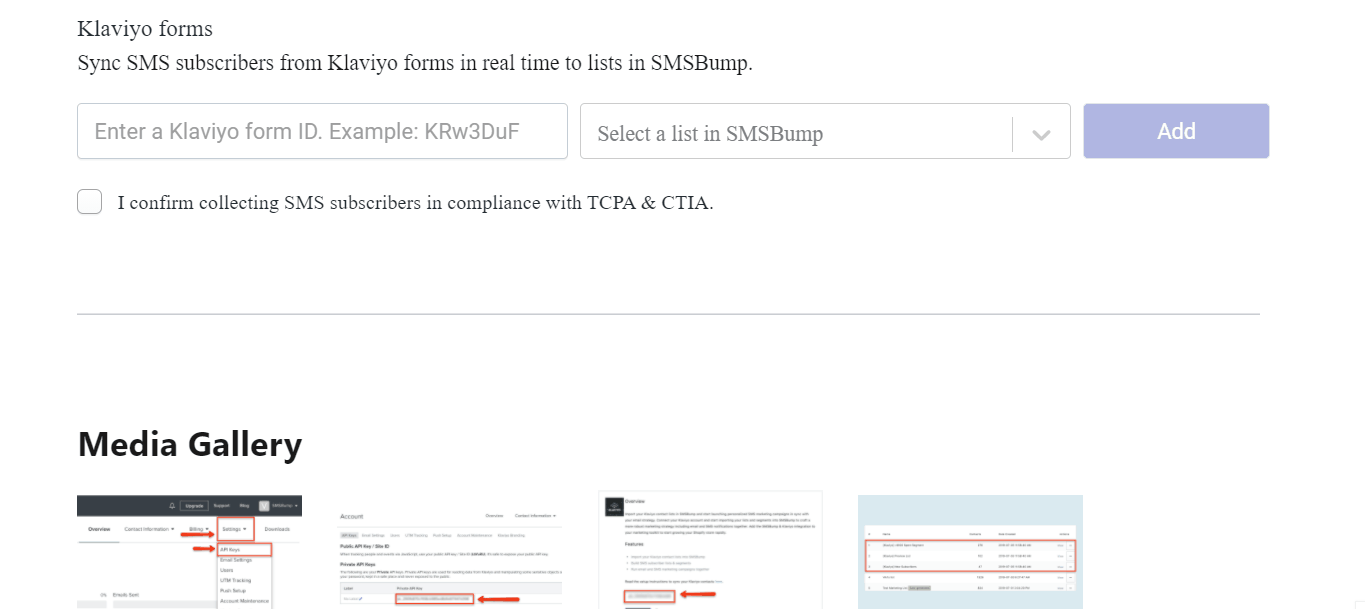 One of the main benefits of importing Klaviyo subscription form contacts in SMSBump in real time is the ability to trigger a personalized and targeted Welcome flow. Contacting your new subscribers as soon as they join your SMS club increases the likelihood of them making a purchase right away leading to higher conversion rates.

In order to activate the flow, simply go to the Flows Gallery in SMSBump, select the New Subscriber type and start editing one of the 2 available Welcome flows.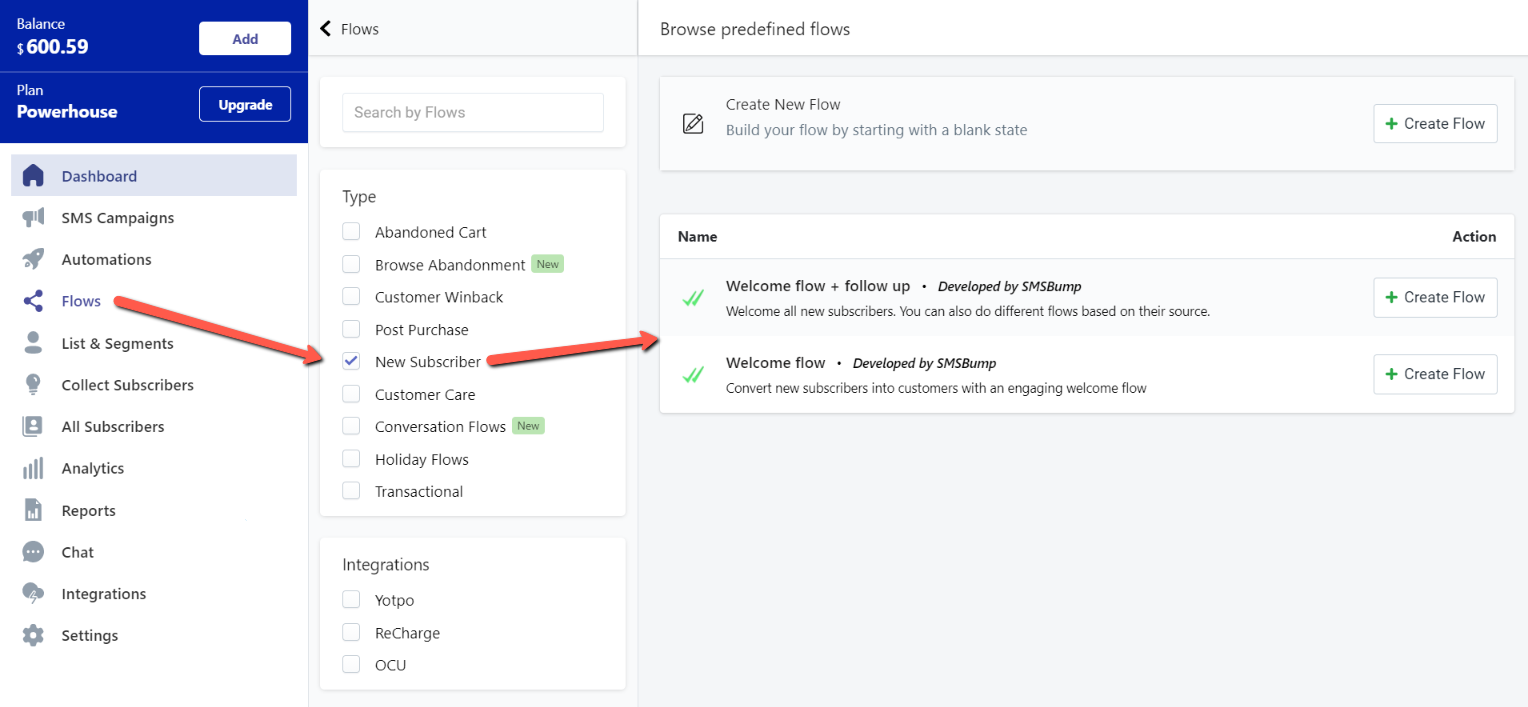 All you need to do is add a condition: If → Source → is → Klaviyo Forms, as shown below: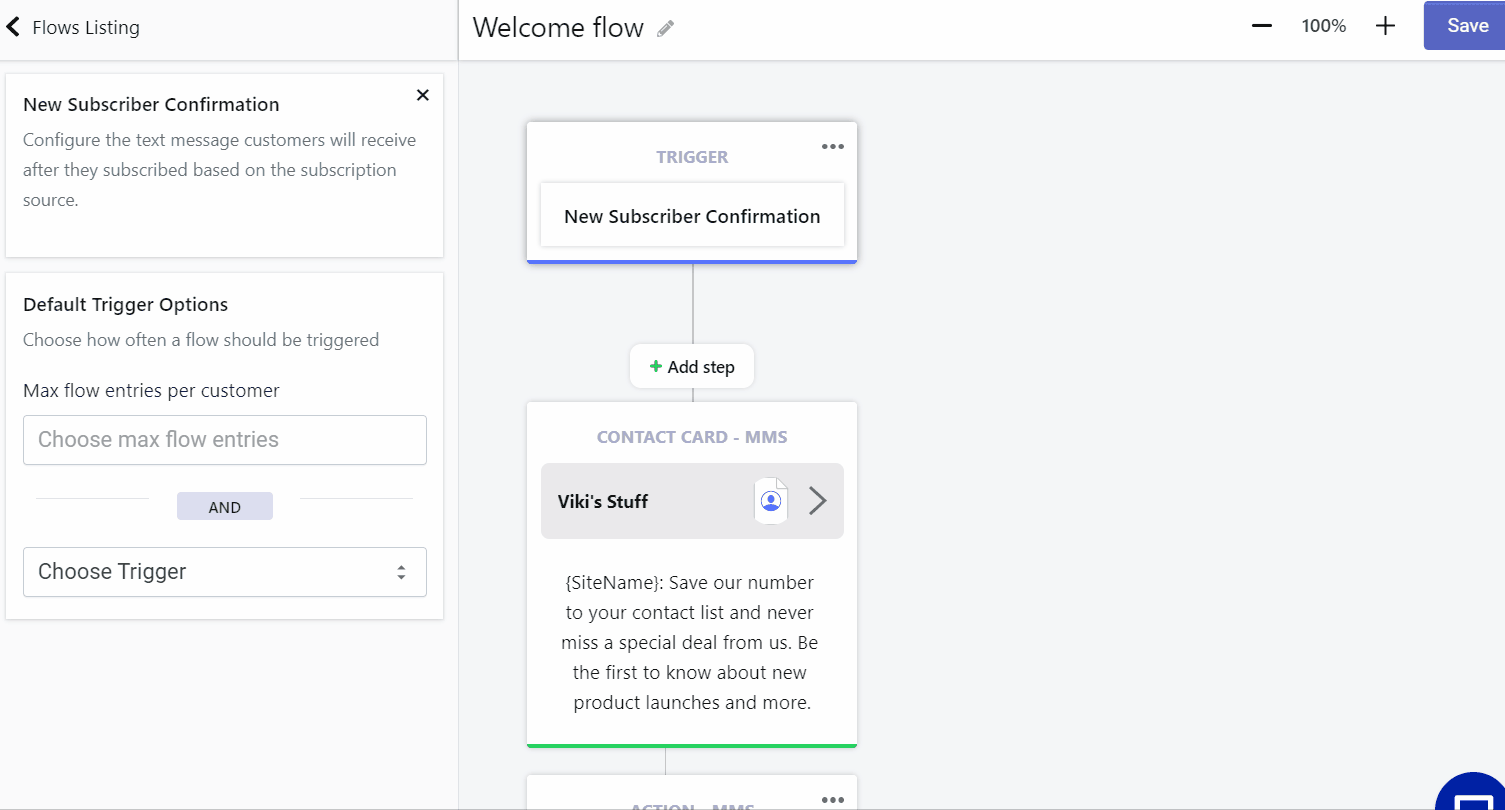 This will make sure you only send this welcome message to new subscribers from the selected Klaviyo form.

You are now all set and ready to supercharge both your email and SMS marketing strategy in Shopify! Add the Klaviyo integration to send personalized and targeted marketing campaigns on the channels your customers are most likely to convert to maximize customer engagement and results.

If you have any questions, please feel free to contact us or book a demo!
---
Related articles