Syncing Klaviyo Contacts with SMSBump
The Klaviyo and SMSBump integration enables you to craft a more synergetic marketing strategy that includes both email and SMS. Add the Klaviyo integration to maximize customer engagement and always be on-point with your audience targeting.
In this article we will walk you through the process of connecting your Klaviyo and SMSBump account and choosing your top-performing Klaviyo lists to be synced with your SMSBump account.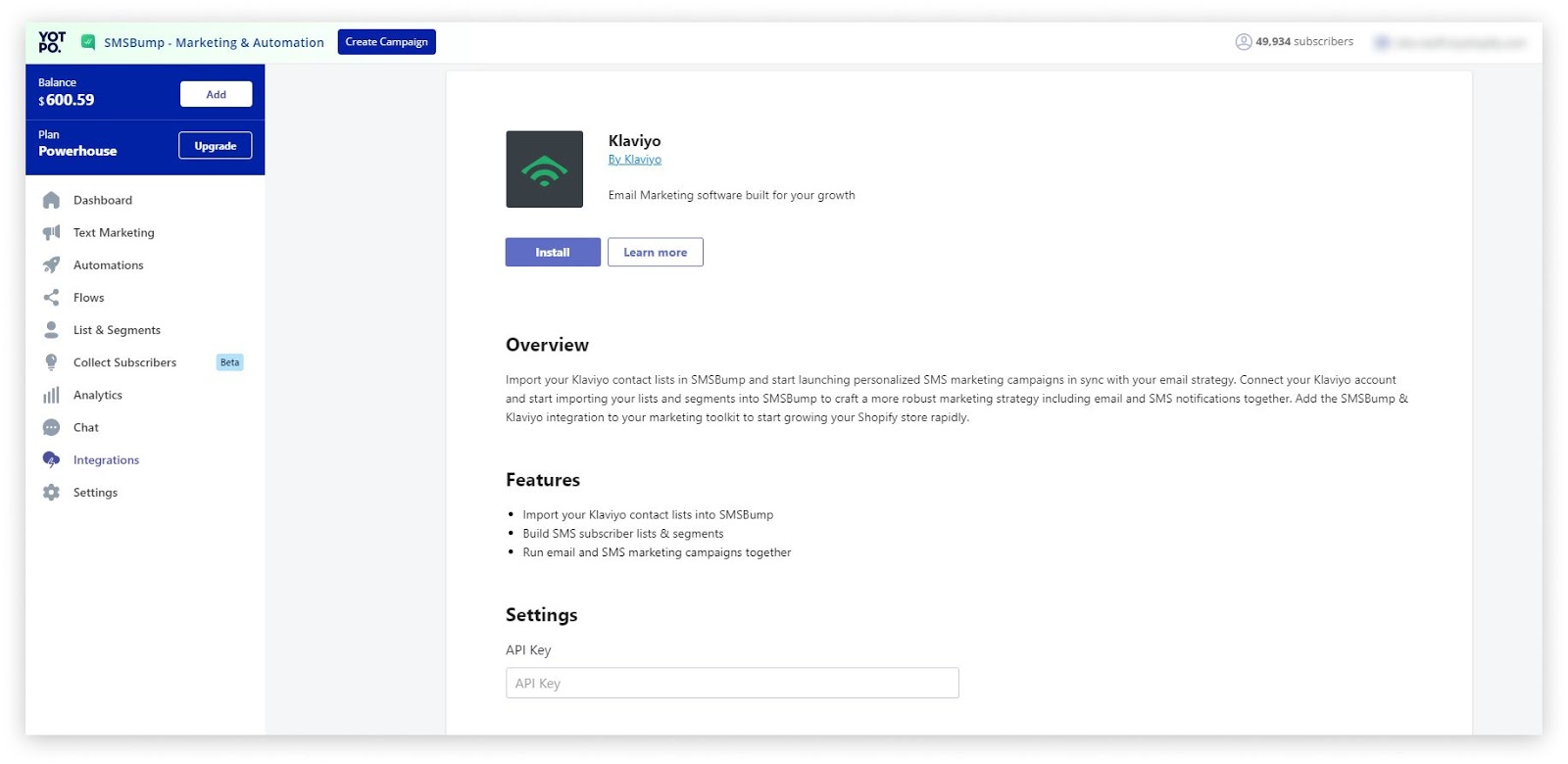 Before we get started, please note that in order to use the integration you should have an existing Klaviyo account.
Setting it up
1. From your SMSBump app side menu go to Integrations. A panel will pop-up, containing all of the integrations. Click on Klaviyo Contacts in order to start setting it up.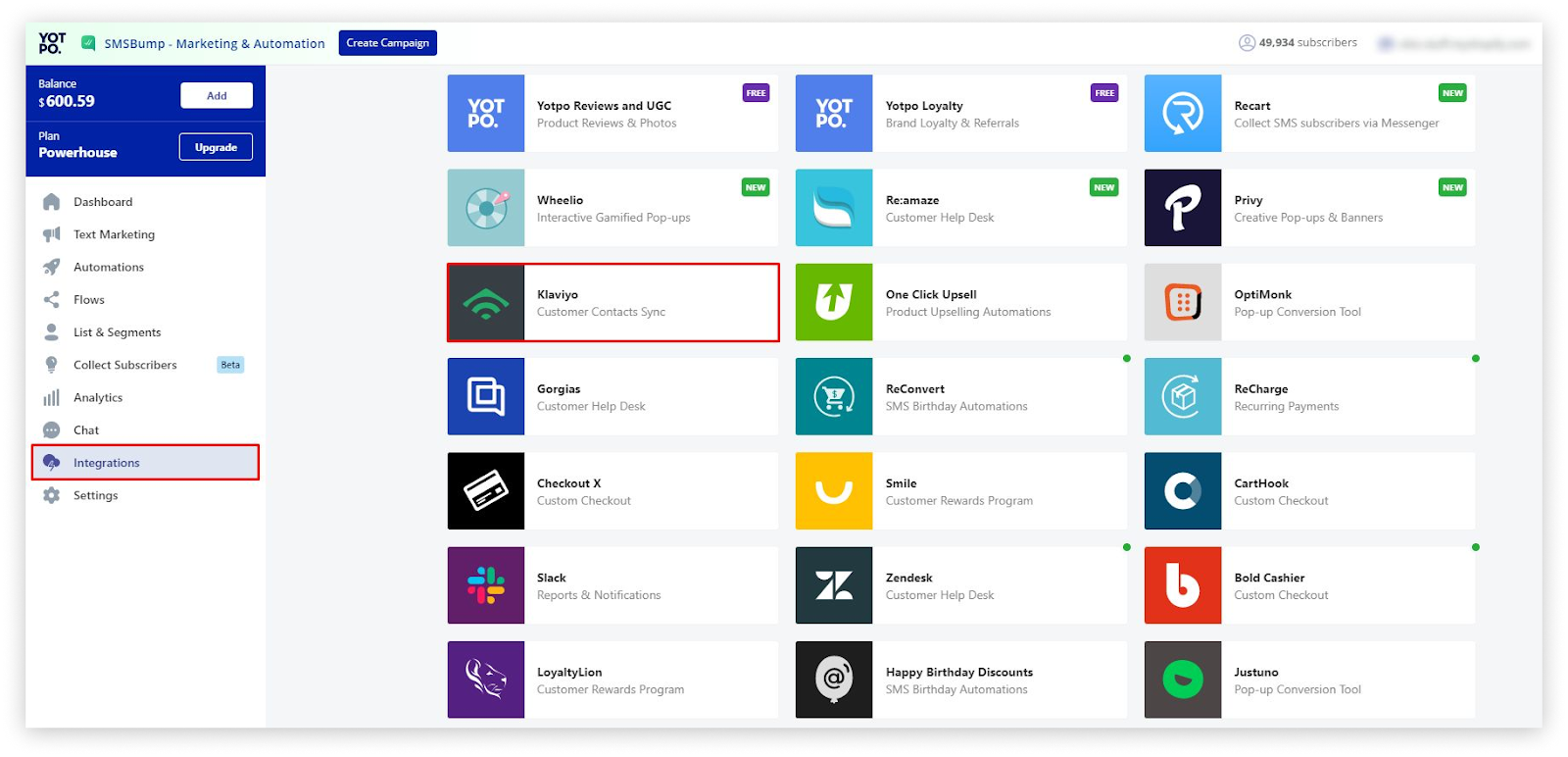 2. You'll need an Application programming interface (API) key. To obtain one, open a new tab and go to your personal Klaviyo account and click on Account.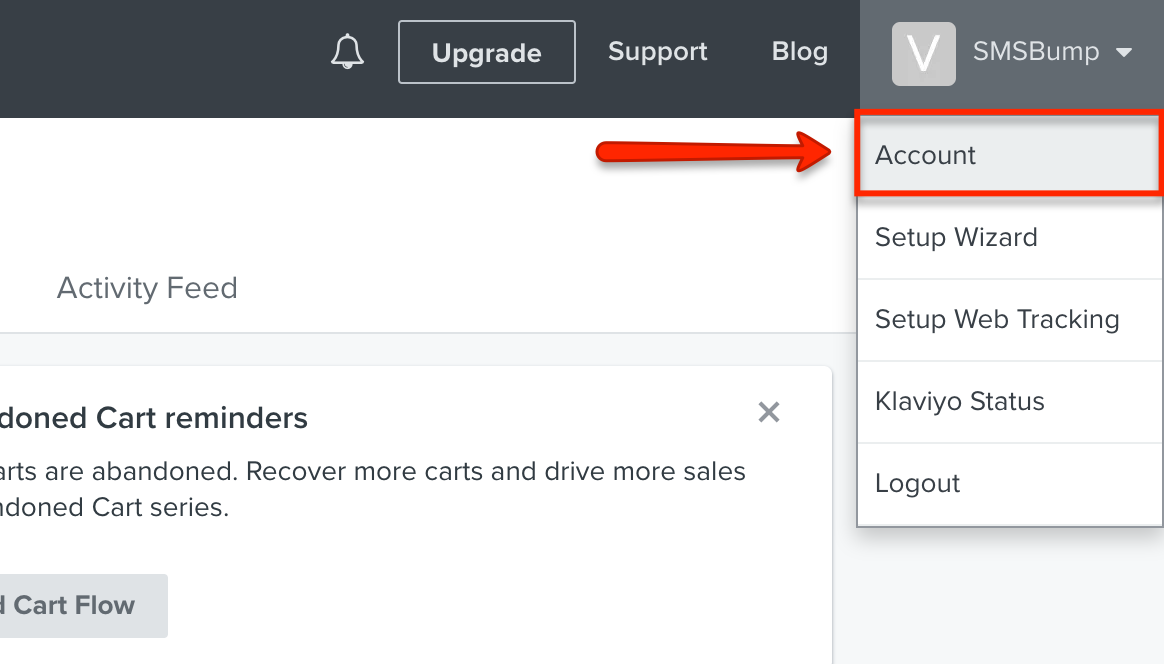 3. Next, click on Settings and select API Key from the drop-down menu.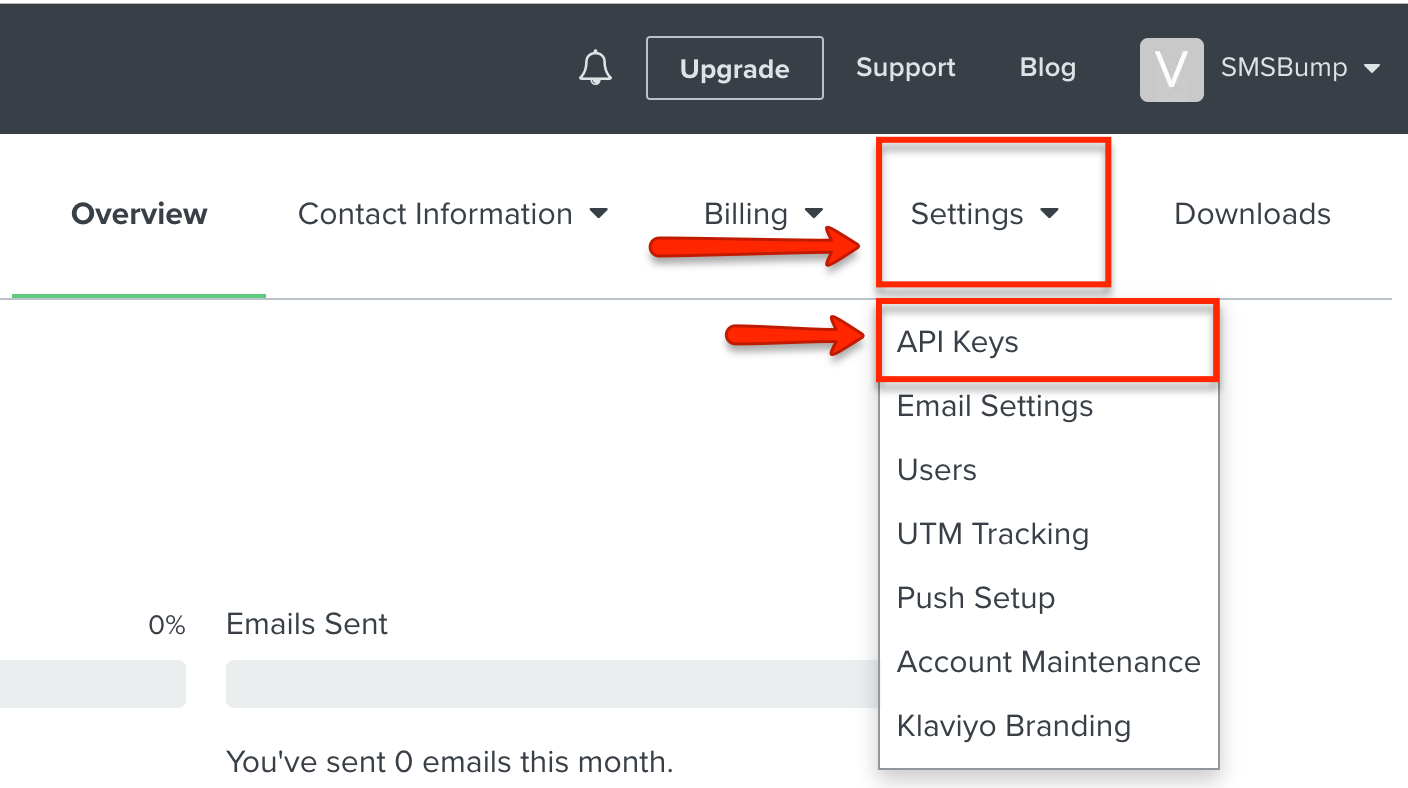 4. You will see a Create API key button that creates your private API key when clicked.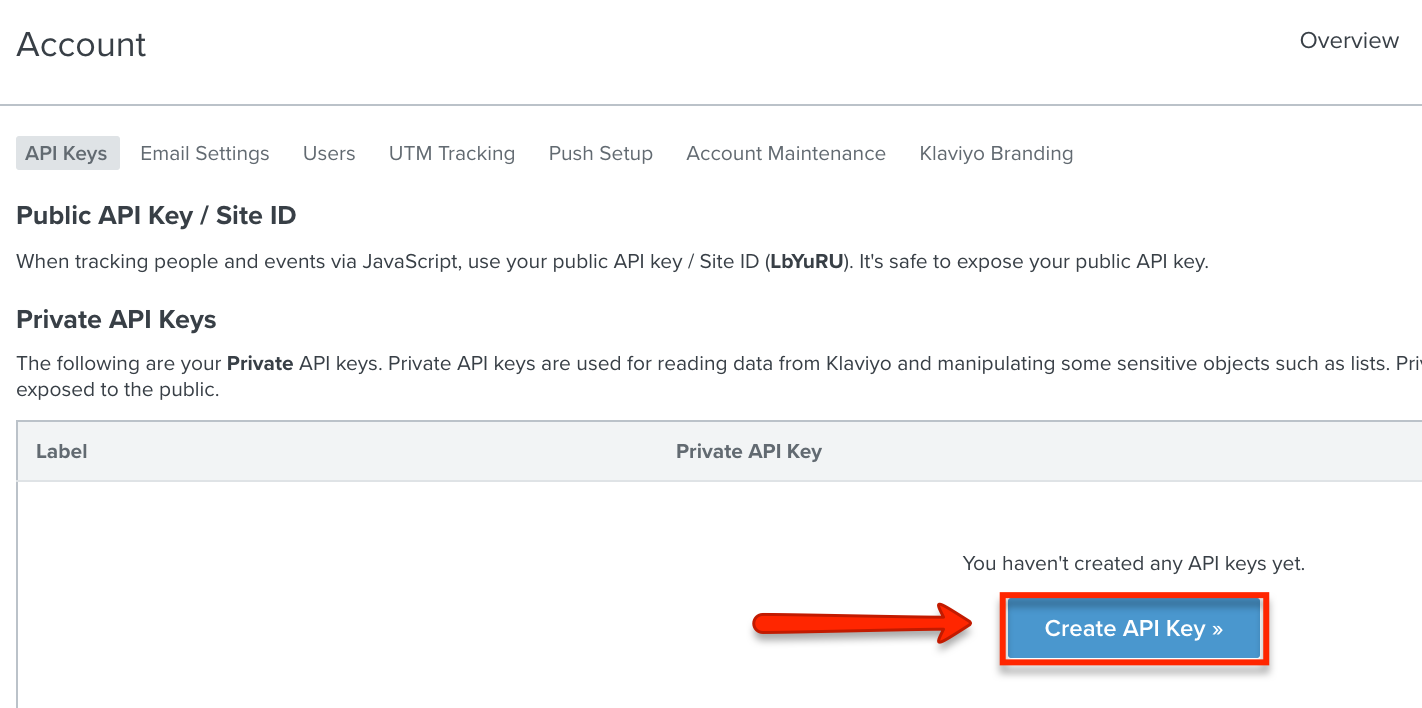 5. An automatically generated API key will appear. Make sure to copy it as you will need to place it in the SMSBump app in order to configure the integration with Klaviyo.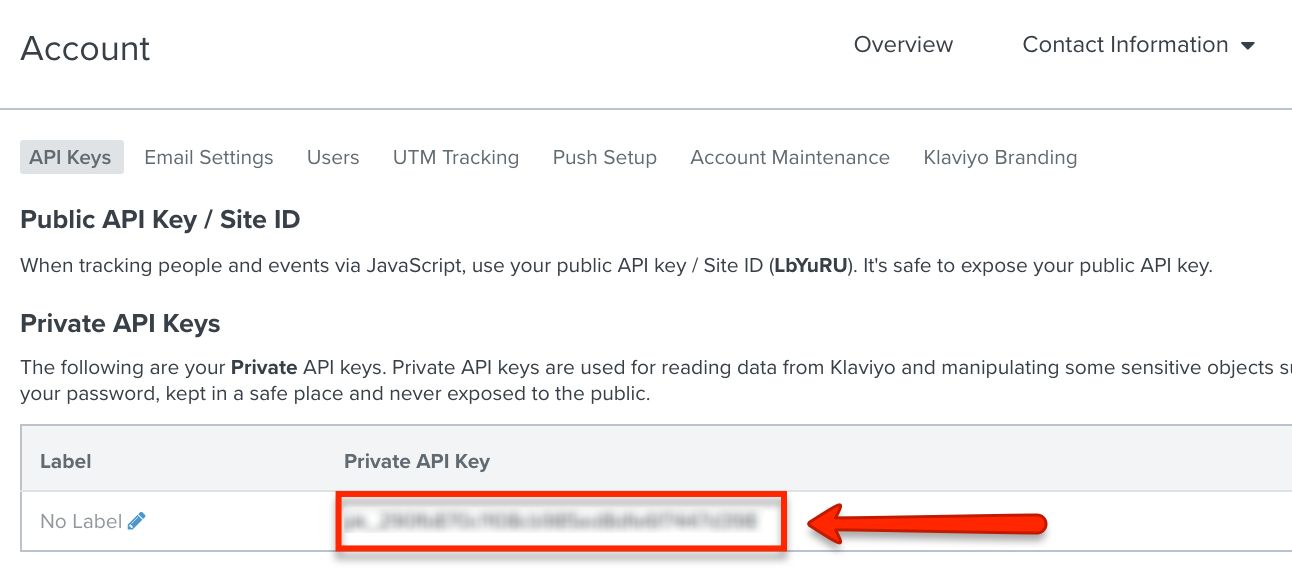 6. Return to your SMSBump app tab.
7. Paste your private API key in the field here: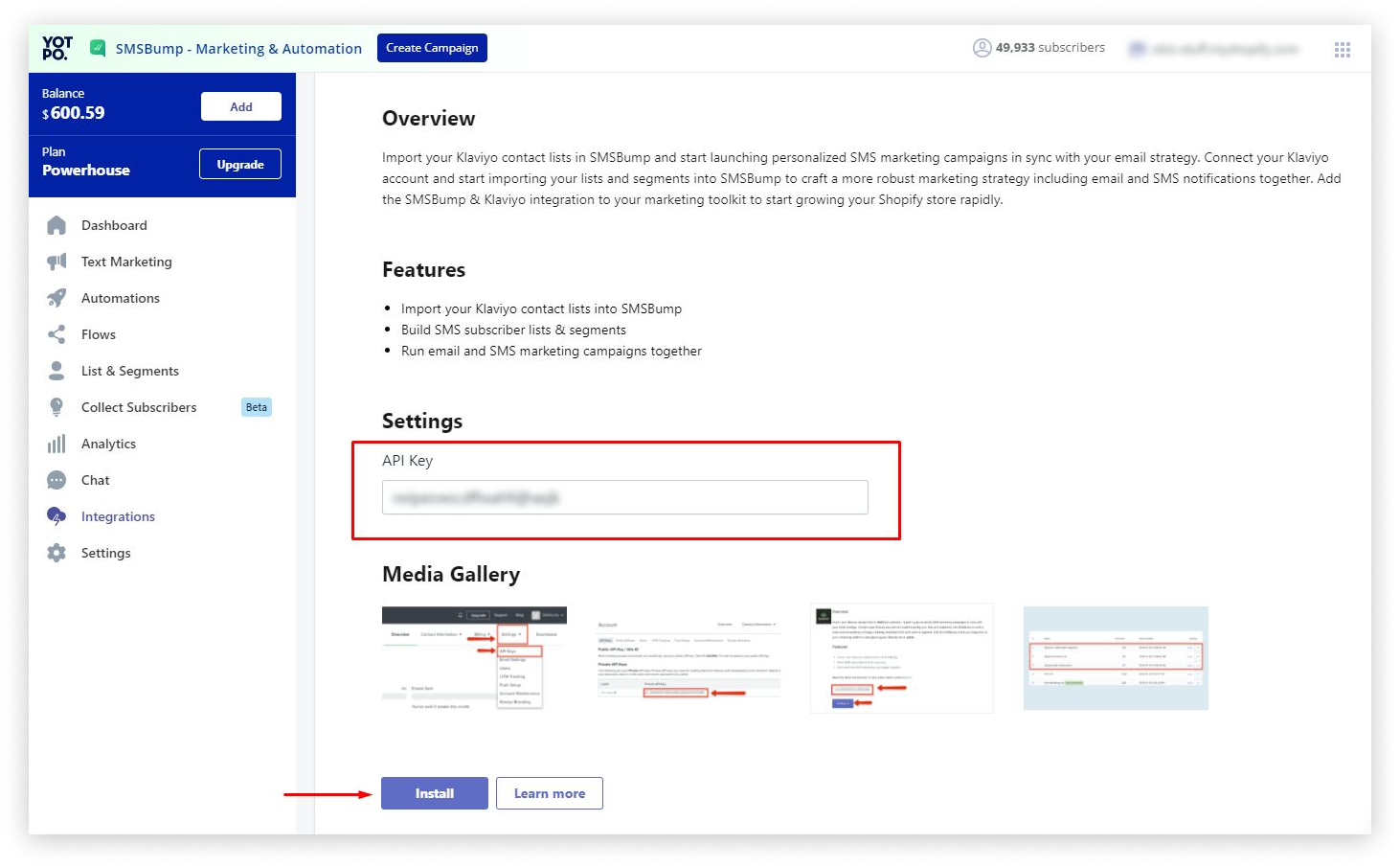 8. Click Install and you will receive a confirmation that your connection is complete. Click Continue to proceed with importing and syncing your Klaviyo lists.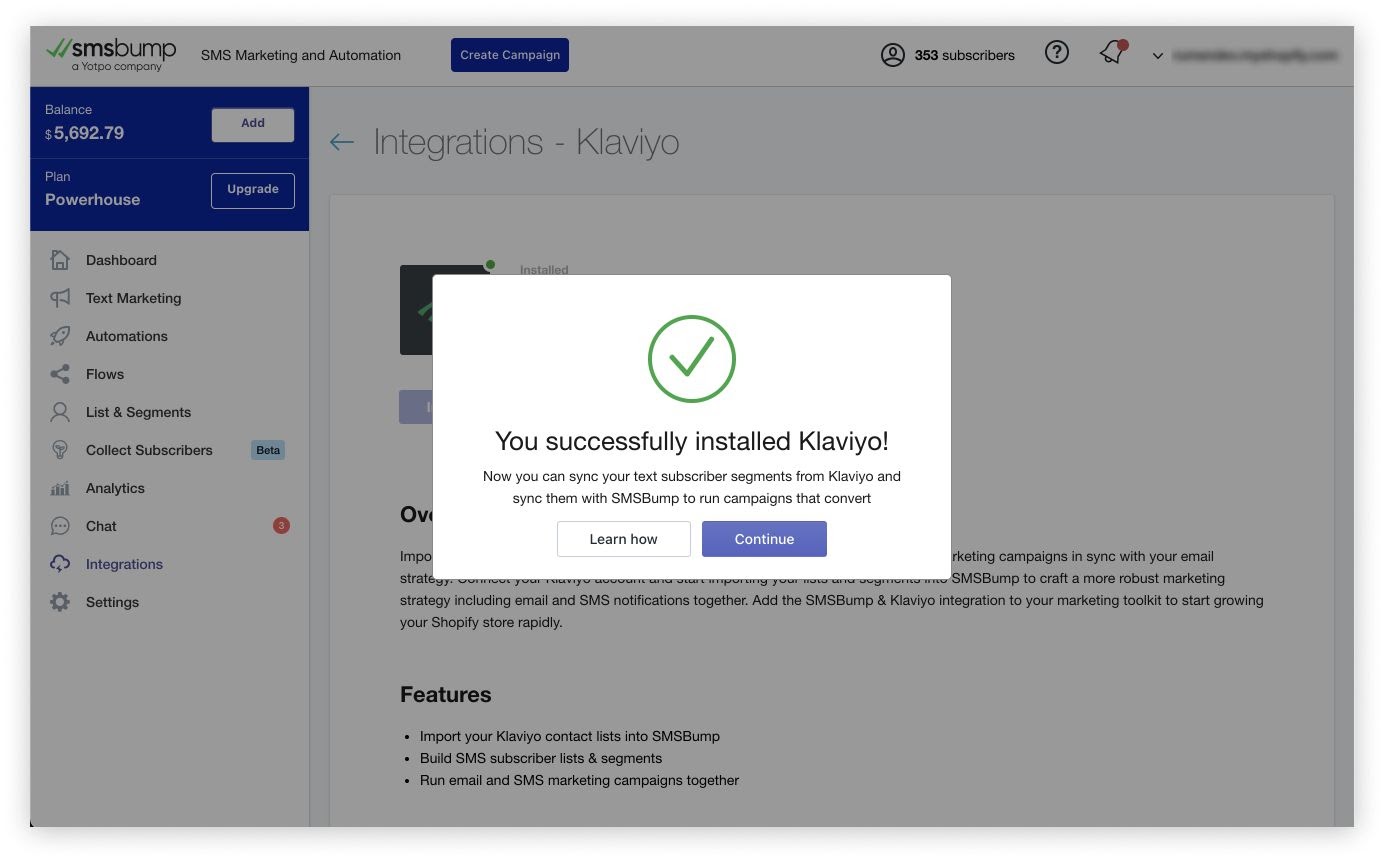 Good job! Now let's see how you can enable your list import and make sure you only upload your best-performing Klaviyo lists to your SMSBump account.
Importing and Syncing Klaviyo contacts in SMSBump
From here on out you will be able to choose which Klaviyo lists you'd like to sync with your SMSBump account.
All you have to do is Enable this option and select lists from your Klaviyo account that you'd like to import to SMSBump from the dropdown menu. The ones you choose to sync will update themselves on a regular basis (every 24 hours) so your lists are always up-to-date. They will automatically get filled up with all the newest contacts that have explicitly consented to receive text marketing and have subscribed to your brand's SMS service.
The opposite also applies - if you have an active SMSBump pop-up form that also collects email addresses, enabling the integration will allow you to replicate specific email subscribers lists from SMSBump in your Klaviyo account. Those will also be updated regularly.
For now, let's focus on syncing your Klaviyo lists with SMSBump.
In the green field underneath the list selection you will see a short summary of what's going to happen once the selected Klaviyo lists sync with SMSBump. It will tell you how many total contacts were detected in the Klaviyo list you're looking to sync, how many of those are explicitly Subscribed SMS Contacts and finally - how many unique subscribers have been synced from Klaviyo.
Important: if there are duplicate contacts (with the same phone number, but different emails), they will all be included in the Subscribed SMS Contacts number. However, the Total Subscribed SMS Contacts number shows only the number of unique entries (without the duplicates).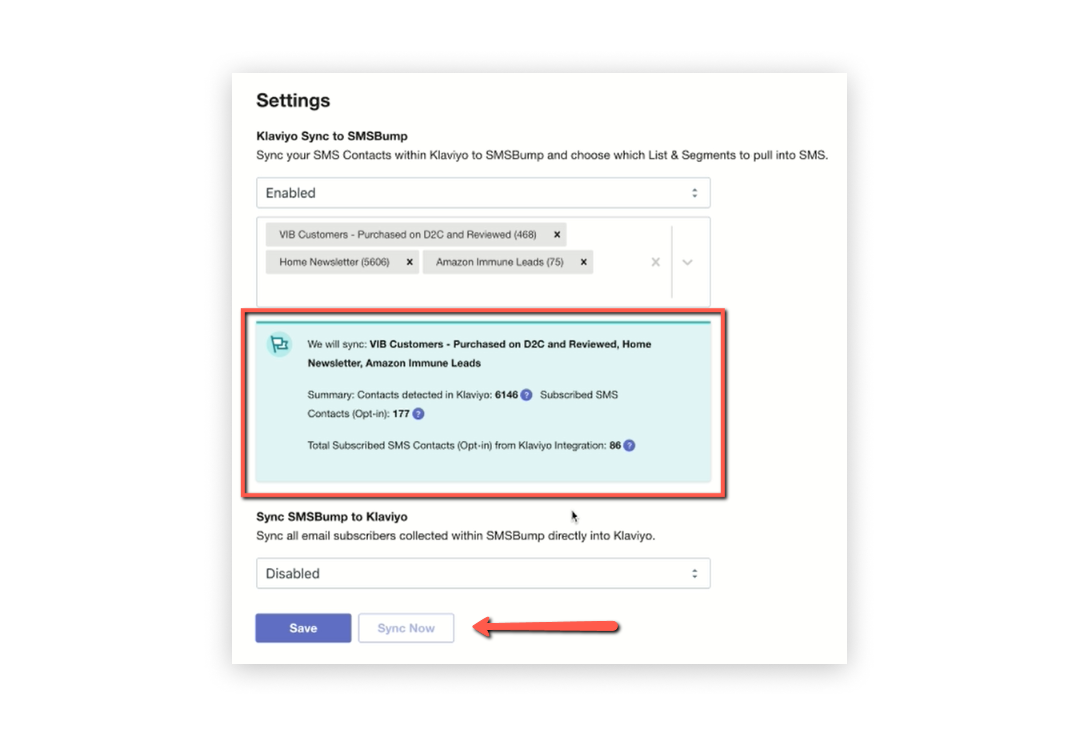 What you need to do next is to click on the Sync now button below so that the lists are added to the queue to be synced. Keep in mind that it will sync only the specific lists you have chosen above, not all existing lists in your Klaviyo account.
Click on the blue Save button to save the settings.
Important: Use the Sync now button only the first time when you want to sync specific lists and add them to the queue. Once they are synced, you can add other lists and click on the Save button, which will add the lists to the 24-hour queue. From then on, the Sync now button will work as a "force sync" - it will add the lists to the queue AND sync them as soon as possible.
After you've imported your selected Klaviyo lists, you will be able to view and access them from our Lists & Segments menu.

Once you click on View you'll see more detailed information about the subscribers within a specific list - with their phone numbers and email addresses.
On top of each list you'll be able to see the following stats:
Contacts detected in Klaviyo: the total number of contacts identified within this list in Klaviyo.
Total subscribed SMS contacts (opt-in): the number of unique SMS subscribers within this list.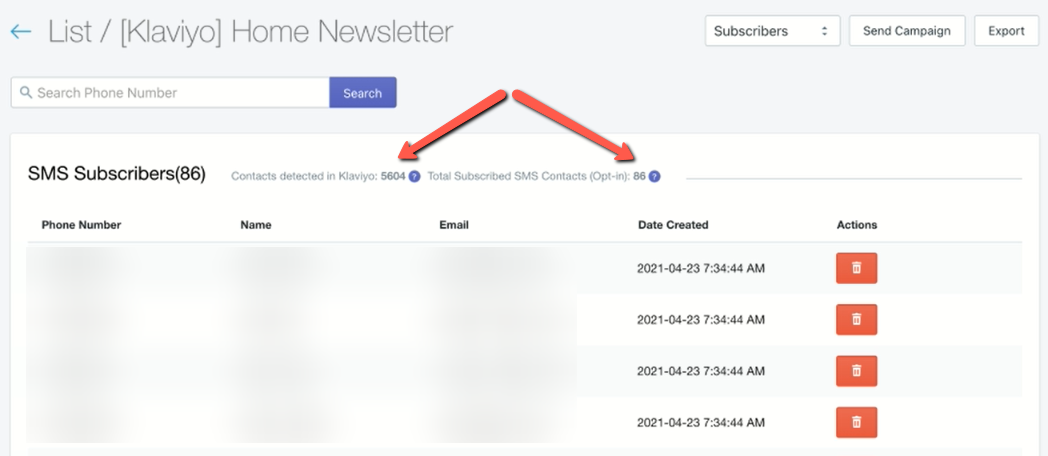 Remember that all these contacts have given their explicit consent to receive marketing updates from you - via SMS and email.
If you want to learn how to create and edit lists and segments, you can find more detailed information and help materials in our Knowledge Base.

You are now all set and ready to supercharge both your email and SMS marketing strategy in Shopify!
---
Related articles