Understanding your Subscriber Collection Performance in Analytics
Having a full understanding of the performance and the results of each campaign is what helps marketers optimize their work and what drives businesses to sustainable growth and success.
Our Collect Subscribers Analytics is here to help you gain key insights on how many people have subscribed (or unsubscribed) from the different SMS opt-in tools you use, which countries they come from, what are your growth rates per source, and more.
The more you know, the better marketing decisions you'll make! You can refresh and upgrade your current subscription forms to drive better results, or analyze the success of your highest converting tools, and use these insights for future initiatives. Track your performance over time and adjust your strategy accordingly!
So, let's get started...
How to access the Collect Subscribers Analytics in SMSBump

Go to the Analytics section from the main menu on the left and click on Collect Subscribers.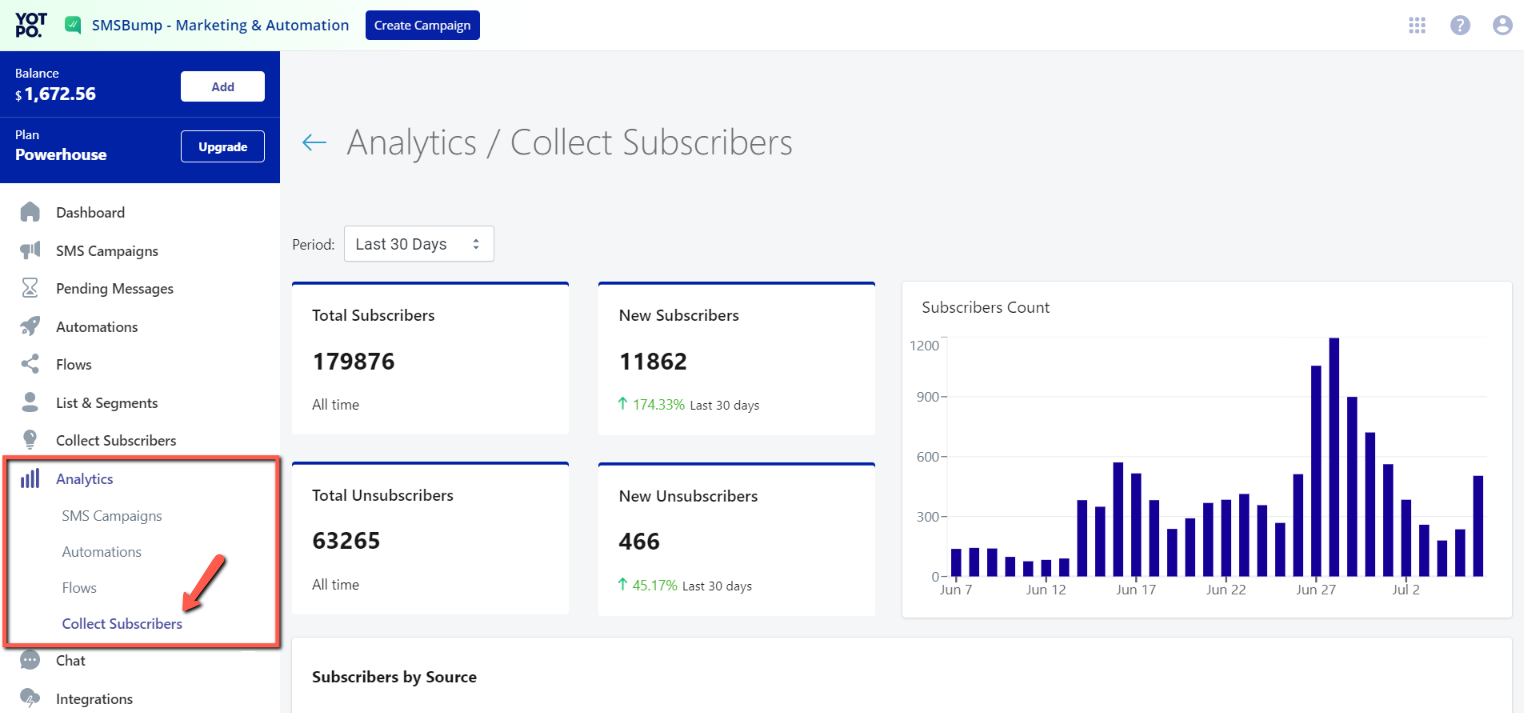 Here you'll find a general overview of the performance of your Collect Subscribers efforts over a configurable time frame.
First, select a time period: last X days, last X months or a custom period.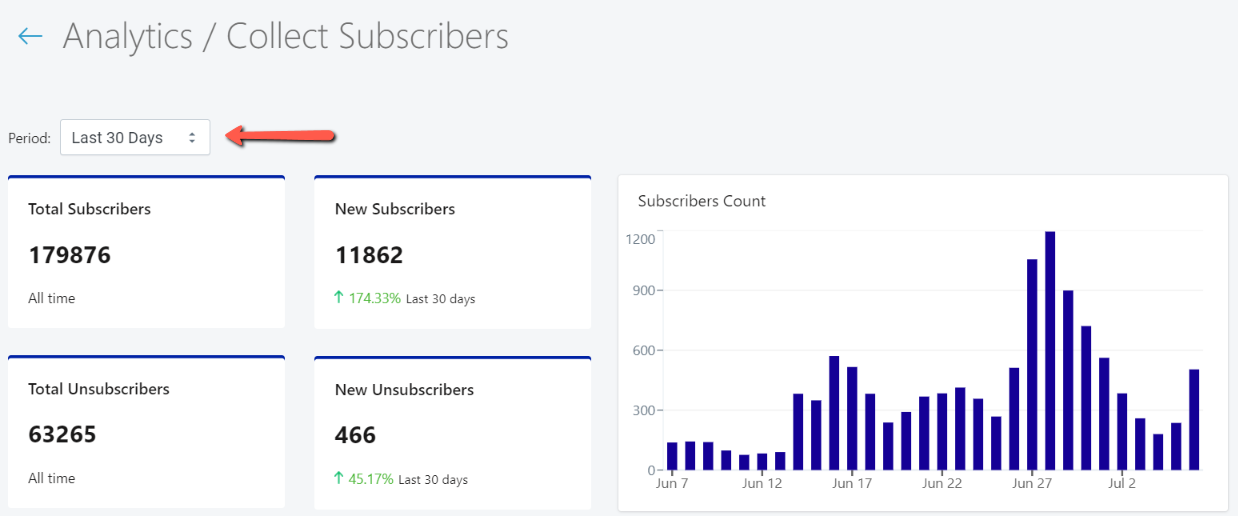 Now you'll be able to see the most important data points when it comes to your subscribers count:
Total Subscribers: shows the total number of your SMS subscribers (179876).
New Subscribers: shows the number of new subscribers for the selected time period (11862) and the growth rate (174.33%)
Total Unsubscribers: the total number of people who have unsubscribed from your SMS program (63265).
New Unsubscribers: the total number of unsubscribers for the selected time period (466) and the growth rate (45.17%)

The chart on the right shows a visual representation of your subscribers count over time, so that you can quickly see the periods with best (or worst) results in terms of subscriber collection.
Overview by Source
Below you'll find an overview of the number of subscribers, number of unsubscribers and growth - all distributed/divided by source:

The visual chart on the left shows where most of your subscribers are coming from.
To the right of the chart, you'll find detailed information (in table view) showing all the different sources of new opt-ins, the number of subscribers and unsubscribers and last, but not least - growth rates. Subscriber's Growth Rate measures the percentage of growth in a given time period compared to the previous time period. The time period can be a week, a month, a quarter, or a year and can be adjusted at the top left of the page.
The sources are ordered from highest to lowest number of subscribers.
If you click on Other, the table will expand and you'll see the full list of contributing sources.
Other Reports
The third (and final) part of the Collect Subscribers Analytics page shows 2 more important overviews:
Country: here you'll gain an insight from which countries your subscribers are coming from and what is the growth rate per country.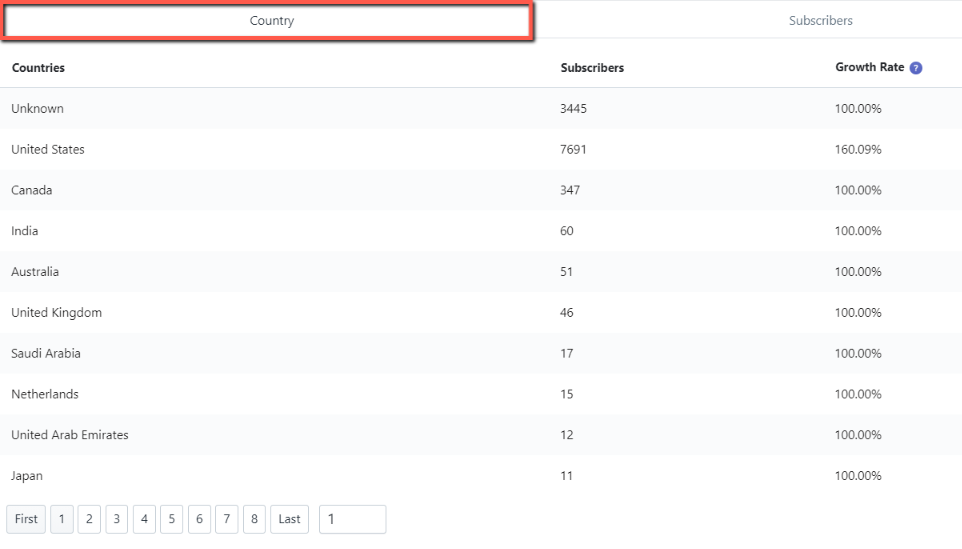 Subscribers: in this submenu you'll find a full list of all your contacts - with their names (if available), phone numbers, subscription and unsubscription dates.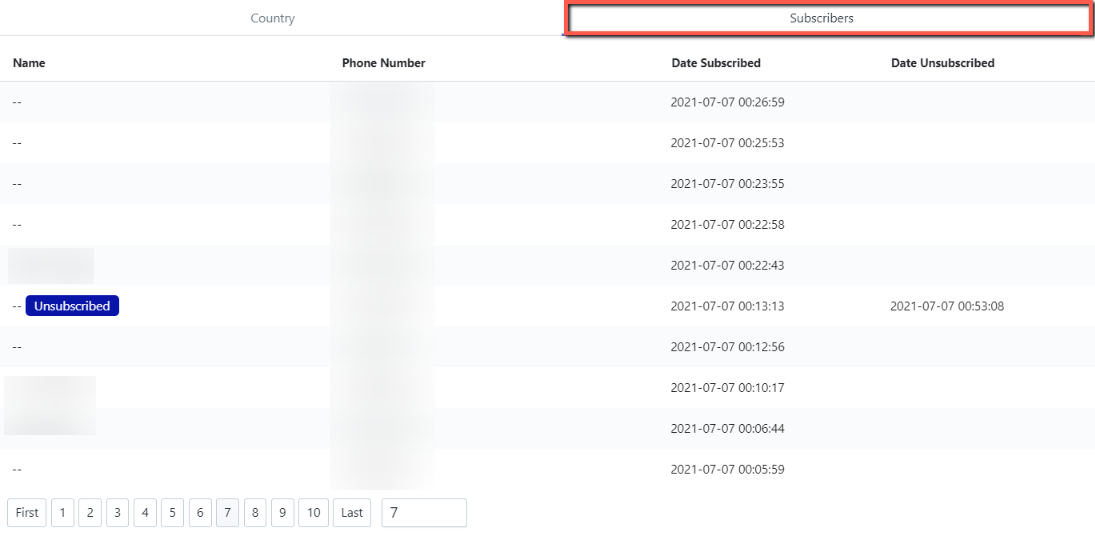 This was our quick tutorial on how to view and understand your Collect Subscribers Analytics. Start leveraging these key insights and set your subscriber collection tools up for success!
---
Related articles