Setting Up SMSBump to Comply With GDPR
GDPR is a European data protection and privacy regulation that became law in May 2018. This law protects the privacy and personal data of individuals within the European Union, as well as addresses the export of data outside of EU borders.
GDPR puts privacy in the hands of European citizens and centralizes the rules and processes businesses must follow in order to guard and respect the interests of the European people.
This help post will give you some insight on how to abide GDPR regulations by telling you:

How to update your Privacy Policy

How to get customer consent and collect subscribers

How to setup checkout opt in

You Should Know That...
SMSBump marketing messages and automations will not be sent without legally obtaining a client's phone number first. Each customer must give their explicit "prior written consent." Customers can give their consent by:

Opting in through the checkout.

Opting in through a subscription form.
Here are the most important things to keep in mind:
Your store's Privacy Policy needs to be explicitly stated on your checkout page. Customers will be required to read it over and agree to it.

Give customers the option to subscribe through a subscription form.

All agreement forms must clearly be visible to customers prior to giving their consent.
Disclaimer: We have worked with an attorney to help us draft the presented information, however we are not a certified legal advisory team so we encourage you to consult with a lawyer who is familiar with GDPR before using our legal texts.
Updating Your Privacy Policy
From the Shopify main menu, click on Settings.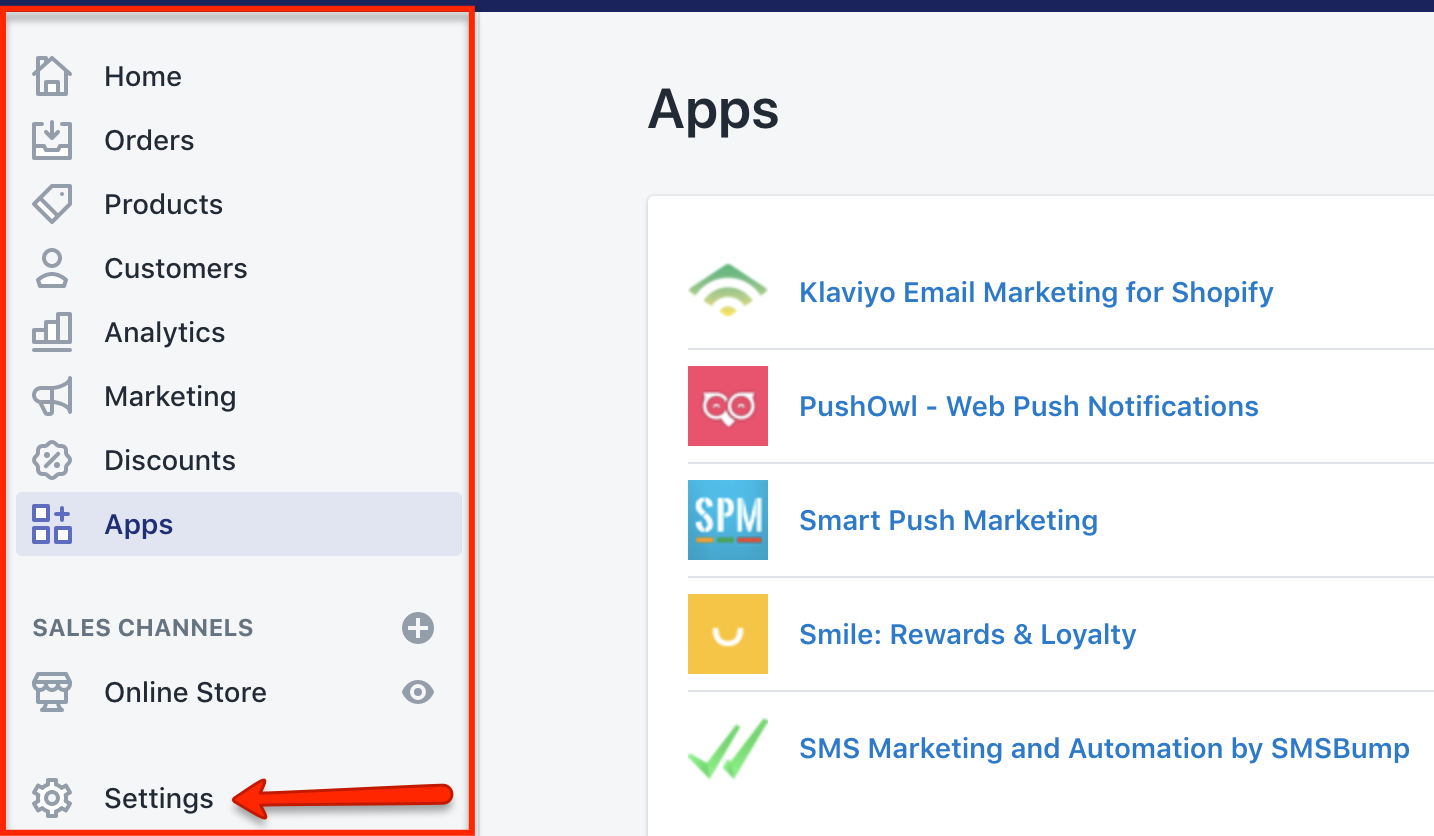 2. Click on Legal to get to your store's legal pages settings.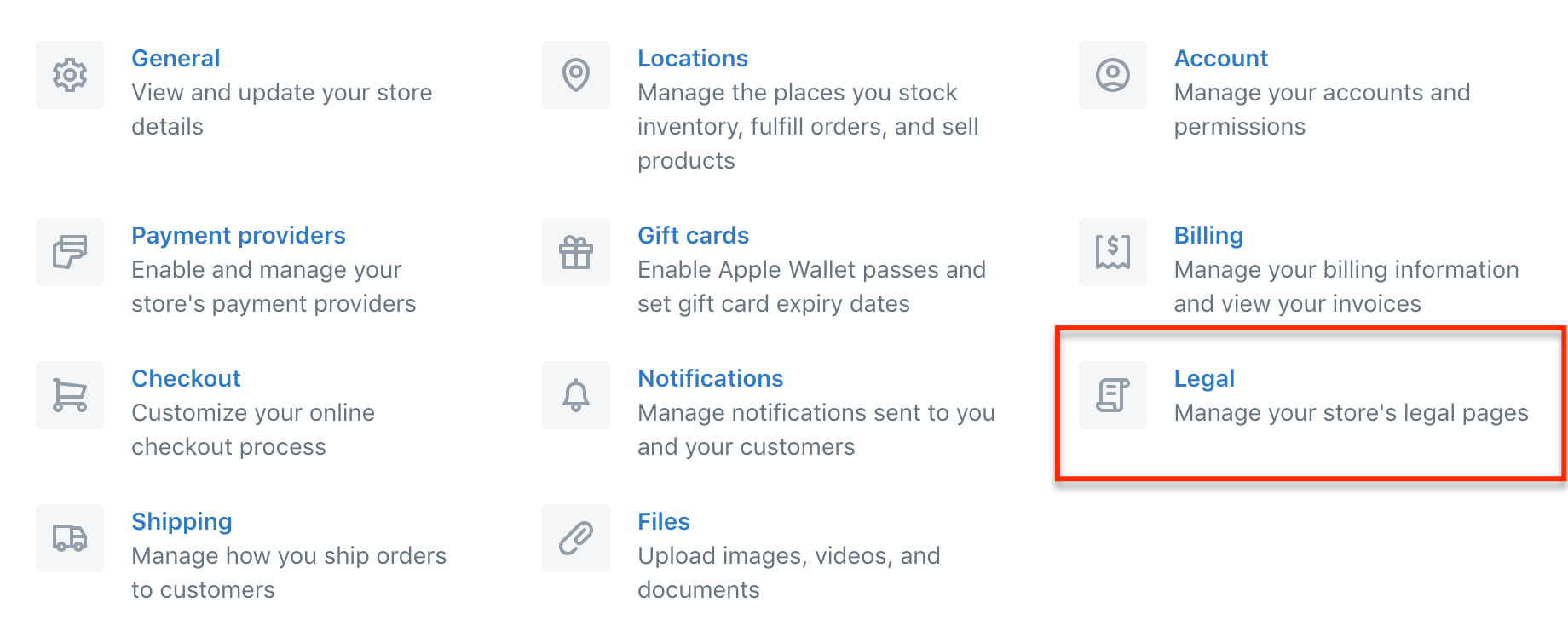 3. In the Privacy Policy text box, you can write your own privacy policy, or click on Create from template to use a sample one. You should also copy and paste the following text:
Text Marketing Terms and Conditions:
We are using a text messaging platform, which is subject to the following terms and conditions. By opting-in for our text marketing and notifications in, you agree to these terms and conditions.
By entering your phone number in the checkout and initialising a purchase, subscribing via our subscription form or a keyword, you agree that we may send you text notifications (for your order, including abandoned cart reminders) and text marketing offers. You acknowledge that consent is not a condition for any purchase.
Your phone number, name and purchase information will be shared with our SMS platform "SMSBump Inc, an European Union company with office at Sofia, Bulgaria, EU. This data will be used for sending you targeted marketing messages and notifications. Upon sending the text messages, your phone number will be passed to a text messages operator to fulfill their delivery.
If you wish to unsubscribe from receiving text marketing messages and notifications reply with STOP to any mobile message sent from us or use the unsubscribe link we provided you with in any of our messages. You understand and agree that alternative methods of opting out, such as using alternative words or requests will not be accounted as a reasonable means of opting out. Message and data rates may apply.
For any questions please text "HELP" to the number you received the messages from. You can also contact us for more information. If you wish to opt out please follow the procedures above.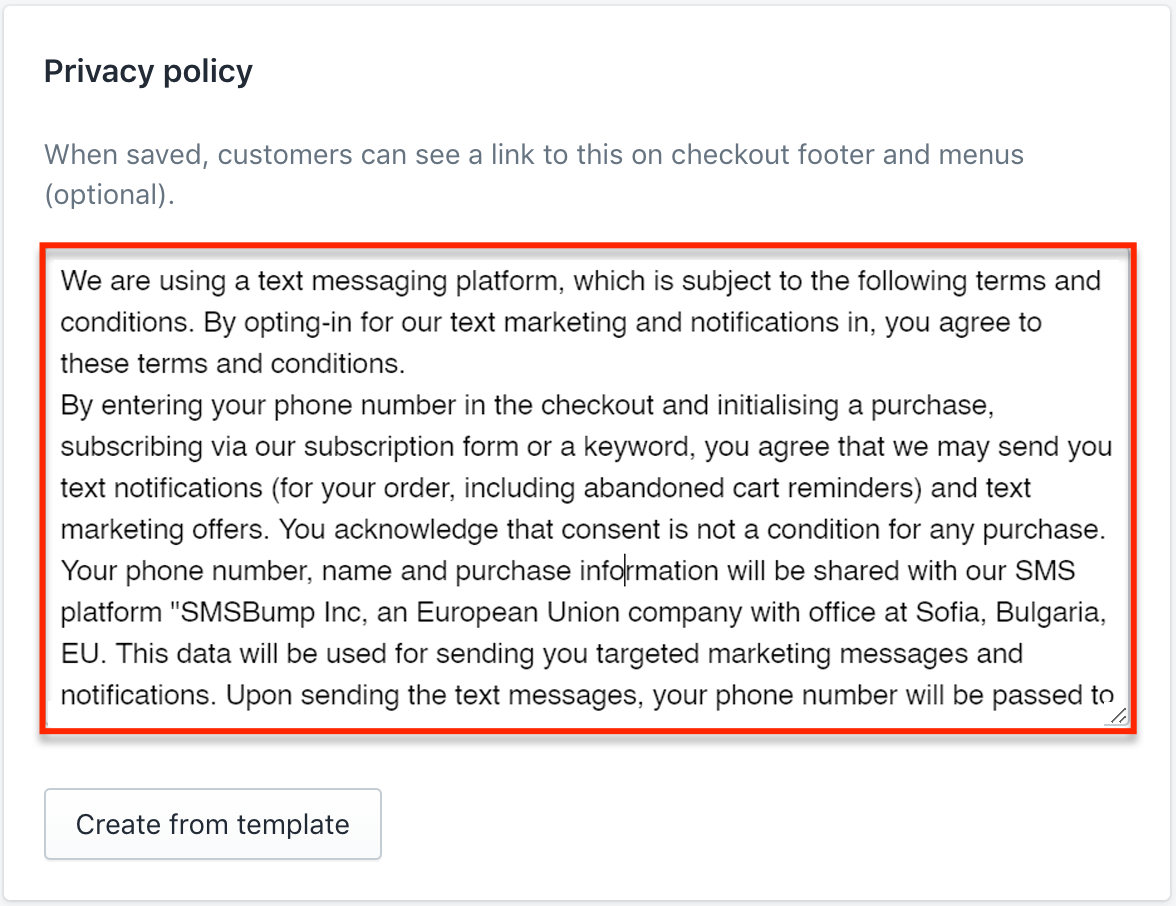 4. Click on the Save button to save the changes made.


Set Up Checkout Opt-In

1. From the Shopify Settings page click on Checkout where you will be able to edit your checkout process.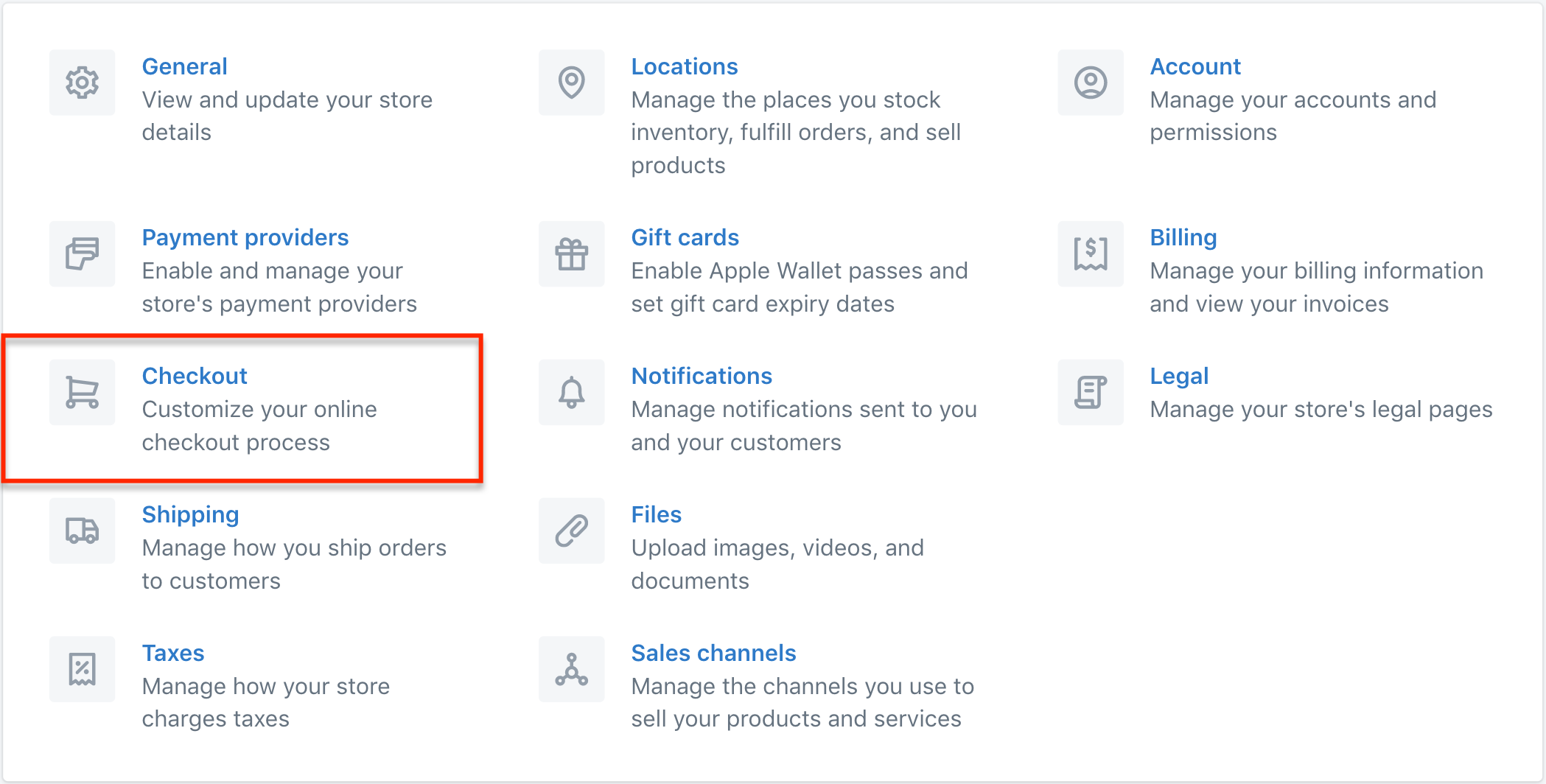 2. In the Form options section under Shipping address phone number make sure to tick Optional.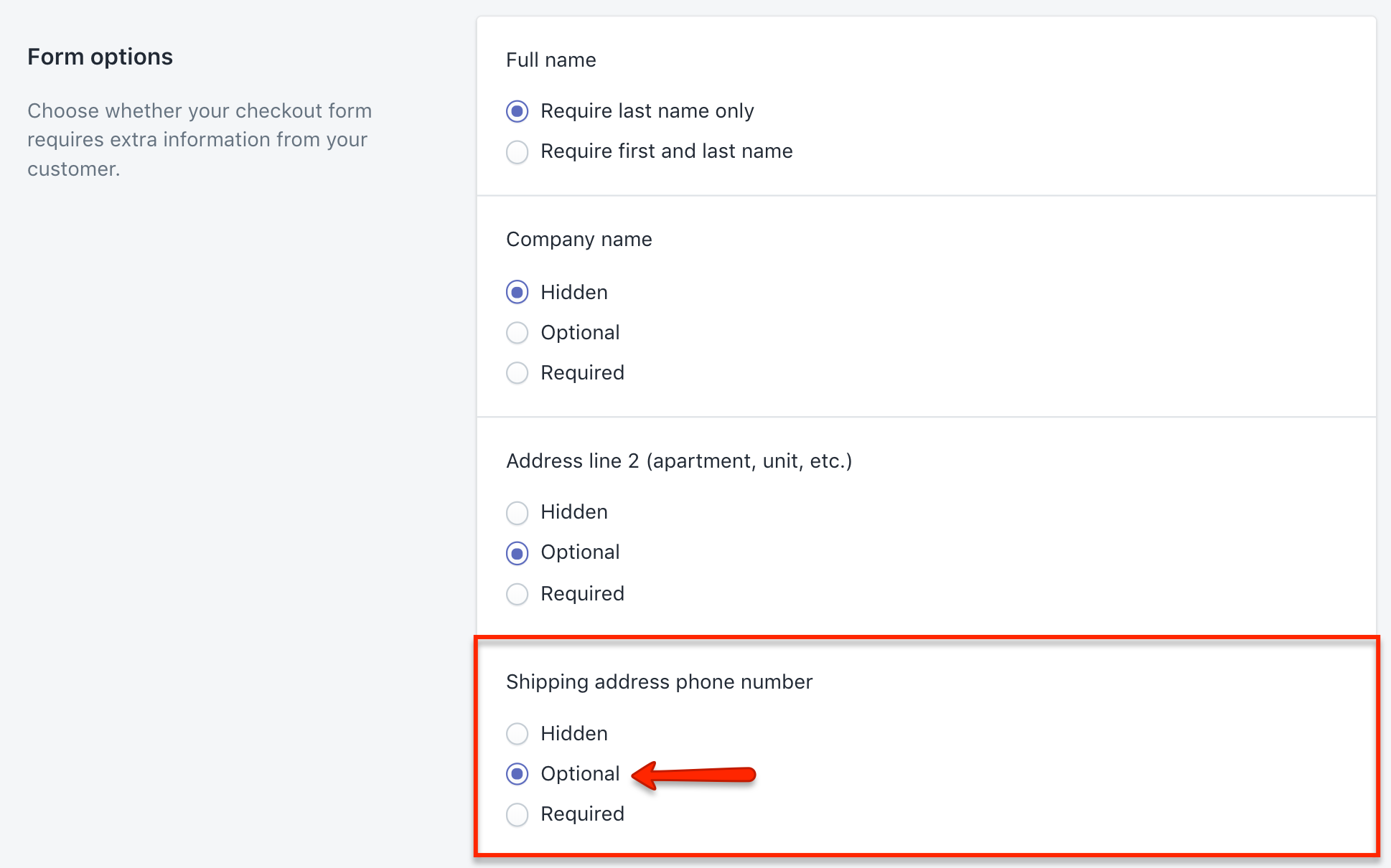 3. Using the CTRL+F shortcut find Checkout marketing on the page. Under Accept marketing checkbox label paste the following text in the fieldbox: "Sign up for exclusive offers and news via text messages and/or email."

4. Next, find the Phone label setting on the page using CTRL+F. In its field box, paste the following text: "Phone number for updates and exclusive offers."

5. While on the same page, search for Checkout shop policies. Under Privacy Policy paste the following text:

"By checking the sign-up box for text message offers and clicking Continue to shipping, I consent to receive recurring automated marketing text messages at the number provided, and I agree that texts may be sent using an auto dialer or other technology. Consent is not a condition of purchase. Message and Data rates may apply. For more information see Terms of Service & Privacy Policy"


6. Click on the Save button.
7. Great job, you have now updated your checkout opt in to comply with GDPR. Your store's checkout page will look something like this: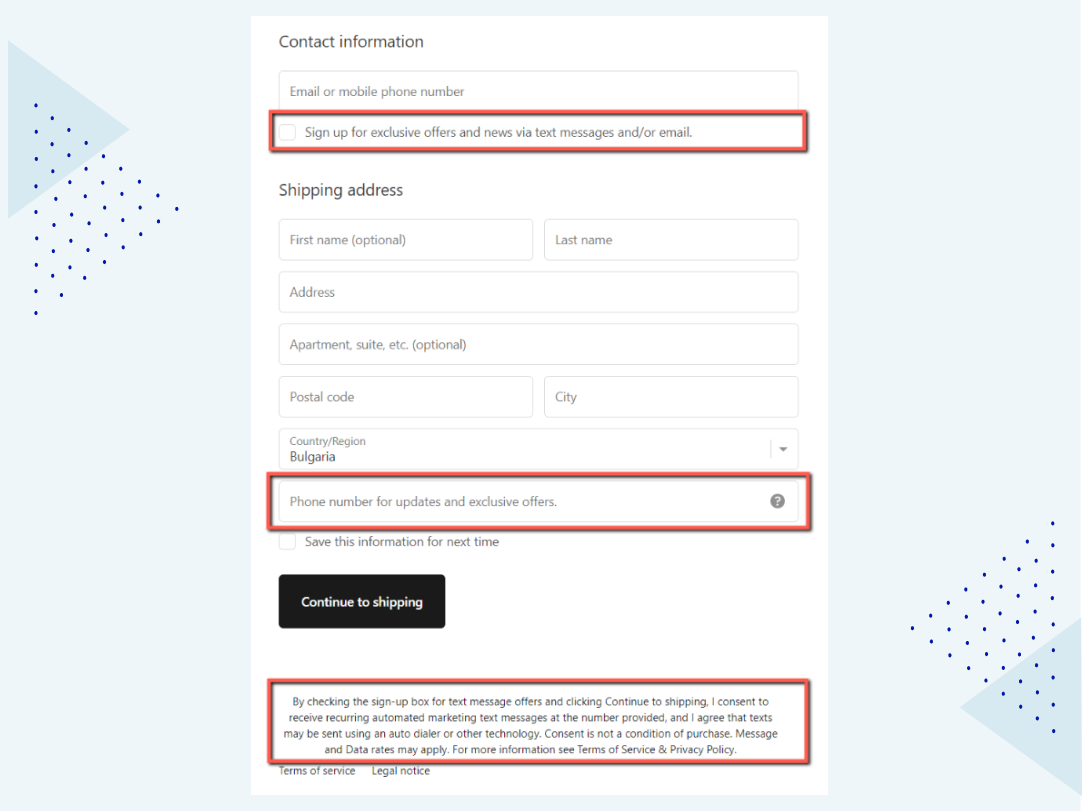 Unsubscribing Customers

SMSBump automatically unsubscribes all customers who reply to text messages with "STOP". You can also unsubscribe customers manually in Lists & Segments in the SMSBump app, or by providing customers with an unsubscribe link.
SMSBump adheres to the national DND (Do Not Disturb) register each time a message is sent.
Rest assured that no marketing campaigns will be sent unless they contain a clearly written text giving customers a way to opt out.
If a customer changes their mind and wishes to opt in to receive text marketing again, all they need to do is respond to a text message with "JOIN."

Further Information

Feel free to reach out to us on chat, to discuss any of the points covered in the post.

If a customer requests to have their personal data deleted from our servers, please forward their number to support@smsbump.com and we will act on it.
---
Related articles