Overview of the Yotpo SMSBump Lists & Segments in Shopify
Lists and Segments is one of Yotpo SMSBump's most popular SMS marketing features. As a Shopify store owner, you are able to upload a list, or manually add contacts to easily target an audience for your SMS marketing campaigns.
The main difference between a list and a segment is that lists are static and the contacts within them remain unchanged, while segments are dynamic and autofill with new subscribers.
This post covers how to create a list and goes over the actions you can take afterwards.
Create a New List
Start from your SMSBump dashboard and click on Lists & Segments on the side main menu.

You will see a predefined list called Text Marketing List (Auto-generated). This is the main list where all your new subscribers will be added from each source: checkout, subscription form, and keywords, until you create more lists and start populating those.
Click on the Create new button to begin.

From the Create new list / segment drop down menu, select List and name it by writing an appropriate title in the List name box.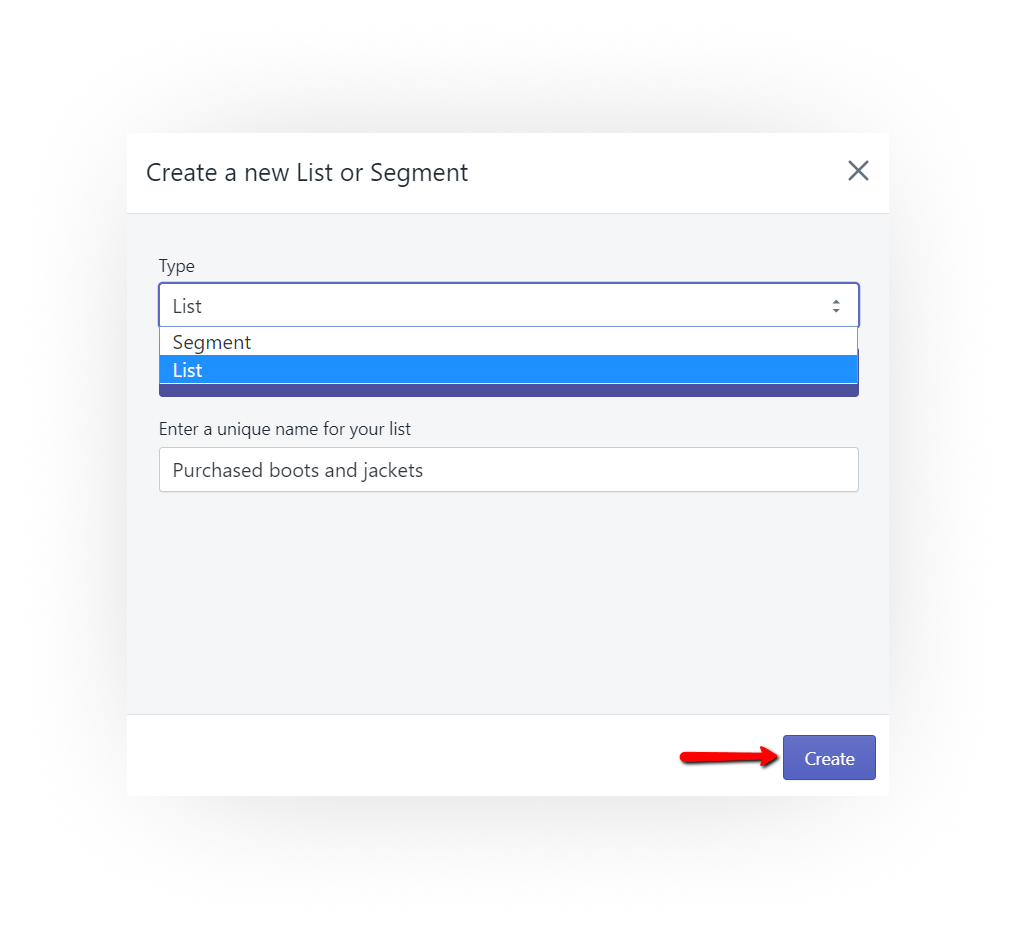 After that, click on the Create button.
Congratulations! Your list has now been created.

Your list will now appear under Lists & Segments and you can click on View to open it.
Managing Your Yotpo SMSBump Lists
Select the Actions button to:
Import lists: in order to import your Klaviyo or Mailchimp lists, you'd first need to contact our support team for a review of the lists you wish to import, to ensure that all contacts have been gathered compliantly. Remember that all subscribers need to have given you their explicit consent in order for you to text them.


Send campaign: Create a new campaign (you will be redirected to the campaign creation page).
Edit name: Rename your list.
Delete: Delete your list.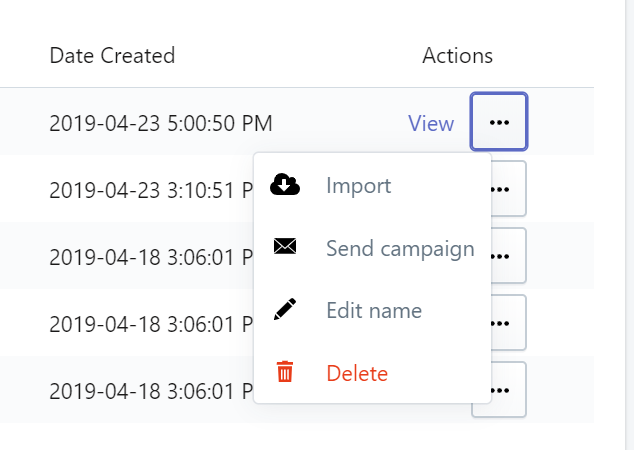 Click on View to get to the list you just created. Under the Actions dropdown you can export your complete list of contacts as a .CSV file.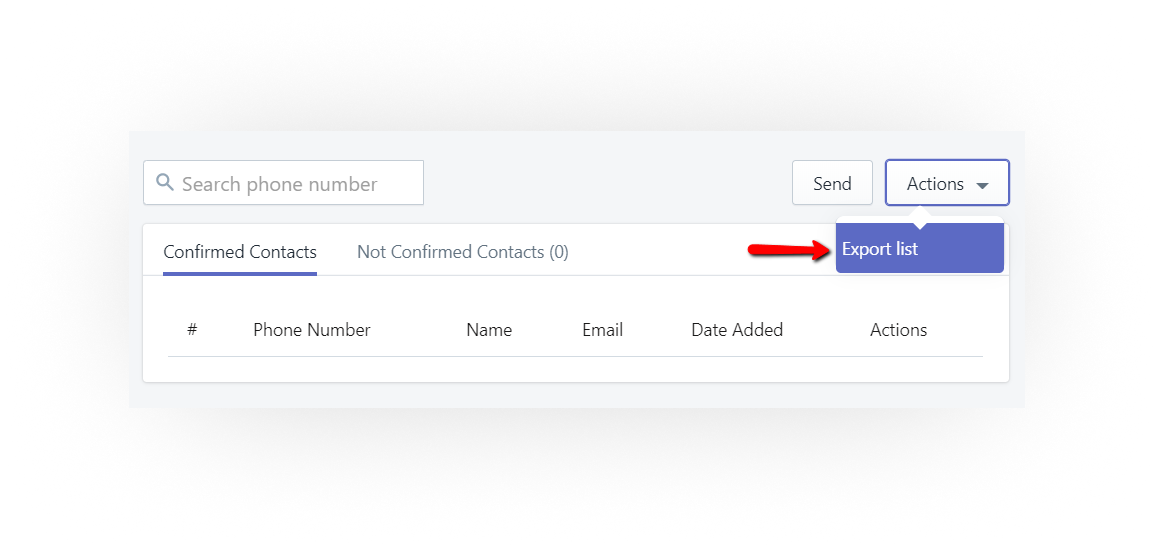 Managing Unsubscribed Customers

It's of vital importance to be able to easily unsubscribe customers from your lists who no longer wish to receive SMS marketing. Here are the steps required:
From the main Lists & Segments page click on the Unsubscribed button.

A chart will display a list of all customers who have unsubscribed. Click on Add manually to unsubscribe a new customer.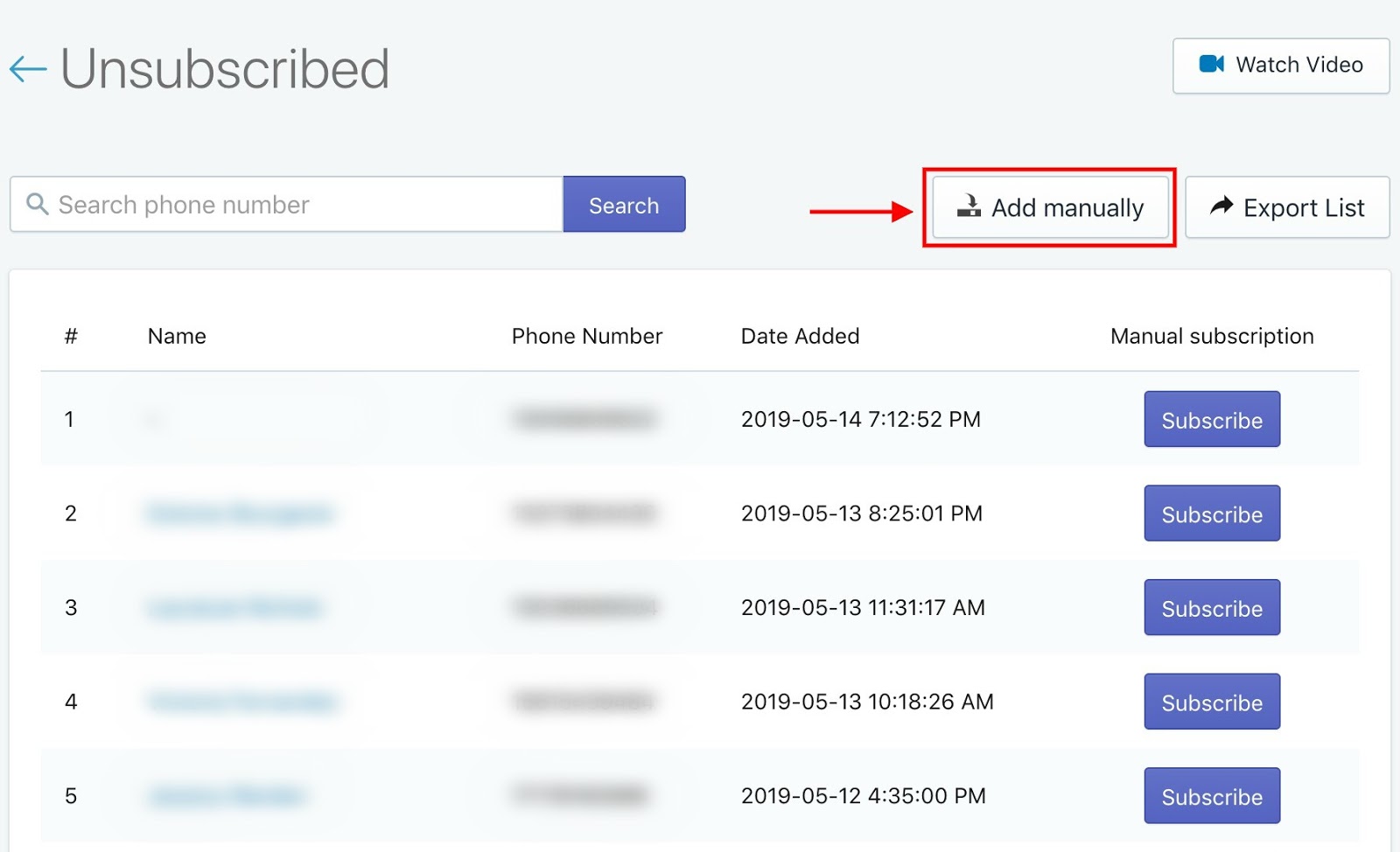 Choose the customer's country from the dropdown menu, and type in their phone number in the adjacent field box. Click on Add now to add them to the unsubscribed list.

Apart from adding customers to the unsubscribed list you are also able to:
Search phone number
Enter a customer's phone number in the search field box to locate them in the list, and click on Search. Their name will display, and you will be able to subscribe them once more if they change their mind, by clicking on the Subscribe button.
Important: Customers can also subscribe by replying JOIN to any of your text messages.


Export List
If you'd like to save your unsubscribed list as a .CSV file click on the Export List button. Next, choose your Export type from the drop down menu.

Full Export: Exports the list of all of your unsubscribed customers as a .CSV file.


Current Search Result: Exports the customer you searched for as a .CSV file.
Click on the Yes, go ahead! button to save your list on your computer for future reference.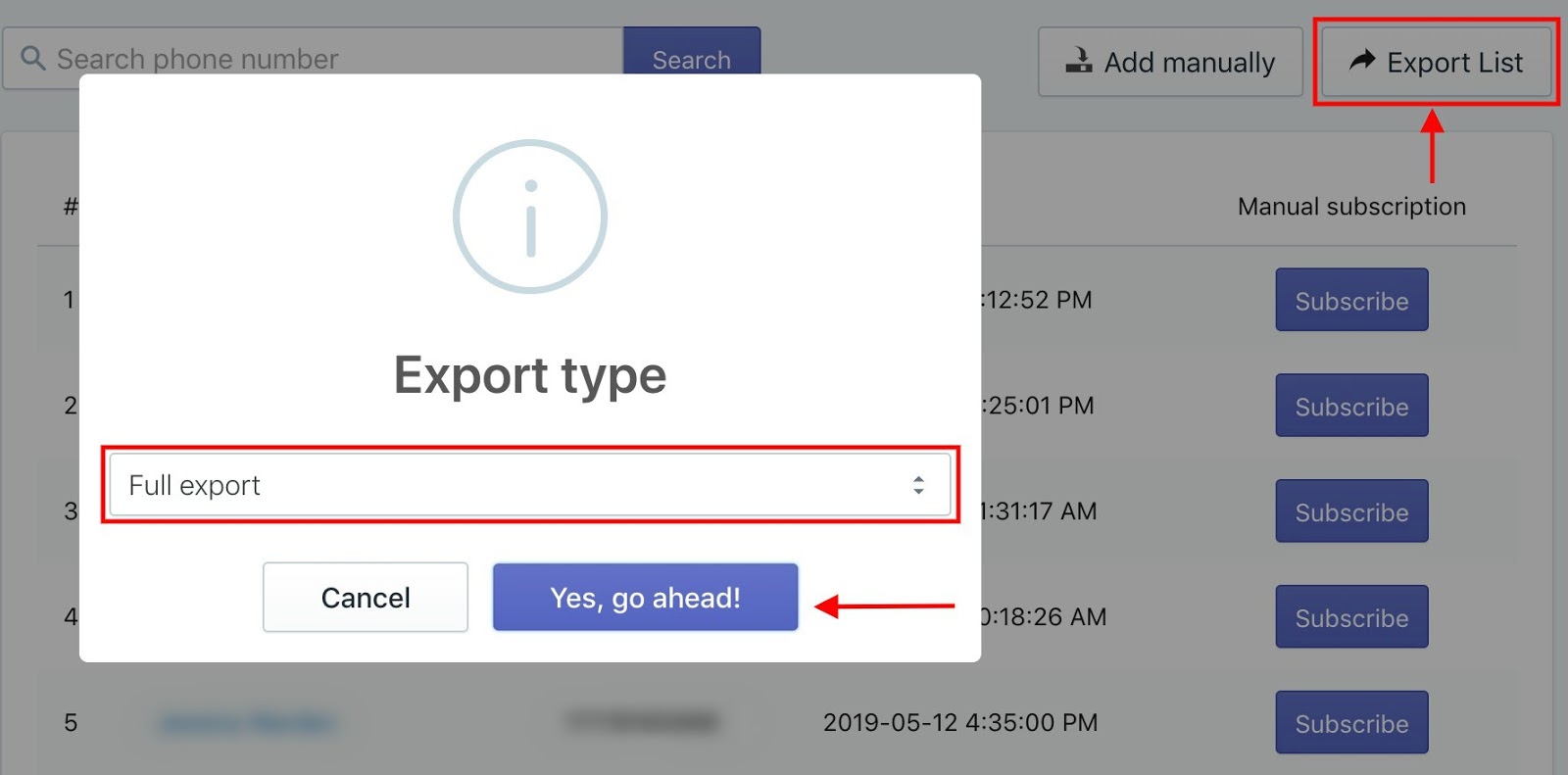 List Subscription Keywords

Each list that you create generates its own unique Keyword automatically.
When a customer replies using the keyword (for example LIST53632), they get subscribed to that specific list. You can send out campaigns inviting your customers to subscribe with messages such as "Reply with LIST53632 to sign up for exclusive deals on our new arrivals."
The keywords will be different for each list and will come with a unique number, for example LIST53632, LIST53633, LIST53634, etc.
To purchase a new keyword of your choice, press the Buy Premium Keyword button. Read about keywords here.

After you are satisfied with your list, you can send a text marketing campaign to the contacts inside. Under View, click on Send Campaign, and you will be redirected to our text marketing editor, where you can make changes to the campaign, copy of the text message, add incentives and visuals etc. Here is how to run a successful text marketing campaign.
---
Related articles