Overview of the SMSBump App Dashboard in Shopify
The dashboard is the first thing you see when you open the SMSBump app. It is neatly organized into clear sections to help you navigate to exactly where you need to go.
When logged into Shopify and inside the SMSBump app, you will see the main menu on the left.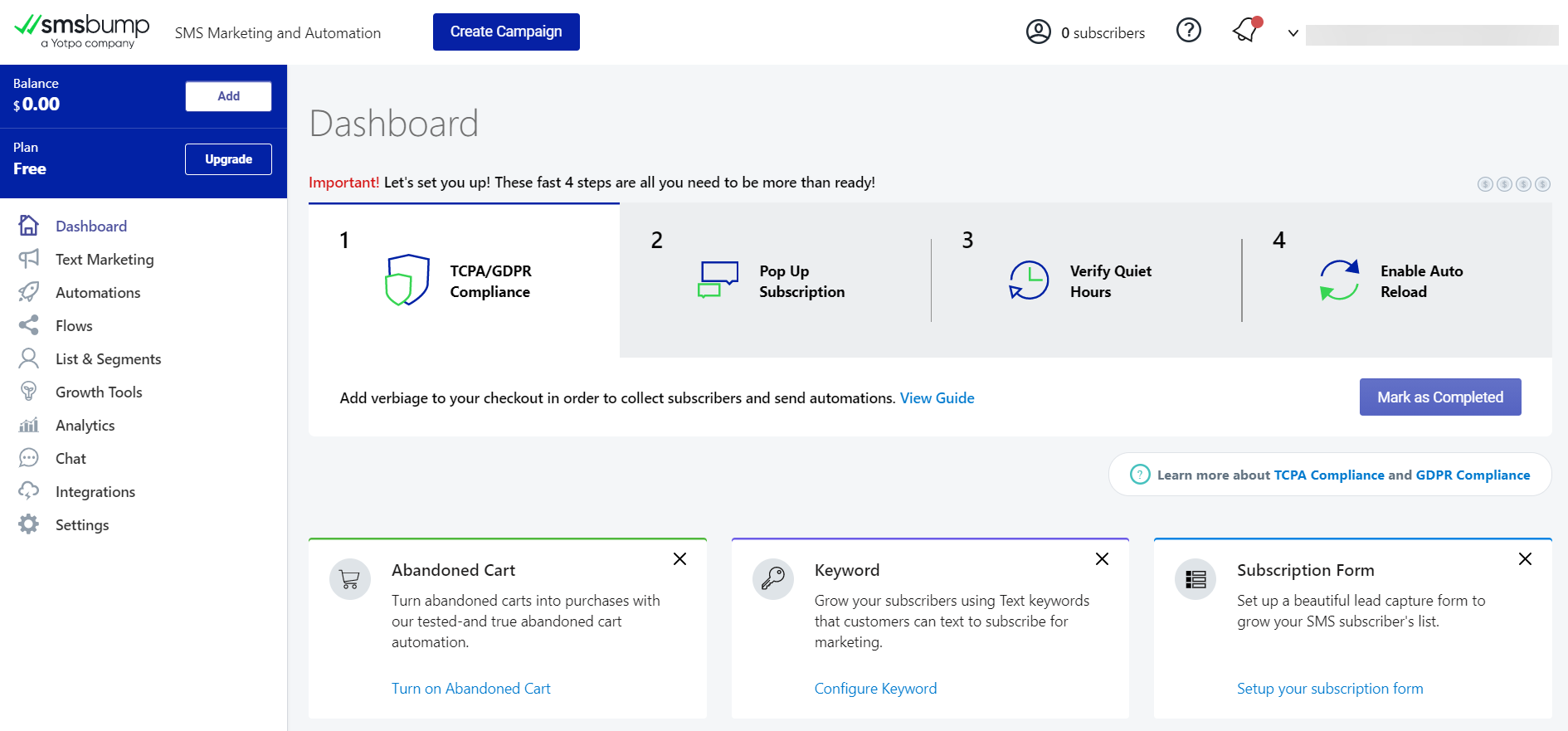 All of the app features are listed there, and once clicked on a submenu, you will be navigated to its own specific page.
On the right you can find the main Dashboard section - showcasing useful tools, important metrics and graphs.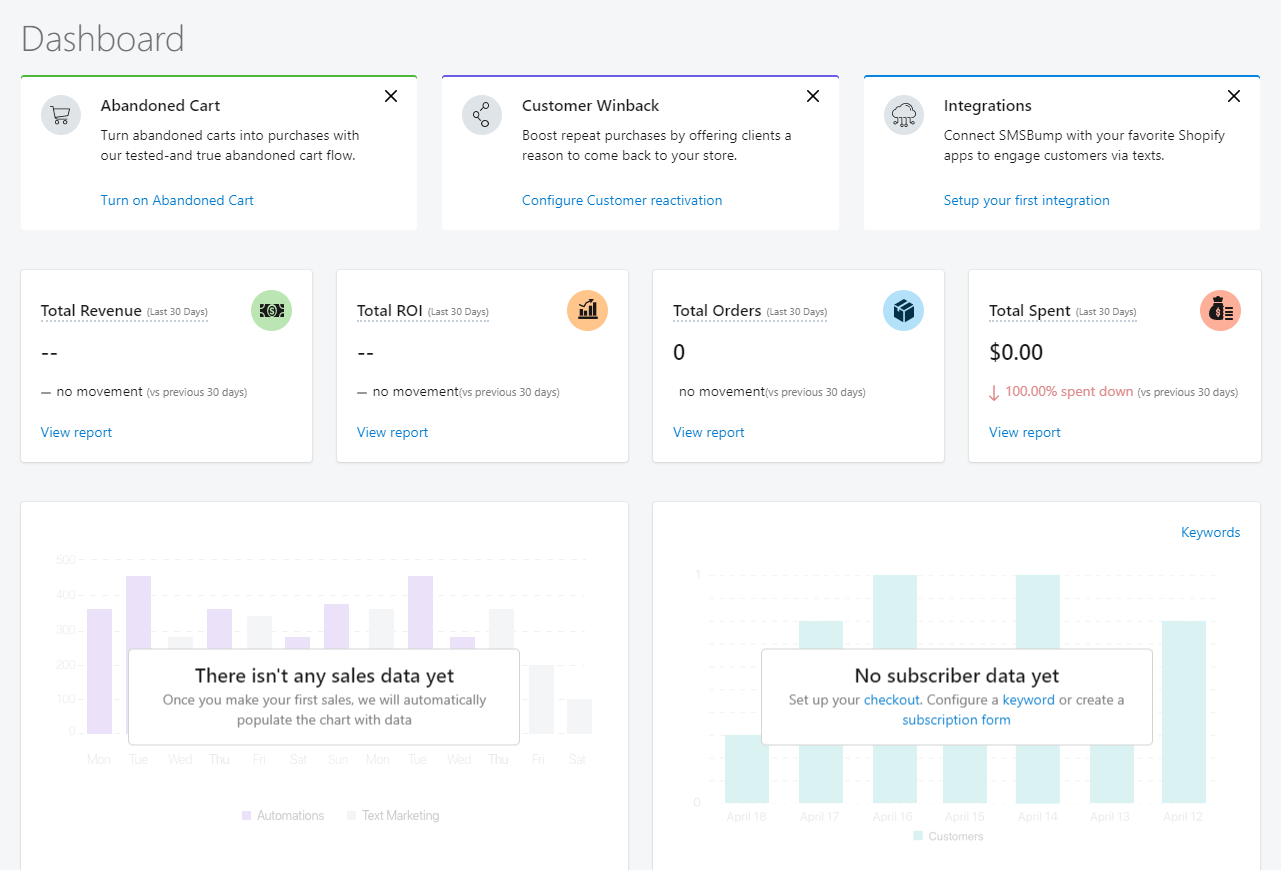 But before we start to review the main sections of the Dashboard let's take a look at some additional tools, located on top of the page:
What's New banner
Here is where you can find all the latest news and announcements from SMSBump. In the example below you can see the publication when we released our Predictive Gender Segments. If you want to find out more about a specific announcement, simply click on the Read More button on the right.

The 4-Steps
In this section we have put together 4 important steps to help you start with your SMSBump app.
Step 1: TCPA/GDPR Compliance: It is crucial to add the required compliance verbiage to your checkout in order to collect subscribers and send automations. For further information click on the active links below, as shown:

Once you make sure your outgoing text messages are in compliance, simply click on Mark as Completed.
Step 2: Pop Up Subscription: this is one of the top performing conversion tools and therefore one of our main app features. Use the button on the right or the active link below if you want to activate it or find out more about this tool.

Step 3: Verify Quiet Hours: if you want your text marketing campaigns to perform well and your list of subscribers to increase steadily, make sure you are not sending text messages during quiet hours. Our useful tool is here to do just that - to help you schedule your campaigns in hours that are suitable to your subscribers - depending on their time zones.
The blue button on the right will enable the Quiet Hours feature and for more information don't hesitate to click on the active link below.

Step 4: Enable Auto Reload: if you decide to turn this option ON from the button on the right, you will set up automatic reload rules and will never miss a chance to convert a sale! Detailed explanation of this feature can be found in the active link below.

Now that you are familiar with these 4 important steps let's move on to the main sections of the SMSBump Dashboard:
Main Dashboard
The SMSBump dashboard lets you easily navigate to the most important sections of the app. It is divided into five main sections:
Key Features

Important Metrics

Visual Report

Leave a Review

Latest Messages
Key Features

The three most important SMSBump features are located on the top of the dashboard:

Abandoned Cart: Send a reminder text to customers who've abandoned their order at checkout to complete their purchase.


Customer Winback: Win your customers back by offering them special deals and discounts on exciting new store items.


Integrations: Connect your SMSBump with your favorite Shopify apps to create engaging omnichannel experience.
Important Metrics
This section of the dashboard lets you quickly review the most important metrics that measure the success of your Shopify store.

Total Revenue: The total amount of revenue you have generated using SMSBump in the last 30 days.


Total ROI: The percentage of the amount from what you spent in credits to what you received as revenue in the last 30 days, or in other words: Return on Investment.


Total Orders: The total number of orders that customers have made in your store in the last 30 days.


Total Spent: The total amount of money you've spent on SMSBump credits in the last 30 days.
Visual Report
The two graphs shown below, illustrate the progress your store is making in Total Sales and New Subscribers.

Total Sales: This graph shows the number of sales you have made in the last 30 days. Hover over a specific vertical line to view the sales made for that day.


New Subscribers: This graph presents the number of new subscribers you have gained each day for the last 30 days.
Leave a Review
Your last text marketing campaign was a blast? Are you satisfied with the tools and features SMSBump has to offer? Are you happy with our service and support?
This is where you can leave a review and share your SMSBump experience with the Shopify community.

Latest Messages
This last section of the Dashboard gives you a preview of your latest sent messages, sorted by Date, Type, Price and Status.

This was our quick overview of the SMSBump App Dashboard in Shopify. We really hope you'll find it useful. If you have any questions, don't hesitate to Contact Us!
---
Related articles