Navigating Your Yotpo SMSBump Dashboard in BigCommerce
Your Yotpo SMSBump dashboard is your go-to spot for reviewing app setup recommendations and the success of your latest text marketing campaigns and automations. The dashboard will display automatically once you log in to your BigCommerce account and enter the SMSBump app.

Your Set Up Checklist

The first thing you'll see on top of your dashboard is a checklist of important setup actions. Click on the appropriate tab to configure the setting or feature.
Enable and configure checkout opt-in: This compliance setting lets your subscribers the ability to give their consent to receive SMS marketing from your store.


Pop up subscription: Create a pop up that collects SMS subscribers easily from any of your store's pages.


Verify Quiet Hours: Select a timeframe during which your SMS subscribers won't be contacted. (Recommended: 10PM - 9AM)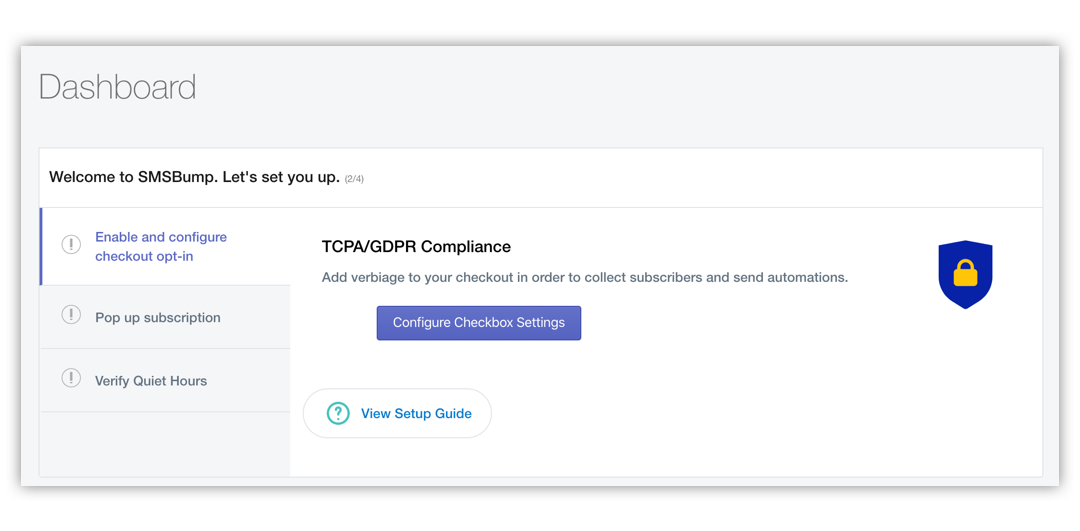 Recommended Further Steps

Below the setup checklist, you will find three further recommended actions to take, when starting out with Yotpo SMSBump.

Turn on Abandoned Cart: Recover lost sales with an automated abandoned cart message which reminds customers to complete their checkout.


Configure a Keyword: Set up a branded keyword which customers can text you to subscribe to your SMS marketing service.


Set Up your Subscription Form: Create a fully custom floating button, popup, or embedded form that collects SMS subscribers and grows your lists.
Success Report Summary

These are the key figures that give you a clear understanding of where your business currently stands in the last 30 days. Click on View report under each metric for a detailed analysis.


Total Revenue: The total profit you've generated in the last 30 days.


Total ROI: The % of the amount from what you spent to what you earned as profit in the last 30 days.


Total Orders: The total orders that were made in the last 30 days.


Total Spent: The total cost you spent in the app in the last 30 days.

Visual Analytics Data
Important visual data will be displayed giving you insight into what steps to take to increase total sales and grow your subscribers.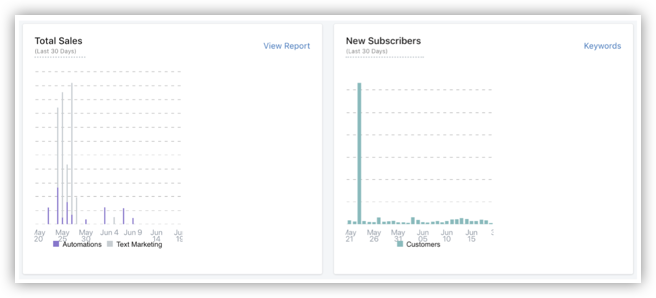 Total Sales: Daily sales made in the last 30 days. Sales generated from launched automations are colored in purple; or in gray if from a text marketing campaign.


New Subscribers: Customers that turned into new subscribers in the last 30 days.

Review Latest Messages

The final section of Yotpo SMSBump's dashboard is dedicated to reviewing the latest messages that were sent. You will be able to see the following message details:
To: The subscriber's phone number the text message was sent to.


Date: The date the message was sent.


Type: The type of message sent — a specific automation, text marketing campaign, or N/A for a service message.


Price: The cost that was paid to launch the message.


Status: The state of the message can either be sent, failed, rejected, blocked, subscribed, unsubscribed or landline. If a message was sent to a landline, you will be given a refund.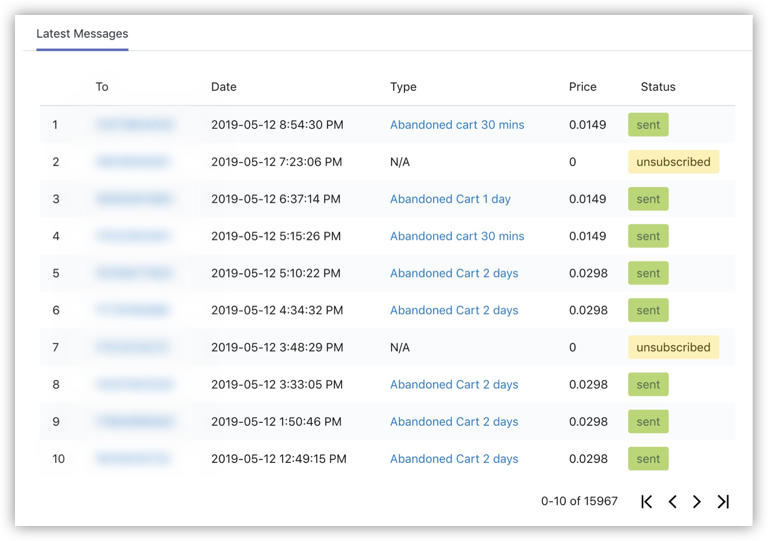 ---
Related articles