Introduction to SMS Flows
Flows are something that will fully transform the way you use Yotpo SMSBump.
The main purpose of flows is to create a sequence of automated actions based upon different triggers, covering the entire sales funnel. It will optimize the process of setting up automated text messages and will make your marketing campaigns much more tailored and effective.
You can use Yotpo SMSBump to create a new flow from scratch, or simply activate some of our predefined flow templates.
To access Flows simply go to you SMSBump dashboard and click on the Flows section.

Here you can see 3 main fields. Under My Flows, you will see the flows which you've created. If you have activated any predefined flow, it will appear here as well.

The next section Drafts will store all flows, that you haven't finished yet. Once you Save a draft it will move up to the My Flows section.
In order to create a new flow, simply click on the Create Flow button in the top right corner. The Watch Video button will lead you to a video tutorial on how to set up your first flow.


​
Activate a predefined flow
We have created a pre-set Flow Library, where you can use our ready-made templates. All new Yotpo SMSBump users will see several predefined Flows upon entering the Flows section.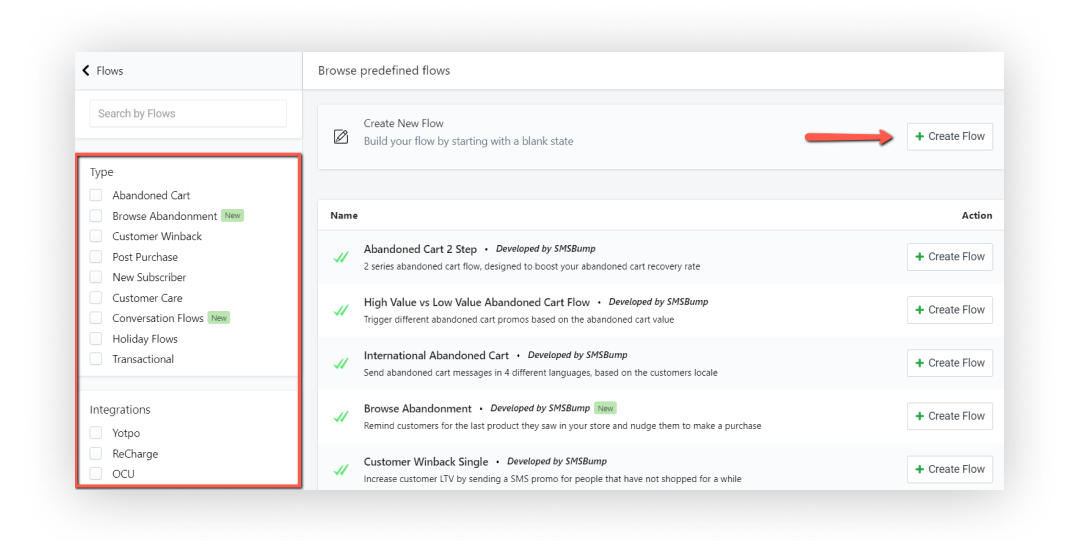 Once you are in the predefined flows menu, you will see a list of pre-made flows created by us or our partnering agencies. They are divided into different groups:
- Abandoned Cart
- Browse Abandonment
- Customer Winback
- Post Purchase
- New Subscriber
- Customer care
- Conversation Flows
- Holiday Flows
- Transactional
- Integrations
You can filter through them by selecting the relevant categories. For instance if you want to segment out all of your Post Purchase and Customer Care flows, just check the two boxes and you will only see the flows, relevant to those two categories.
To enable one of the predefined flows, all you need to do is click on Create flow. Then it will open in the Flow Editor where you can review the pathway of the flow you've selected and all the actions, do some quick tweaks to fine-tune it and hit Save.
Note that if you already have an automation with the same triggers (e.g. if you are creating an abandoned cart flow and have abandoned cart automation enabled) you will see the following: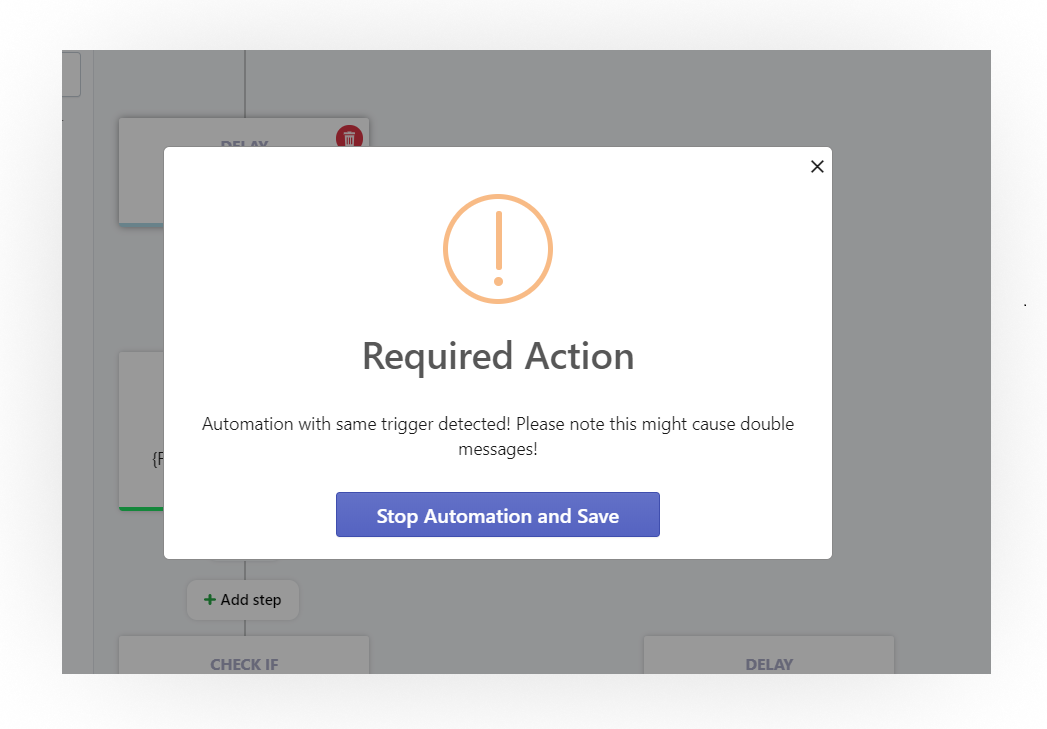 In order to proceed with creating the flow, you will have to disable the active automation by clicking on Stop Automation and Save.
Once your flow is enabled, you will see a dropdown menu, which you can use to de/activate your flow.


Now that we've gone through the available flows, let's see how to create flows from scratch, ones that will best fit your brand and customer base.
---
Related articles