Introduction to SMS Flows
Flows are something that will fully transform the way you use Yotpo SMS & Email.
The main purpose of flows is to create a sequence of automated actions based upon different triggers, covering the entire sales funnel. It will optimize the process of setting up automated text messages and will make your marketing campaigns much more tailored and effective.
You can use Yotpo SMS & Email to create a new flow from scratch, or simply activate some of our predefined flow templates.
To access all flows simply go to your Yotpo SMS & Email dashboard and click on the Flows section. Here you'll see a couple of recommended flows along with a list of the flows which you've created. If you have activated any predefined flow, it will appear here as well.

To create a new flow, simply click on the Create flow from scratch button in the top right corner. ​
Activating a predefined flow
You can easily activate one of our pre-set flows from our templates with just a couple of clicks. To find a flow you're looking for, simply filter between SMS, email, and all, or you just use the search bar to find the flow you're looking for. Click on it and follow the steps. Once activated, it will appear in the My Flows table where you can view some of its most important metrics, edit, deactivate or delete it.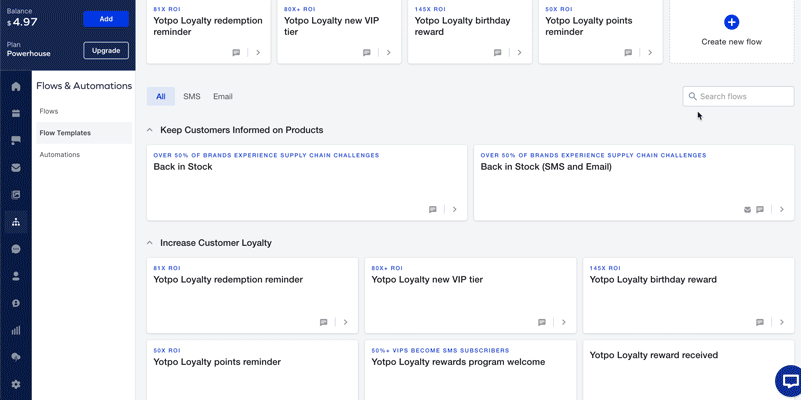 This was our quick introduction to the Yotpo SMS & Email flows. Feel free to contact us if you have more questions or feedback.
---
Related articles