Drive More Repeat Sales with Yotpo Loyalty
The Yotpo SMSBump and Loyalty integration will help Shopify store owners build a community of loyal customers and increase sales by launching exclusive reward campaigns. This integration is free for all Yotpo SMSBump users, both current and new.
Let's show you how to connect the two apps and give your customers more reasons to stick around!
Important: To connect Yotpo Loyalty and Yotpo SMSBump, you first need to have both apps installed on your Shopify store.
How to Connect Yotpo Loyalty and SMSBump
From your Shopify side menu, select Apps and navigate your way to SMSBump.
From our side menu, go to Integrations and from the list of displayed apps, select Yotpo Loyalty.

To activate the integration, you simply need to hit the Install button.

If you don't have a Yotpo Loyalty account, a new window will open, prompting you to create one. The page will refresh automatically, and your integration will be ready to use if you do.

You can disable the integration from the Status drop-down menu in the Settings section whenever you decide. If you have an active Custom Action Campaign in Yotpo Loyalty, you can sync all new subscribers to the chosen campaigns by typing its name in the Reward Campaign Name field.

Set Up the Yotpo Loyalty Automations
At the moment, the integration offers users 2 types of automations. You can either see them directly in the pre-set automations list or while setting up an automation yourself.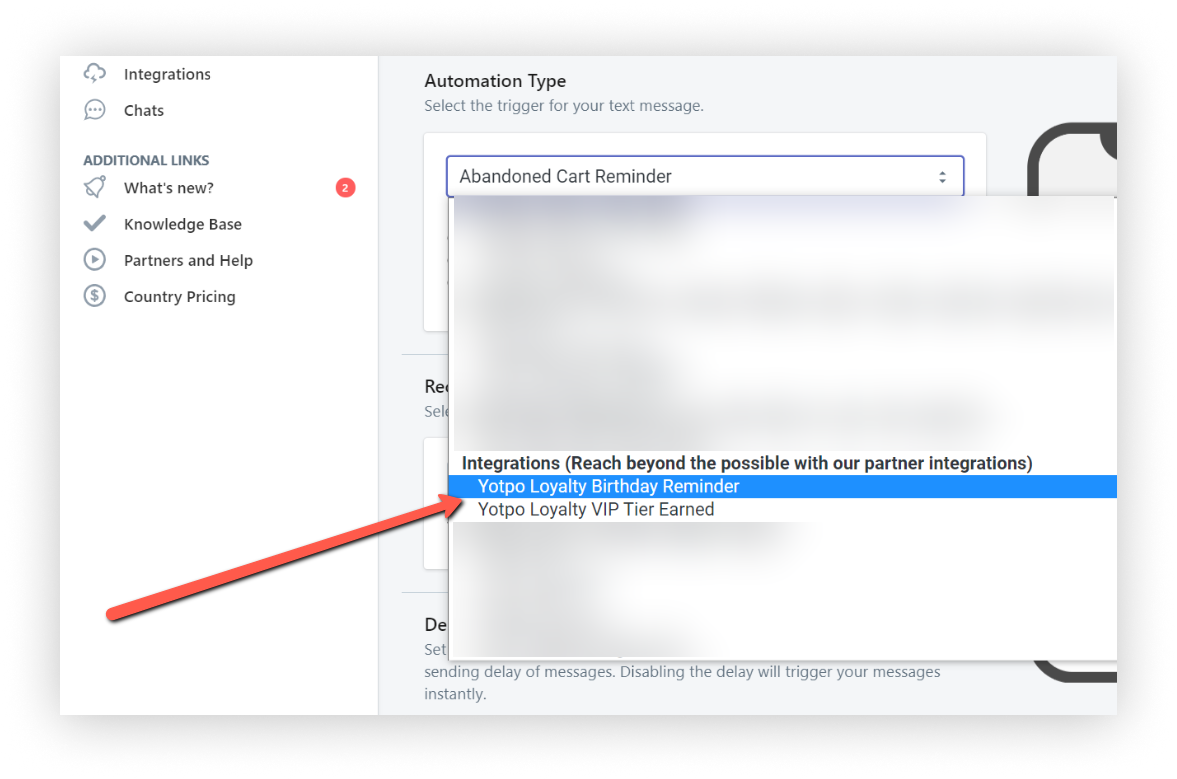 Yotpo Loyalty Tier Earned

This automation will notify users when they have enough points and have reached a new tier. In order to have this automation working correctly, you need to first set up your tiers from your Yotpo Loyalty account. If you haven't set them up yet, this article by Yotpo will help you do it.
Once you've connected the integration, the Yotpo Loyalty Tier Earned will automatically show under your other automations in the YotpoSMSBump Automations panel. To activate this automation, you should simply change its status to Active.
Activating it will mean that the automation is now in place and will start firing up text messages once somebody reaches the set triggers and will inform them about the points they've received.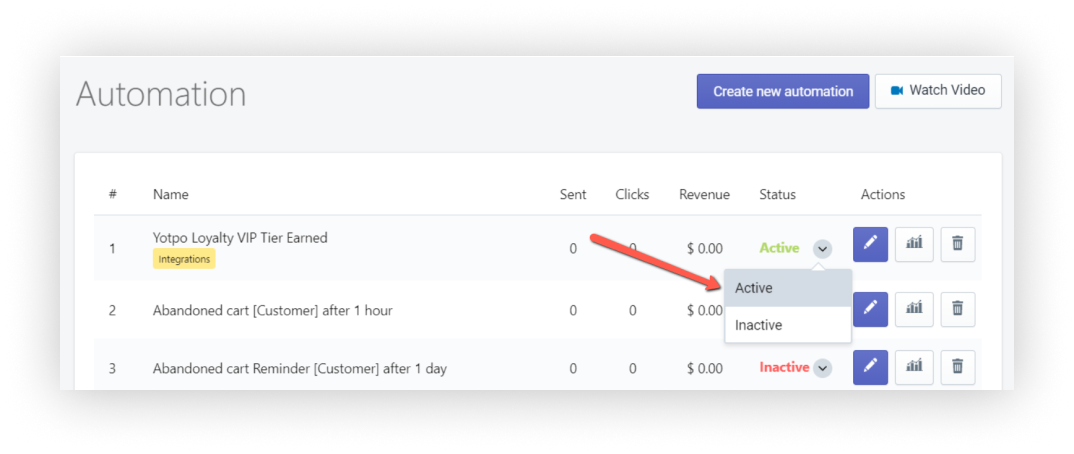 Of course you can also edit the message your clients will receive by clicking on the blue button (Edit). This will open the Edit Automation Panel.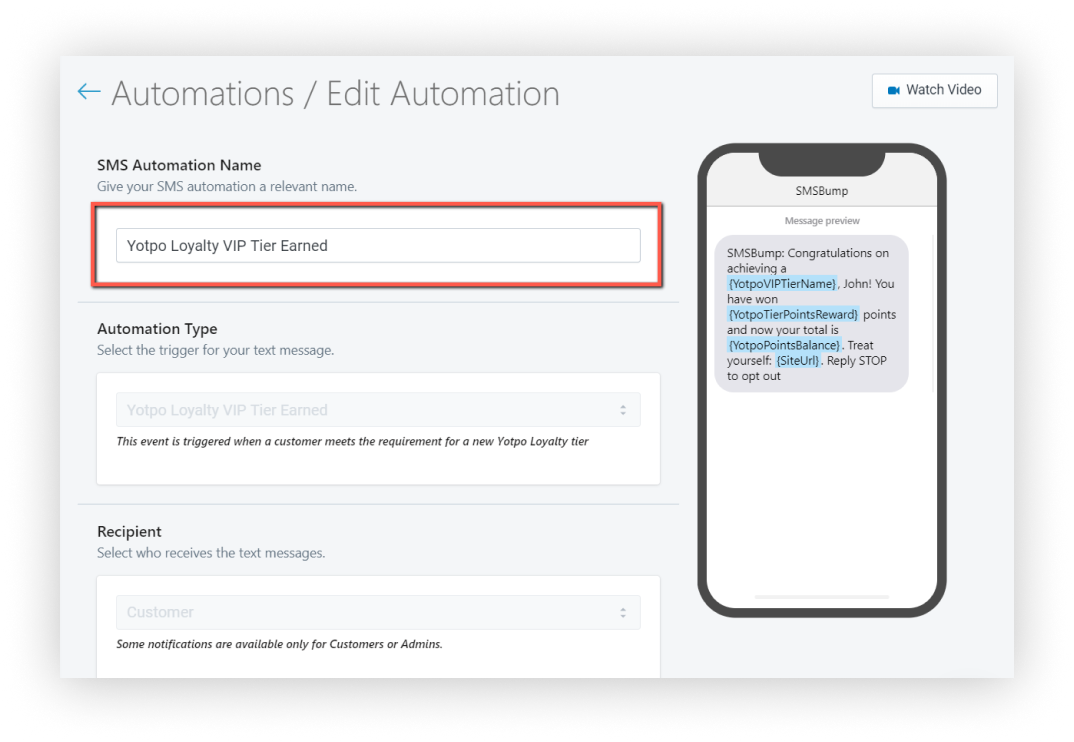 First, give your campaign a name that will make it stand out from the rest so it is easy for you to track results.
After you are ready with this, you can proceed to crafting your text message. As usual, you can decide if you want to send a plain SMS or a more appealing MMS. If you'd like to add extra spice to your text with an image, simply tick the Attach image or GIF checkbox and select a visual from Pexels, a GIF from Giphy, or upload one yourself.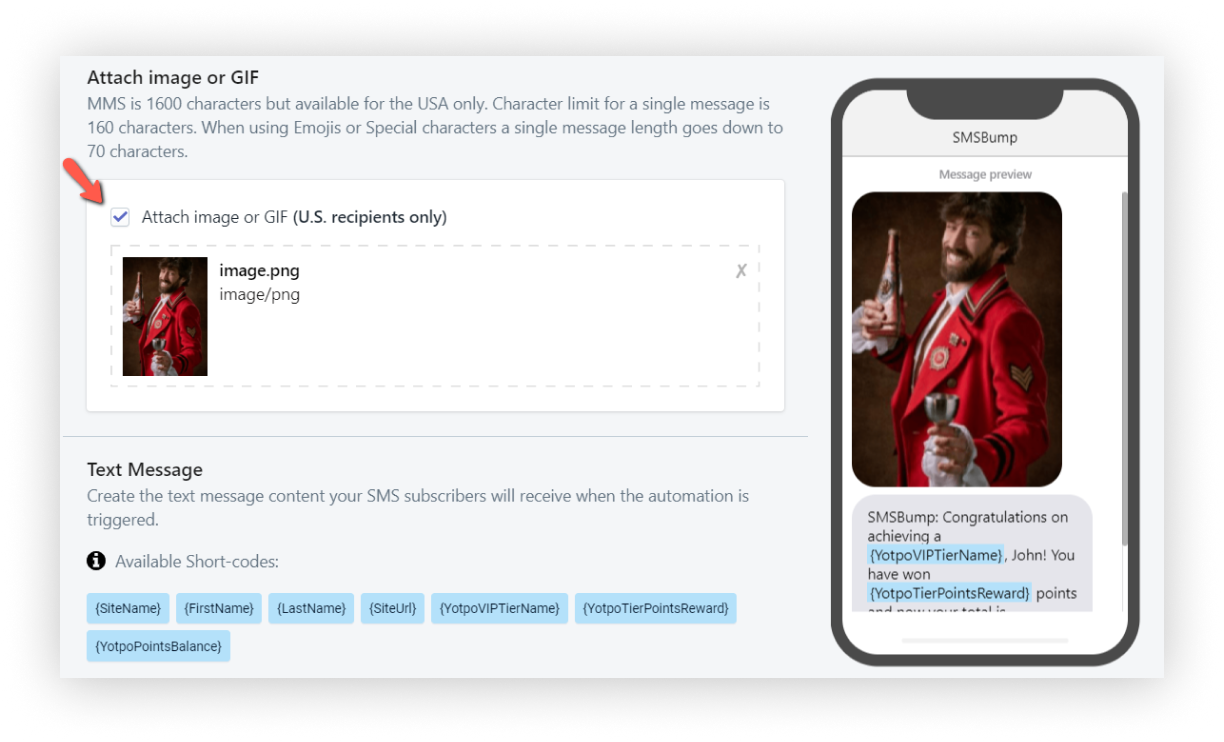 Good? Alright. Now on to composing the actual message.
Remember to always start with your store name so customers know where this text is coming from. Turn to them by their first or last name to give your message a more personalized feel. Both of these you can easily do using the available short codes.
Speaking of short codes, take a close look at them. Notice something different? Every Yotpo Loyalty automation has its own designated short codes that fetch dynamic data from Yotpo Loyalty. Don't be alarmed - these short codes will be substituted with actual data in the text message your customers will receive.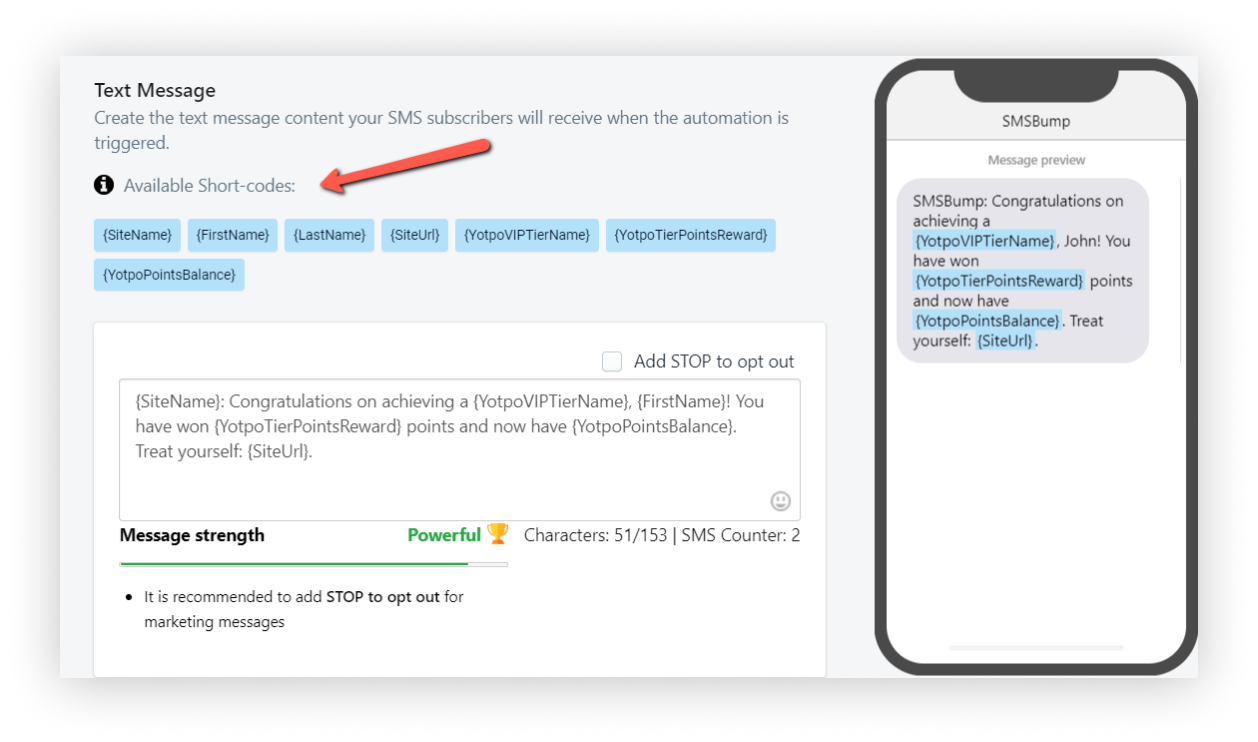 Important: Make sure not to copy and paste short codes from one automation to the other as they will not work. Only use the short codes made available for the specific automation.
Still not sure if your message is powerful enough? Consult the strength meter and its 8 useful tips so you are sure of your text's success.

Before you Save and activate your aautomation, you can test it to make sure it's all good and you like the way your message came along.
Send it to yourself or other staff numbers, which you can add by clicking Add more test numbers. You will be redirected to the SMSBump Settings section, where you can manually add the test numbers.
You ready? Great! If you are happy with your text message, go ahead and click Save, and you will see your Yotpo Loyalty automation alongside your other active or inactive automations.
Yotpo Loyalty Birthday Reminder
And now on to the second Yotpo Loyalty-related integration…
If you are using the Yotpo Loyalty Happy Birthday Program, you can use Yotpo SMSBump to send them a personalized message and let them know that they've been given special points or coupons.
Important: If a customer signs up for Birthday rewards and has a birthday in the next 30 days, they will receive their birthday special with a delay of up to 30 days.
You can access your Yotpo Loyalty Birthday Reminder directly in the Automations' list. To set it live, simply change it's status to Active. This will trigger our automated message for the event. If you wish to tailor the SMS to your brand, click on the blue button (Edit) right next to the status of the automation.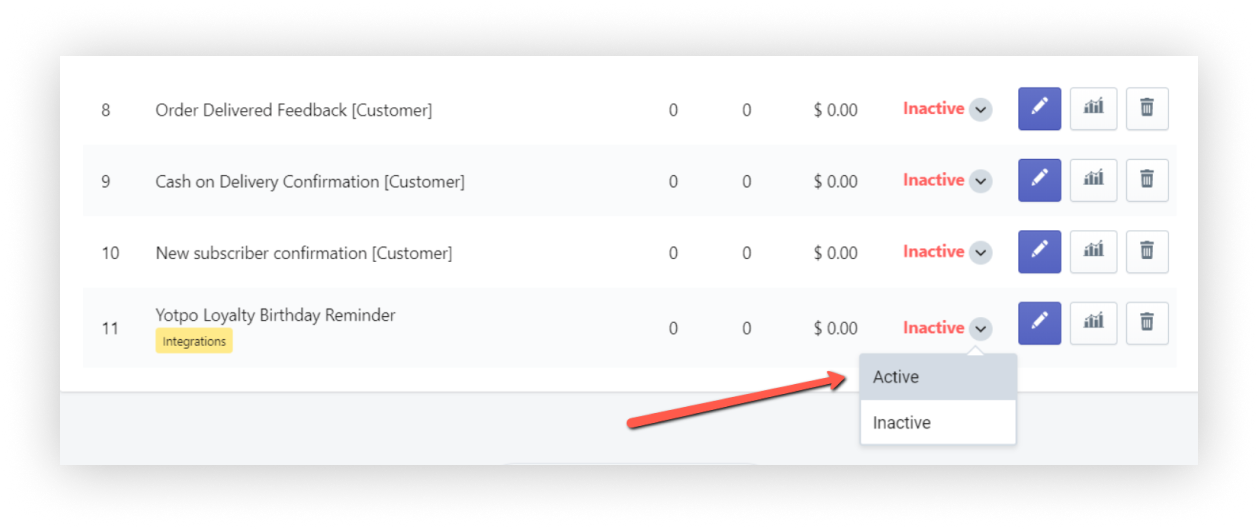 From there on the process is pretty similar as in the Yotpo Loyalty Tier Earned automation. First, give your campaign a name that will make it stand out from the rest. Then decide on the picture, add a captivating text and viola - you are ready to surprise your customers with a personalized message and some bonus points they can use to buy your awesome products.
---
Related articles