How to Read SMS Flows Data in Analytics?
The Analytics Flow feature in SMSBump gives all Shopify store owners detailed insight on how their flows are performing at all times.
Use our latest Analytics Flow tool to review information on past purchases and flow performance so that you can easily adjust your strategy and improve your future text marketing campaigns!
This article will show you how to view and understand your data in SMSBump Analytics Flow feature.
Getting Started
To access our Analytics feature navigate to Analytics section from the SMSBump dashboard:

After that, choose Flows and then select the exact flow you want to explore: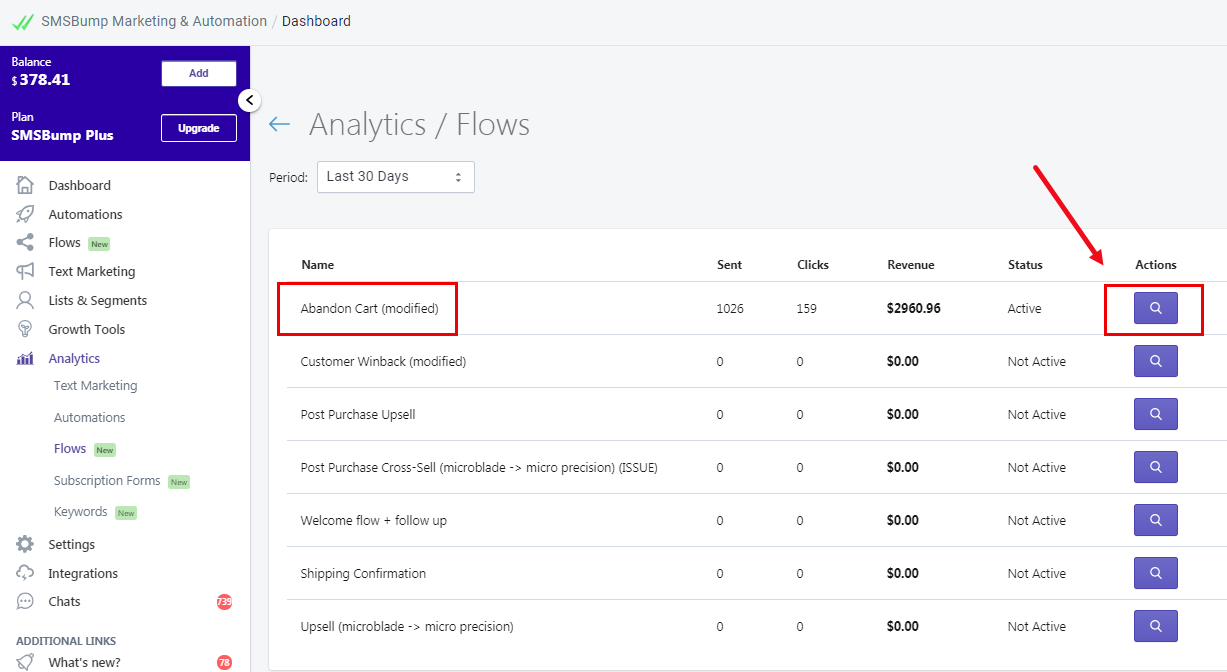 The Flow section in Analytics will show you a quick preview on how your flows are performing. In the visual above you can see how many messages were sent with each flow, how many clicks you got, etc. For detailed analytics click on the marked button on the right.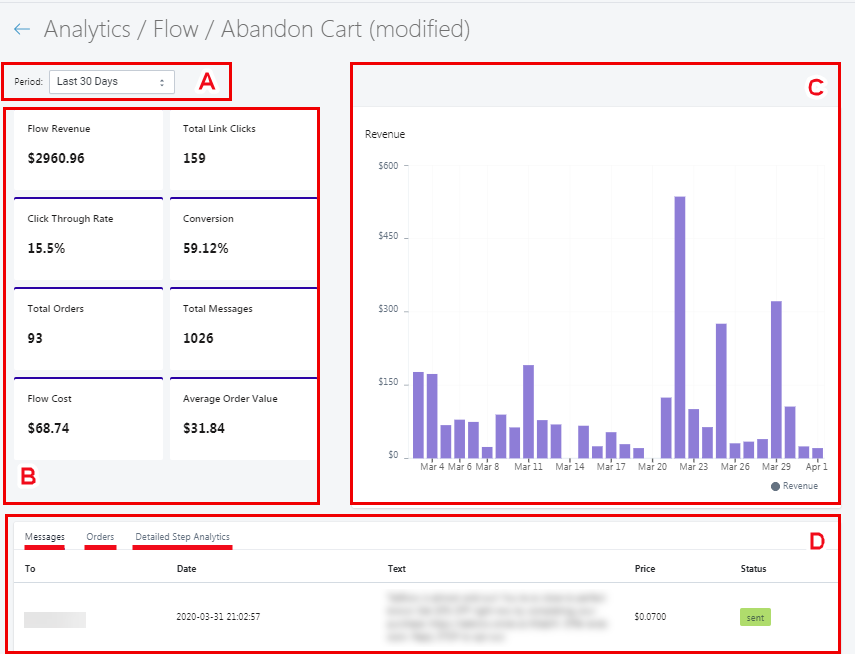 Section Overview
This is how the whole Flow Analytics dashboard looks like:
A. Period field - where we set up the time period

B. Overall flow analytics – shows top 8 most important metrics of your flow

C. Revenue distribution in the selected period – shows distribution of revenue for the chosen time period

D. Detailed analytics – shows information on messages, orders and flow steps performance
You can find detailed information regarding each section below.
Setting up the Time Period
From the dropdown menu in section A (Period field) you can select the time frame you are interested in.
It could be for the last few days, last few months, entire year or a custom period of your choice.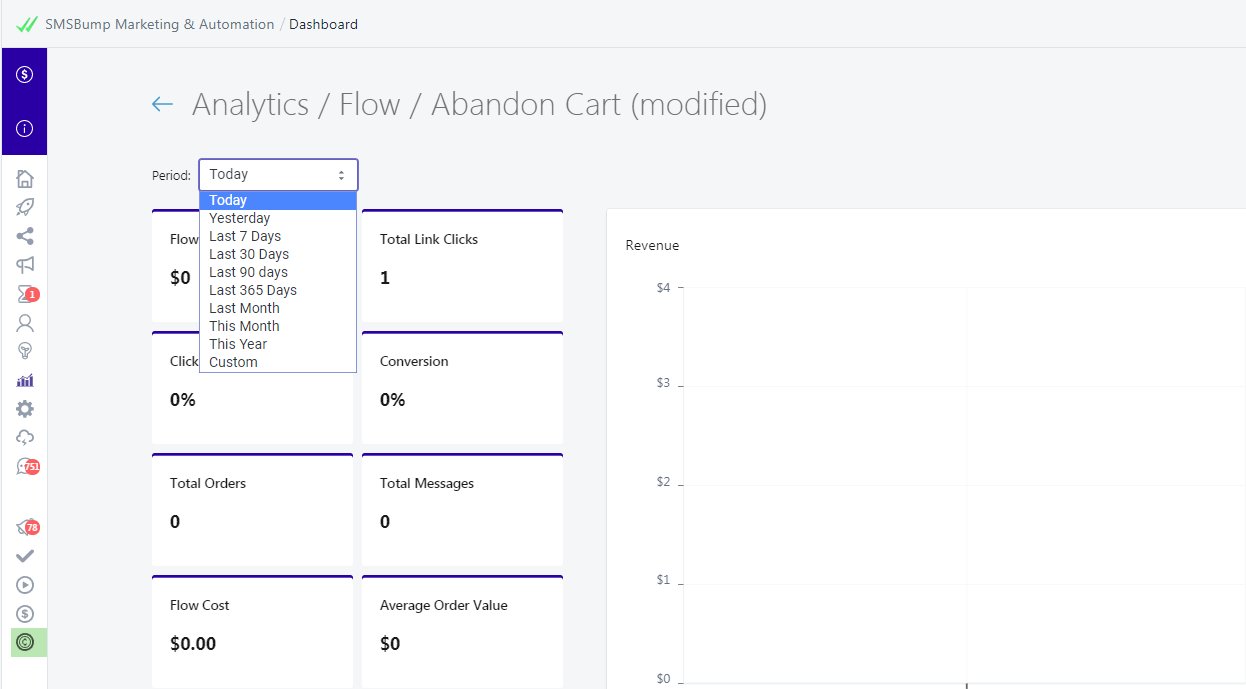 Overall Flow Analytics

This menu shows the most important 8 metrics of your text marketing flow for the chosen time period:
Flow revenue – the total revenue from this exact flow.
Total link clicks – how many clicks from customers this flow generated.
Total messages – the amount of messages that were sent with the current flow.
Click Through Rate – the clicks from customers divided by the total number of sent text messages within this flow. In our example it means that out of all 1026 customers who received a text message from us, 159 clicked on the link in it, or a total click through rate of 15.5%. This is a particularly important metric especially when you try to lead your customers to your store or a particular product. An average CTR is 36%, so in case you see numbers lower than that make sure you present your subscribers with an appealing offer: If the discount you are offering is attractive enough, do you have a clear call to action. Remember that with transactional messages such as shipping confirmation or order delay, your CTRs might be 0% simply because the messages in the particular flow might not have a call to action link.
Total orders – the total amount of orders generated via this particular flow
Conversion - it shows you how much of the people who clicked on a link on your flow actually made a purchase. In our example, it means that out of the 159 people who clicked on the link, 93 made a purchase, or a conversion rate of 59.12%. An average conversion rate for SMS is around 45%, so if you are getting any results above that, this means you are doing a great job! In case your conversion rate is too low, maybe there is something on your site that prevents subscribers from making a purchase - high shipping cost, sold out inventory or even too tedious checkout process.
Flow cost – This metric shows you how much money you have spent on this flow. In a successful campaign the cost of the flow should always be lower than the revenue it generated. In our example, you have paid a total of $68.74 to send messages that generated revenue of $2960.96. Pretty impressive, right?!
Average order value – this number shows the average value of all orders for the chosen time period.

All these metrics here show if your text marketing campaign is performing good or you need to adjust some of the elements for better results.
Revenue Distribution in Time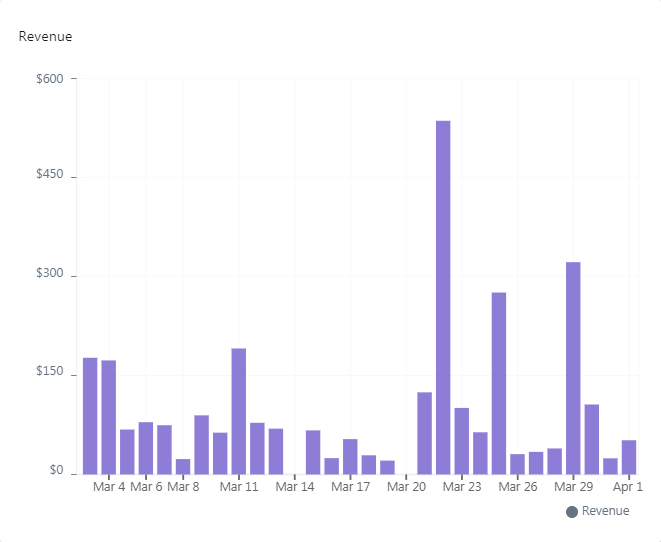 The chart shows how your revenue generated from this flow changed over the selected period. Here you can see which your most successful days/months of a certain campaign are: for example – weekends versus weekdays or you can compare purchases in different months of the year.
Detailed Analytics
Under Messages you can see the status of all messages sent and how much it cost. Remember that sometimes you might see differences in the price based on the name of your customer, or simply because your flow consists on multiple steps and one message is longer than the other.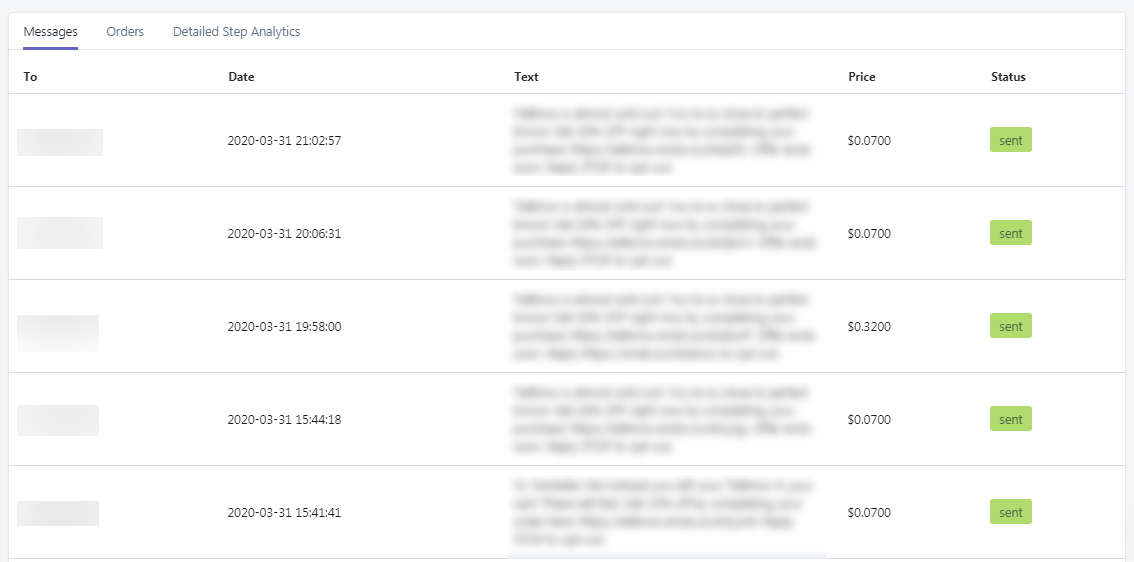 Use this menu if you want to check what exact text message was sent to a specific number, when and how much it cost.
In the Orders section you can see which purchases were made via this particular flow. Click on the order ID and you will be redirected to your Shopify orders section.
Use this menu to check precise order IDs, their total amount and conversion dates.
The third part of this section (Detailed Step Analytics) is probably the most important - as it shows detailed analytics on each step of your flow.
You are already familiar with what the metrics in the column represent - Number of sent messages, Spent money on messages, Generated Revenue, etc. We have reviewed and explained them above in this material.

But while the Overall Flow Analytics shows the metrics when it comes to the entire flow, this section shows insight on how these metrics change with each step.
In the following visual we have matched the steps of this specific flow with the results of each step, as shown in Analytics: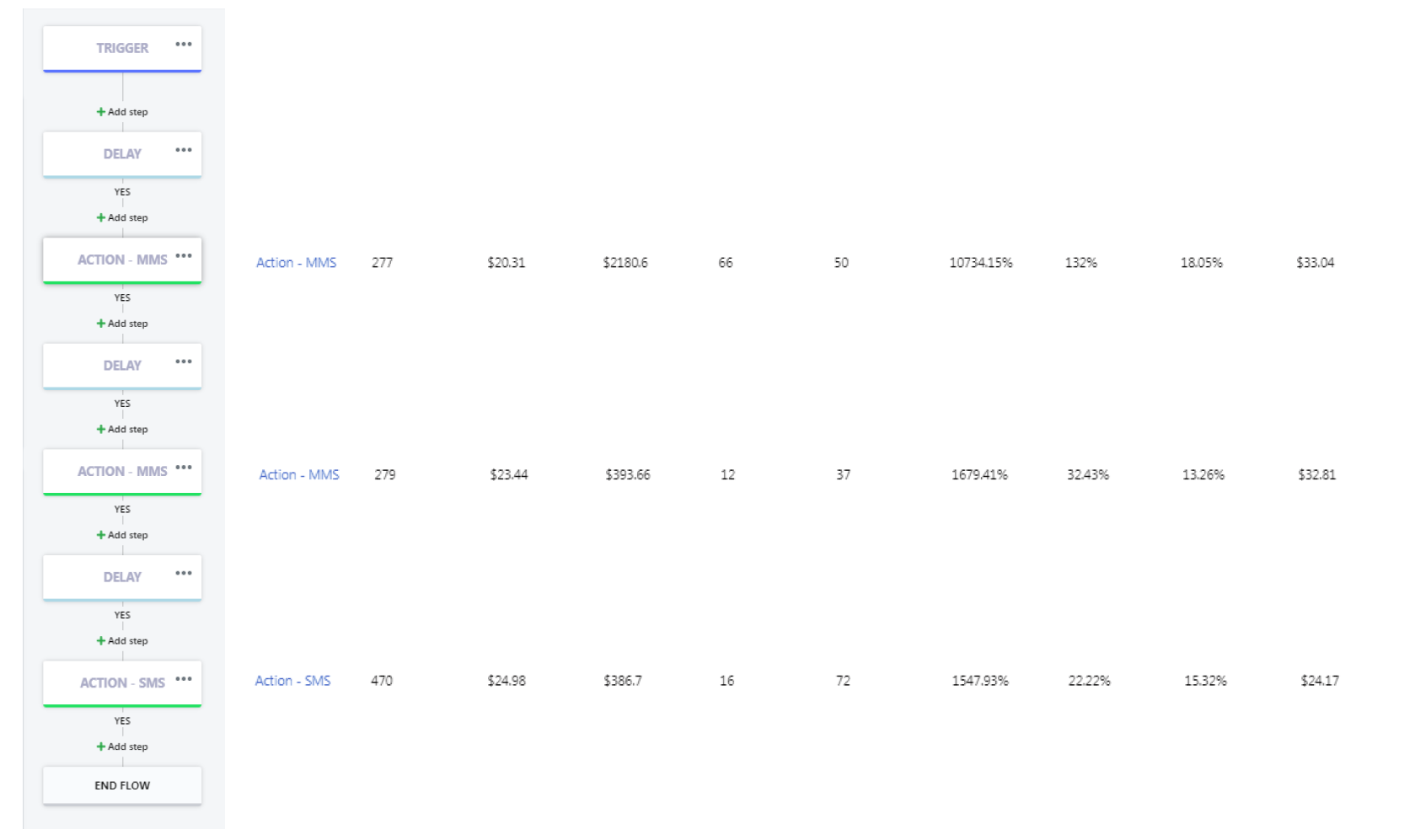 You can also track the main stats of each step within the Flows editor. Metrics such as Revenue, ROI, Clicks and more are just 1 click away. This will help you analyze the results of your Flows, adjust messaging and improve their overall performance.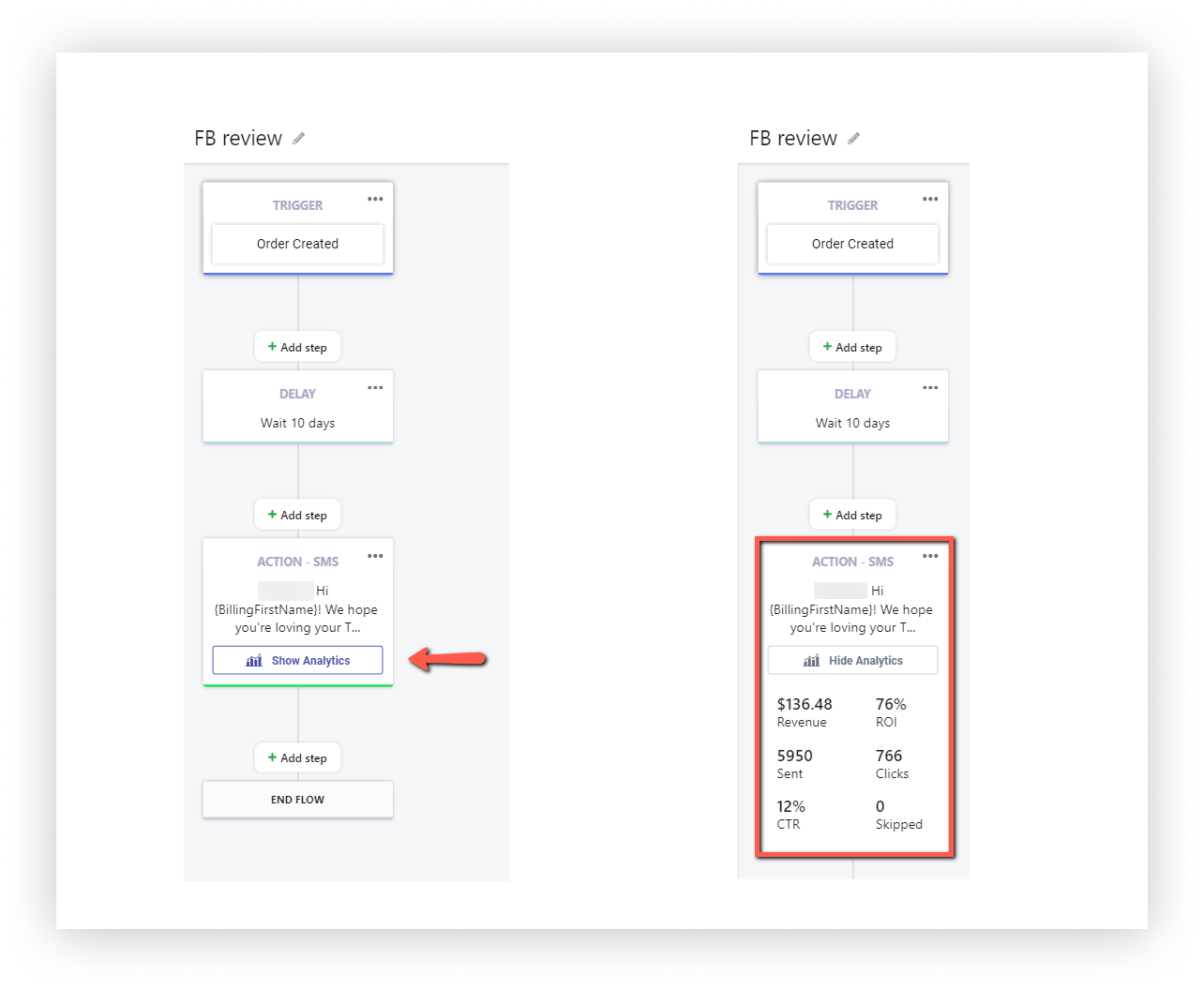 What do these results show us:
In this particular campaign, the first MMS was sent to less people and cost less money in terms of expenses compared to the second MMS, but turned out to be 5 times more successful when it comes to: generated revenue, number of orders, conversion and ROI.
These results show that the selected delay of 15 minutes is working like a charm - this is the perfect amount of time to set a delay from the moment your customers abandon their carts to the moment they receive your first message - reminding them to finish the order. It also means that the copy of the first MMS was catchy and interesting enough for them to return to their carts. And last but not least - our results show MMS usually perform much better than regular SMS. This part of the analysis will be very useful when you decide to compare results from different flows and campaigns. This data will show you which texts and visuals turned out to be the most effective and engaging and brought you the most purchases and revenue.
This was our quick guide on how to view and understand data in the Analytics Flow feature.
We believe it will be extremely useful for when you want to analyze your current or previous text marketing flows and improve for future campaigns.
For further information, regarding how to find and use data from the Analytics feature in SMSBump, don`t hesitate to contact our Customer Support!
---
Related articles