How to Get More Subscribers with a Shareable Subscribe Link OLD
The shareable subscribe link is the perfect tool for those of you who like to get creative and communicate with your potential customers via a wide variety of channels.
This tutorial will cover how to create your first shareable subscribe link and customize the subscription page it leads to.
Creating Your Shareable Subscribe Link

Follow the five steps below to start collecting subscribers by creating a link leading them to your subscription page.
1. Navigate to the Collect Subscribers menu from the Yotpo SMSBump dashboard and then click on the Create new button in the Shareable Subscribe Link section.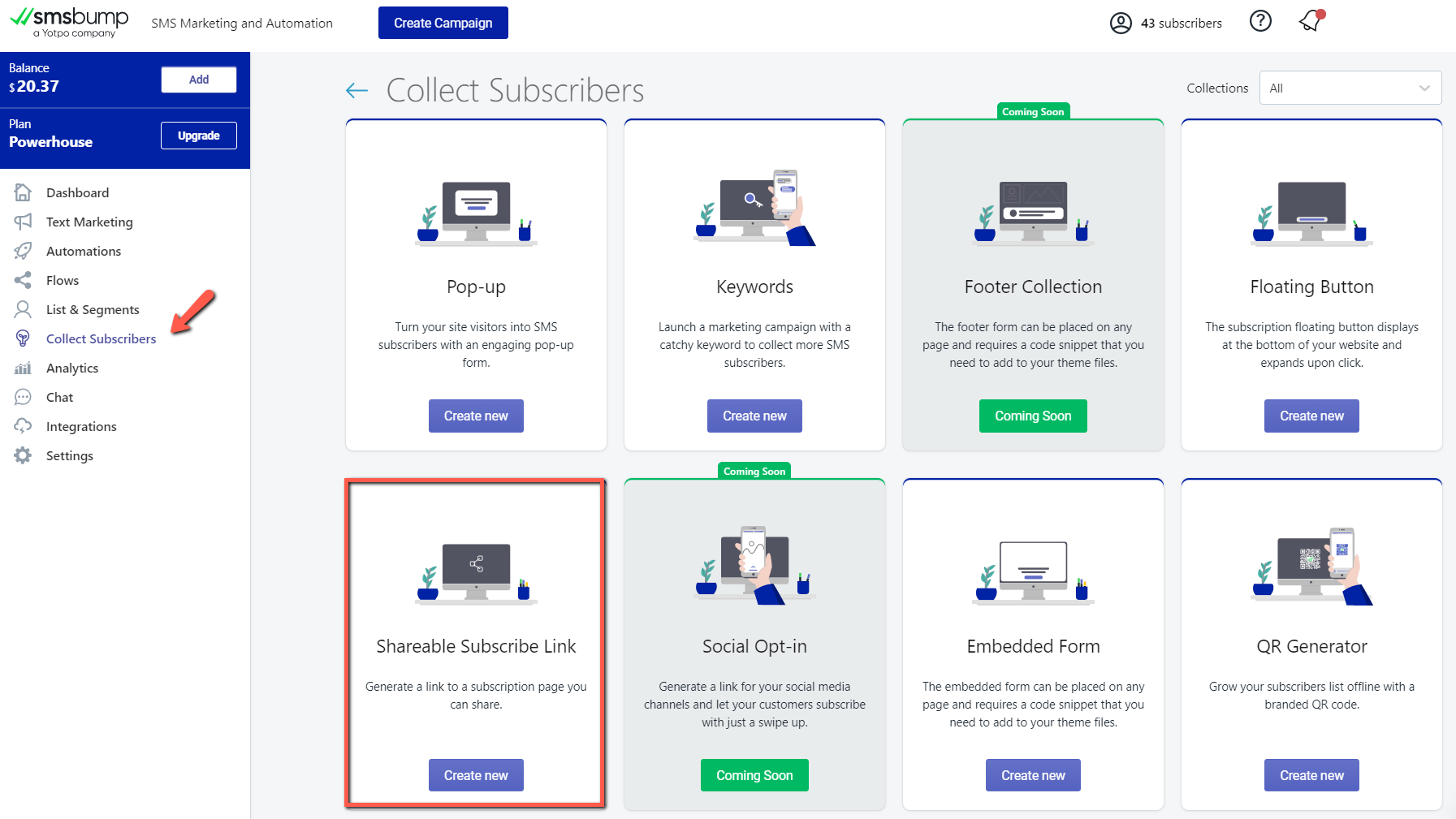 2. Select the destination list that will get populated with new SMS subscribers.

This is where you choose the SMS subscriber list from your SMSBump Lists where the customers will be assigned when they subscribe using the link you generate.

3. You can edit the slug of your subscription page, so you can create a recognizable URL.

If you leave it empty, the URL will automatically be generated using the name of the selected SMS subscriber list.





4. Click on the Create Link button to generate the link and start sharing it on social media and other pages your customers visit.

5. In the History section you can track the success of your shared subscribe link.
List name: The marketing list that the subscriber link was assigned to

Link URL: This is the link URL of the subscription page you are sharing

Clicked: The number of customers that clicked on your subscribe link

Subscribed: The number of customers that subscribed from your shared link

Actions: Edit page lets you customize the text and layout of your subscription page

Editing Your Subscription Page

After you've created a shareable subscribe link, you can customize the way your page looks like, by following the steps outlined below.
1. In the History section of Shareable Subscribe Link tool, under Actions click on Edit.



You can edit the following details of your subscription page:
Title: Give your page a catchy title that will appear on top of the page.

Content: Personalize your page with content that reflects your brand best. Edit the formatting and style as well.

Visibility: Select hidden to hide your page or set a specific publish date in the future.
Important: Click on view page to preview how your page will appear to customers.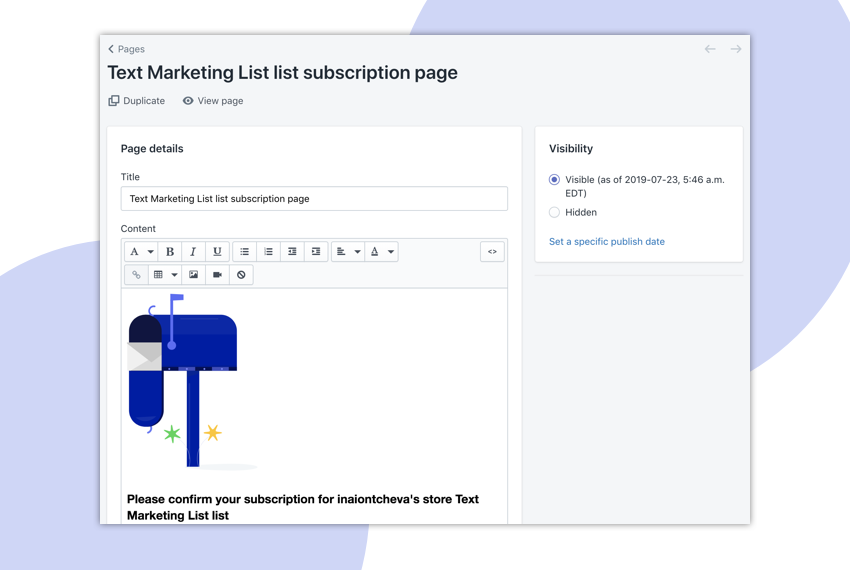 When you scroll further down, you can also edit the search engine listing: your page title and description that will appear in search results, as well as the URL and handle of your subscription page.
Click the Save button to finalize the changes.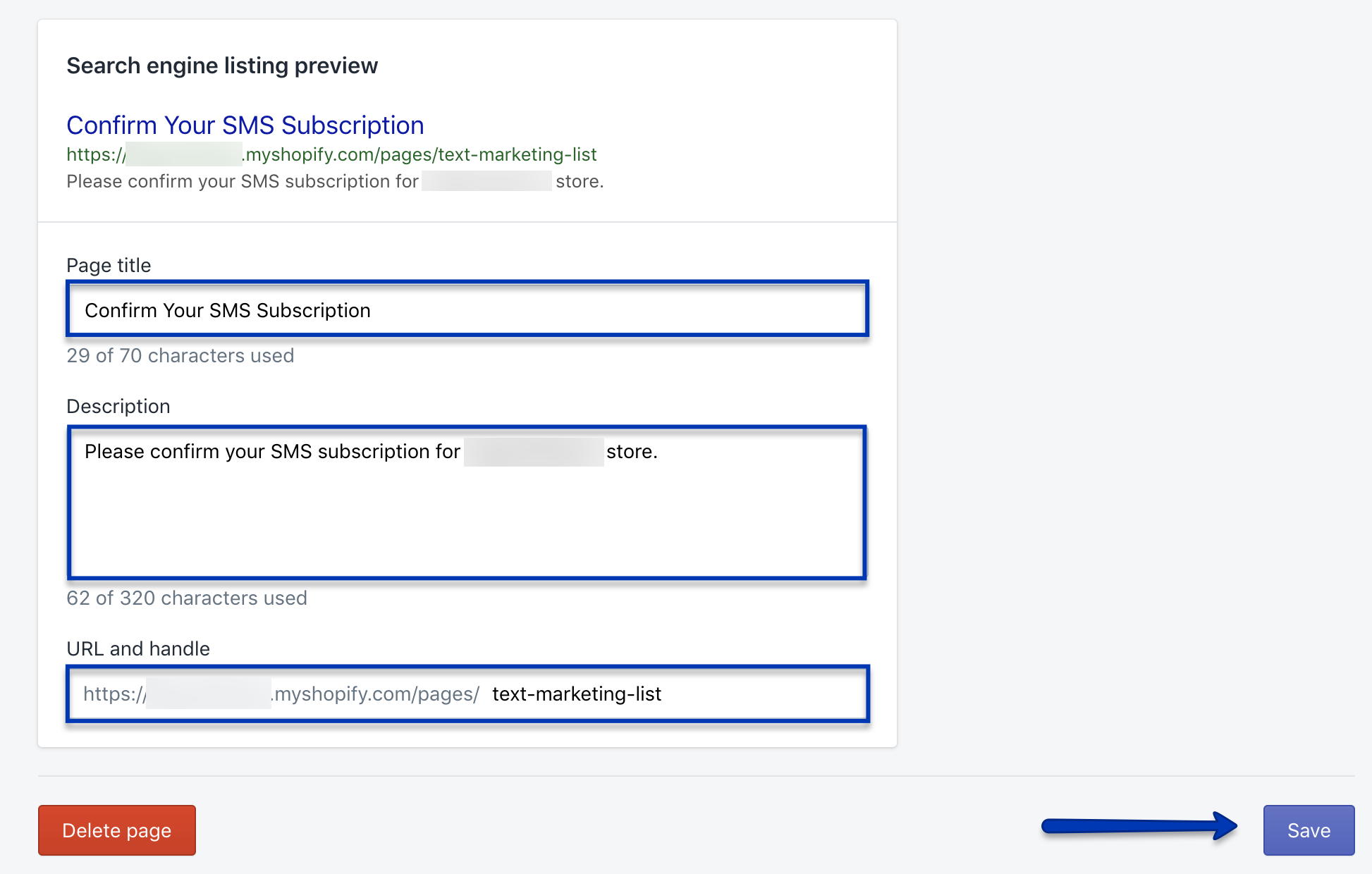 ---
Related articles