How to Enable Abandoned Cart Recovery with SMS Automation
Does your Shopify store have hundreds of abandoned carts waiting for their owners to proceed to checkout? This is a common issue for many online stores. How do you tackle this issue SMS automations to increase your orders?

This article will give you an overview of how to send automatic reminders with SMSBump to customers who abandon their carts.
How Do Abandoned Cart SMS Automations Work?
Abandoned cart SMS reminders in Shopify are only sent after you install SMSBump and enable at least one of the automations. Let's show you how.
Automatic abandoned cart SMS reminders can be part of a sequence, meaning they can be triggered one after the other, within several hours from each other. Once the customer has completed their order, the abandoned cart reminders automatically stop.
How to Enable Automated Abandoned Cart SMS Reminders?
1. Click on Automations in the side menu and then click on Create new automation. You can also click edit and Activate on the predefined Abandoned Cart SMS automations.

Automation Type and Name
2. Use the Event name field to give your automation a name. For example Abandoned Cart SMS Reminder (5 Minute Delay).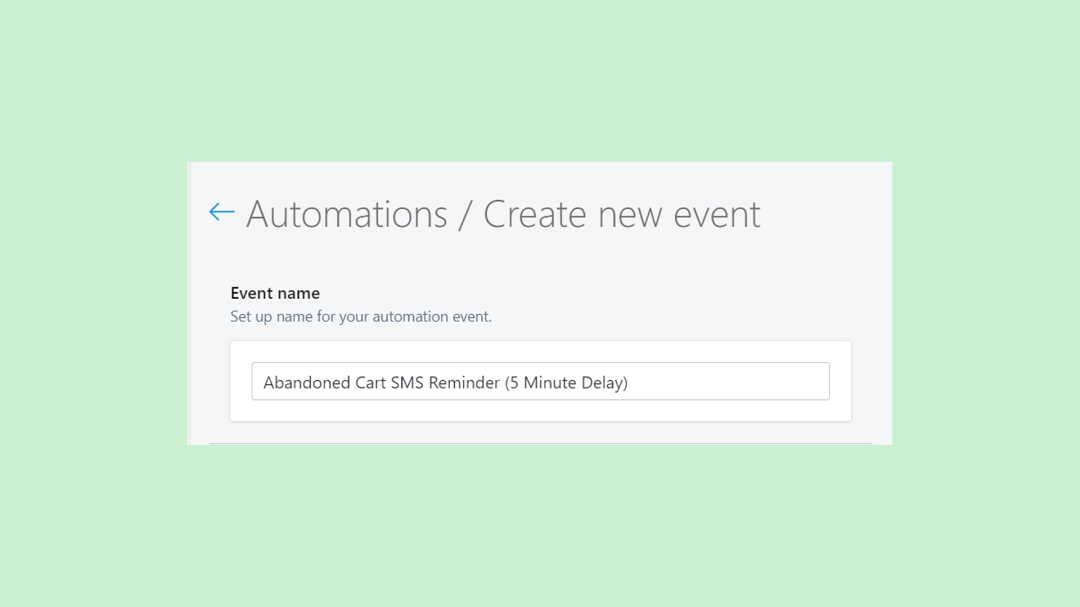 3. From the Event name drop-down menu select Abandoned cart and then from the Notify menu select Customer or Admin to configure the message recipients.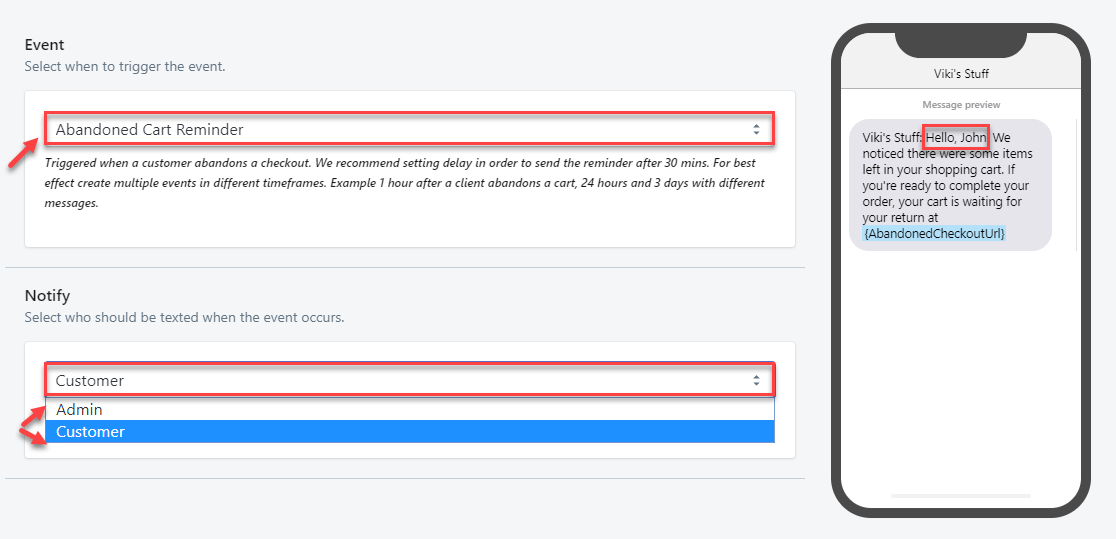 Timing and Delay
4. Next, from the Delay drop-down menu select Enabled. In case you prefer to leave it at Disabled, the abandoned cart SMS reminder will be sent out with a default 10 minute delay.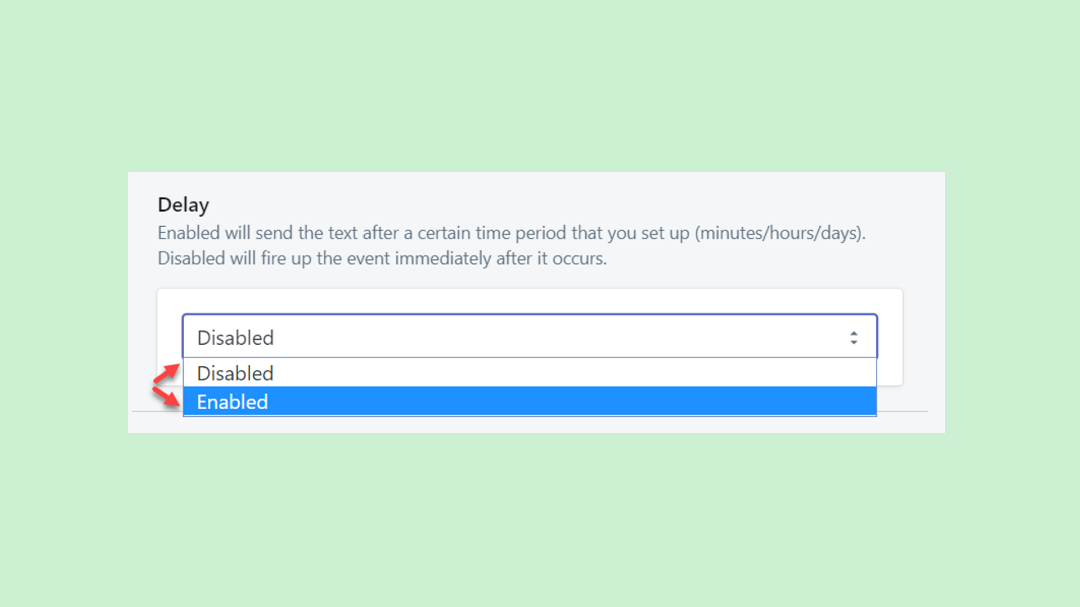 5. Under Send text after select when you want to send your message (e.g. 5 minutes, 2 hours, 1 day etc.). Keep in mind that the maximum delay you can set is 7 days and the minimum is 5 minutes.

Enable MMS: Add Images and GIFs
6. You can attach an image from Pexels, GIF from Giphy or any other visual to make your message more attractive.
From the Attach image or GIF section tick Attach image or GIF.
Then click on Select a GIF image from GIPHY if you want to include a GIF in your text message, or Select an image from PEXELS if you'd like to add a static image to your SMS.
You have a third option - to upload an image from your device by either dropping it into the frame field or clicking Browse to select it.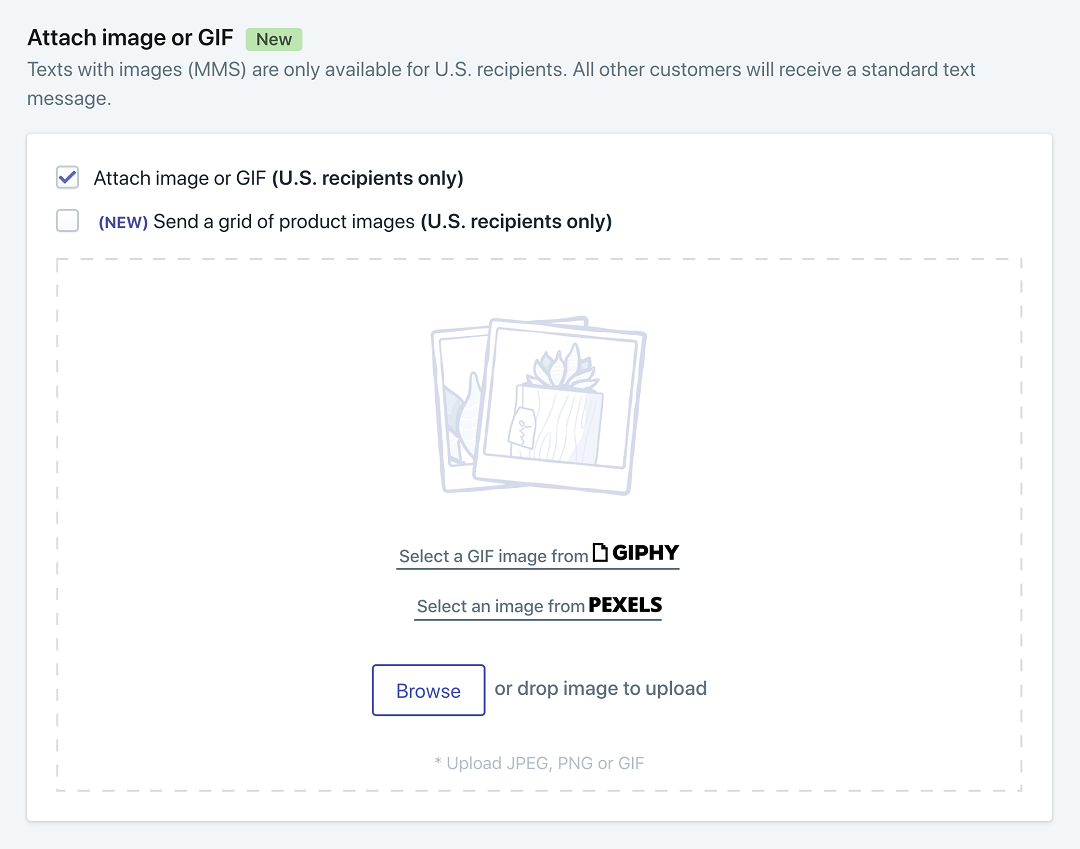 If you wish to remind your customer of the exact products they have picked but abandoned in their cart, you can enable the Send a grid of product images option, which will automatically create an image grid with images of all of the products.
Note that it can include up to 9 images.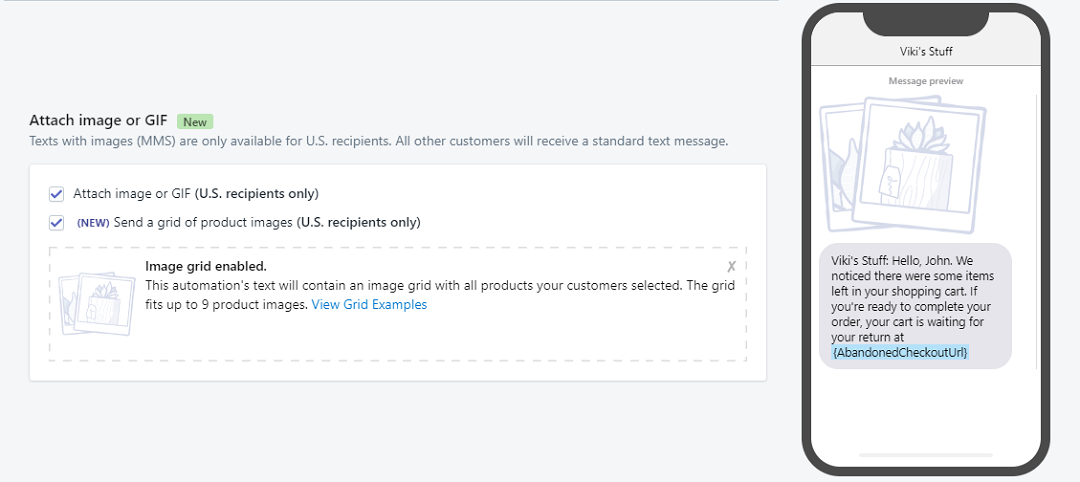 Important: These features currently only works for U.S. customers.
7. Use the Text section to enter your desired text message.
Important: 160 characters is the standard length of one plain text message. Maximum character count is 70 if you use emojis, special characters or a foreign alphabet. Text messages with GIFs or images (MMS) allow 1600 characters max.
Keep an eye out on the SMS Counter that keeps track of the number of messages that will be sent. This affects your final costs.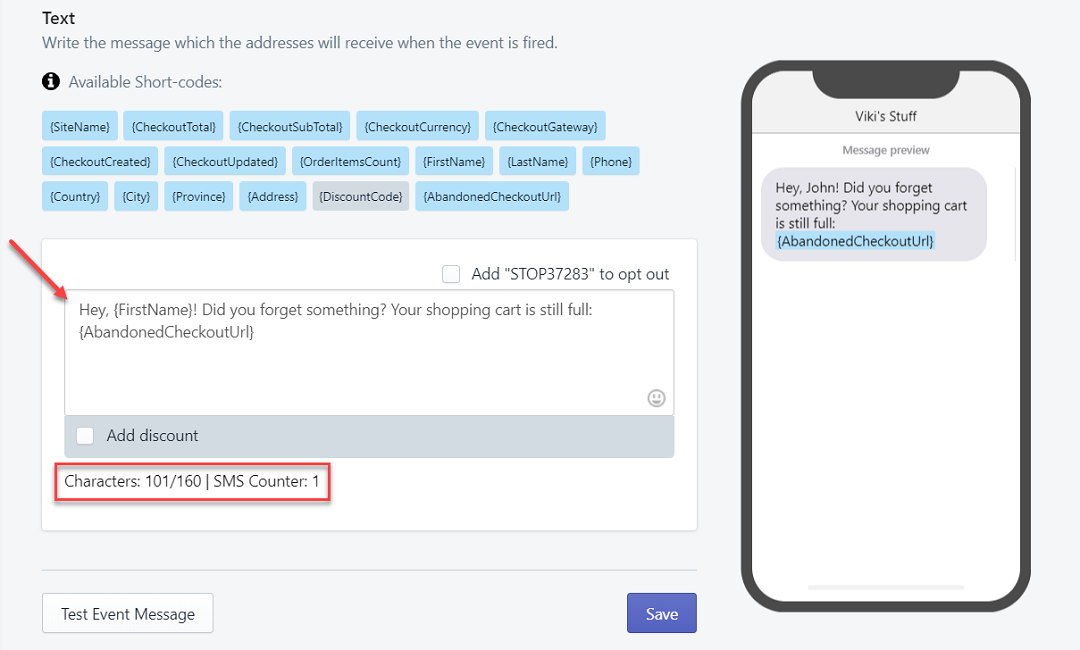 Important: Only use the short codes made available, as pasted short codes from other automations will not work.

8. Add a discount code to increase your conversion rates even more!
Scroll down to the Text field and tick the Add discount box.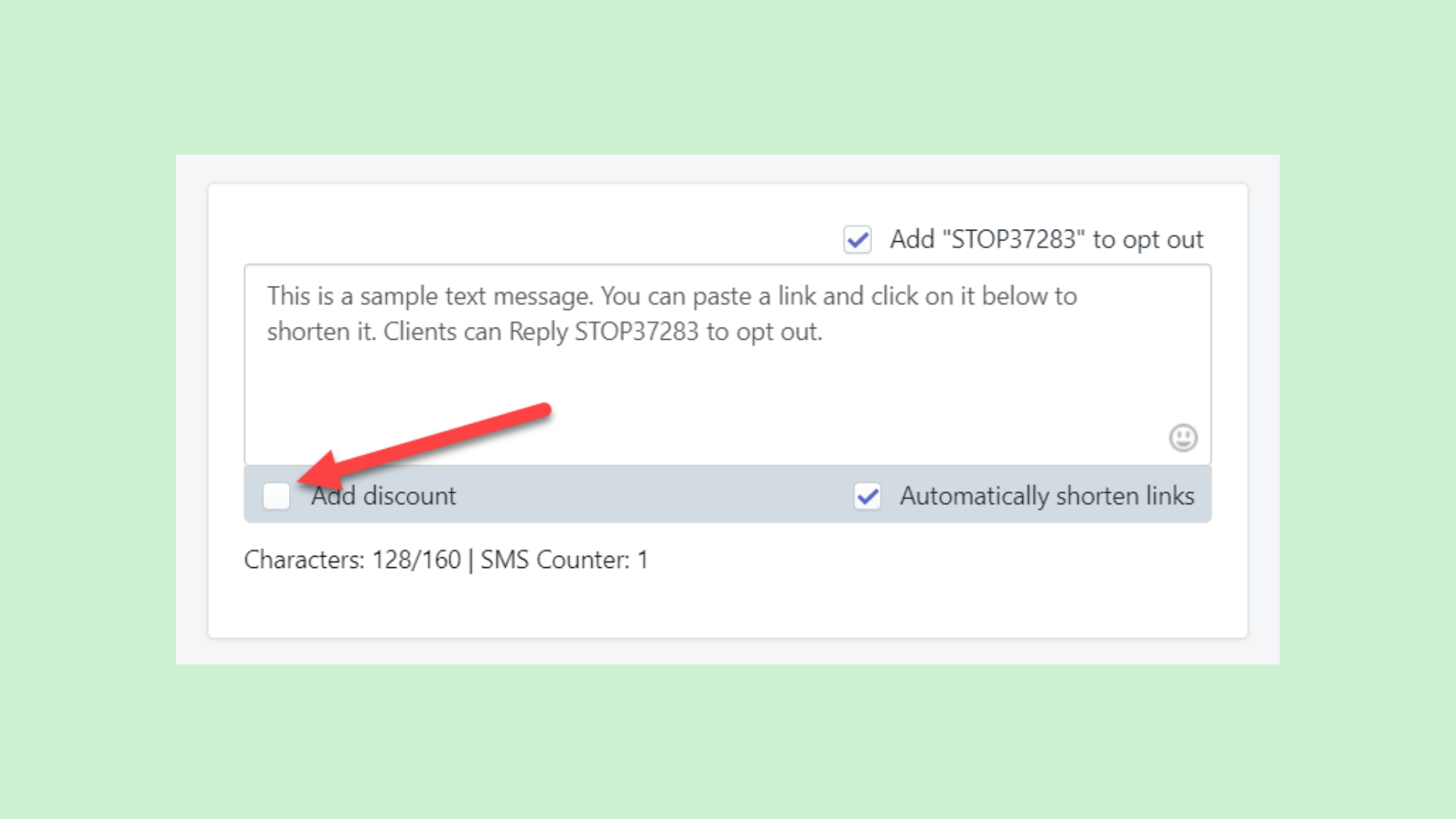 From the popup menu select the type of discount you'd like to offer:
Unique code per client (Recommended) - every customer will receive a different discount code which will make possible for the store to identify the customer upon check out. This could be:
Fixed amount - Enter a specific amount you'd like to give to your SMS recipients as a discount. For example, to give $5 OFF simply enter "5" in the Discount value field.
Percentage - Select percentage discount and enter the Discount value to create a discount that will deduct a percentage off the total purchase cost in your recipient's checkout.
Free shipping - when selecting this, you can choose whether the discount will be applicable to all countries, just the country of your store or the rest of the world, not including your store's country.
Same discount for all clients - a standard discount for all customers.
How to create your standard discount code and more on the types of discounts SMSBump offers, you can read in our article How to Add Discounts in SMS Marketing Campaigns and Automations.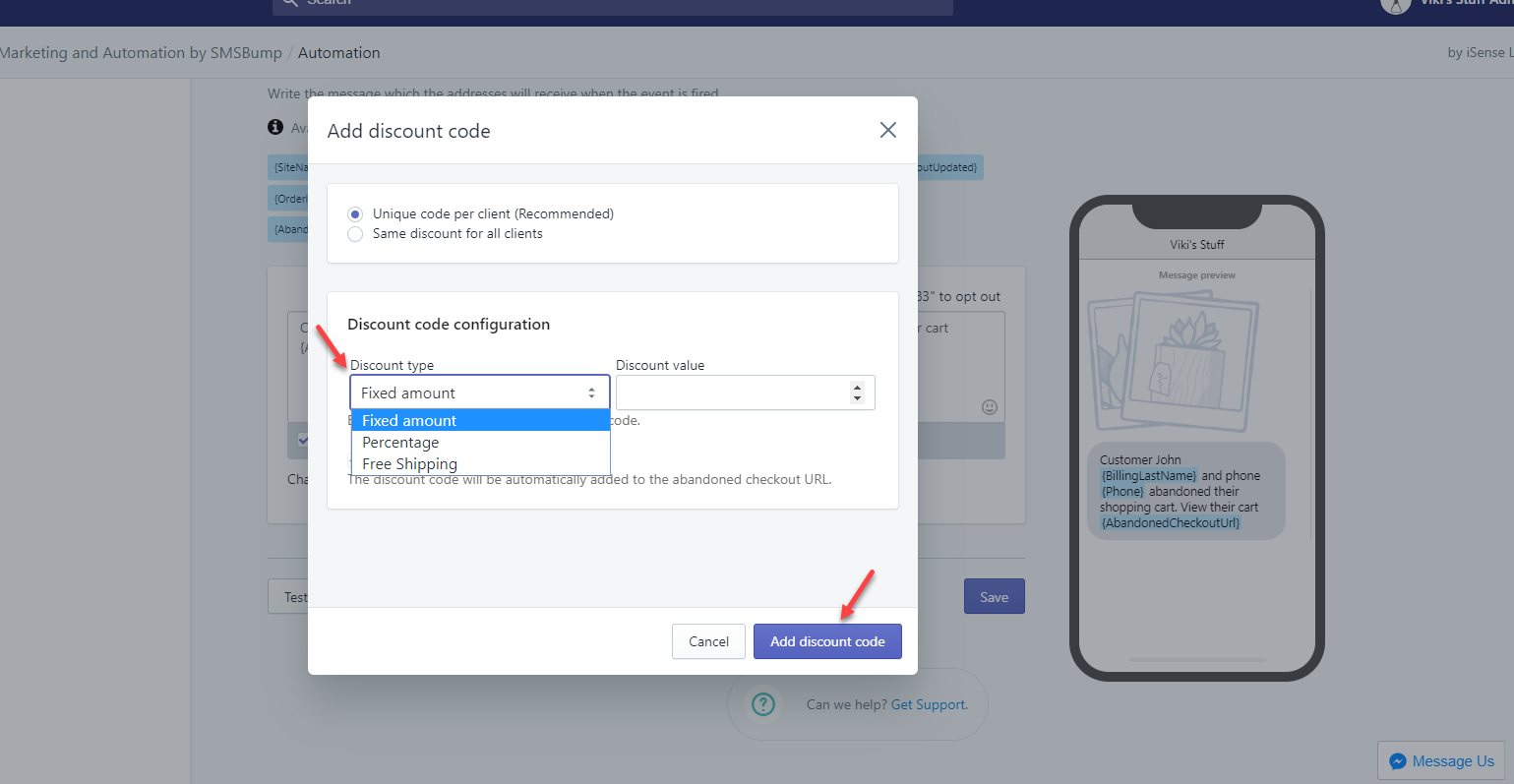 Important: The discount codes will be automatically embedded in the abandoned cart checkout URL. The abandoned cart checkout URL is different from the discount code URL in other automations or text marketing campaigns.
Give Your Customers The Choice to Opt Out
Never forget to tick the option "STOP to opt out" so you give your customers the option to stop receiving marketing messages from you. This is required in order to keep your Shopify store compliant with legal and carrier regulations.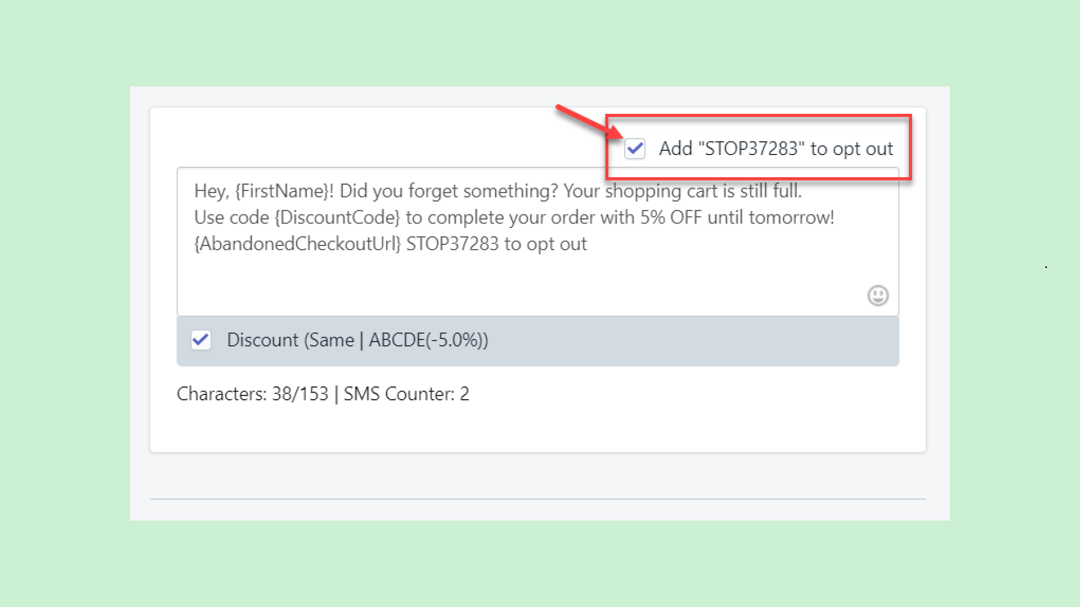 Overview Your SMS
Review your message before you enable your abandoned cart automation. Click on the Test Event Message button and select your admin phone number from the dropdown menu.
Important: Test messages show the raw short codes, as opposed to the dynamic data customers will receive.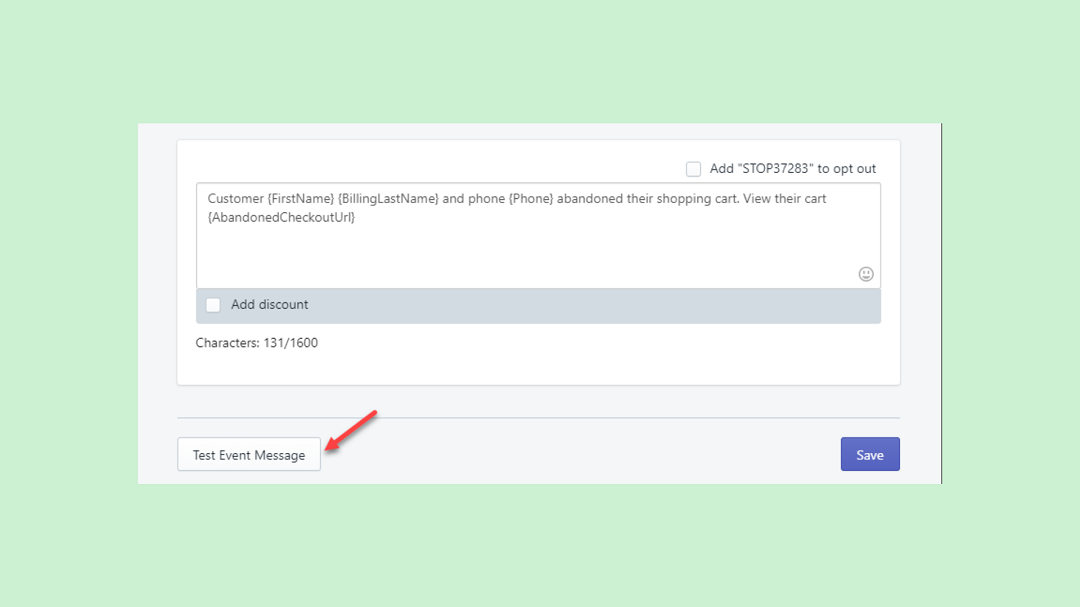 If you have followed our instructions, your abandoned cart recovery text message should look similar to this one: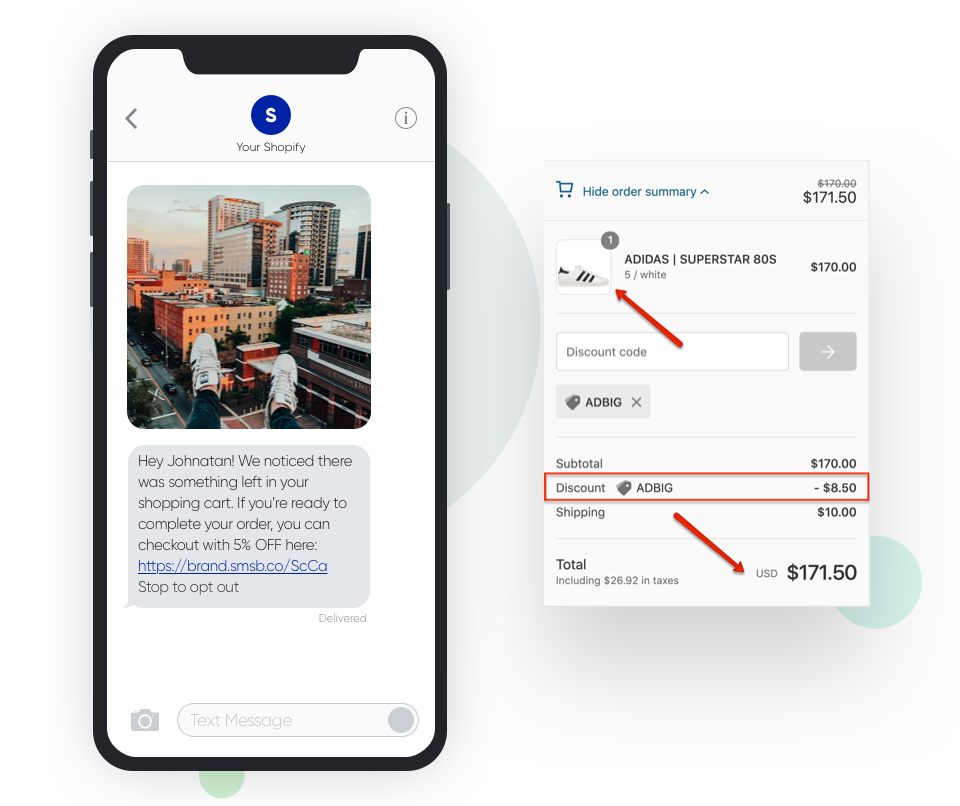 Common Questions
"I have set up SMSBump but my abandoned cart SMS automations aren't sending?"
This could happen due to a couple of reasons:
The customer has set their settings to block such messages – look at the Pending messages in the app side menu.

Customers are using a custom check-out solution, which SMSBump isn't integrated with. SMSBump works with One Click Upsell, Bold Cashier and more, which are available only on our paid plans. Once the customer enables those, their customers will be able to receive abandoned cart reminders.

Bonus tip: Abandoned carts reminders work great with other types of retention software such as emails, push notifications, Facebook marketing etc. Try combining your sequences with the rest of your remarketing channels to maximize retention and abandoned cart recovery!
---
Related articles