How to Create and Enable SMS Automations
SMS marketing automation allows businesses to connect with customers and increase sales through custom text messages triggered by specific events.
In this article, you'll learn how to create and enable a text message automation in Yotpo SMSBump
​
Create a New SMS Automation
In the Yotpo SMSBump dashboard menu, click on Flows & Automations and then Automations.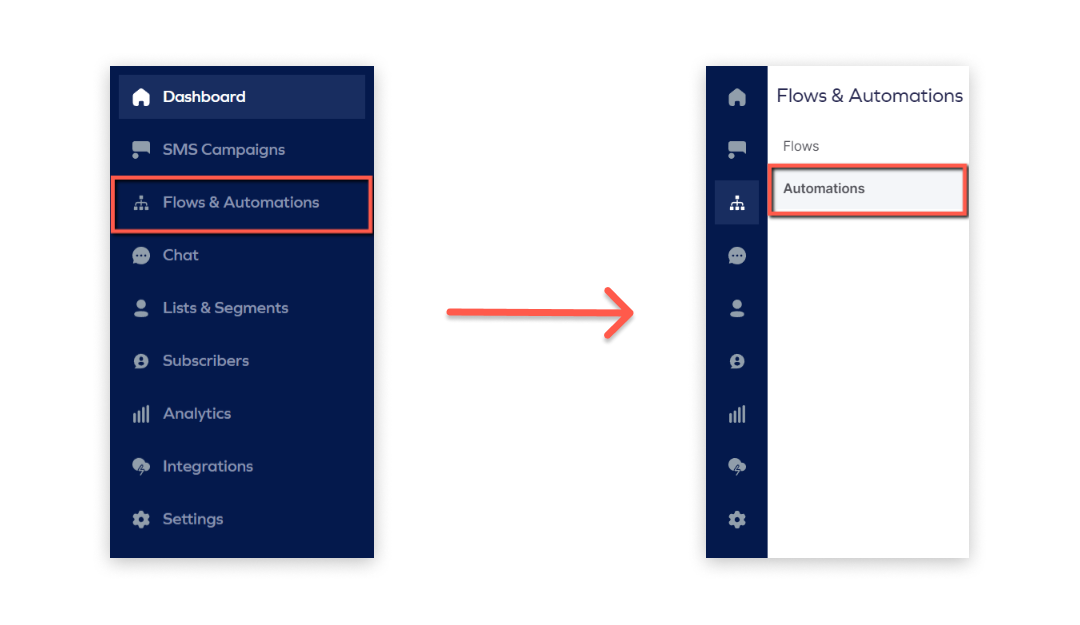 Click on the Create new button in the Automations dashboard to begin.

Step 1: Choose an automation name
Give your new SMS automation a name that will remind you of its function - for example, Abandoned checkout reminder 1.

Step 2: Choose type
Yotpo SMSBump has a variety of different automations you can choose from. For this example, click on the Type drop-down arrow and select Abandoned checkout reminder.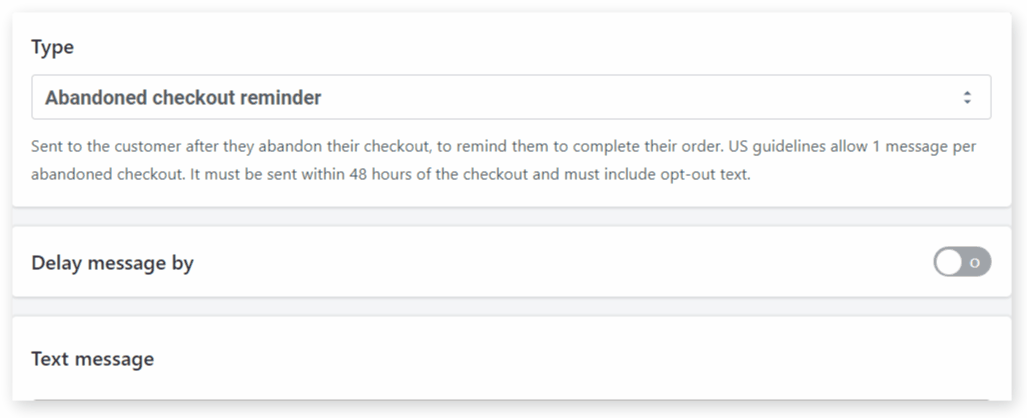 Step 3: Set Delay
You can choose to send your message with a delay from the toggle switch. Just type in а number and choose between minutes, hours, and days (e.g., 5 minutes, 2 hours, 1 day, etc.) Keep in mind that the maximum delay you can set is 7 days, and the minimum is 5 minutes. If you prefer to leave it disabled, the automation will be sent out immediately after the event is triggered.

Step 4: Craft your message.
This is where you write your messagе. Every type of automation will have a pre-written copy in the Тext message box, which you can edit to best suit your brand's tone of voice.

You can personalize your automations even more by using shortcodes that fetch customer information directly from Shopify.

Important: Some mobile carriers require opt-out language in text marketing messages to prevent spam complaints. To make sure you stay compliant at all times, the STOP to opt out verbiage (or unsubscribe link for numbers outside the US & Canada) is automatically included in your message. Make sure you don't delete it by accident before saving your automation. If you do, you can always add it from the checkbox below the text box.

Keep an eye on your message length. A Standard SMS contains up to 160 characters and an MMS - up to 1600 characters. The SMS counter will show you how many text messages per subscriber you will send.
Step 5: Make your message visual
You can add an image or emoji to your message by clicking on the buttons in the bottom right corner of the text editor.

You can choose between GIF images, animated stickers, free photos, uploaded photos from your device, or (in some automations like Abandoned checkout reminder) an image grid with up to 9 products your customer left in their shopping cart. Currently, this feature is available only for US recipients. Subscribers from other countries will automatically receive a standard text message.

Important: All files should be JPEG, PNG, or GIF, up to 1 MB in size and 1000 px in resolution.
Step 6: Add a discount
You can incentivize shoppers by adding a small discount to your message. It can be anything from a 5% discount, $10 gift card, or free shipping. To do that, just click on the Set up button as shown below.

Step 7: Choose recipient
Choose who will receive the message: Customer or Admin.

Step 8: Test your message
The message preview on the right illustrates what your text message will look like. You can test it yourself by clicking on Send test message and make sure that everything works the way it is supposed to. Remember to always double-check your links and shortcodes!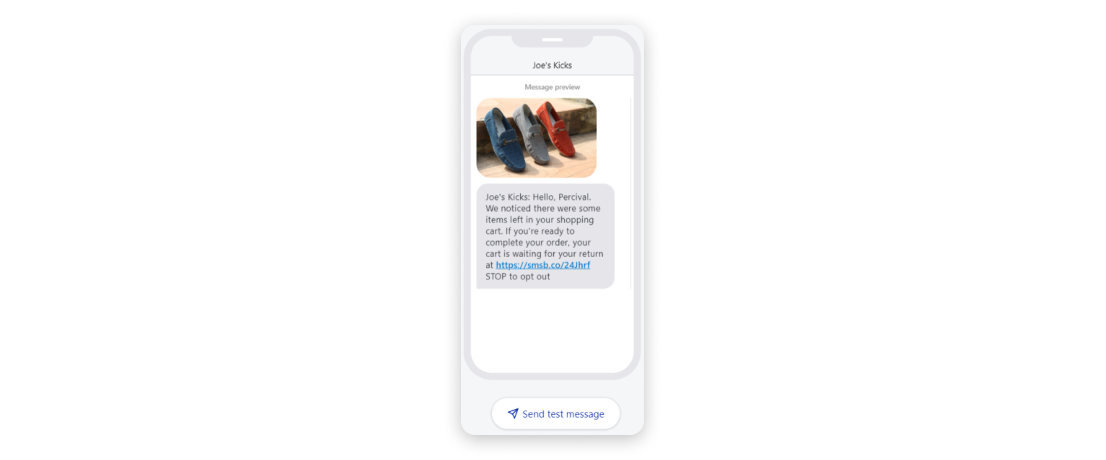 Step 9: Save automation
To save and enable your automation, click on the Save automation button.

Congratulations! This was our tutorial on how to create and enable automations in Yotpo SMSBump. You can explore our Knowledge Base for more helpful articles or contact us for any feedback or questions.
---
Related articles