How to Create and Enable SMS Automations
SMS marketing automation is a powerful process that allows businesses to connect with their customers, achieve their marketing goals and increase sales through custom text messages sent on your own schedule.
SMSBump lets you create marketing automations that target specific customers to notify them of multiple events:
In this section you will learn about the simple text message automations that can significantly boost your sales and how to use them.
​
1. Types of SMS Automations
Once inside the app, click on Automations on the left panel to access the various marketing automations you can set.


You will be able to see a list of preset automations that you can edit and personalize. You can also create a new automation with a unique name and choose from several triggers.
Each automation serves a different purpose and is set according to your specific goal. Automated text messages can be sent either to customers, or to yourself as a store owner.
Abandoned Cart: This automation is triggered when a customer abandons their cart. You can send a text message to remind them of their abandoned checkouts with a delay ranging from 5 minutes to 7 days. [Watch Video]


Product Upsell: Send automatic post-purchase product recommendations based on the last order your recipient made. Increase sales by sending targeted product recommendations your customers will actually like. [Watch Video]


Customer Winback: Bring back existing customers who haven't made an order in a while by sending them a discount code for their next purchase.


Order Created: Use this automation to thank the customer for their purchase, give them their order ID, and confirm their purchase is now being processed.


Order Paid: The customer is notified that their payment has gone through successfully.


Shipping Confirmation: Update your customers that their order has been sent out for delivery by the shipping company.


Order Delivered: Send a friendly message asking your customer for feedback on their order. Let them know that they can reach out if they have any questions or comments by simply replying to the text message.


Subscriptions: Thank your customers for opting in to receive text messages by including a discount code on their next purchase.
Keep track of the text messages that were sent in the main automation panel. The number of clicked links, as well as the total revenue that was generated from each automation.
You can also activate and deactivate an automation by changing its status and take actions:
Edit

View analytics

Delete

Here are all the separate types of SMS automations that come with SMSBump:
Customer Retention
Abandoned Cart Reminder Sequences: Triggered when a customer abandons a checkout. We recommend setting delay in order to send the reminder after 30 mins. For best effect create multiple events in different timeframes. Example 1 hour after a client abandons a cart, 24 hours and 3 days with different messages.

Product Upsell: Sent to the customer after they place an order. Recommend a product to the customer based on what they purchased. Setting a delay is recommended.

Customer Winback: This SMS automation will be triggered periodically and will target customers who have not purchased anything in the specified period.
Customer Care
New Order: An order confirmation SMS automation sent to the customer after they place an order.

Shipping Confirmation: A shipping notification SMS automation sent to the customer when their order is shipped.

Order Delivered Feedback: An automatic SMS notification the order has been delivered asking customers for feedback and confirmation.

Cash On Delivery: An SMS automation sent to the customer to confirm an order after they place it with the Cash on Delivery payment option.
Subscribers
New subscriber confirmation: An automatic SMS with a confirmation link sent to customers so they can confirm their subscription to your text marketing messages. We recommend to use this automation with delay set to Disabled.
Shopify Store Events
Order Paid: Automatic SMS notification that the customer's order payment is confirmed.

Order Cancelled: Automatic SMS notification sent to customers when their order is cancelled.

Order Refund: Automatically notify customers using SMS for orders when they are refunded.

Shipping Update: Automatic SMS notifications sent to customers when their fulfilled order's tracking numbers are updated.

New Customer Registration: This SMS automation will be triggered when a new customer registers in your store or he/she is added manually by the store admin.

Customer Deleted: An automatic admin SMS automation sent to store owners whenever a customer is deleted from your Shopify shop.

Product Created: An SMS automation that can be sent to customers and admins that a new product has been created in your Shopify store.

Product Deleted: An SMS automation sent to customers in case a product is deleted from your store.
2. Create a New SMS Automation
The Abandoned Cart is one of the most popular SMS automations Shopify businesses use to attract customers to take action by completing their purchase.
Click the Create new automation button to begin.
Give your new SMS automation a name and select the appropriate trigger (Event) for the automation you want to create.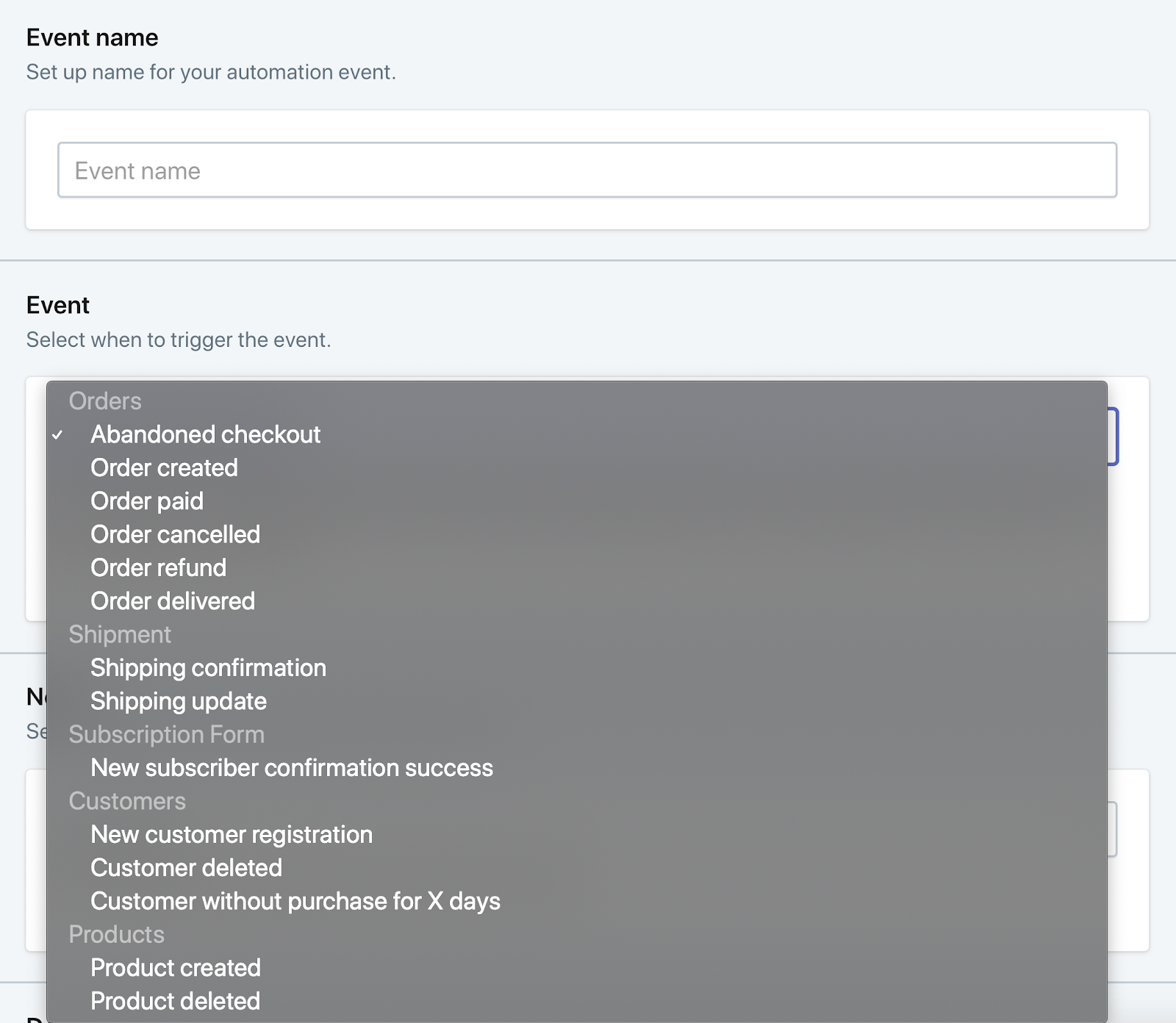 3. Configure the SMS Automation
Time to set up the details, scheduling, and target for your text message automation.
Notify (Message recipient)
Next, you have to choose who receives the text when the event occurs:
Since the purpose of the trigger is to remind the customer to complete their purchase, the Abandoned Cart event is usually set to notify the customer only.

Delay (Message scheduling)
Enabling a delay will allow your texts to be sent from 5 minutes up to a maximum of 7 days after setting the event. We recommend setting the delay to either 1 hour or 24 hours.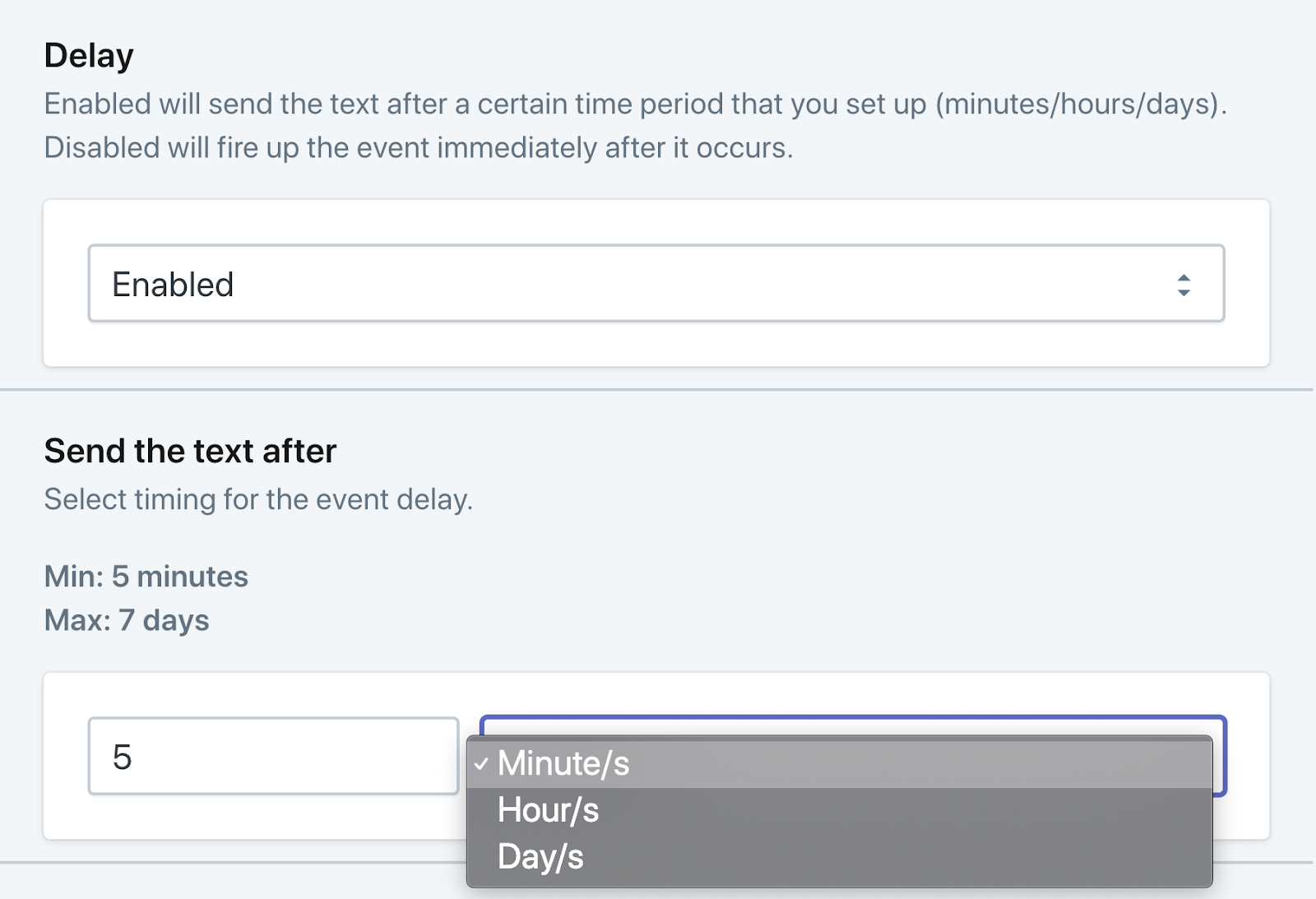 Disabling a delay will send your texts 5 minutes after the checkout is abandoned.

Automation Message Content (SMS & MMS)
The Attach image or GIF option is new in SMSBump and allows you to turn normal text messages (SMS) into multimedia messages (MMS).
IMPORTANT: Currently, you are able to attach images and GIFs only for U.S. recipients. All other recipients will automatically receive a standard text message.
Enable the MMS option by selecting the checkbox. You can add a visual element by using:
GIF images from GIPHY

Free stock photos from Pexels

Upload image or GIF from your device
Important: The allowed file formats are JPEG, PNG, or GIF.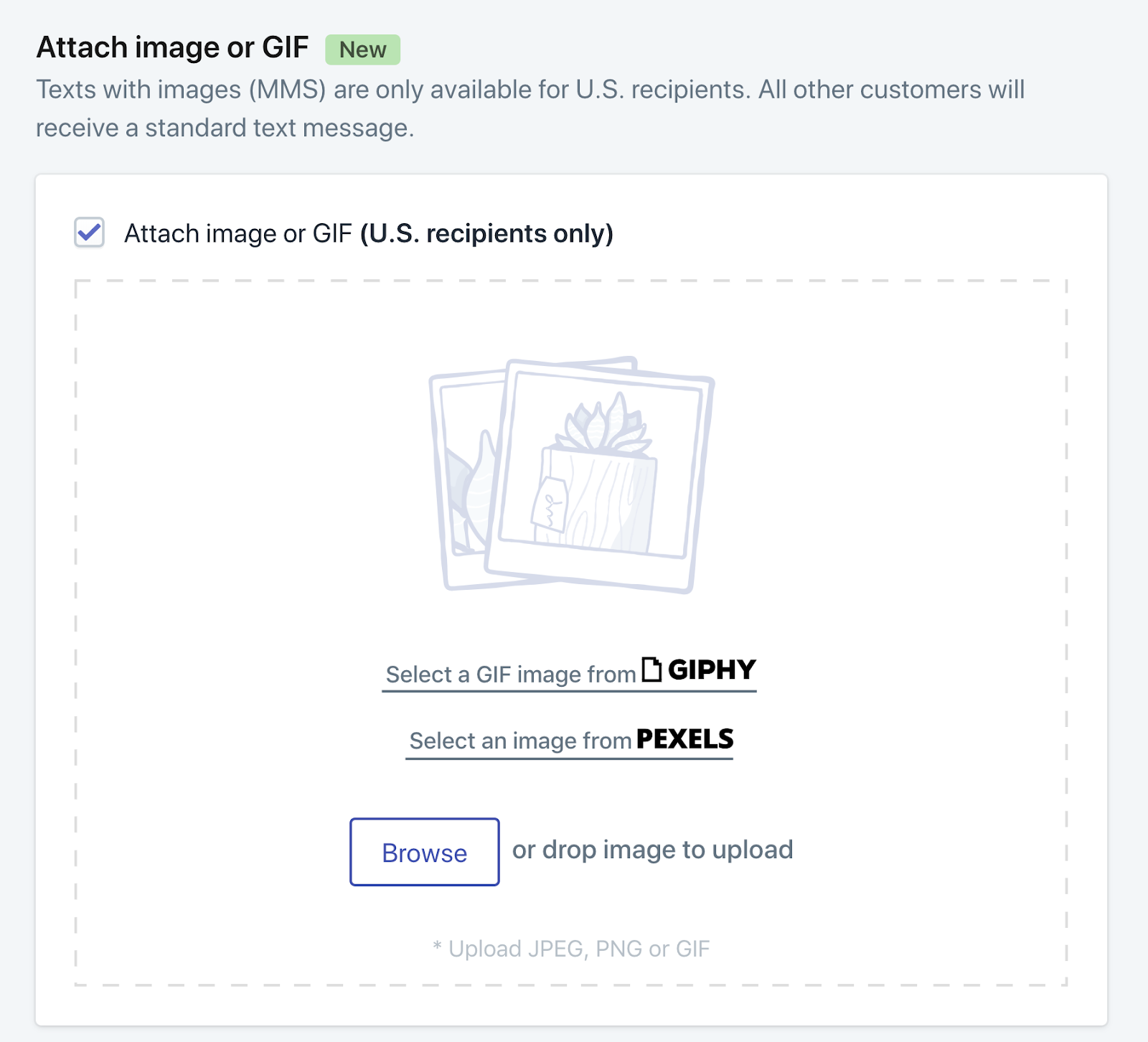 The Text field is where you configure the content of your text message. Keep an eye on your Character & SMS Counter when creating the message.

Standard SMS messages are 160 characters.

Attached images or GIFs (U.S only) messages are a maximum of 1600 characters.
You are able to preview how your message will display once it is sent by looking at the phone interface on the right.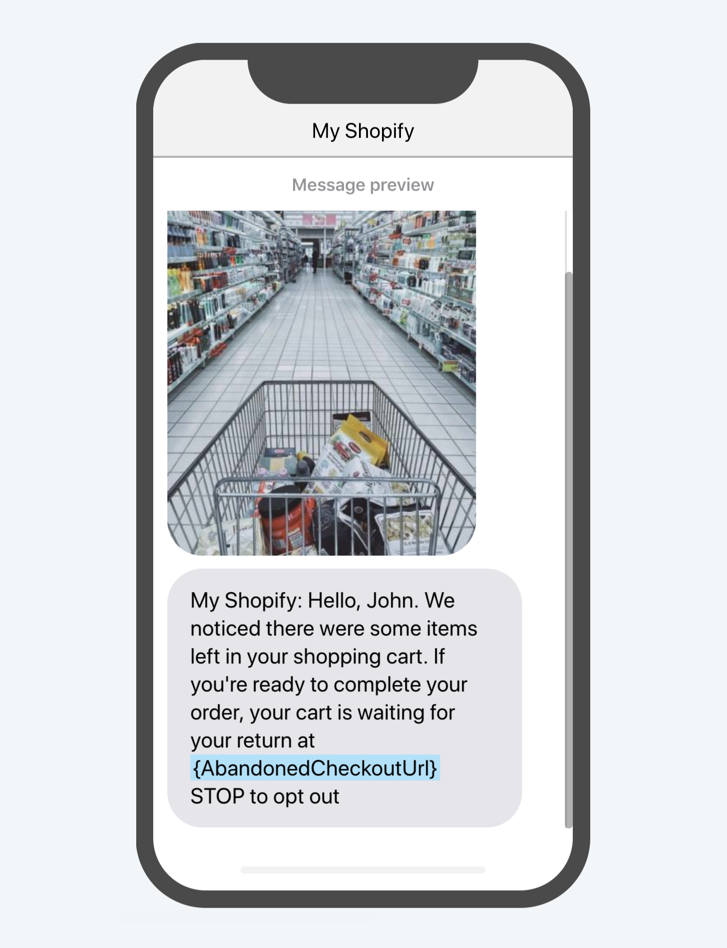 ​
Opt-out option
SMS Automations that send Marketing text messages must include a reply STOP prompt to allow the recipient to opt out from receiving further texts. The two automations that require the opt out are Abandoned Cart and Customer Reactivation.
Click on Add "STOP" to opt out to activate the feature.
All other automations (Order created, Shipping confirmation, etc) are considered transactional messages since the customer expects them, and the STOP feature is not necessary to be enabled.
Message personalization
Use short-codes that fetch customer information directly from Shopify to write a more personalized message for your recipients.
Adding emojis in your text messages makes them more exciting and results in a stronger call to action.
Emojis decrease the message character count to 70.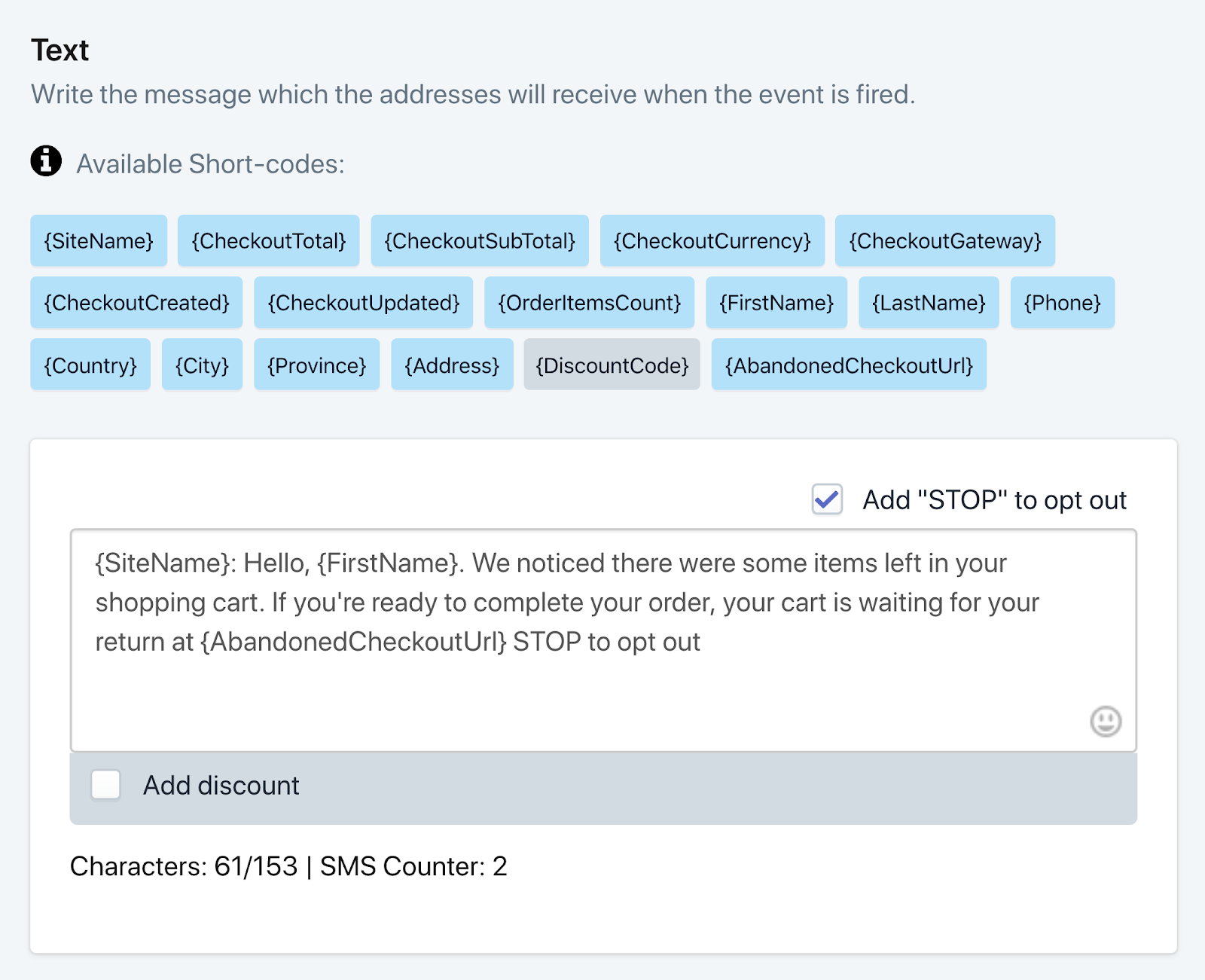 Personal discounts
By ticking the box "Add discount" you can choose to lead the customer to a discount through an embedded link in the text message.
Ticking "Same discount for all clients" will give customers a standard discount from your Shopify store website. (Learn more about Shopify discounts)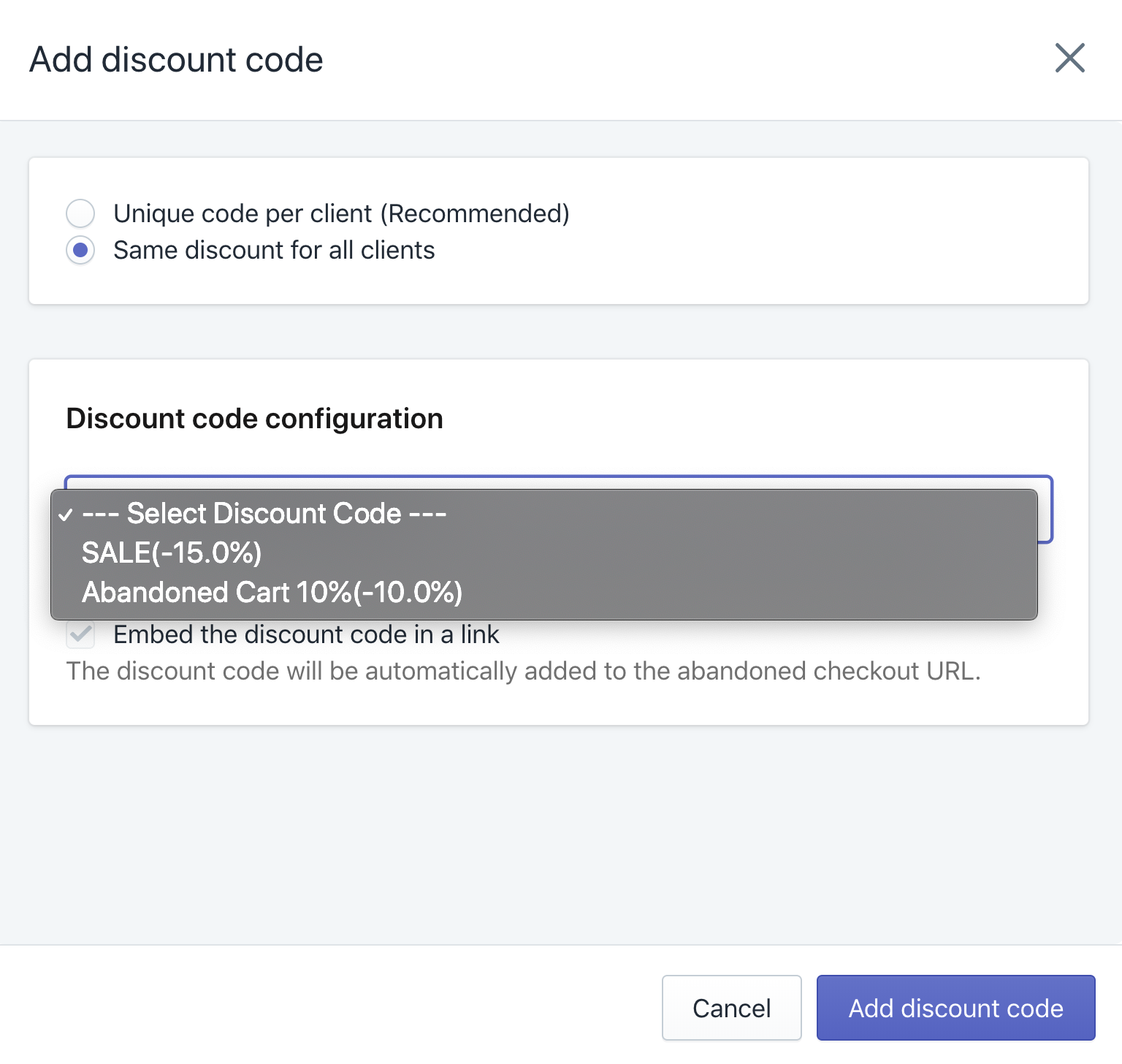 ​
Ticking "Unique code per client" will allow you to specify a personal discount type: fixed amount, percentage, or free shipping. (Learn more about Personal discounts)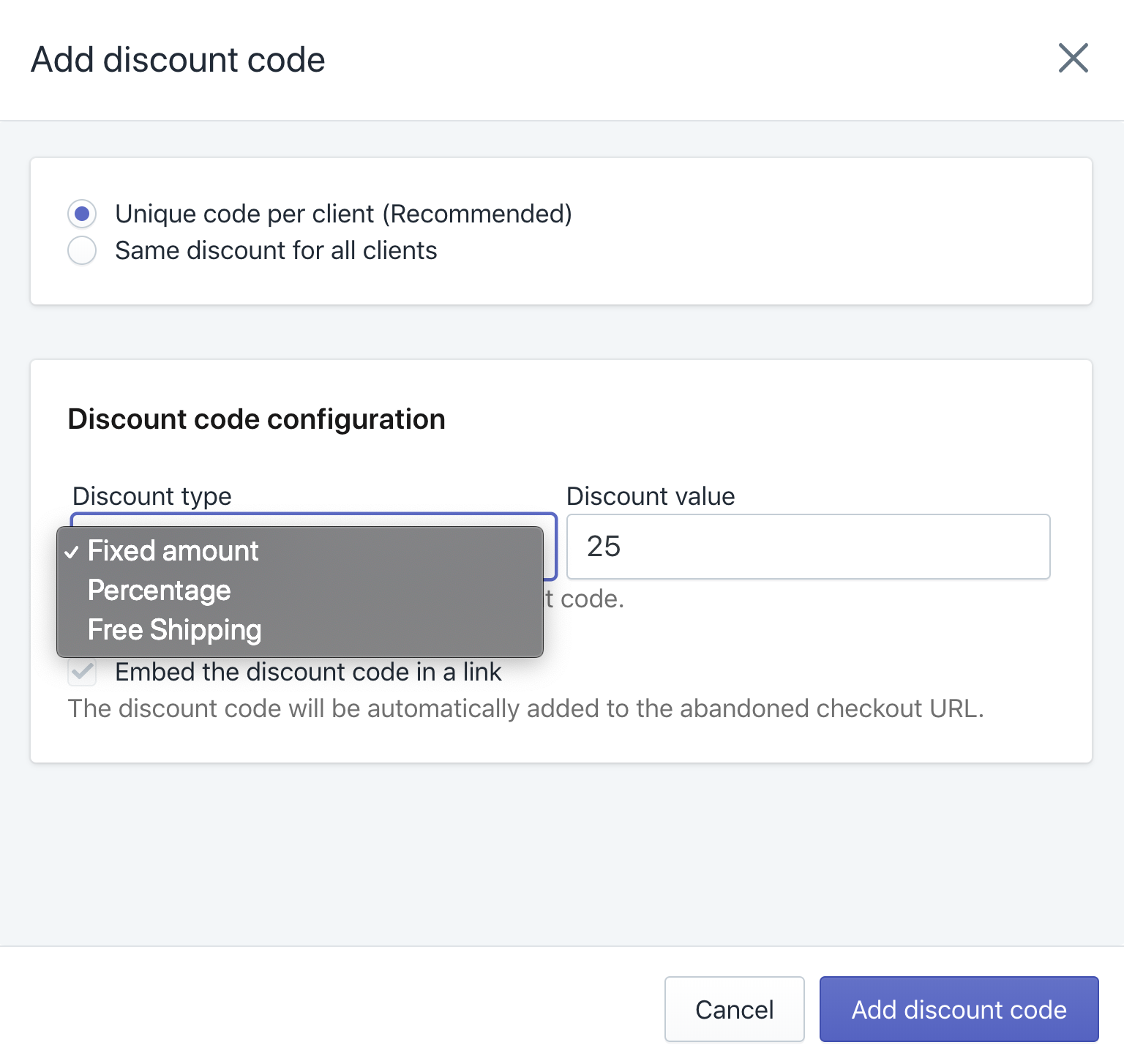 When you are happy with how your text message looks, you can send it to yourself to test it out by clicking "Test Event Message." Keep in mind that test messages will show the raw short codes and not the actual dynamic text clients will receive.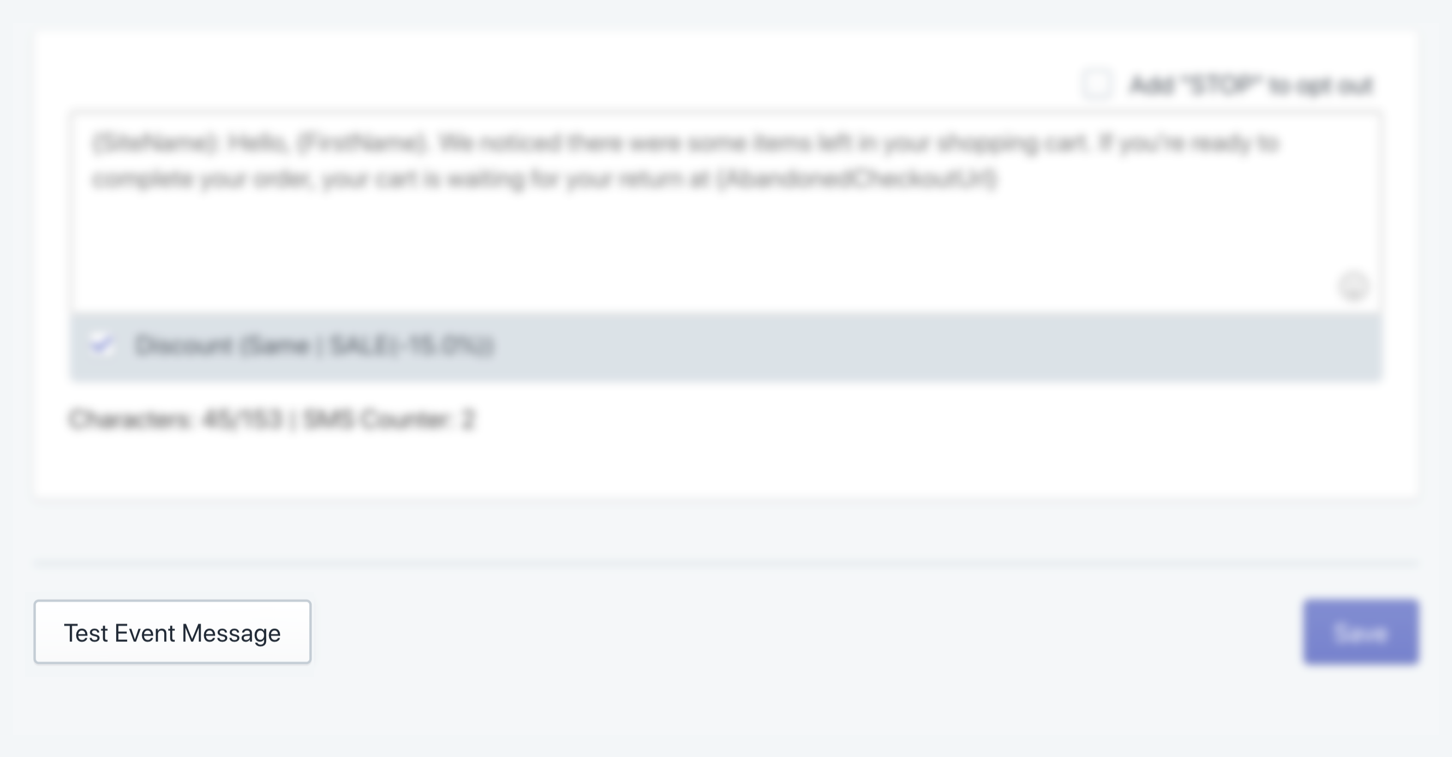 The number you used to set up your Shopify store should display. It is also possible to add additional test numbers.
Click OK to receive the test message.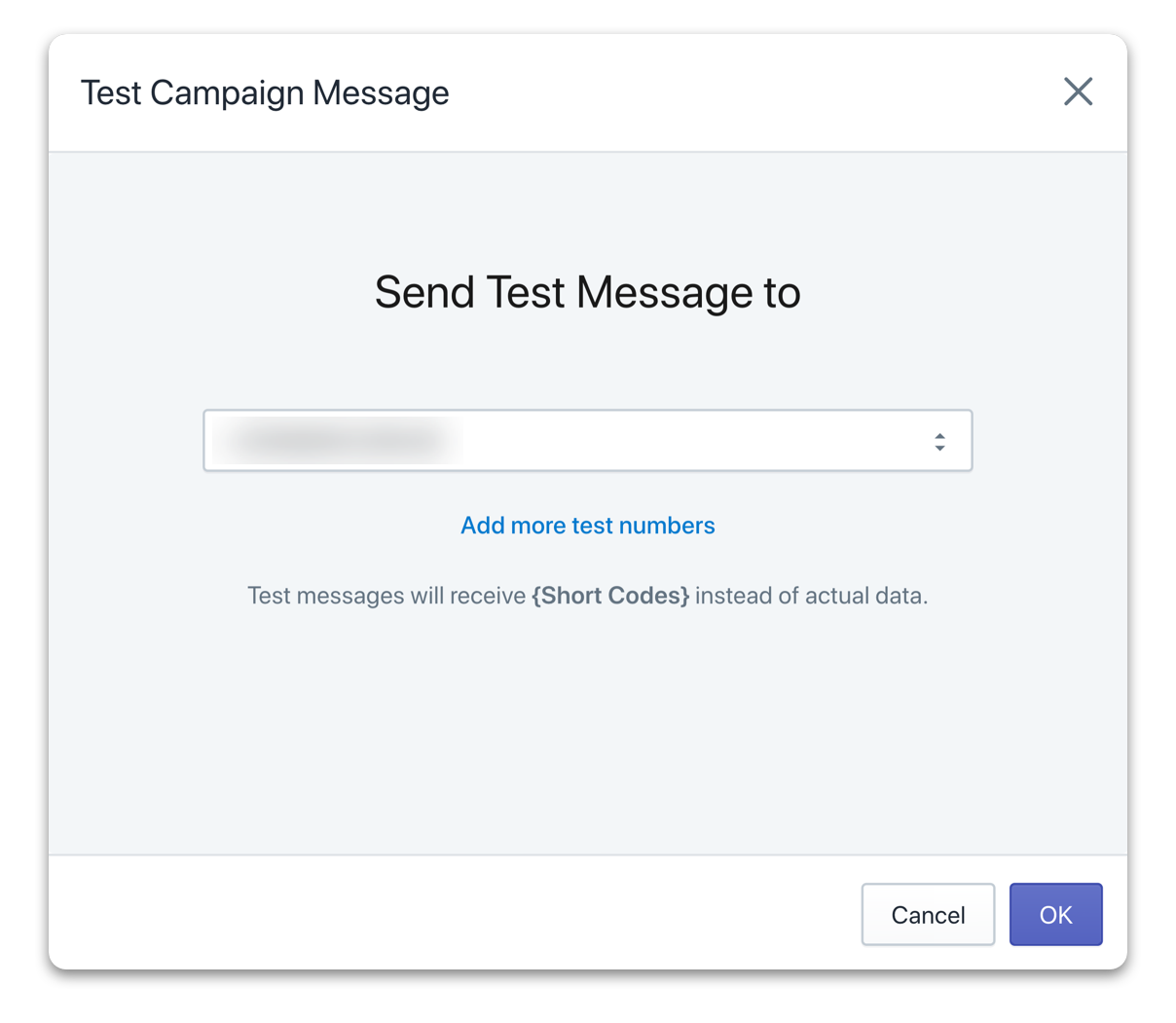 When you are happy with how your text message looks, click the save button. Your event will now display in the main automation panel and your message will be sent at the set time.
Activate Automation
Congratulations! You're now ready to activate your SMS automation so SMSBump can start sending text messages to your customers. When you're set the only thing left to do is click the Save button.
---
Related articles