How to Connect Checkout X and Yotpo SMSBump
Checkout X is a powerful tool that automatically configures your Shopify checkout page to collect opt-ins to grow your text marketing list and process orders through any payment gateway. By integrating Checkout X with Yotpo SMSBump, you are also able to send customers automated messages if they abandon their cart.

Connect Checkout X to Yotpo SMSBump
In order to proceed with integrating Checkout X with Yotpo SMSBump, you should have a registered Checkout X account that is linked to your Shopify store. Afterwards, just follow these two simple steps.

1. Once logged into your Checkout X account, select Configuration from the top navigation bar, then Integrations. Next to SMSBump click on Inactive and then Connect to SMSBump.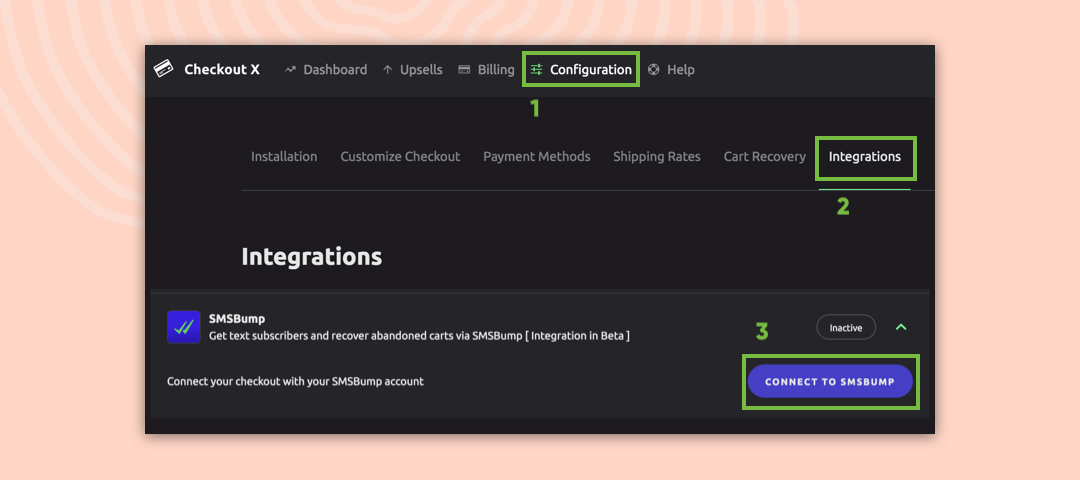 2. In the SMSBump app, head over to Integrations on the side menu and you should see that the Checkout X integration is Connected.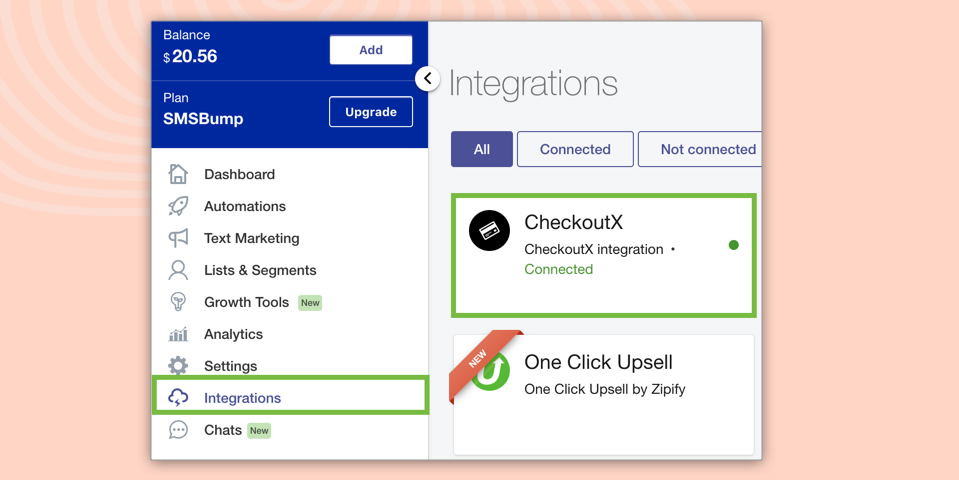 Privacy Settings & Compliance
Before you continue, you need to make sure the settings of your checkout follow all compliance requirements. Simply go to your CheckoutX Dashboard and follow these 4 steps:
1. Make sure that the opt-in checkbox is not preselected.

2. Go to Cart Recovery SMS and fill in the following:
"Sign up for exclusive offers and news via text messages & email."
You can make small adjustments, but it is important that the text contains "text messages"/"text marketing".

3. Configure the consent footer using the following text:
"I consent to receive automated marketing by text message through an automatic telephone dialing system. Consent is not a condition to purchase. Message and Data rate apply. View Privacy Policy."

4. Go to your Store's Privacy Policy page and insert the following text:
We value your privacy and the information you consent to share in relation to our SMS marketing service. We use this information to send you text notifications (for your order, including abandoned checkout reminders), text marketing offers, and transactional texts, including requests for reviews from us. Our website uses cookies to keep track of items you put into your shopping cart, including when you have abandoned your checkout. This information is used to determine when to send cart reminder messages via SMS.

Set Up an Abandoned Cart Automation

Recover lost sales by launching a sequence of abandoned cart automations using the CheckoutX abandoned cart automation.

1. From the SMSBump side menu, select Automations and then click the Create New Automation. Give your automation a name that is easily recognizable.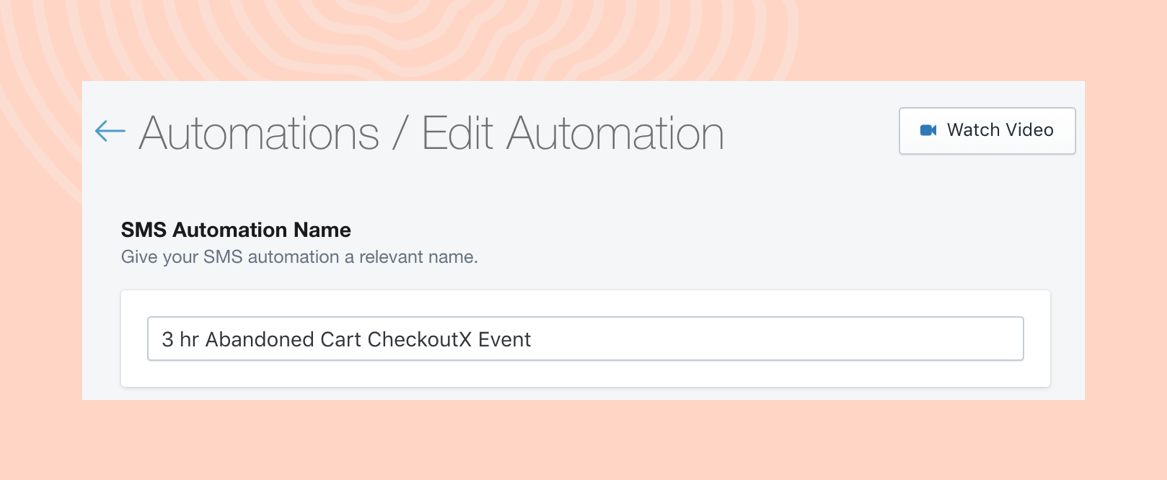 2. Select CheckoutX Abandoned Cart Reminder from the Automation Type dropdown.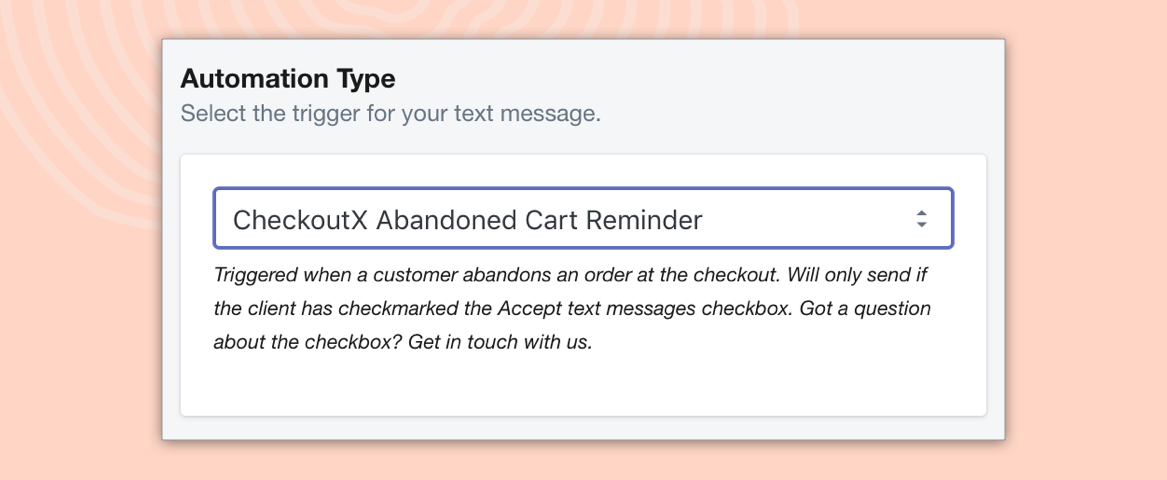 3. In the next field, choose whether to enable or disable a delay for when customers will receive the message. When Enabled, specify the Message Timing in minutes, hours or days.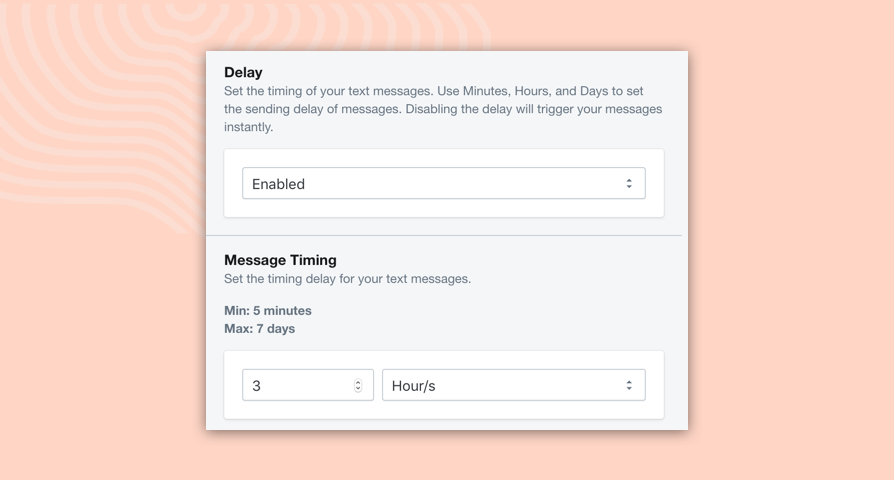 4. You may attach an Image or GIF if your recipients are in the U.S. Keep in mind that the character limit for an MMS is 1600. Select a GIF from GIPHY, an image from Pexels or click the browse button to upload an image of your own.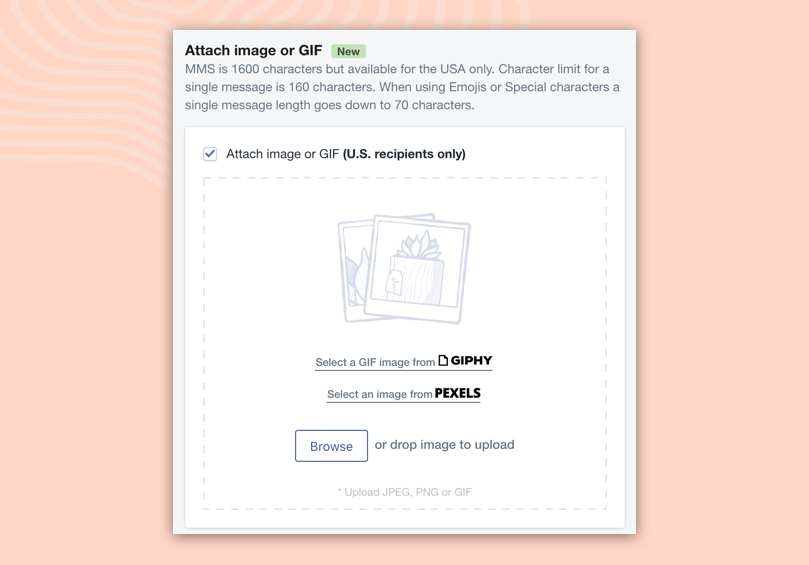 5. Write your abandoned cart message text while keeping an eye on the Message Strength meter which will give you tips on how to make the message powerful. You will be able to see a preview of your message on the phone to the right. Make sure that the "STOP to opt out" checkbox is ticked to follow compliance rules.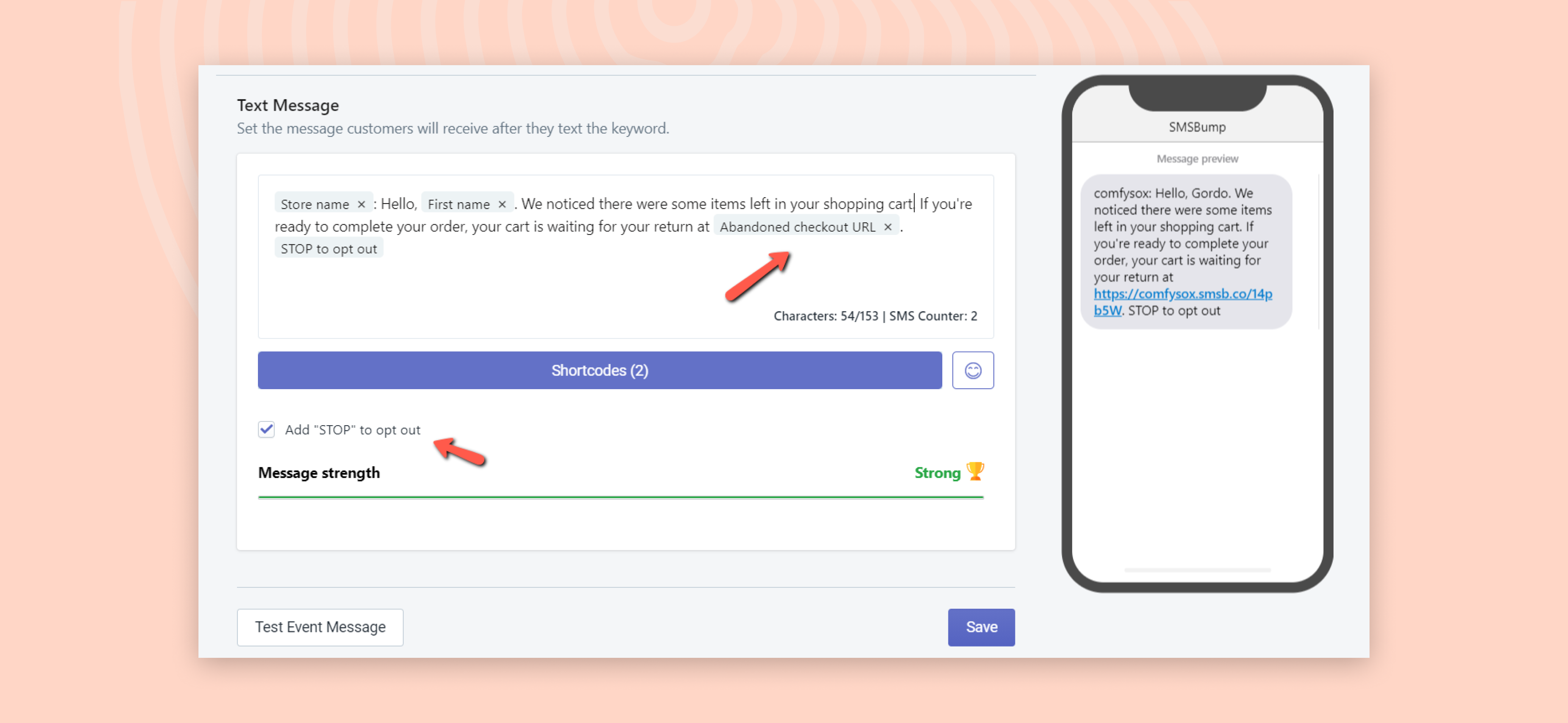 Click Test Event Message to send a test message to yourself. When you are happy with how everything looks click the Save button to schedule the automation for sending. Congrats, you've successfully launched your Checkout X abandoned cart automation!
---
Related articles