Enhance SMS Chat Support with the New Customer Profiles
SMSBump is pleased to announce the new updates on our SMS Chat! With the new features, Shopify store owners will now have the complete image and understanding of a customer when communicating with them over the SMS Chat.
In this article we will walk you through all the new features we have come up with to ensure that your Shopify customers will have the best and problem-free experience shopping with you.
Customer Profile
The first new development is the Customer Profile, which allows you to have a complete understanding of whom you are talking with.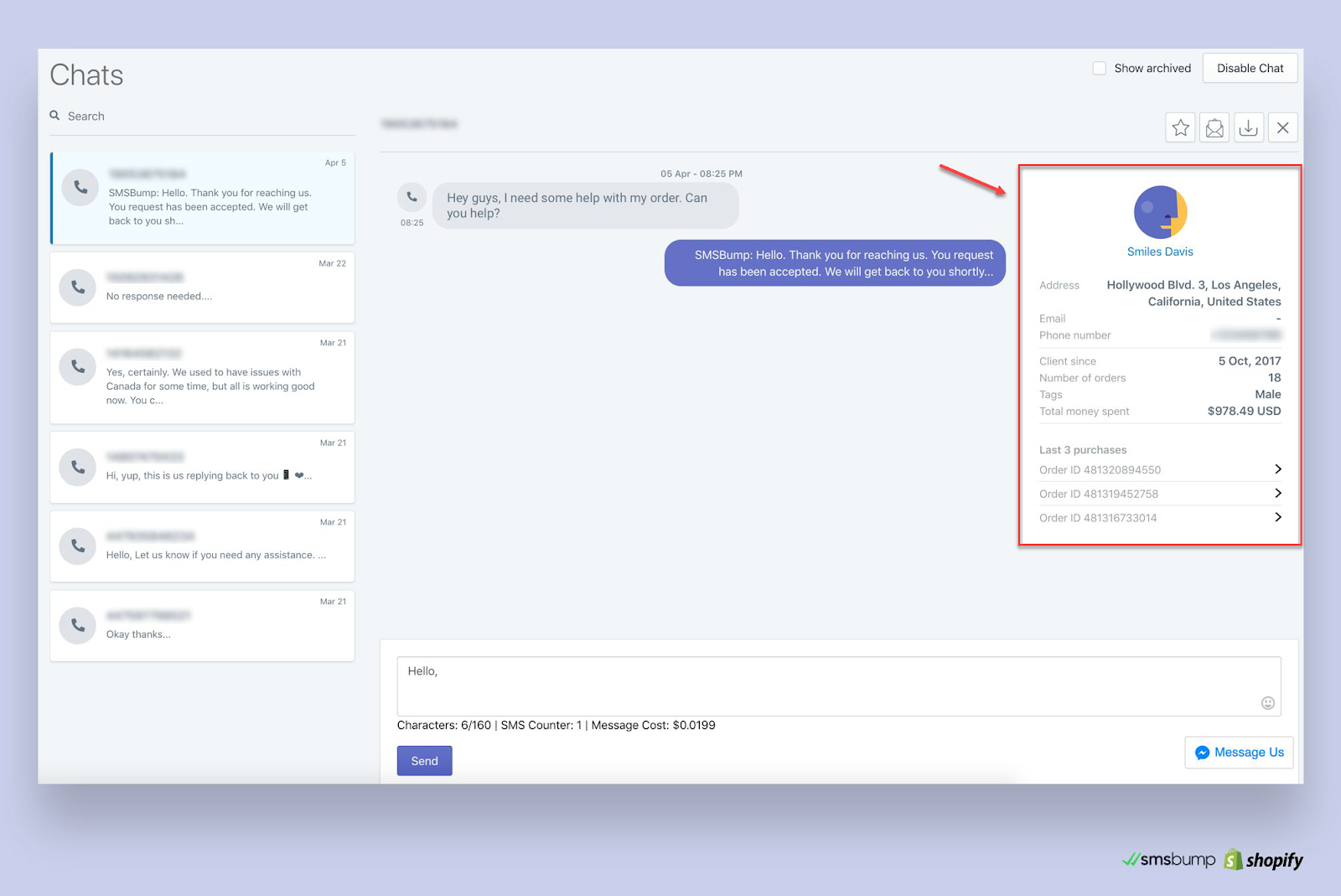 The customer profile contains the following main sections of information about your customer:
Name - this is the name the customer has put in when they made an account with you.
Address - this is the address your customer has registered for your store with. Knowing their address, you can easily determine whether to give free shipping or another type of discount.
Email and phone number - the email and phone number your customer has entered when registering with you.
Client since - shows you how long has this person been your customer. Are they a new customer, or have they been with you for awhile. This field will give you exactly this information so you know how to approach them correctly.
Number of orders - are they a regular customer or have they not placed an order just yet? Or are they somewhere in between? Knowing the number of orders will once again give you a better understanding of how engaged this customer is with you and your business. This way you can plan your retention tactics ahead.
Tags - these are the tags you have given your customer when entering their information in your Shopify database.They show you specific characteristics of each and every customer - are they a VIP, male, female, sale shopper, shoes lover, newbie… Having immediate access to this handy information at all times while chatting with the customer will help you every step of the way, as you can adjust your tone, language, practically your whole approach to them and the situation.
Total money spent - shows you the total amount of money the customer has spent at your store.
Last 3 purchases - you can now easily track and review the last three purchases (or all purchases, if they are less than three) your customer has made at your Shopify store, using the available Order IDs. This information will help you determine what products your customer is interested in.
Important: To prevent cases with insufficient customer data in the profile, we will only show the information for customers that have generated enough store activity to give you the most detailed information about them.
Archive and Delete Conversations
The new Archive feature allows Shopify owners to tidy up their chat conversations without having to delete them permanently, but instead - place them in an archive folder for safe keeping.
The new Delete feature enables store owners to delete inactive and old conversations so they can avoid clutter in their chat panel.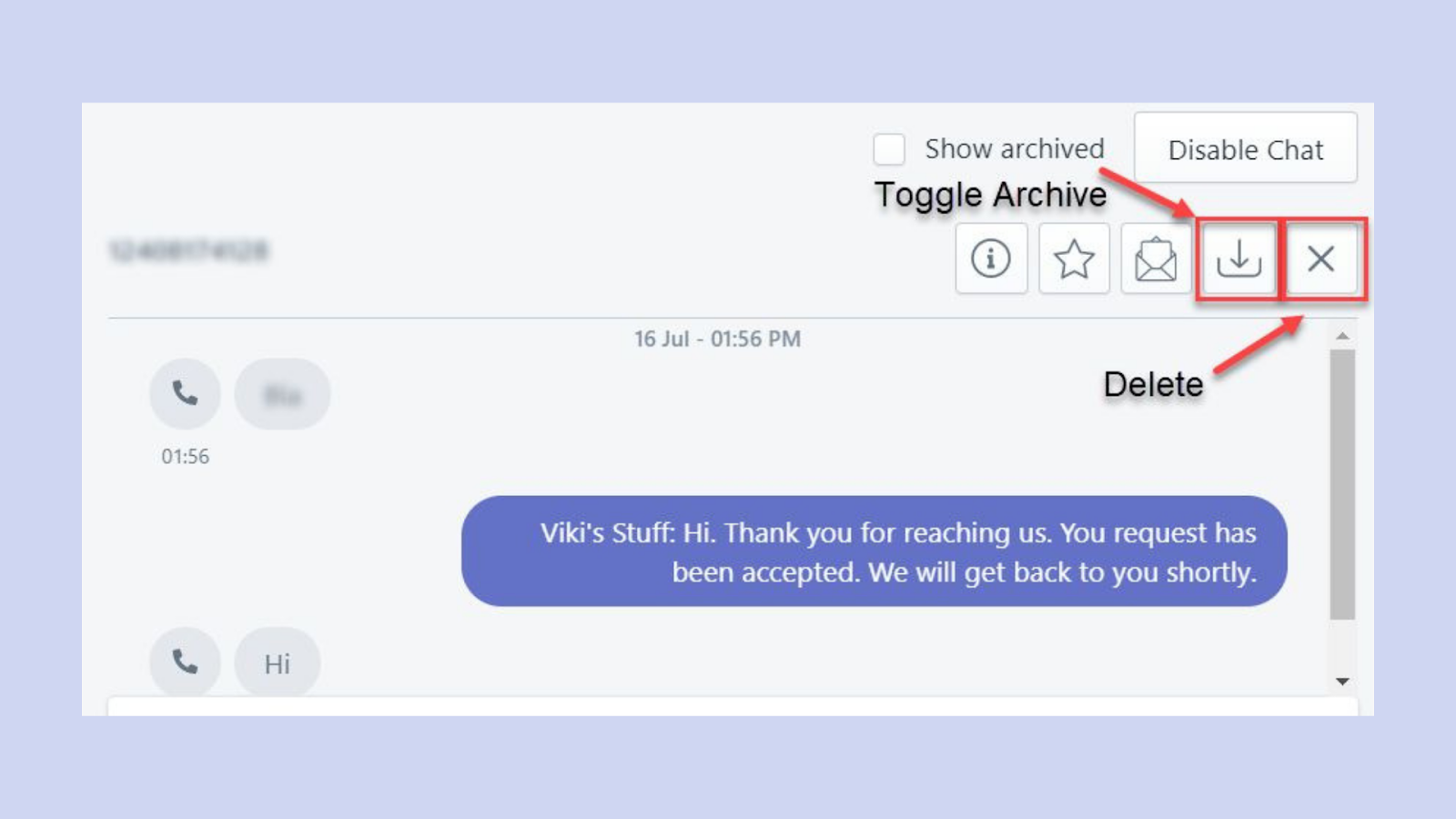 How Do You Archive Conversations?
First, go to the conversation you would like to place in your archive and click on it to open it. You'd know which conversation you have selected by the pale blue colour.
Second, click on the Toggle Archive icon (look at the screenshot above). Your conversation will instantly disappear.
If you want to see it again, simply tick the Show archived box, which will only show you the conversations you have placed in your archive. You'd know that you are looking at your archived conversations when a little grey folder image displays right under the day of the last message in that conversation: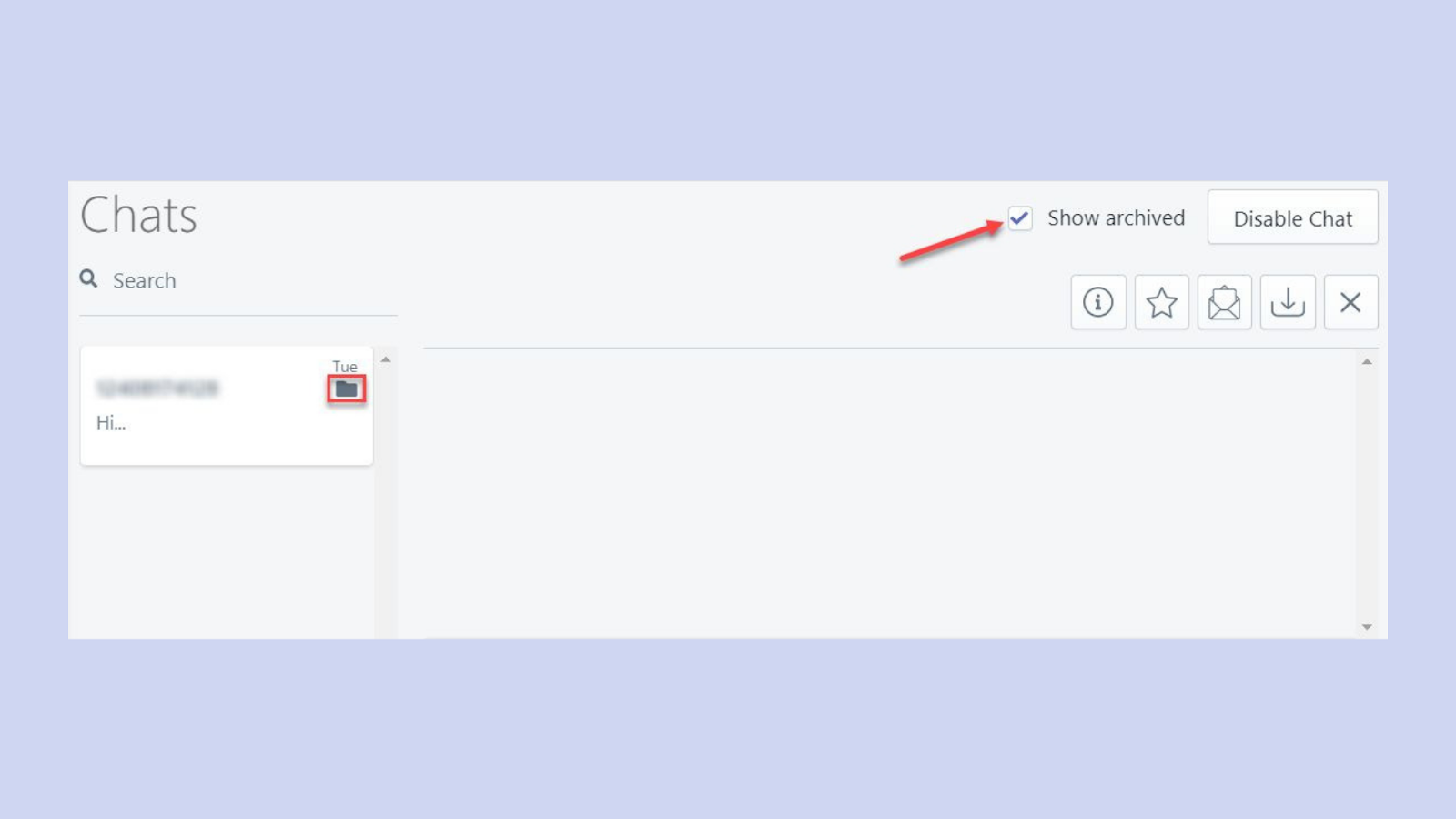 If you wish to reverse archiving a particular conversation, click on the chat you wish to retrieve from the archive folder and click Toggle Archive. You will notice that your conversation will disappear again.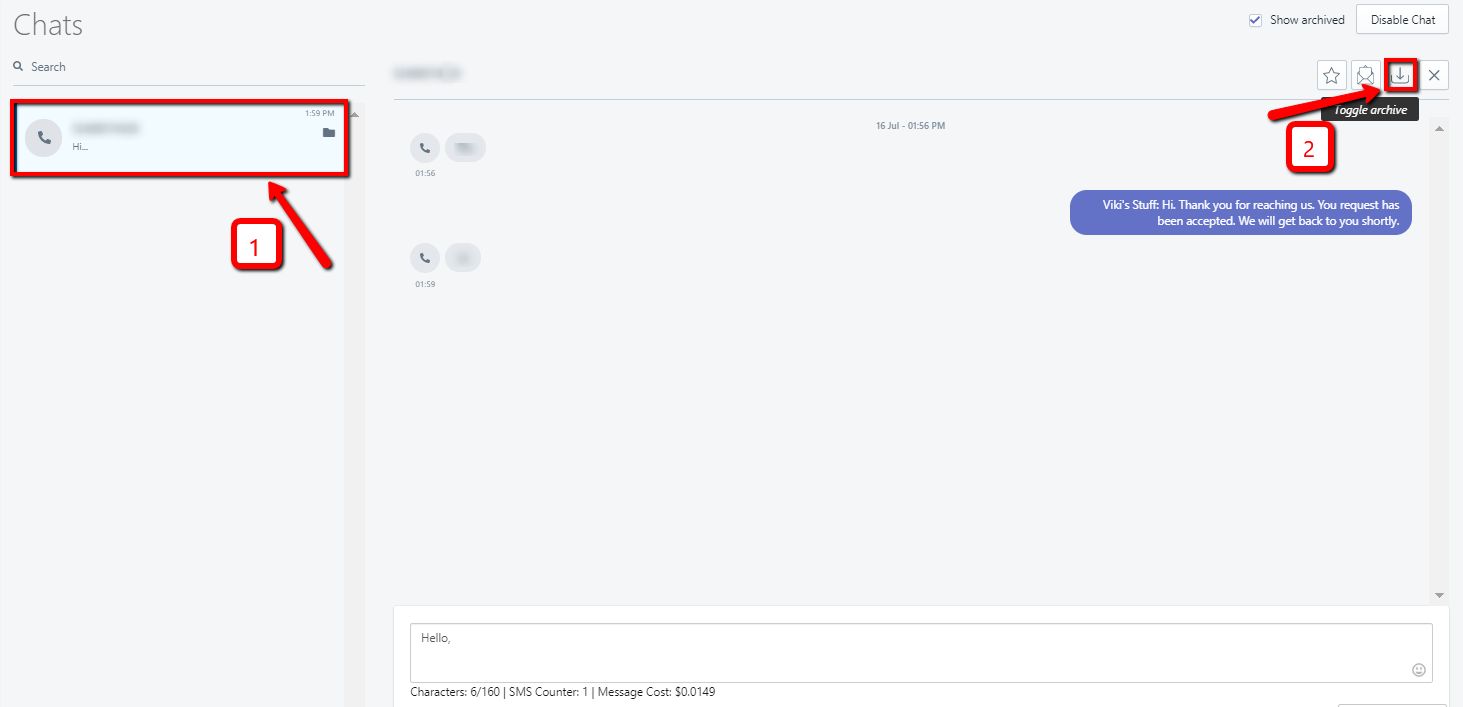 To go back to your current chat list, just uncheck the Show archived box. You will see that the conversation you just retrieved will show up where your current conversations are.
Note that if this is an older conversation, it will not show at the very top, but will be placed according to the date and time of the last message sent in it.
How To Delete Conversations?
If you wish to permanently erase a conversation, merely click on the X in the upper right corner (look at the second screenshot above).
A screen will pop-up, asking you if you are sure you want to proceed with deleting this conversation. If you wish to permanently delete the chat, click Yes, delete. To go back and not delete it, click Cancel.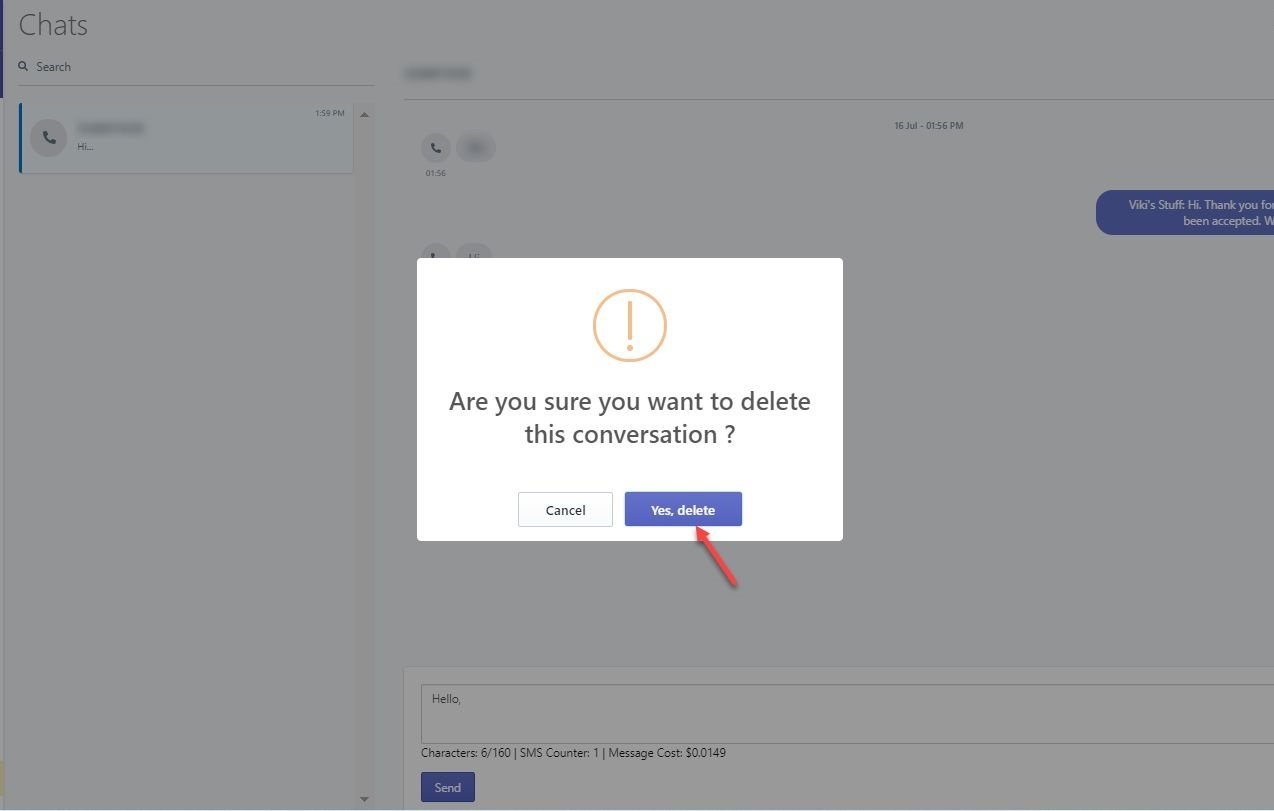 For further information, regarding how to set up and use SMS Chat on Shopify, read New: Enhance Support with Customer Profiles in Your SMS Chat.
---
Related articles