Creating a popup with the new popup editor
Pop-ups are a great way to attract your store visitors, boost your conversions, and grow your SMS subscriber base at scale. In this article, we'll walk you through the steps to create a highly targeted and personalized pop-up from scratch in Yotpo SMS & Email.
Before you start
Make sure you are using this version of our pop-up editor. If not, check out our article on creating a pop-up with the older version of the editor.
Getting started with pop-up templates
By selecting from our range of pre-designed templates, you can quickly and easily customize them to suit your brand.
Go to the Subscribers menu on the left, then on Collect Subscribers, and click on the Pop-up card. You'll see the pop-up templates page. You can sort the templates by SMS only, SMS and Email, or All.
Once you've picked a template you like, simply click on it, and you'll be taken to the editor.
You can always click on the Create from scratch button and make a pop-up by yourself.

Customizing your pop-up design
Our pop-up editor is designed to be user-friendly and intuitive. Once you have selected a template, all you need to do is click on an element, and its properties will appear on the left side of the screen. From there, you can easily customize various aspects of your pop-up, such as colors, fonts, outlines, and even add an image.
Important to know: When making styling changes to your pop-up (such as altering fonts, backgrounds, or images), those changes will apply to all steps within the popup only if you make them from the very first step. For example, if your pop-up contains an Email step, an SMS step, and a Success step, and you make styling changes to the Email step, those changes will automatically be inherited by the other steps. However, if you make styling changes to the SMS or Success steps, those changes will apply only to the step that you're currently editing.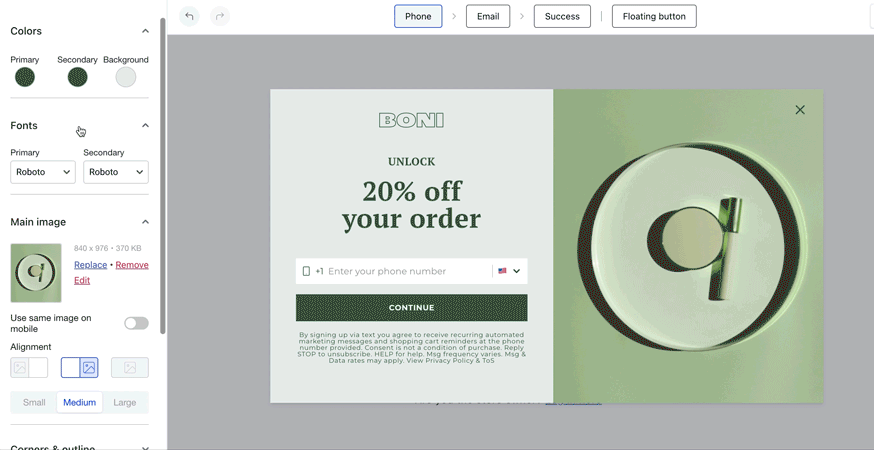 You can also rearrange the elements of your pop-up, such as title, subtitle, button, etc., by dragging and dropping them, and you can also add elements by clicking on the plus signs between sections.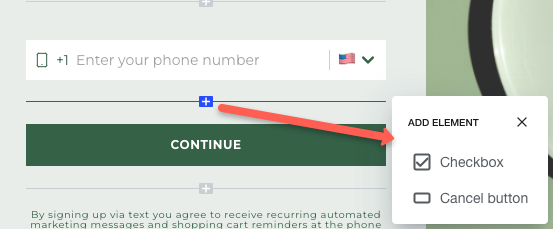 To make sure you have customized every step of the pop-up and its mobile design, simply navigate from the top bar. In addition, the steps have a drag-and-drop functionality that makes them easy to reorder. Simply click and hold the step you want to move and drag it to its desired location. This feature offers greater flexibility and convenience when designing your popup.
You can also change the list all new subscribers go to from the Selected list drop-down menu.

Important to know: When editing your compliance text, it is important to select the country to which the settings apply. You must also add your Privacy Policy and Terms of Service links.

Customizing your pop-up behavior
The pop-up behavior settings can be found at the very bottom of the menu on the left. Here you can adjust display options, timing, frequency, and a total of 11 advanced conditions. The behavior settings are the same in both versions of the Yotpo SMS editors, so you can simply check out this article.
If you want to do a bit of fine-tuning to your behavior, you can always add advanced conditions.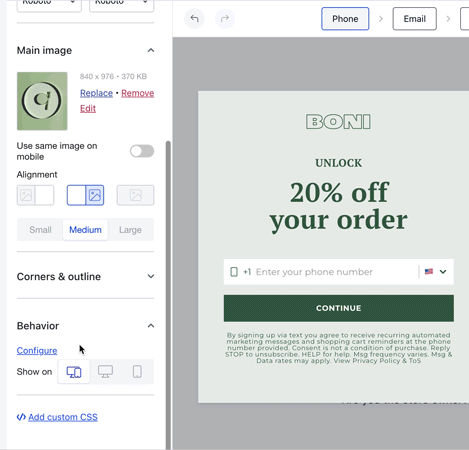 Publishing and editing your Welcome flow
When you are ready, click on the Publish button. A success pop-up window will appear. Clicking the Edit SMS button will lead you directly to the SMS flows editor, where you can customize the welcome message every new subscriber will receive.


Don`t forget to contact us if you have questions or some feedback on this feature. We would really appreciate it!
---
Related articles