Personalize your Customer Interactions with a Contact Card
Personalization in SMS marketing is key to improving conversion rates and building a strong brand identity. Thanks to our newest development - the Contact card, you can now personalize your communication starting from the very first customer interaction.
Contact Card is a feature that will allow you to create a personalized contact ID for your brand and send it to your subscribers as an MMS. The Contact Card is great to use as part of your welcome flow when you are greeting your new customers.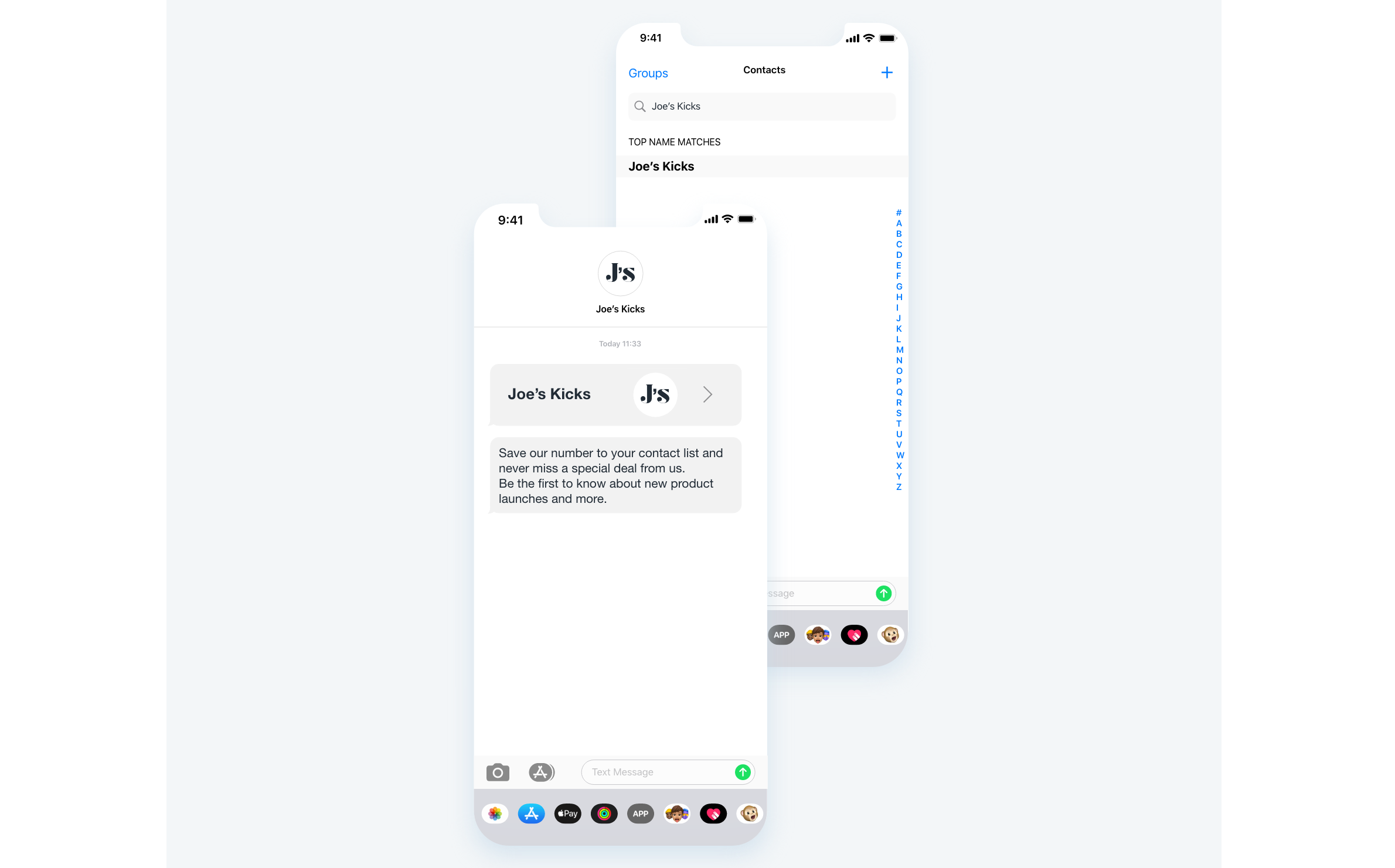 1. How to setup your Contact Card
To begin setting up your Contact Card, go to your Settings menu and scroll down to Branding. There you will see 3 sections: Brand logo, Store Name, and Message.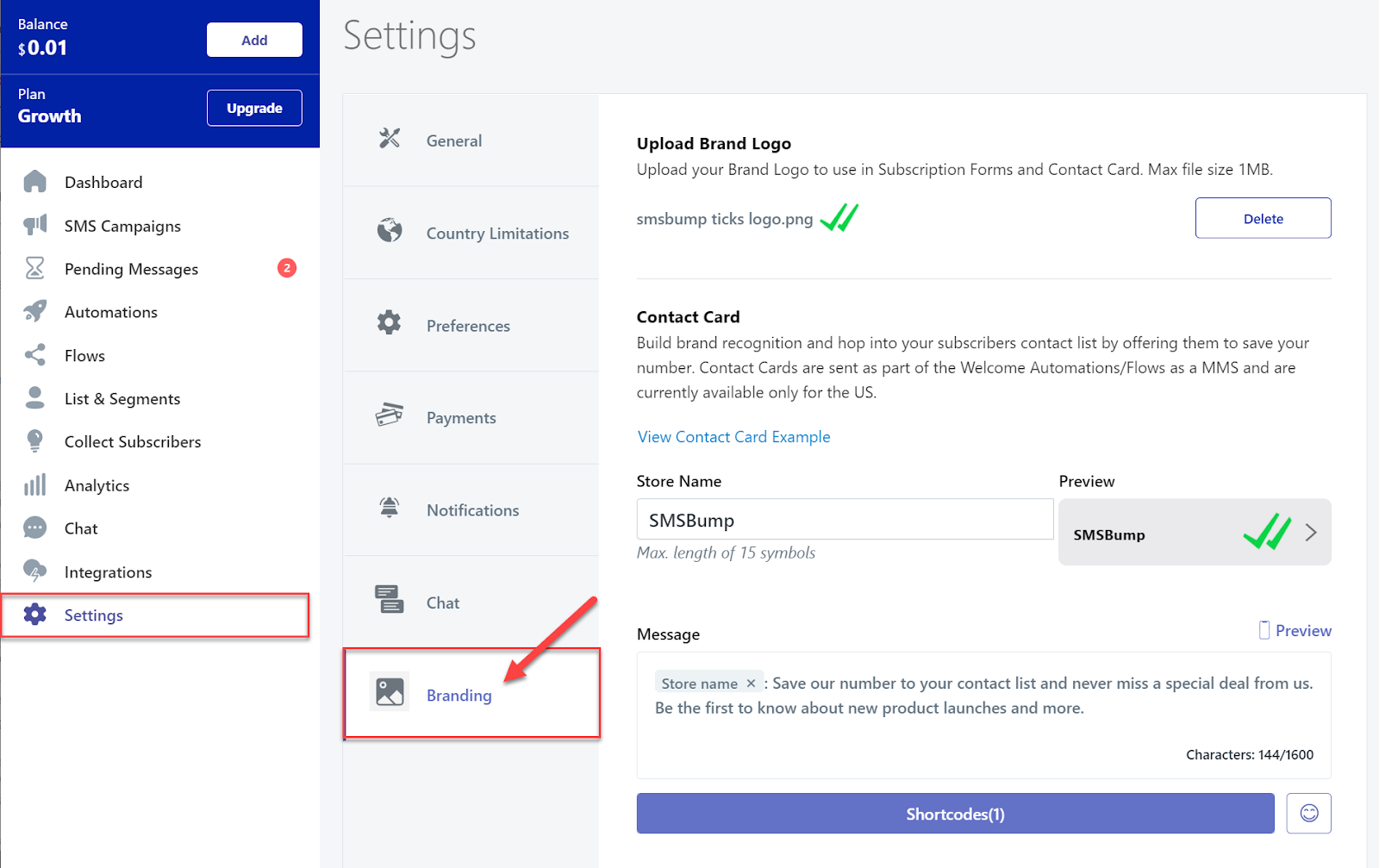 Brand Logo: The first thing that you need to do is upload your brand logo. In case you have a strong brand, built around a specific person, you can use a photo of them as well. For best experience, we advise you to use a square image (1:1 ratio), with a max size of 1MB.
Store Name: Write down how your customers will save your phone number in their phones. To avoid any confusion,, we recommend you simply type in your brand name. The maximum size is 15 characters.
Once you are done, you will see a preview of your Contact Card on the right side.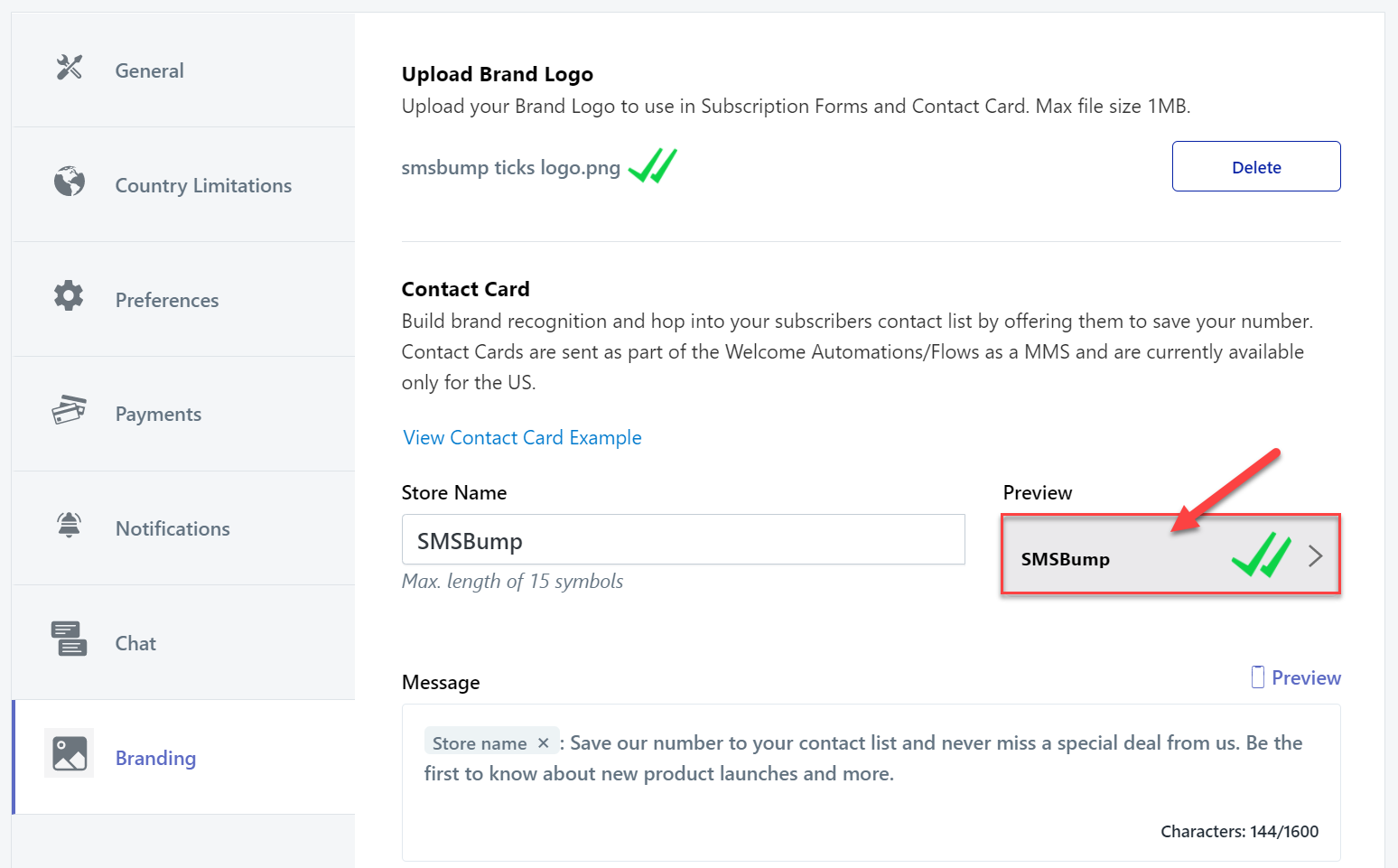 Message: It would be strange for your customers to receive a contact card out of the blue and without any additional information, right? Let them know why you are sending them your contact info and invite them to save it on their phones. We've already set a message for you, but you can tailor it to your brand, so it feels more personal.
That's all you need to do to activate your Contact Card!
Each Card (the contact ID + the follow-up message) will be treated as a separate MMS message, apart from the welcome text you have crafted for your customers. The feature is currently available only for the US.
But now let's see how you can use it as part of your communication.
2. Contact Card in a Welcome Automation
Contact cards can be added to your welcome messages, so subscribers can save your number right after the very first message they receive from you.
Here is how you can add the Contact card in your Welcome Automation: First, go over the Automations section and select Create new.

Once you start creating your new automation, choose the New subscriber confirmation trigger. This means that the message will automatically send out every time someone subscribes to your SMS marketing program.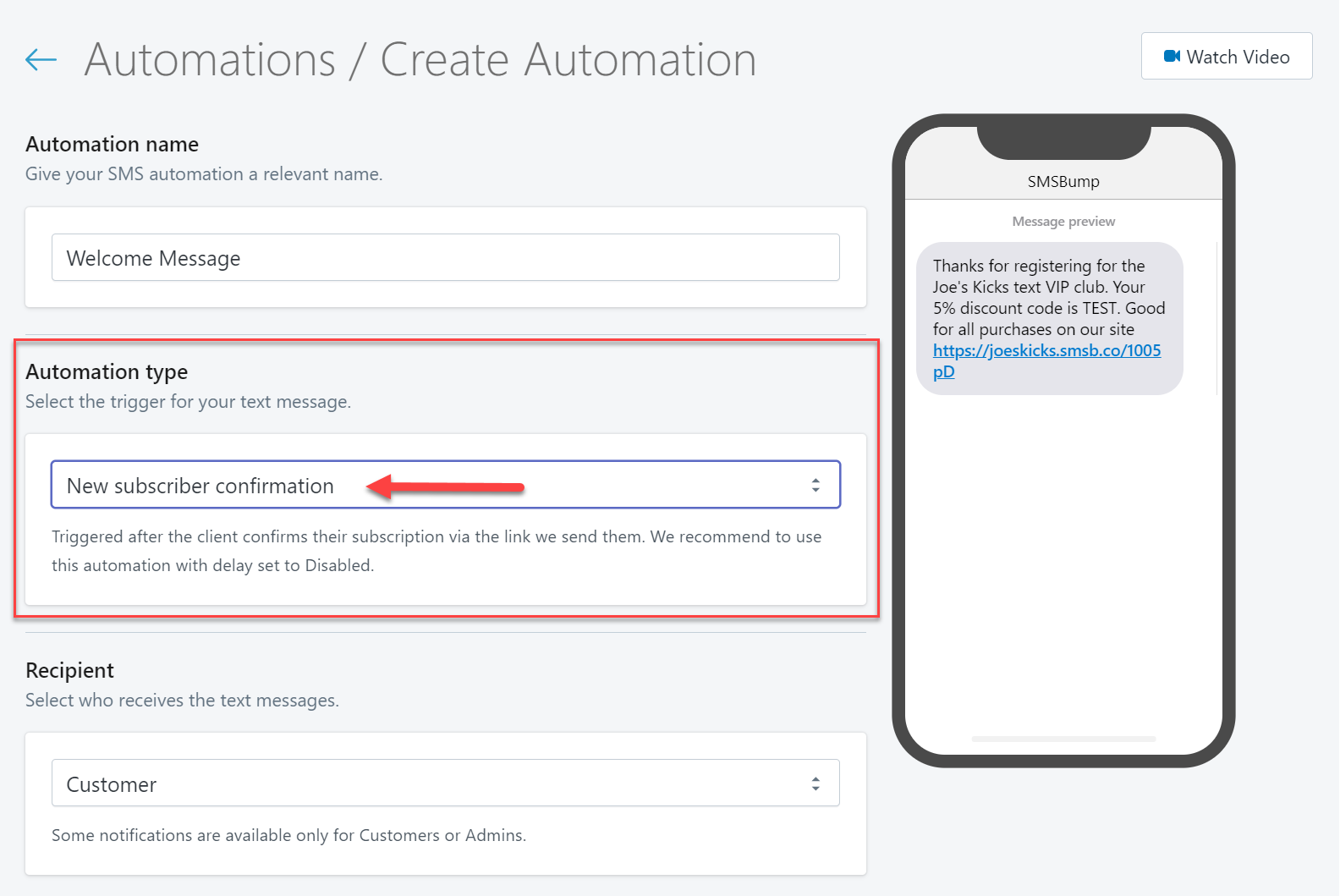 Then scroll down to just before the Text Editor. There you will see the Contact Card section. Simply tick the box and your contact info will be added to your welcome message automatically.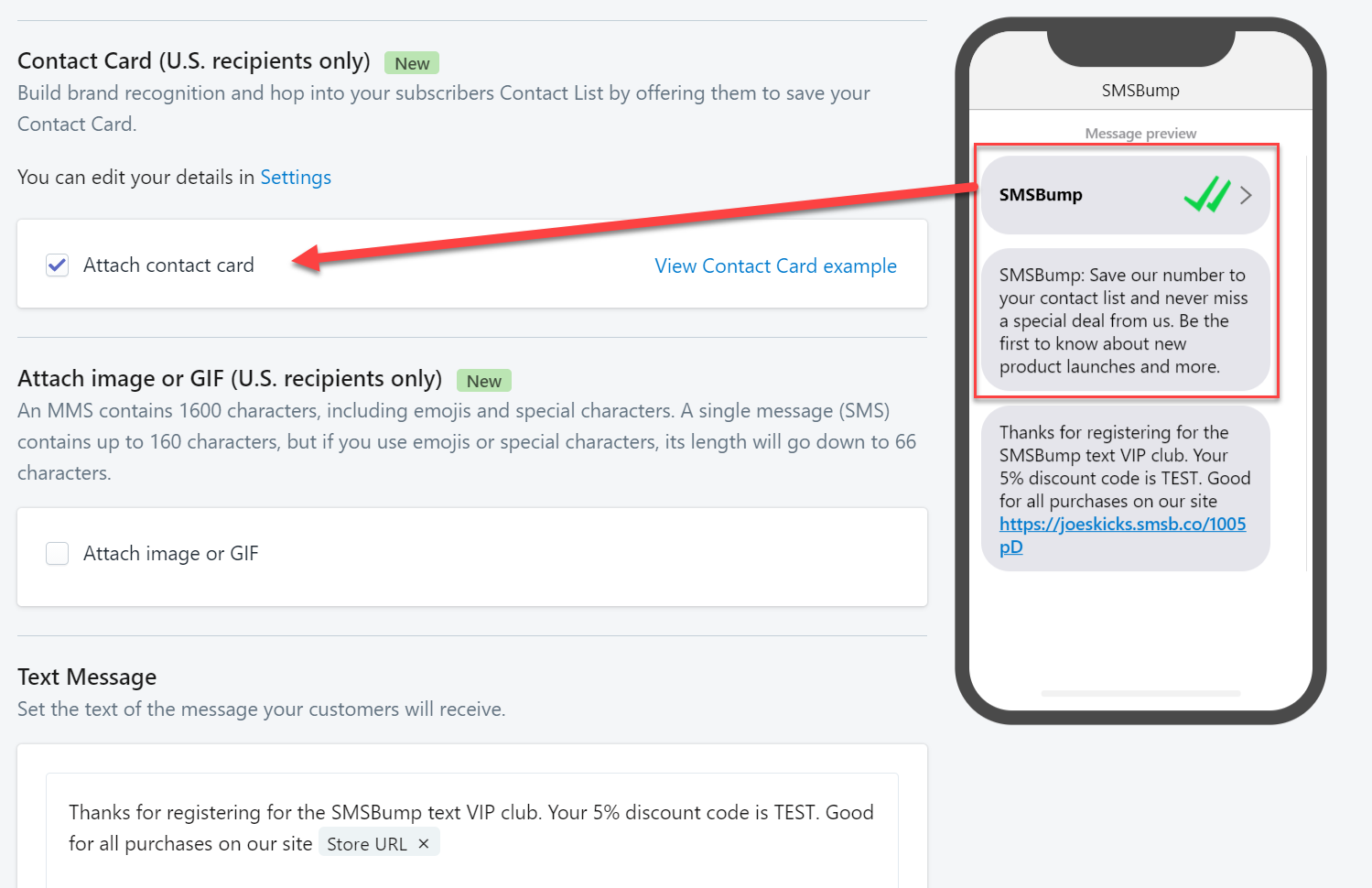 Then continue building your welcome text as you would usually do.
3. Contact Card in a Welcome flow
The first step to adding a Contact Card to а welcome flow is to select the trigger New subscriber confirmation. In case you already have an existing welcome flow, you can skip this step and simply go to your welcome message.
Just above the Text Editor, you will see a new box "Enable Contact Card" that you need to select and your contact details will be automatically added as part of your message flow.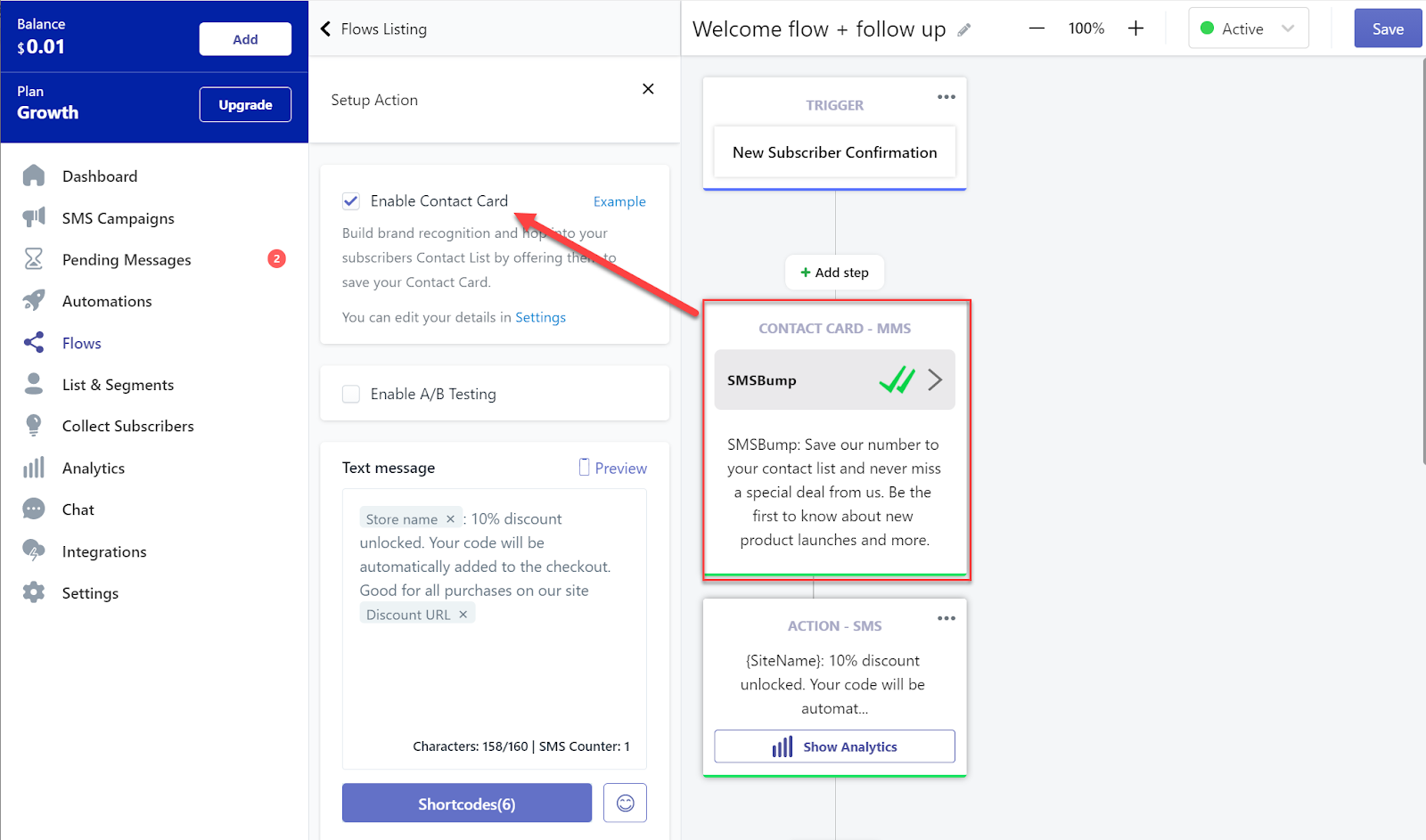 And this is how easy it is to personalize your customer communication with just a few simple steps!
---
Related articles