Connecting Mailchimp and SMSBump on Your Shopify Store
SMSBump has come together with Mailchimp - one of the most popular email marketing platforms. Now it's easier for Shopify store owners to build and expand contact lists for launching marketing campaigns.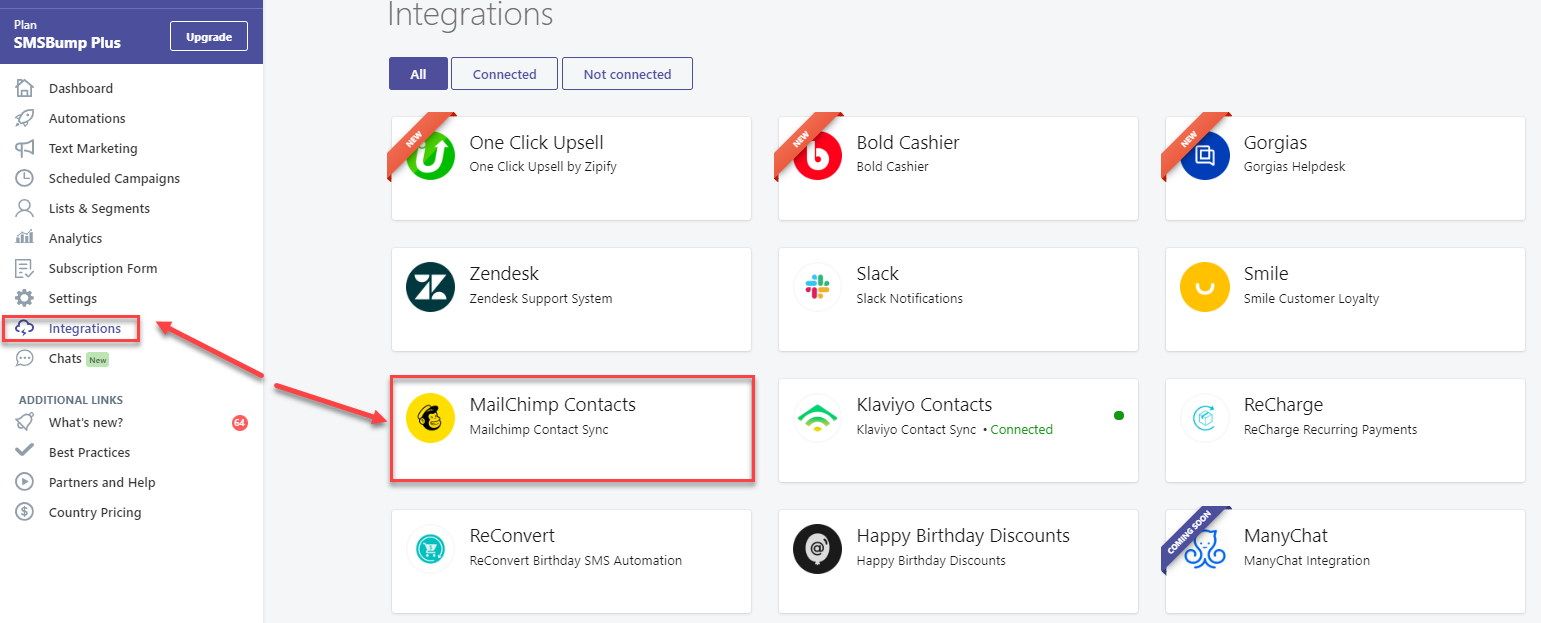 Let's show you how to connect Mailchimp and SMSBump Plus to add SMS notifications to your email marketing strategy and be even more successful.
How to Connect Mailchimp and SMSBump
To connect Mailchimp and SMSBump, you first need a registered account in Mailchimp. Afterwards, follow the simple 7-step process below to install and sync Mailchimp with SMSBump.
1. On your SMSBump app side menu go to Integrations, which will open up a screen of all current and upcoming integrations. Find Mailchimp and click on it.
2. An Overview panel will come up, showing you all of the features of Mailchimp. Read the overview and features and click Configure.

3. A pop-up will appear. Enter the username and password you set up when creating an account on Mailchimp.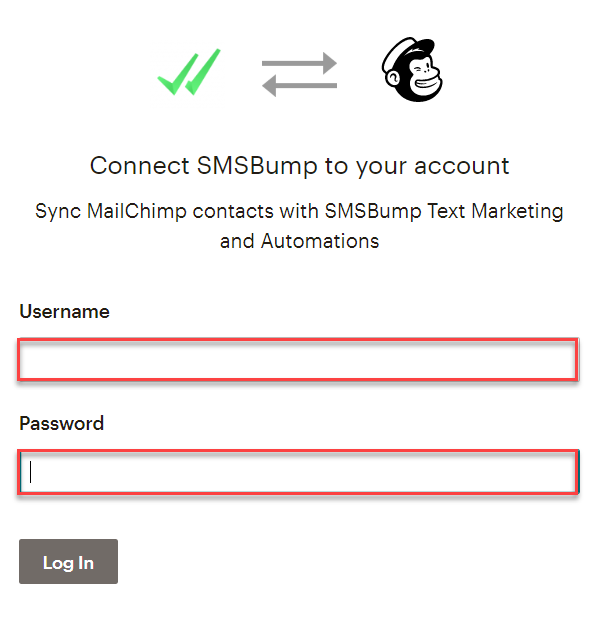 4. Another pop-up will inform you once your configuration process is completed.
Congratulations!
Your Mailchimp and SMSBump SMS marketing automation apps are now successfully connected!
5. Now you just need to synchronize all of your Mailchimp contact lists with SMSBump. Do this by clicking Sync All Mailchimp Lists.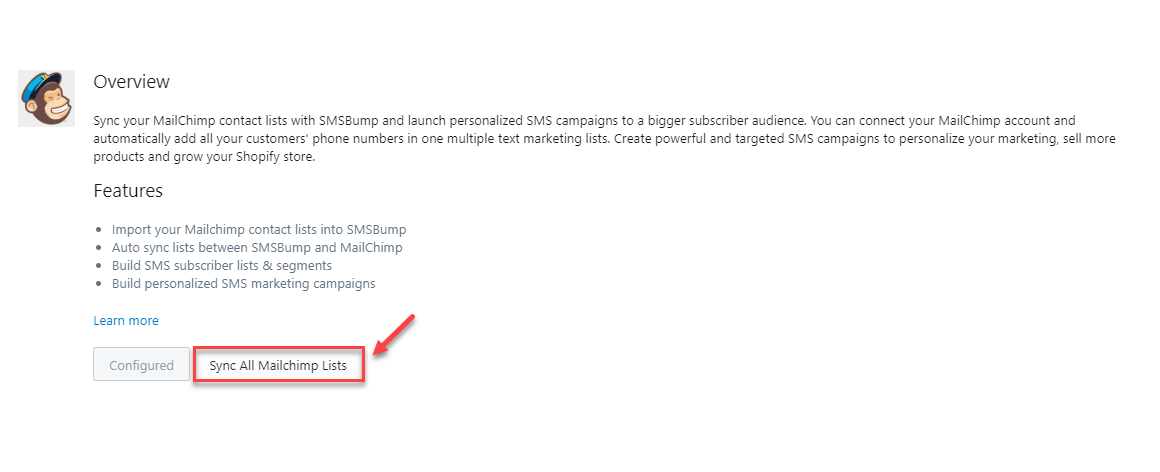 6. A pop-up will let you know when and how many Mailchimp lists were synced with SMSBump.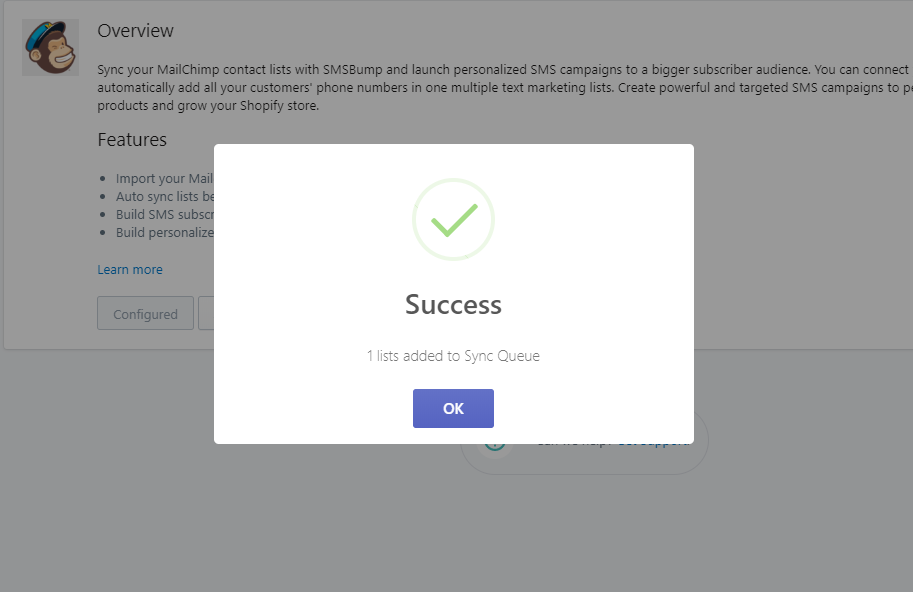 Important: Keep in mind that the sync will only transfer the contacts in your Mailchimp lists that have a phone number.
7. To verify, go to Lists & Segments on SMSBump to see your Mailchimp contacts transferred to the SMSBump Lists. Each separate entry will be labeled with [Mailchimp] for better recognition.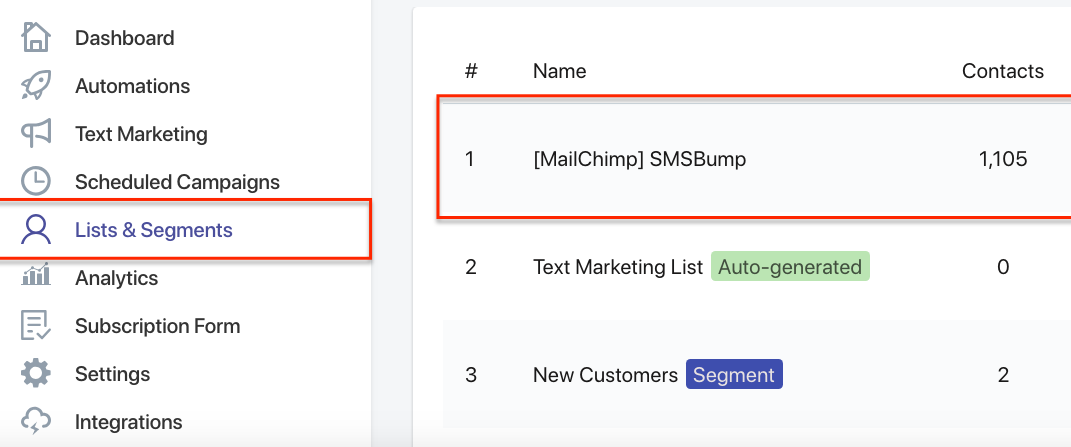 Good job! Your Mailchimp and SMSBump apps are now connected. Are you ready to start exploring the numerous opportunities that come with this partnership? If the answer is "Yes", read our How Syncing Mailchimp with SMSBump Helps Drive Shopify Sales article for additional information.
---
Related articles