How to Collect Emails with SMSBump Subscription Forms
SMSBump subscription tools just got even more effective!

With our most recent update, eCommerce brands can now use our native pop-ups, embedded forms and floating buttons to collect both phone numbers and emails. Moreover, if you have integrated your SMSBump with Klaviyo, these contact details will be automatically synced in your Klaviyo account.

Let's take a quick look at how you can set up your subscription form to invite site visitors to leave their phone number and email.

Enable Pop-up Email Collection

Let's say you are looking to launch a pop-up that will collect both emails and numbers. Go to your SMSBump side menu, select Growth tools and then click on the Get Started button under Subscription Form.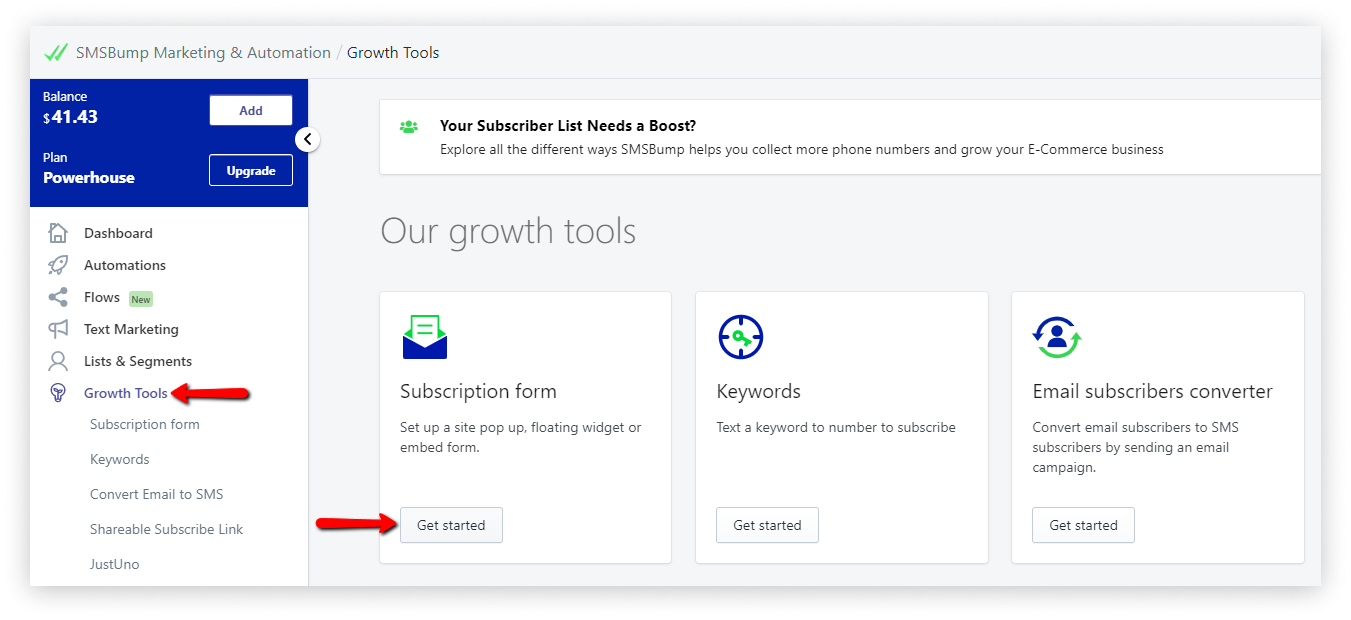 Hit Create New and out of the three available options, select Pop-up.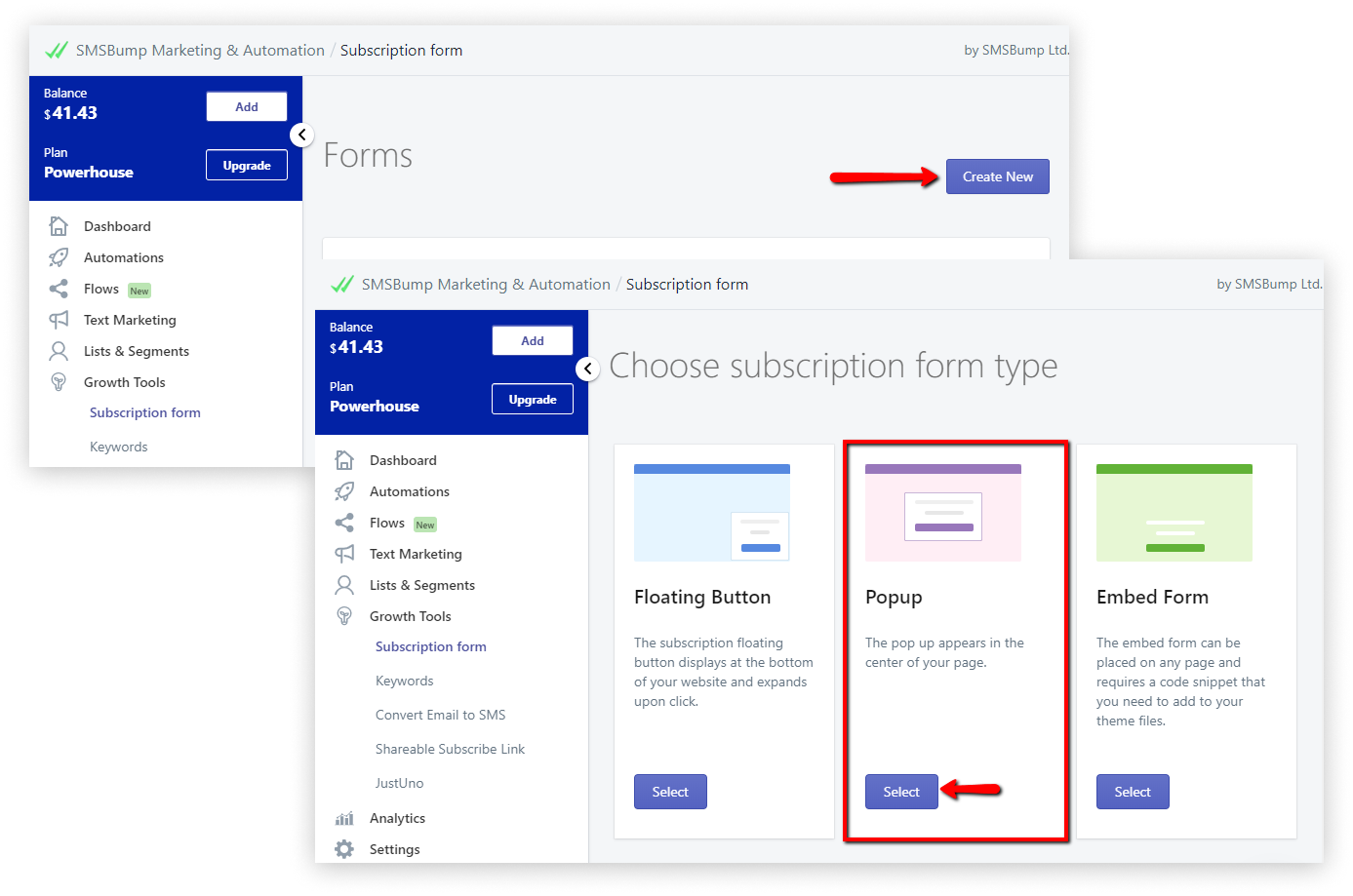 The first four fields of the pop-up editor are where you can customize your subscription form - anything from background, color, font size and weight, to color of button, call-to-action and other content. If you are interested to see how to build the perfect pop-up from scratch, check out our article.

The tab of interest to us in this situation is the Additional fields one.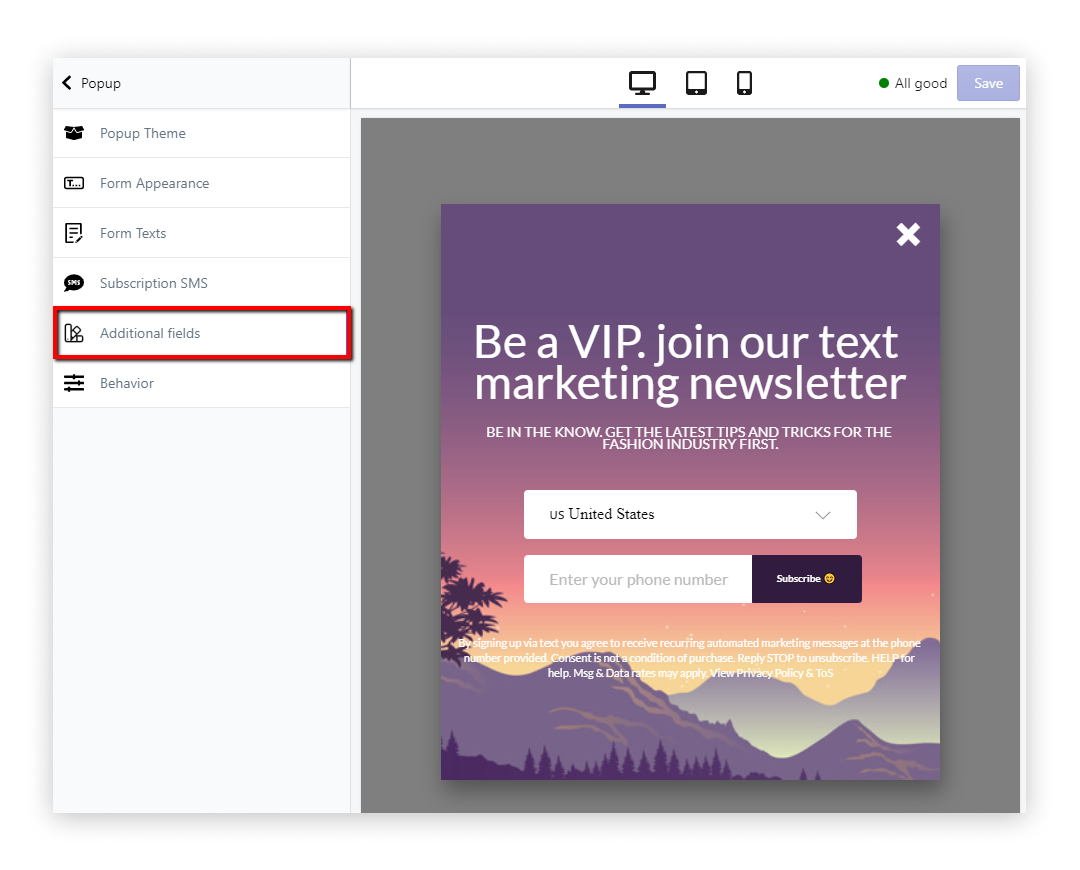 You will see that your pop-up already has a phone number field. You have two options to pick from when it comes to email collecting:
1. If you are targeting customers in the US, Canada, UK, Australia, France, or Spain in particular and have a mobile quick subscribe running (available only for those countries), allowing your visitors to opt in by just tapping on the pop-up, you can enable the mobile quick email collection. How would that work? After users have double-clicked on your pop-up and subscribed, they will receive a second SMS, asking them if they'd want to leave their email as well. We'll go into detail about this in a second.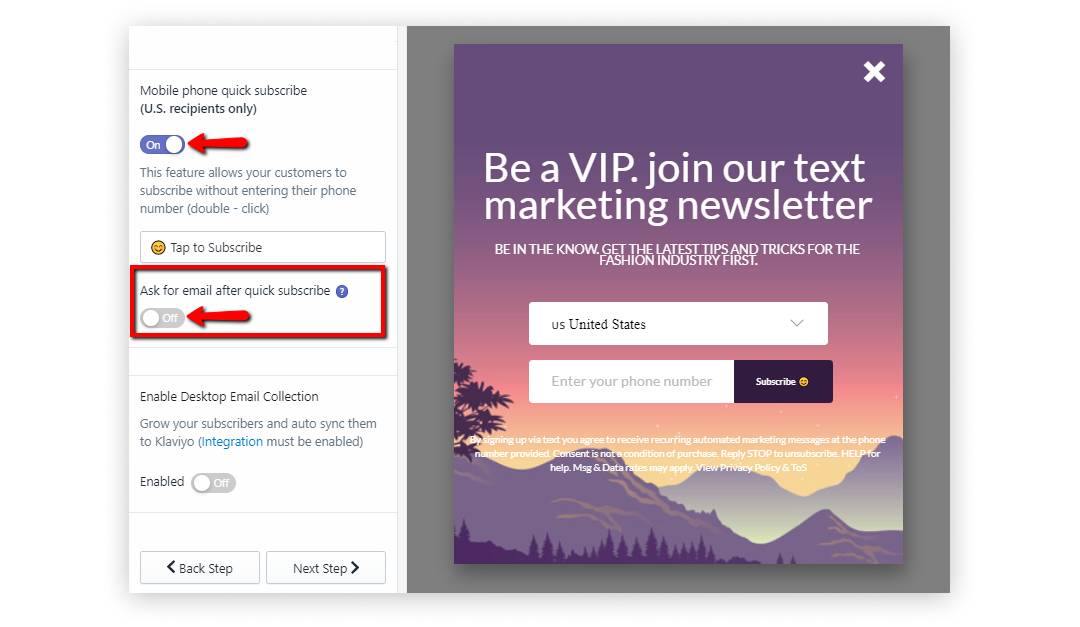 2. If you are looking to gear up a regular pop-up, enable the Desktop Email Collection. As soon as you do, we will add a second field right under the phone field, where customers will be able to type in their email address.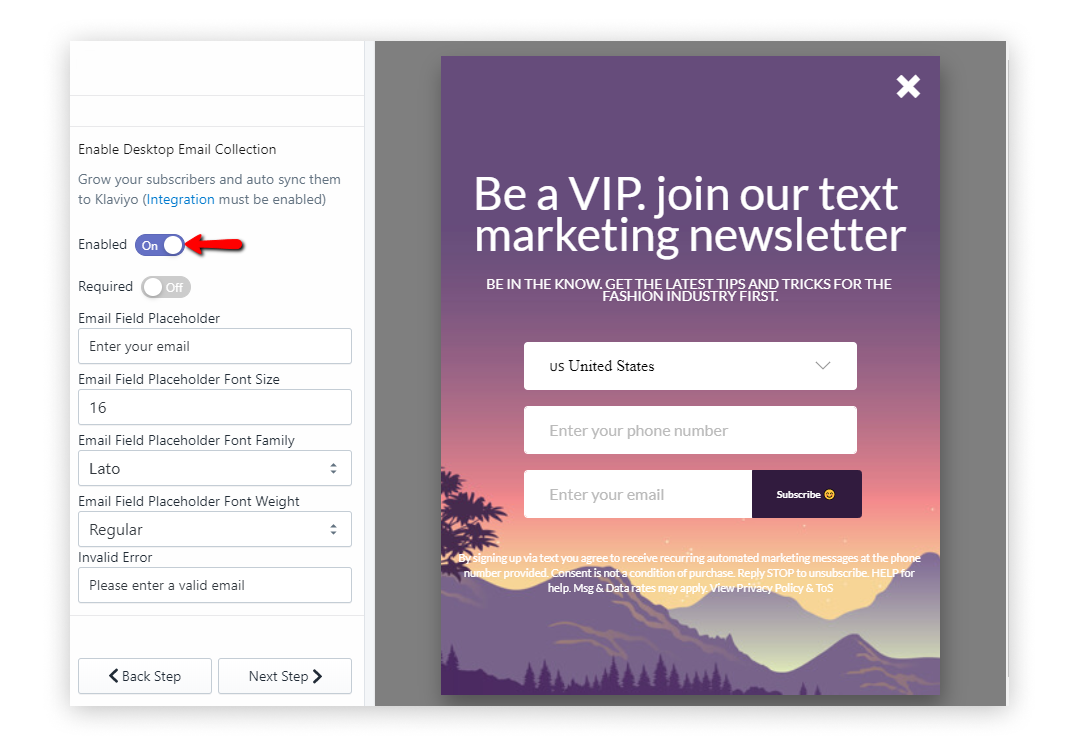 Let's take a deeper look at the Desktop Email Collection as that's the more universal one, which can be used by anybody, anywhere in the world.
Desktop Email Collection

When you activate it, a couple of additional settings will come up to help you customize this part of your pop-up too.

Right under the Enabled toggle button, there is another button - Required, which if clicked, will make it mandatory for users to leave their email address.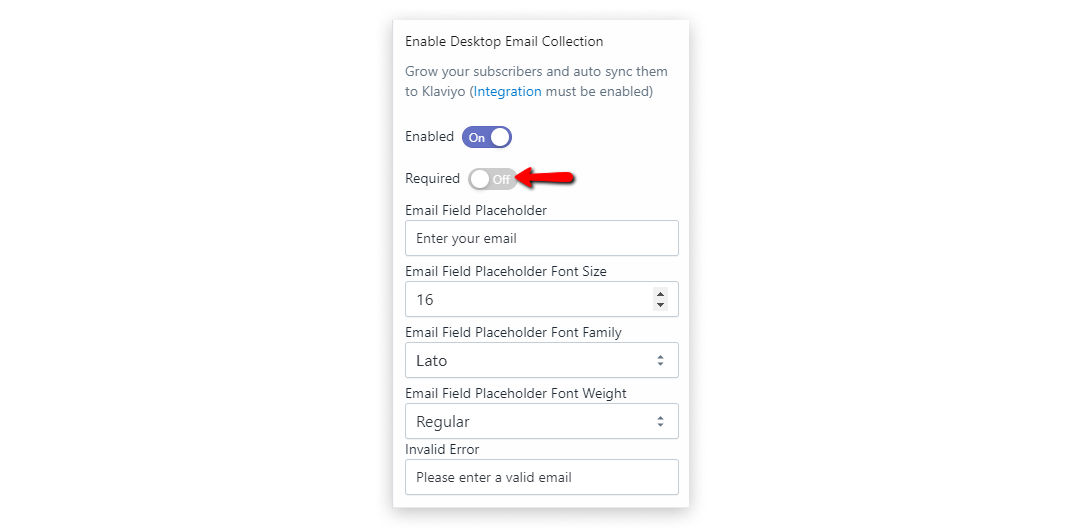 We advise against this unless absolutely necessary, as it might deter your customers from subscribing altogether.

The next field is where you configure what your call-to-action should be. You can play around with the copy - just make sure it's clear what you are asking them for. To better visualize it, look at your pop-up preview on the right - the text in the box will change as you change the CTA.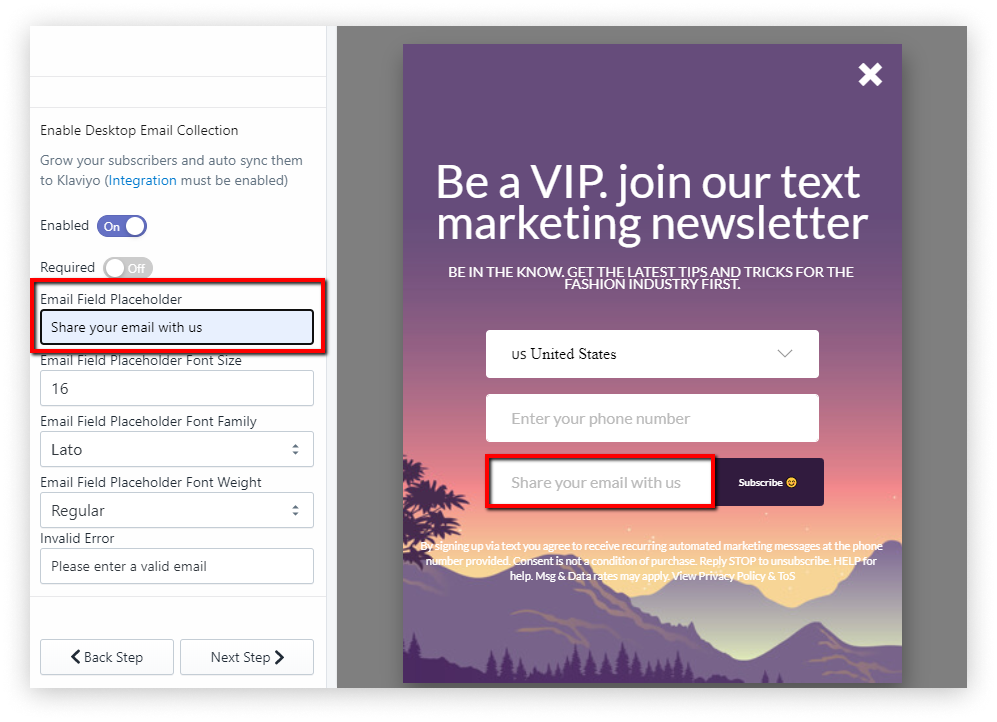 The following three positions are where you tweak the size, type and weight of the font respectively.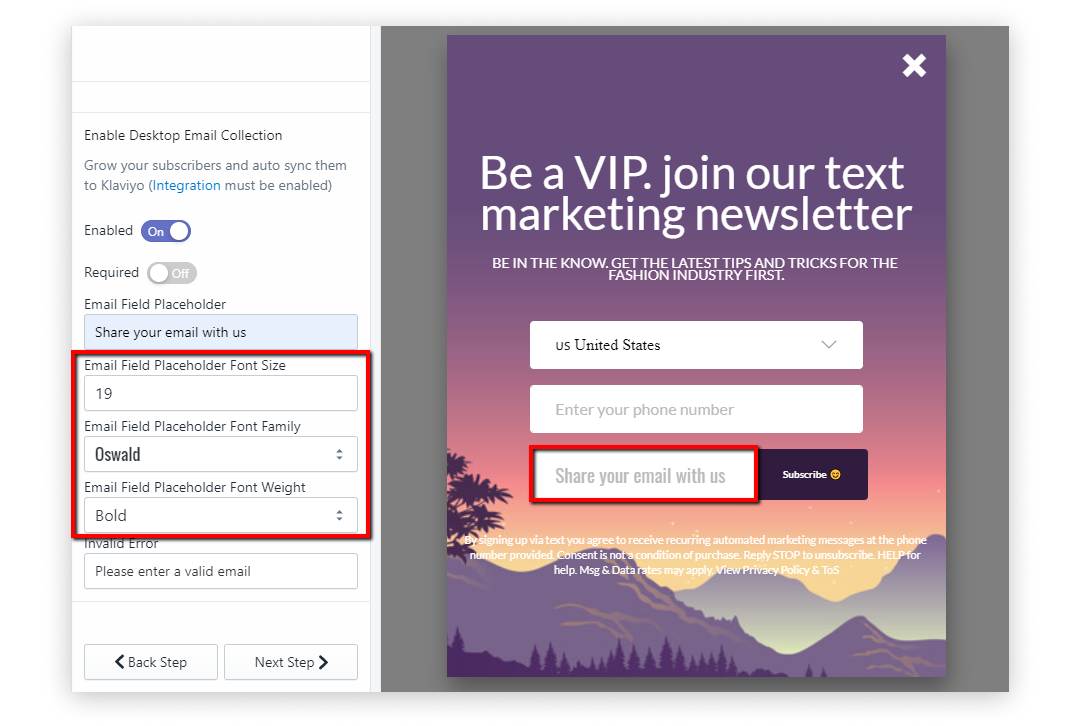 On the occasion that you don't have email collection as a requirement, your last step would be to configure the box that will show up if a customer made a mistake when typing in their email (e.g. typed in a wrong domain) - the Invalid Error field.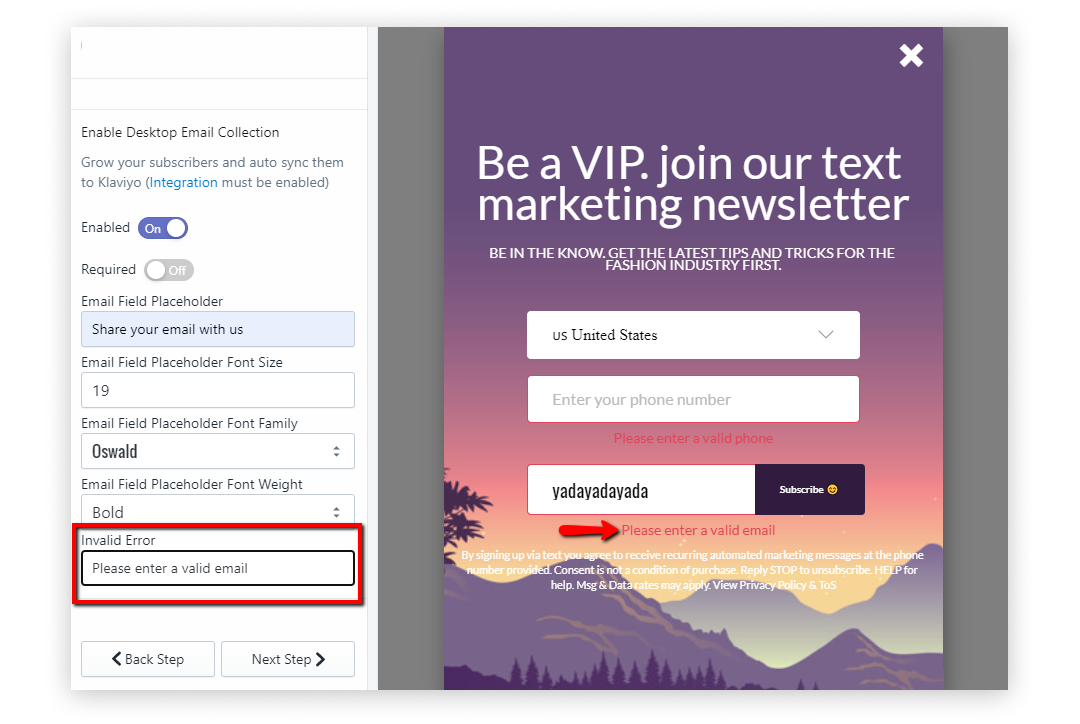 If you, however, have the email collection set up as a required action, then you will also see the Required Error box, where you'd specify the text that would be informing your customer that they need to provide their email before moving forward.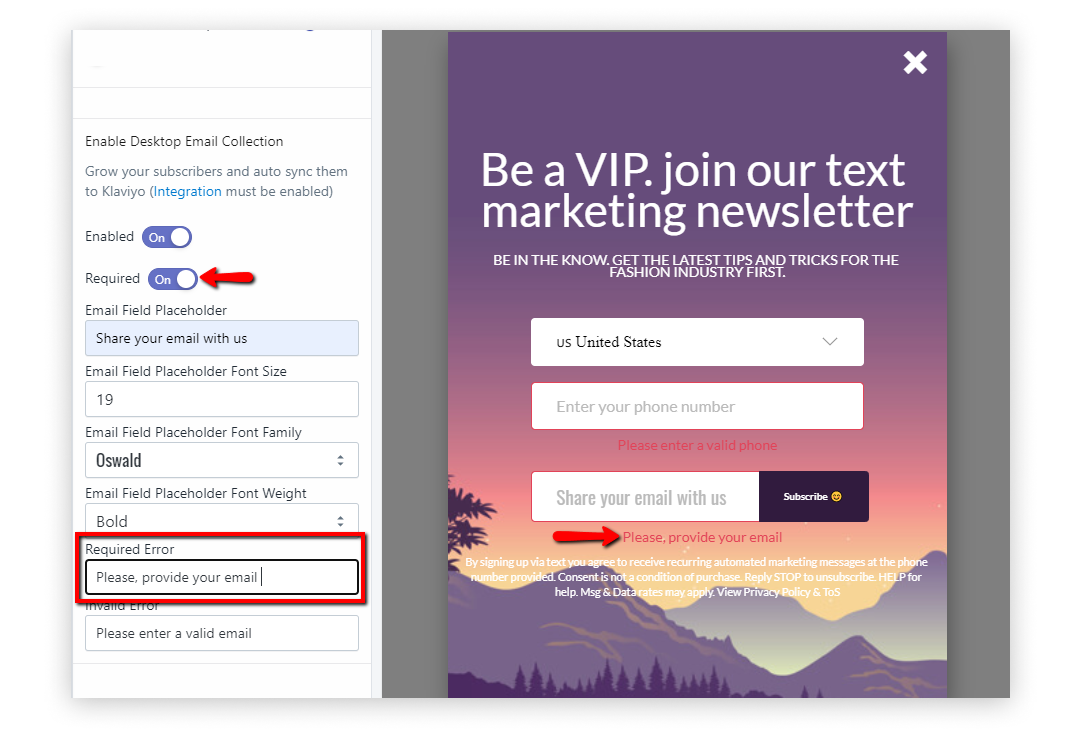 Mobile Quick Subscribe Email Collection

Going back to the mobile quick subscribe email collection: enabling this option will add a second step after a customer has tapped to subscribe with their phone number.

This second step will ask them to leave their email as well, and to configure the copy of this text message go to the Configure SMS text for collection of emails text box and type it in.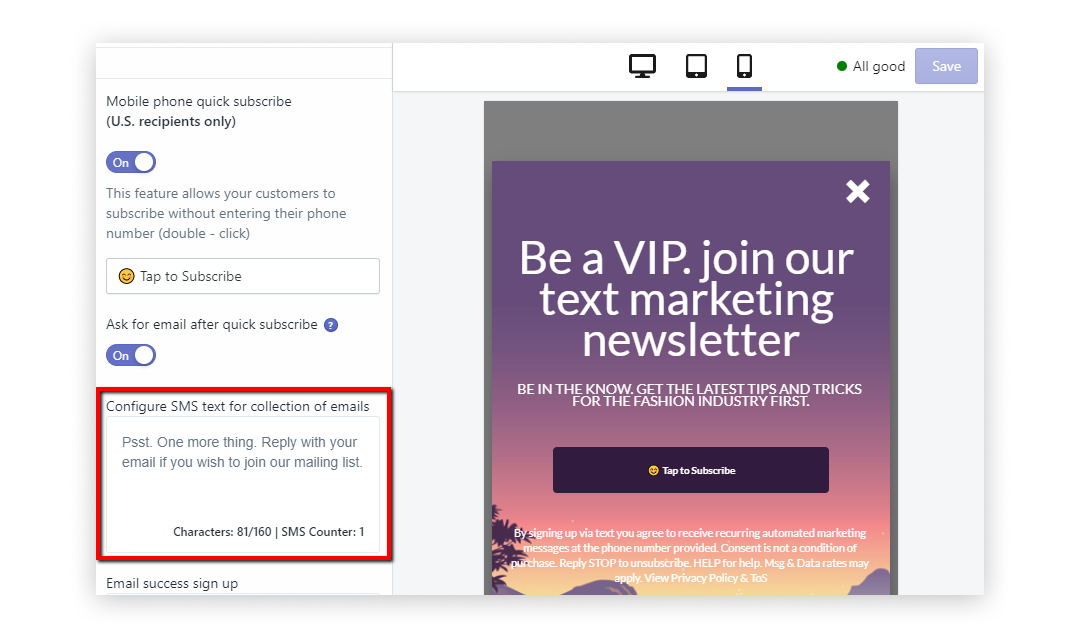 In case they send you back their email info, subscribers will receive one final message, letting them know they've successfully opted in for your email marketing as well. The copy of this message you can change from the Email success sign up text box.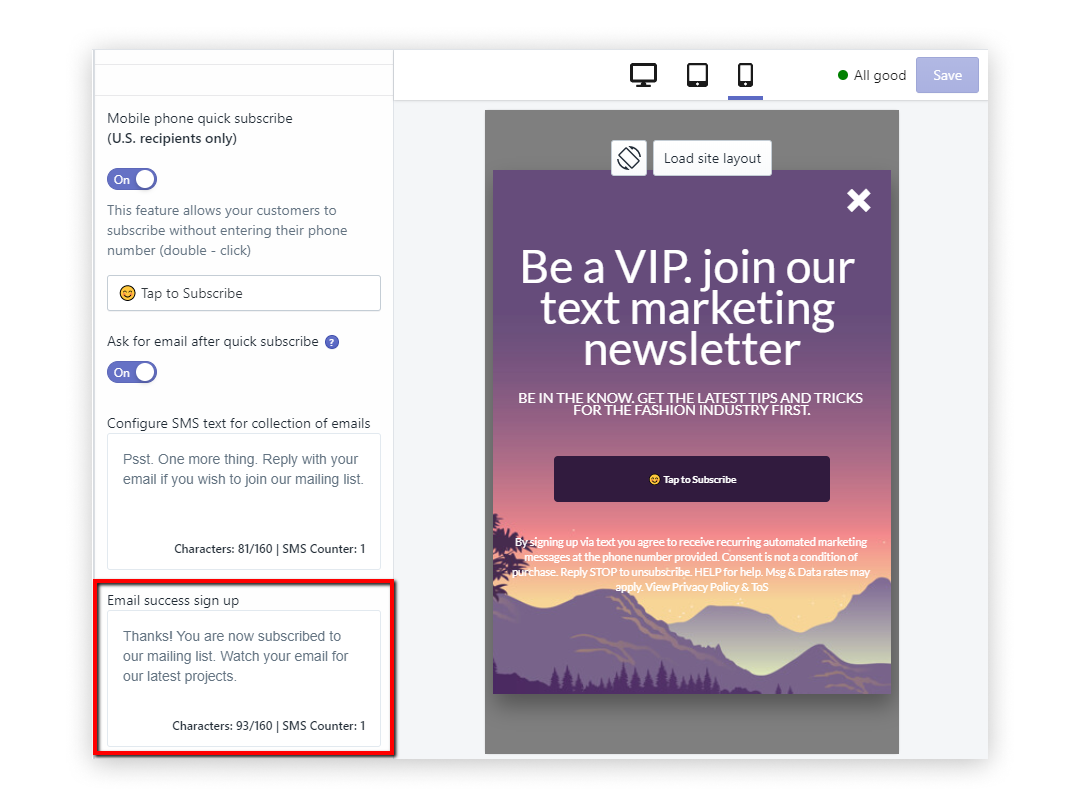 In regards to collecting email with the other two subscription forms - floating button and embedded form: the process is absolutely identical, the steps you need to complete are the same, and so is the functionality of the feature.

Remember: no matter what opt-in form you want to use to collect email subscribers with SMSBump, all email addresses you gather will automatically be transferred to a dedicated list in your Klaviyo account, given you have the integration up and running.

Start collecting emails using the most direct and personal communication channel - SMS. Engage with current and future customers in the most convenient way, and build an effective omnichannel marketing strategy that will help you reach them on multiple streams, but on the same device: their phones.

---
Related articles