How to Buy and Use Opt-in Keywords
With our latest app updates, we've made it even easier for Shopify merchants to purchase and customize keywords that will best represent their store and brand.
Keywords serve as an amazing tool to collect new subscribers, because they are short, memorable, and extremely easy to set up and use.
Simply go to the Collect Subscribers from your main dashboard menu and then click on the Create new button under the Keywords section.



Build the Perfect Keyword for Your Shopify Store

First thing you need to do is to give your new keyword a memorable name that is relevant to the campaign you are looking to launch. For instance, if you are launching a campaign on shoe deals, then have your keyword be shoe-related, e.g. LACES.

Do this in the Keyword Name text field.

Important: If the keyword you want to use is already in use by another store, you will be notified. Same goes for if the keyword is free.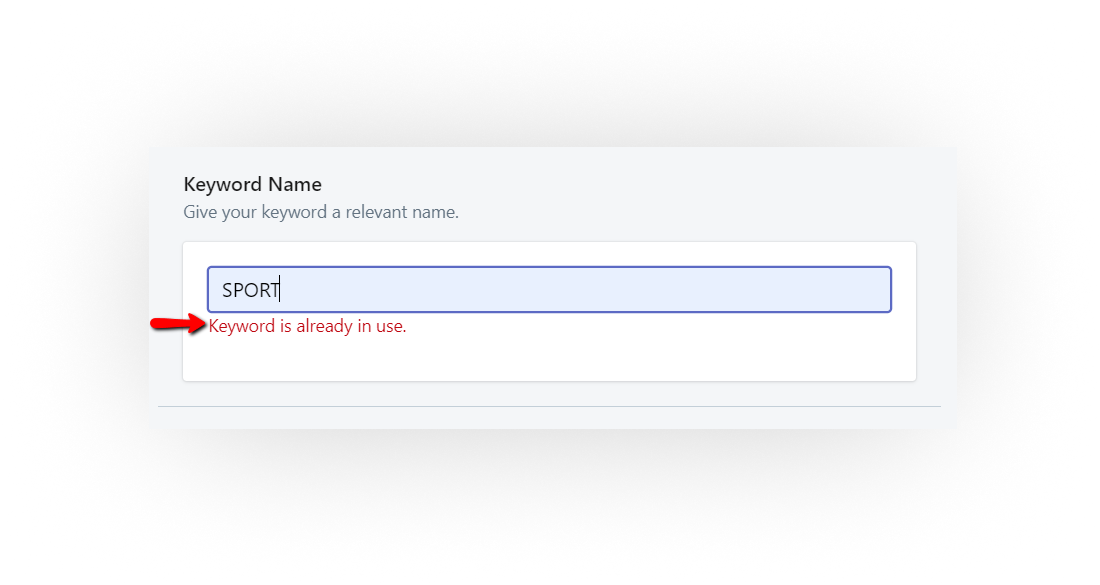 Next up, you pick the type of keyword you would like to obtain. You can always purchase one for $10 monthly. When you upgrade to any subscription plan, you get a free additional keyword.
Important: If you have already purchased a keyword on a Free plan and decide to upgrade your Yotpo SMSBump account, your existing keyword remains $10 monthly, but you now gain an additional one!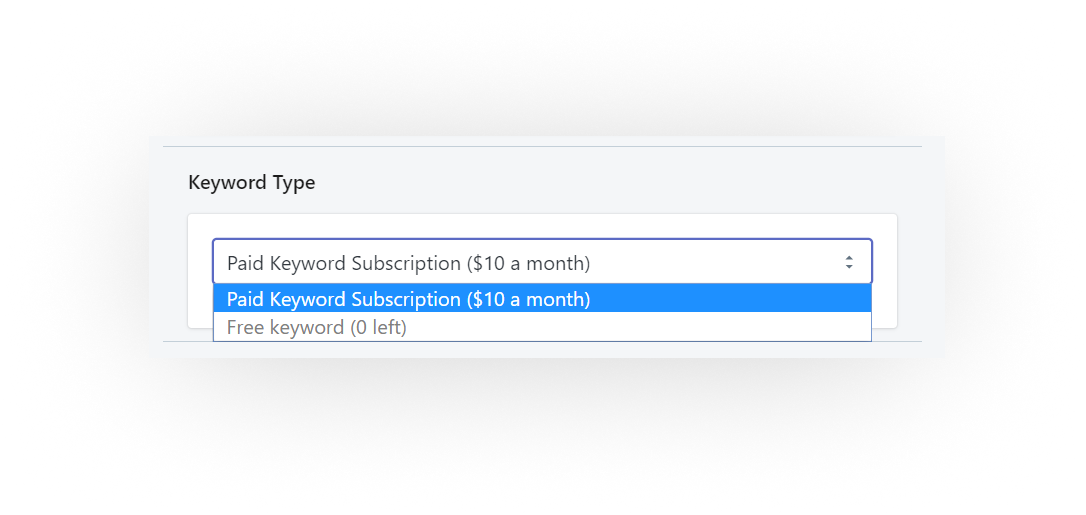 Now it is time to decide which customer list would you like to assign your keyword to. What this means is that once you've completed the configuration of your keyword, the messages will be sent to this particular set of customers. For example, if your store sells sports attire and your keyword is LACES, then you should target customers who have bought sneakers from you before.

All of the lists you've imported into Yotpo SMSBump will be located in the Subscriber's List drop-down menu. Next to the name of each list will be a number, which shows you how many subscribers you have in that specific list.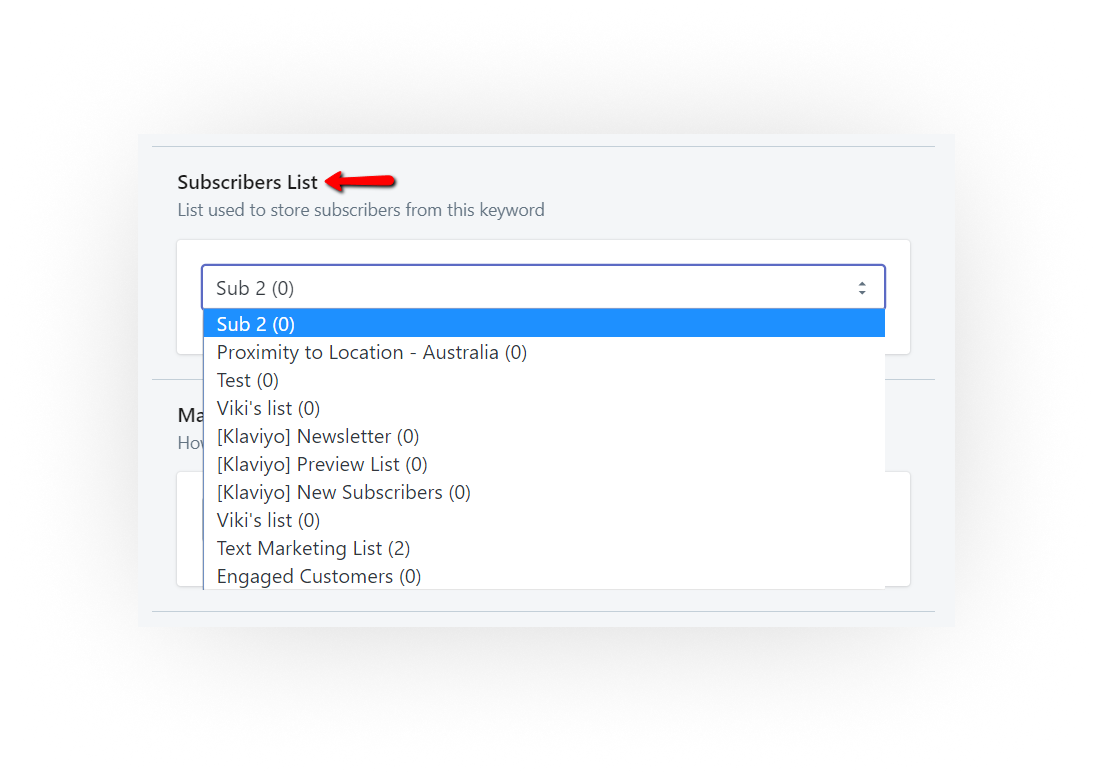 In the Max Message Count field, you can specify the number of messages you'd expect to be sent to subscribers who've opted in via that particular keyword. We advise that you don't send more than 5 messages per month so you do not overwhelm your subscribers and risk losing them.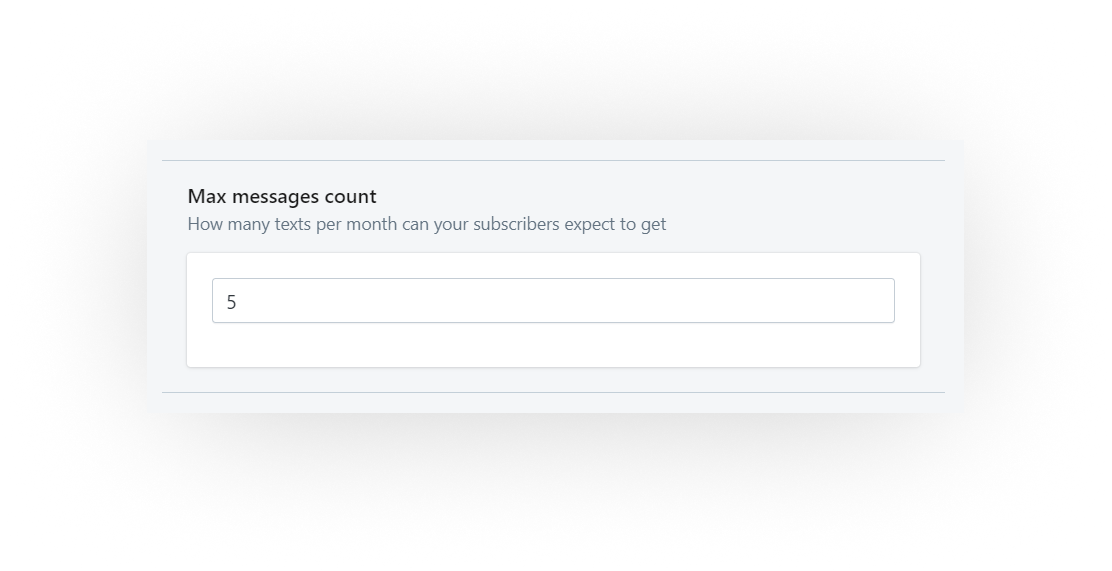 Next up is configuring if you'd like your new subscribers to receive a confirmation SMS, letting them know that they've successfully opted in. We advise you to leave it enabled to keep better communication with your new subscribers and make them feel welcomed.

Note: Additional charges apply.

If you choose to enable it, you will then have to specify the timing of the confirmation message, if you want it to send out immediately after the visitor has subscribed, or if you want it to be delayed.

We recommend you to disable the delay, so your subscribers are notified right away that they've successfully opted in, instead of leaving them wondering.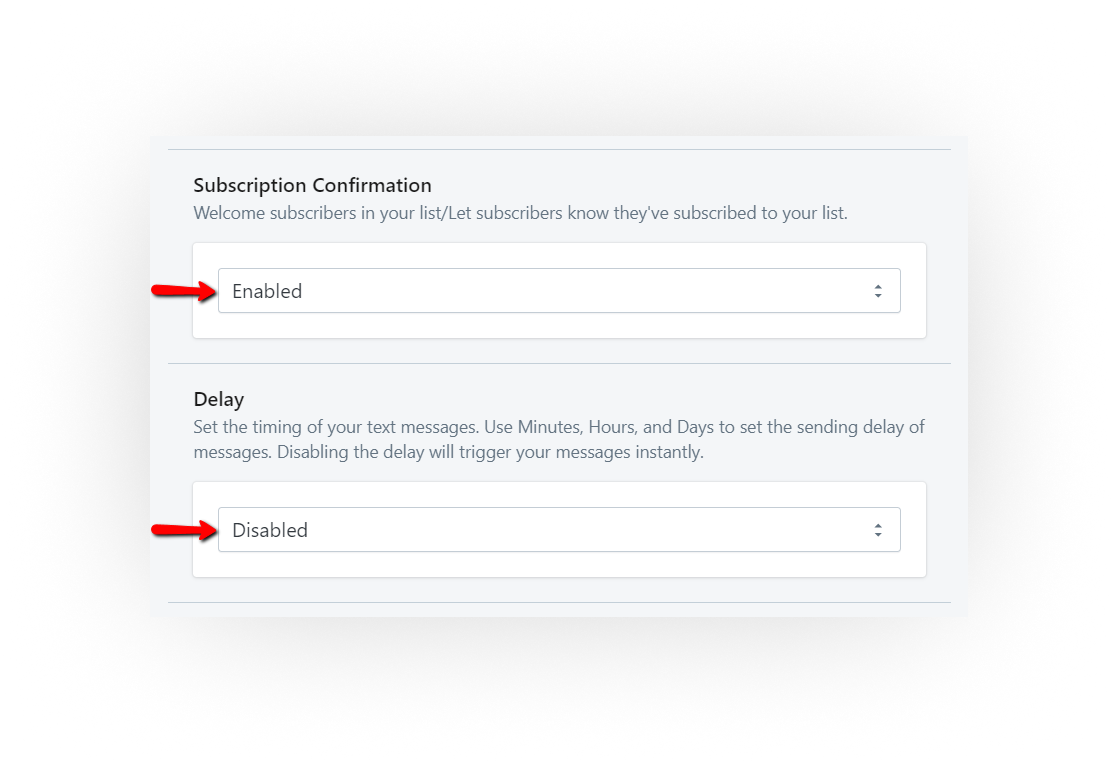 Crafting the Best Text Message
Time to put the keyword text message together with the help of the available short codes and the Strength Meter, which will guide you on your way to the perfect SMS.

To make your text message more attention-grabbing to all of your US-based customers, include an appealing image from Pexels, a GIF from GIPHY, or if you are feeling creative - make one yourself and upload it. Simply check the Attach image or GIF box and select between the three available options.
Note that including a visual will turn your SMS into a multimedia message (MMS) and will increase the number of characters from 160 to 1600. Keep in mind that though you can be more frivolous with your words, you shouldn't go overboard.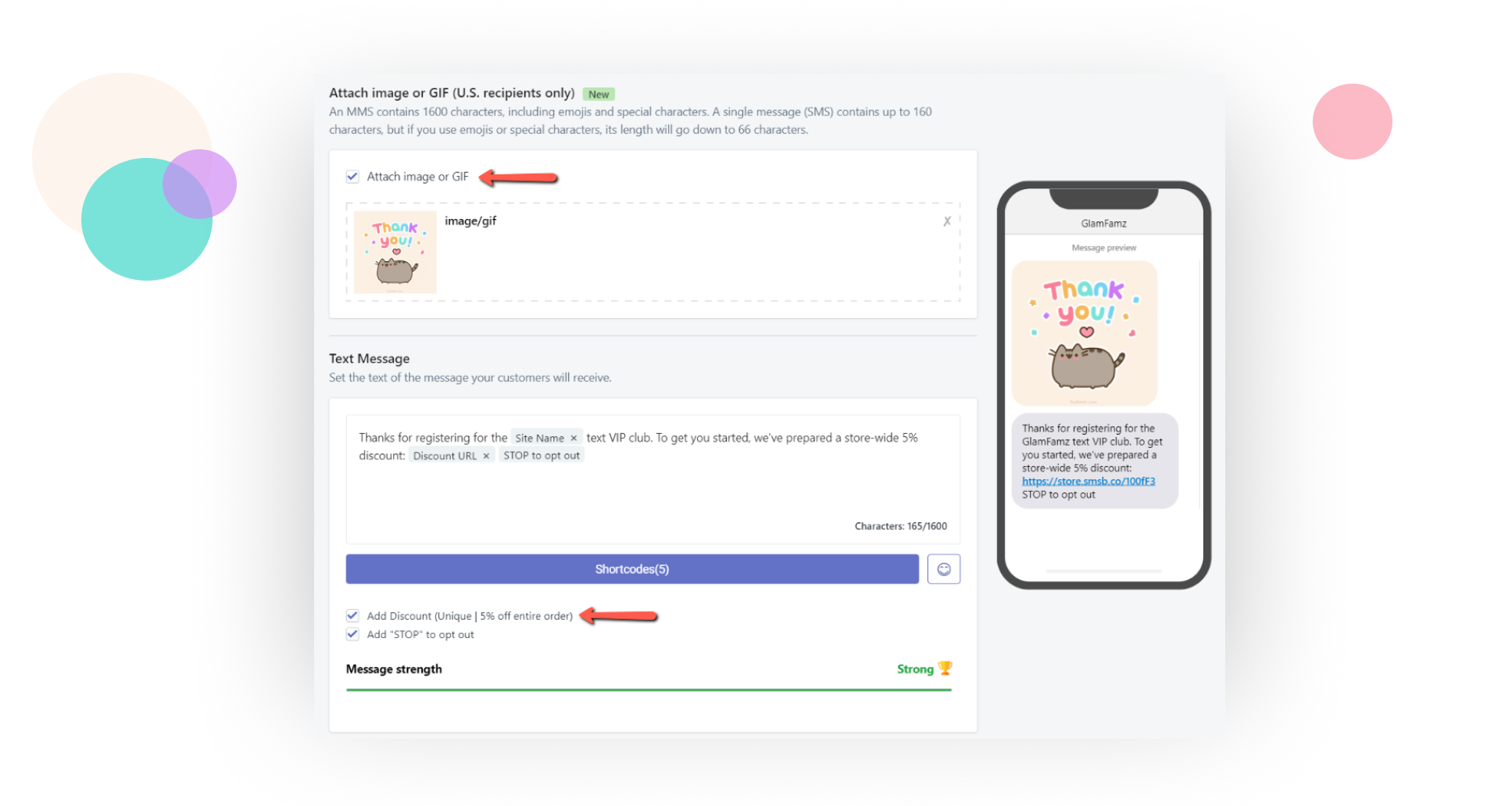 We advise all merchants to include a small discount to show gratitude to their new subscribers and show them they've made a good decision.

To do this, just select the Add a discount checkbox, specify the type of discount you'd like to offer, and click Add discount code which will automatically include a link in your text message, leading to the page where your discount is valid for. This could be a store-wide discount, or for a particular collection or product.

You can customize the proposed template as much as you want to have it speak your brand's language. Don't forget that the purpose of this SMS is to inform your subscriber they've successfully opted-in so you shouldn't stray too much away from the topic.
Test Your Keyword Message

Once you are pleased with the way your keyword message looks like, you can either test it by sending an SMS to yourself, or you can just send it out to the contact list you specified earlier.
We always recommend testing because it makes it much easier to spot any mistakes you might have accidentally made.


To proceed to purchasing the keyword, hit Save. You will be redirected to another page, asking you to approve the charges. Note that you will not be charged just yet but at the end of your first keyword subscription month.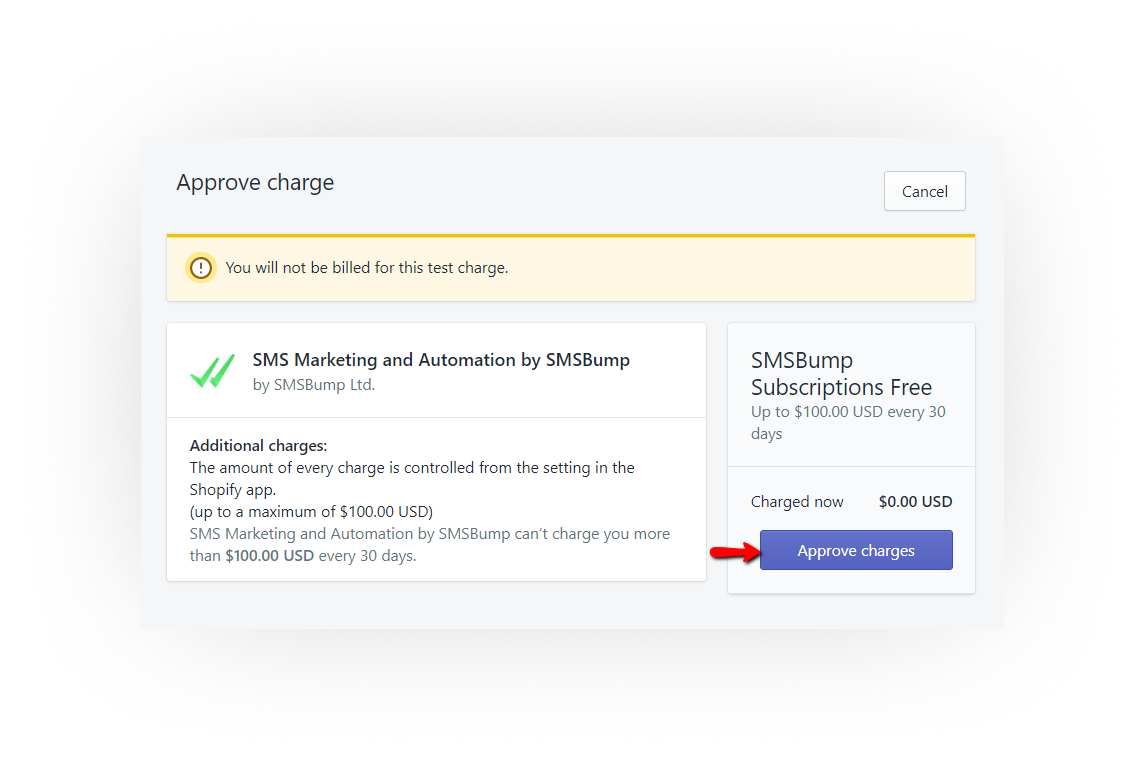 When your payment is processed and approved, you will receive a notification email to let you know if all went through. You will also see your newly-purchased keyword along with your other keywords, and in the Next Billing column, you will see when your next payment is due.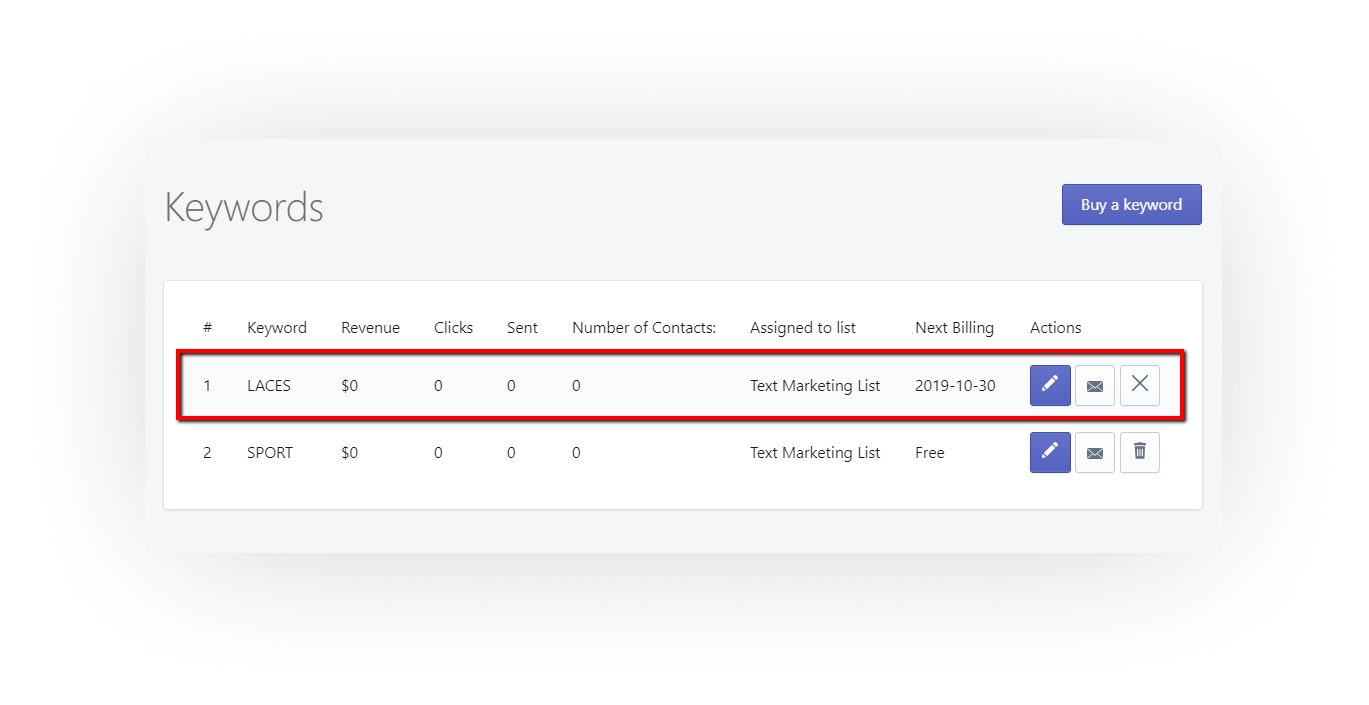 ---
Related articles