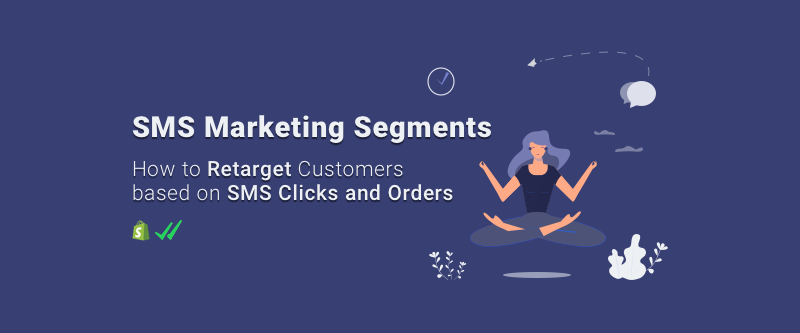 Your SMS Marketing Campaign Got Clicks But No Purchases?
So, let's say you've blasted out an SMS marketing campaign with SMSBump.
Best case scenario, you got lots of clicks and tons of sales. Awesome!
But sometimes you check your Analytics and what do you see? Lots of clicks on your SMS links, but the sales are low. Bummer.
Or… maybe your SMS campaign didn't even seem to get much clicks to begin with. Ouch.
What do you do now? Abandon the campaign and give up?
Yeah, we didn't think so too.
Option 1: What if there was an easy way to retarget the customers who engaged with your SMS campaign?
Option 2: Or... segment the customers who didn't click and retarget them with a better SMS marketing campaign?
Option 3: You can even target the customers who already purchased and give them a reward to show your appreciation. Even more potential sales there!
Now it's possible!
Team SMSBump is happy to announce our newest customer segment: Part of a Text Marketing Campaign!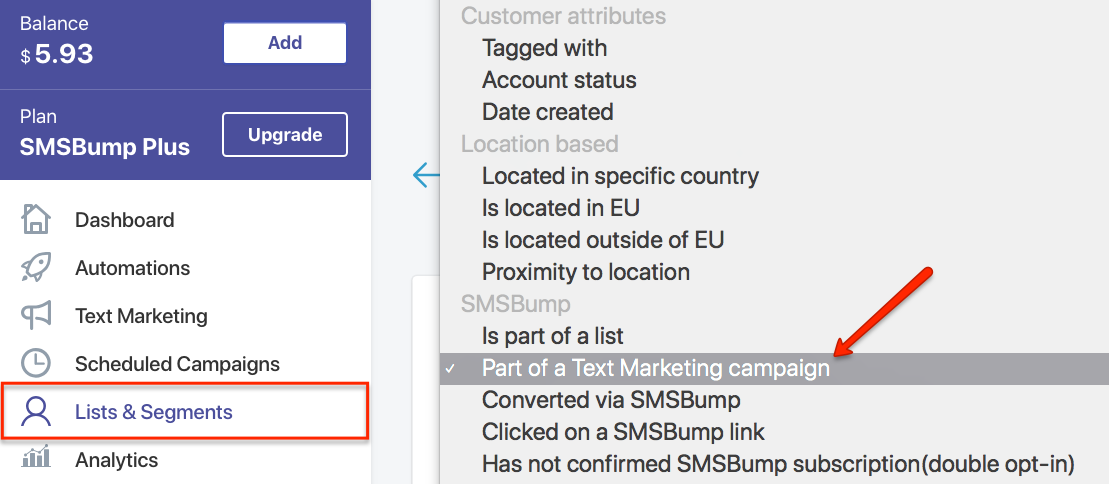 This new segment will help you create SMS marketing campaigns that retarget your customers again.

Retarget customers who clicked and purchased

This segment is for customers who successfully converted from your SMS marketing campaign.

This is a great opportunity to nurture those customers and give additional incentives. Customers who already converted have a high value and you should try to keep them engaged with your brand.


Ideas:
Run a customer loyalty program with multiple incentives to purchase again
Send customers a reward in the form of a discount
Offer customers a free gift as a giveaway
Send a personalized "Thank you" SMS
Retarget customers who clicked but didn't purchase

This segment includes customers who have interacted with your campaign, but didn't complete the desired action.

Since they came close, your best bet is to target them again because they are most likely to complete a purchase.
​

Ideas:
Test another sending time
Add a scarcity incentive
Try a limited-time offer
Retarget customers who didn't interact at all
​
This segment includes the recipients who neither clicked nor made an order in your Shopify store from the SMS campaign you've sent.


Don't get disappointed because this segment gives you another opportunity to send a campaign that will appeal to them more, so you have a second chance.


Ideas:
Optimize your proposition and deal
Try a different Call-to-Action
Test another sending time
Adjust your text message length

Over to you
SMS marketing is quickly gaining a lot of popularity among Shopify stores around the world.
And no wonder since the ROI of SMS is staggering compared to other channels like Facebook Ads and email. Last BFCM, SMS got 2x more conversion rates than email for Shopify stores.
Use the new customer segments in SMSBump to craft a more diverse SMS marketing approach to your audience. Let us know how the new segment works for you!
---


Start growing today
Sign up today and join 90,000+ eCommerce businesses making it big with Yotpo SMSBump