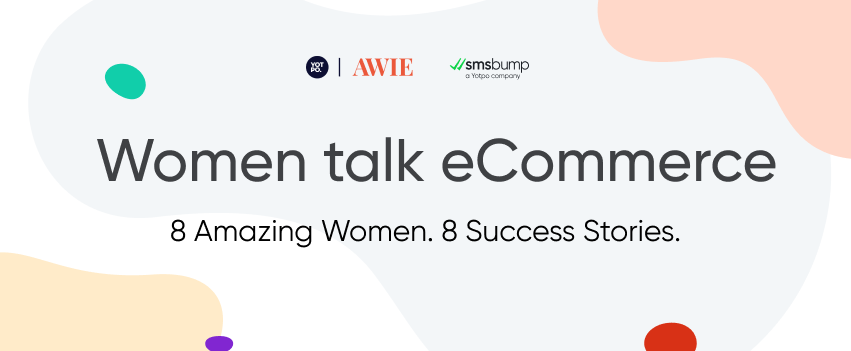 Women Talk eCommerce: Throwback & Recap
Exactly 1 month ago we launched "Women talk eCommerce" - a series of inspirational videos that celebrate the amazing women in our industry.
This was our way of celebrating Women's Day and its theme in 2021 - Choose to Challenge!.
We challenged 8 amazing women to share their professional journeys, biggest challenges, and predictions for the future of eCommerce.
And here they are...
8 amazing women, 8 amazing stories.
See the world of online commerce through the stories of some of the most inspiring female entrepreneurs, learn from their mistakes, and let their achievements lift you up.
Cooper Harris
Meet Cooper Harris, the founder & CEO of Klickly, a pure performance-based customer acquisition platform.
Cooper has won and been nominated for the industry's top awards including: Google's "Young Innovator" award, L'Oreal's "Digital Woman of the Year", won Information Age's Women in I.T. "Entrepreneur of the Year" and named by Adobe as a "Top Thought - Leader" in Cannes. As you can see - an inspiring entrepreneur and a woman of many talents! Cooper is living and breathing eCommerce and is very passionate about helping brands meet consumers where they are.
In our "Women talk eCommerce" series she shared her predictions for the future of the eCommerce industry, what will be the main challenges of the tech community and why her grandmother is her biggest role model. Take a walk in her shoes and learn how she made a complete 180 with her life, aiming to fulfill her mission: to make shopping online as easy as possible.

"The grit and determination and doing what needs to be done to get the job done is an absolute critical lesson."

Ashleigh Thomas
Meet Ashleigh Thomas, the owner of the online superstore 4TheCulture. Her platform is where people can access superior products - created, crafted, and operated by enterprising black-owned companies. Ashleigh is an inspiring entrepreneur who's dedicated her life to supporting her community.
In our "Women talk eCommerce" series she shared how she first got into eCommerce and what it takes to take your business beyond being just an idea. Watch as she describes what inspires her to continue chasing after her cause and overcome the daily challenges she faces on the way to expanding her empire.
"I exist to revolutionize my black community by merging people, culture, lifestyle and business for self-sustainability."
Find out how Ashleigh and 4TheCulture use SMS to build relationships with their customers.
Navah Hopkins
Meet Navah Hopkins, the Director of Paid Media at Justuno. She's recognized as one of the Top 25 PPC Influencers by PPC Hero, a founding member of the Paid Search Association and is also a regular contributor to the SEJ, SEMrush, and WordStream publications. Navah is a passionate digital marketer, who has a lot to share about the lessons she learned during her 13 years of experience in the industry.
In our "Women talk eCommerce" series she shared her thoughts on the depreciation of the cookie and the expected major changes in conventional remarketing. Heаr all about her incredible journey and why it's important to not be scared of the technical side of things.
"I encourage everyone to get comfortable with all the platforms."
Kinga Dow
Meet Kinga Dow, the CEO of Kinga Dow Productions. In her 20 years of experience, Kinga Dow has accumulated enough knowledge and skills to successfully run an award-winning email marketing company and help a number of eCommerce brands scale their business. She is a highly sought-after Klaviyo partner for companies that are serious about growing and taking their online sales to the next level.
In our "Women talk eCommerce" series she talked about the major shift towards online shopping and the future of shipping services. Watch as she shares her recipe for success, what "finding your blue ocean" means and how she sees eCommerce in 10 years.
"Become an expert on one niche, just focus in one specific area and learn everything possible about it. This has changed everything for me."
Nicole Baqai
Meet Nicole Baqai, Partnerships Lead at Gorgias for the entire East Coast.
She has worked with several successful startups and that is what ignited her obsession with brands. Nicole advises and supports female-founded companies and DTC companies.
In our "Women talk eCommerce series" she shared why conversational commerce is such a huge trend right now, why you should never be afraid to ask questions and which movie star has been her role model her entire life.
"I want women to feel empowered, to own who they are, to embrace it, without feeling that they have to adjust to what's around them. Now is our time."
Ruth Even Heim
Meet Ruth Even Heim, co-founder of StylioApps. Ruth started in eCommerce as a co-manager of two niche dropshipping stores. This invaluable experience led her to where she is now - managing an integrated eCommerce platform, featuring 5 robust apps that service over 40,000 users worldwide.
In our "Women talk eCommerce" Ruth shared all about her incredible journey and what it means to start out on the other side of the fence. Watch her predictions on how eCommerce will adapt to new technologies, such as augmented reality, and the future of social commerce and online shopping.
"Keep it as simple as possible. Find your minimum viable product, let it gain power, and grow your business slowly but sustainably."
Lauren Barrett
Meet Lauren Barrett, Performance Marketer at Blend Commerce. She helps Shopify stores improve their performance through applying the right SMS and email strategies, which she designs for them.
In our "Women talk eCommerce" series Lauren shared her thoughts on why passion and enthusiasm can be more important in life than qualifications, and how trying out new things will get you a long way. Hear the story of how she got into eCommerce at such an early age and what are her aspirations for the future.
"eCommerce is a flexible area and forever changing. Just go with your passion and see what comes out of it."
Kelsey Soskel
Meet Kelsey Soskel, Demand Gen Manager at Yotpo.
Kelsey started her career as an email marketer in the cross-device advertising space. From day 1, she wanted to pursue a career in an industry that will continuously grow and will give her lots of opportunities to learn new skills. Ecommerce was just that! Now she uses her superpowers and knowledge to help brands optimize their customer journeys and grow.
In our "Women talk eCommerce" series Kelsey shared a lot of valuable insights on why building a loyal customer base is crucial for brands and how to provide the best shopping experience.
"Customer loyalty is going to be very important. A great way to create a loyal customer base is to identify what your mission statement is as a brand."
Learn the lessons. Hear the predictions. Succeed in eCommerce!
Mariya Arabadzhieva Todorova
Start growing today
Sign up today and join 90,000+ eCommerce businesses making it big with Yotpo SMSBump