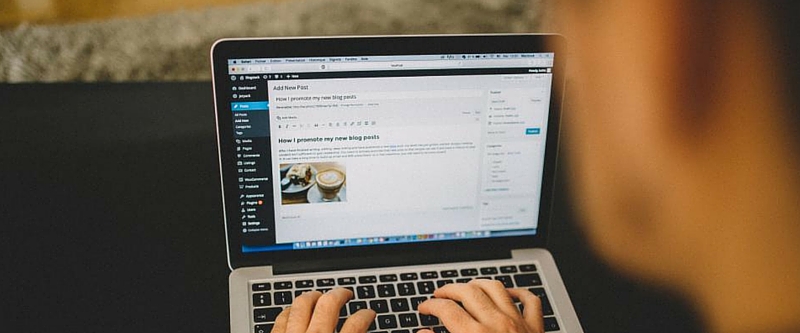 How to Install and Configure SMSBump in WordPress
SMSBump is a service that allows businesses to communicate with their customers on a more personal and convenient level using texting. The application enables store owners to quickly send transactional or bulk SMS with notifications regarding registration, order and payment confirmation.
Why is it personal? Because people use texting everyday to interact with their friends and family and it's currently the most popular form of nonverbal communication.
Why is it convenient? Because of the nature of texting - short and clear messages that convey information fast, and available at the tip of your finger.
In this post, we will explain how to install, connect and configure SMSBump in your WordPress website. By the end of the guide, you will be ready to start sending transactional messages, automated notifications and marketing campaigns using SMS.
Let's start from your dashboard:
Click on Plugins and select Add New.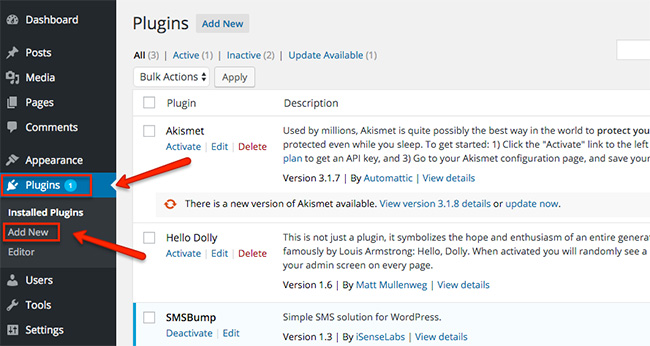 When you enter the Add Plugins menu, use the search function to find SMSBump.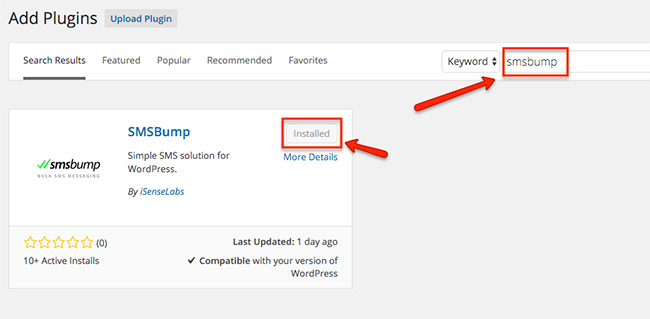 When you find the plugin, you can preview it by clicking on More Details where you will find more insights, screenshots and further information.
When you are ready, click on Install Now.
This next screen will notify you that you have successfully installed the plugin. There are two options - Activate Plugin and Return to Plugin Installer. Click on Activate Plugin.



The plugin will now be available in your Dashboard menu under Settings. Click on SMSBump's link in the menu to continue with the connection and configuration.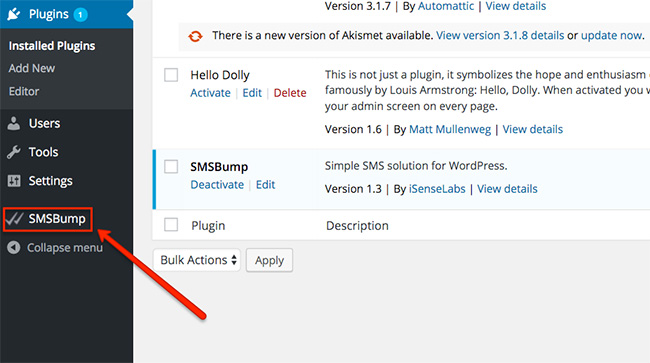 The next step allows you to enter your email address, country code and phone number. When you are done, click on Verify Number.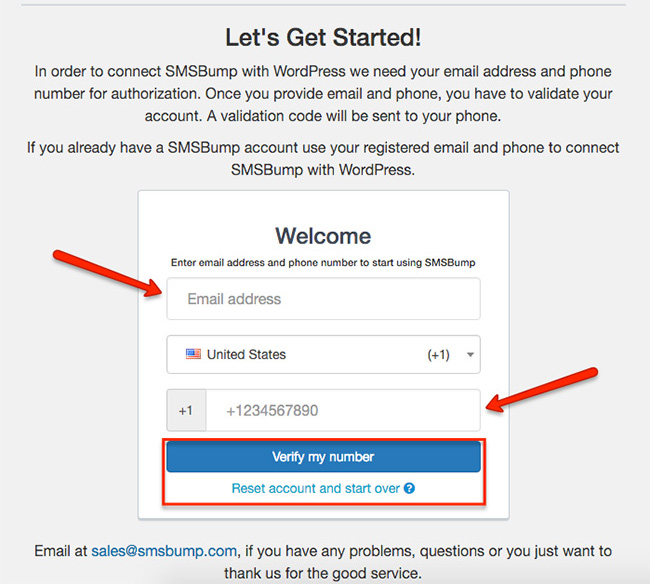 Important Note: If you make a mistake at some point, you can reset the account and start over safely. If you need to reset your account, simply delete your API key from the General tab of the app and click Save. This page will automatically appear again, allowing you to re-enter your email and phone number.
After you connect your plugin with WordPress, a popup will appear, allowing you to make sure that your phone number is correct.



You will receive an SMS with the verification code needed to confirm your connection. Submit it in the field below and click on Confirm my account.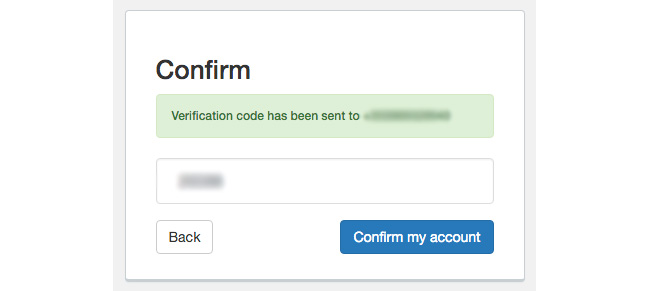 After you have confirmed your account, you will be able to enter the SMSBump settings menu where you can configure your plugin.
After you have installed and connected SMSBump, it's time to enable the plugin. Let's start from the first tab - General.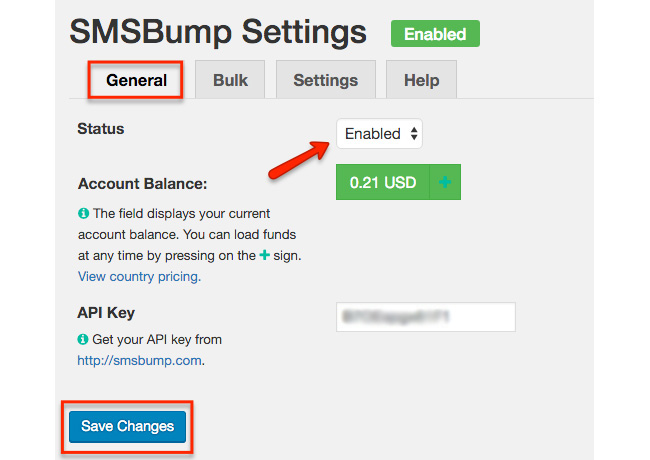 The first thing to do is to Enable the plugin.
Account Balance: This field shows your current account balance (which is 0.30 USD by default). When you press the + sign, you will be able to add more funds to your balance.
API Key:
Next, let's examine the Bulk tab. This is the menu that allows you to send bulk messages to multiple recipients.
The first field is named From and it allows you to select your store name for additional branding in your bulk messages. If you are subscribed to the Priority plan (you can view the additional benefits here), you will be able to use this field.
To - this allows you to configure which customers to receive the message (you can choose from All Customers, Specific Customers, or Specific Phone Numbers).

Message - the message can be customized to your liking. One message is comprised of 160 characters, and exceeding that means you will be sending more than one messages.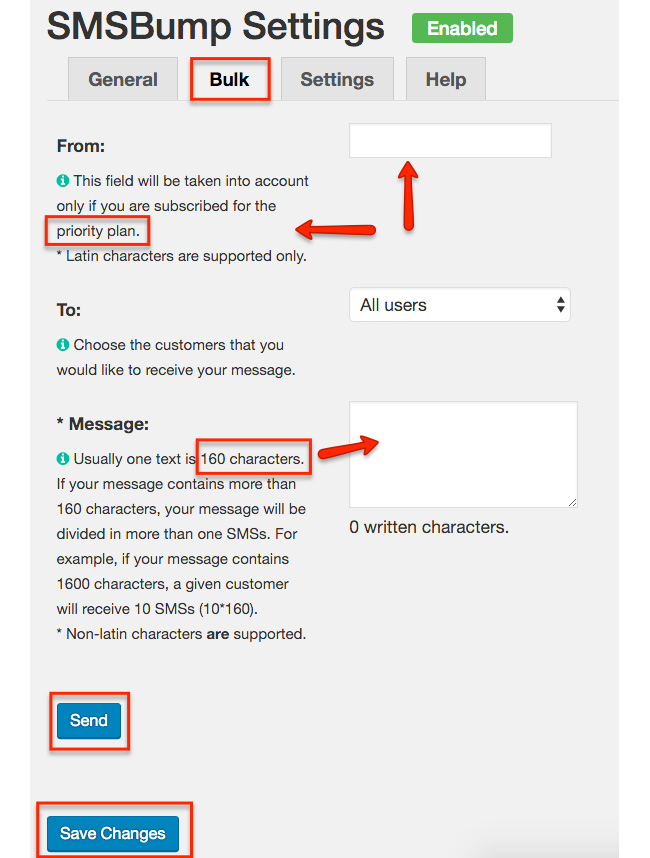 The Settings tab allows you to do additional configurations such as select the specific country or countries you want to send messages to.
You can also add multiple admin phone numbers for distributing your and admin notifications more efficiently.
You will see that you have the From field present here as well. It will become available if you are subscribed for the Priority Plan.
Below the From field, you have 3 additional fields that let you configure when you and your customers receive messages:
Receive SMS on published comment

Receive SMS on registered user

Send SMS to users on successful sign up
You can receive SMS notifications when they make a new registration or submit a comment. Your customers can receive a message when they have made a successful sign-up in your website.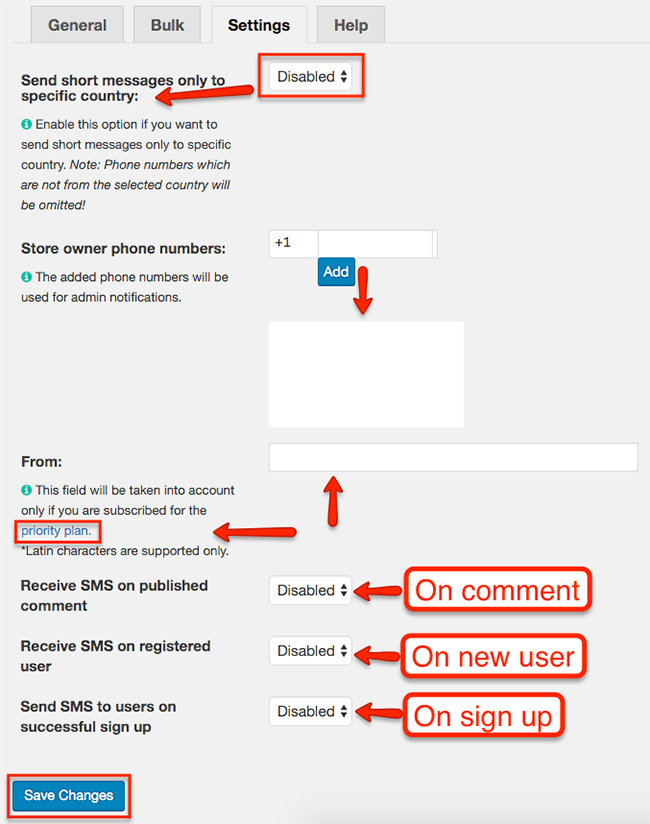 Whenever you need help with the plugin, you can use this tab to get more information on SMSBump, how to create an API key or submit any questions you may have by opening a support ticket.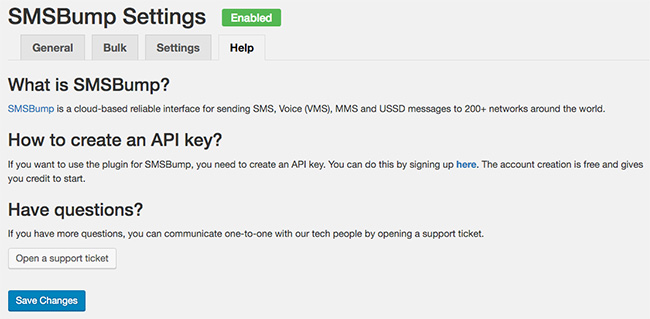 This wraps it up! You are all ready to start using SMSBump in WordPress.

Start growing today
Sign up today and join 90,000+ eCommerce businesses making it big with Yotpo SMSBump