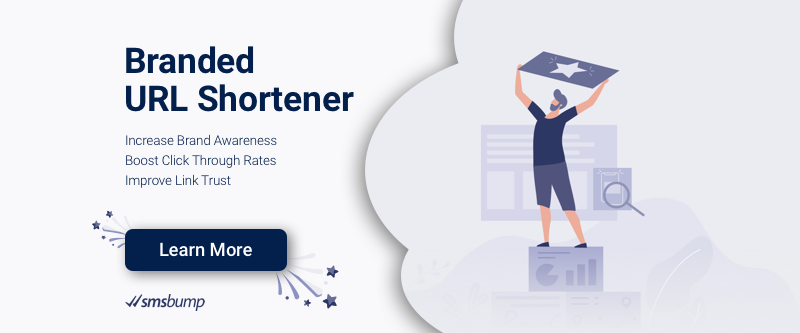 How to Increase SMS Click Through Rate with Branded URLs
The main goal of your SMS marketing campaigns and marketing automations are to get those clicks so mobile users enter your Shopify store.
To help you increase those clicks, SMSBump just launched our brand new feature - Branded Link Shortening!

What is a branded URL?

A branded URL is a shortened link that includes your brand name in the domain that's being shared.
For example: YouTube = youtu.be
The current SMSBump shortener turns your links from regular URLs into shortened versions that look like this: https://smsb.co/XXX
With the new Global Short URL setting in SMSBump, you can add your brand name to the links.
You can turn https://smsb.co/XXX into https://yourbrand.smsb.co/XXX

Why use branded URLs?

The whole idea behind shortening URLs in SMSBump with our shortener is not limited to fitting the large URL into the character count.
Shortening the links in SMSBump activates the tracking in your Analytics so you can keep an eye on your clicks, orders and revenue generated by your SMS marketing & automation campaigns.
However, branding your shortened URLs is quite important for your text messages. Branded URLs are known to:

Boost brand awareness. Your recipients instantly recognize who the message is from by seeing the branded link.

Increase click through rates. After two experiments with branded URLs, Rebrandly achieved an increase in click through rates by 39%.

Improve link trust. Customers will have no doubt that the link they are clicking actually comes from your store.

How to use branded URLs in SMSBump for Shopify?

You can find the new Global Short URL feature in the SMSBump app settings.
Go to your SMSBump Dashboard and navigate to Settings.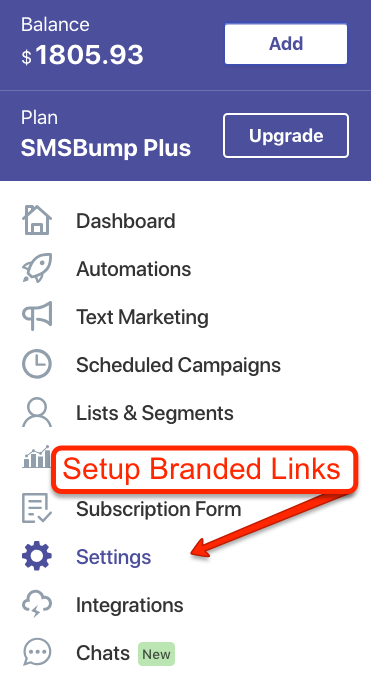 Scroll down and you will see the field called Global Short URL. You have three settings you can choose from.
Option 1: The default SMSBump link shortening.


Option 2: Store name applied to your short link.


Option 3: Custom branded short URL. (Enabled for SMSBump & SMSBump Plus plans)


If you want to customize the branded short URL your Shopify store will send via SMS, enable the checkbox below called Use a custom domain.
Enter the name you want to display in the empty field and click the Save button when you're done.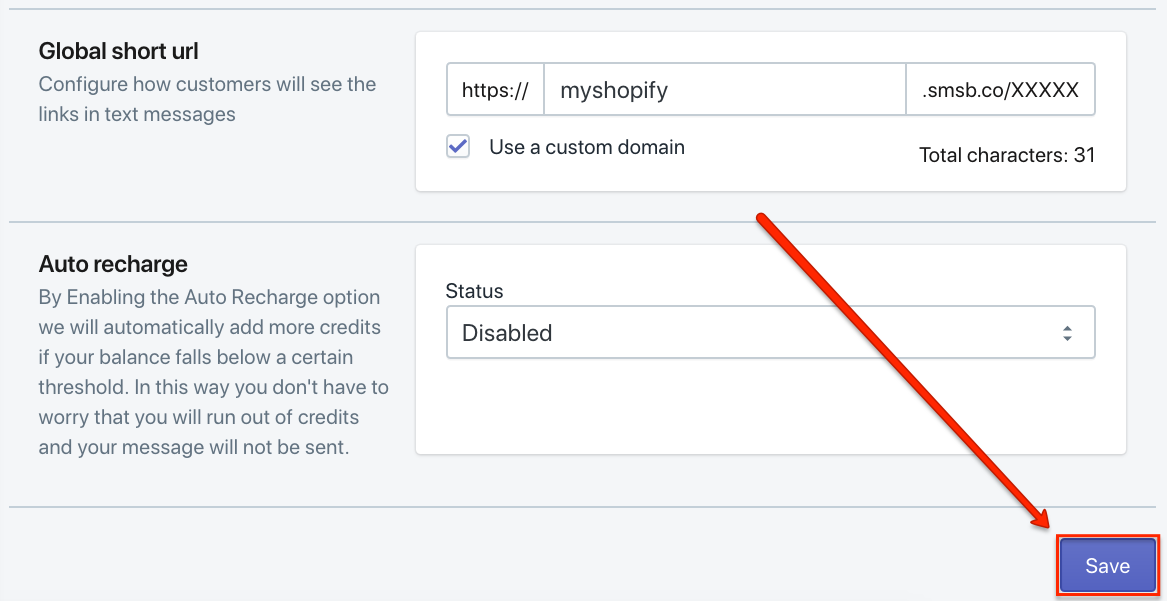 Congratulations!
You just enabled branded short URLs for your SMS marketing & automation campaigns!

When you launch your next SMS campaign, your customers will see your brand name in the shortened links you send.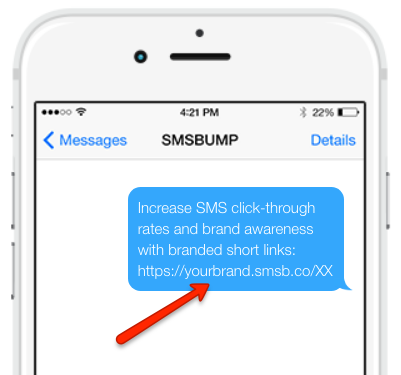 Become instantly recognized!
Your customers will immediately spot your brand name in the URL and it helps them make the connection between the offer and the source of the message. This helps them have more trust in the link and increases your click through rates from SMS marketing & automation campaigns. Let us know what you think!
---


Start growing today
Sign up today and join 90,000+ eCommerce businesses making it big with Yotpo SMSBump