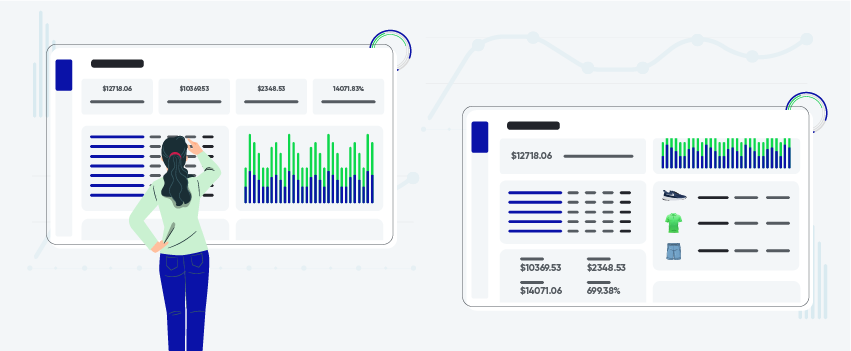 3 New Analytics Features to Improve Store Performance
As a merchant it is crucial to realize how data can play a huge role in the success of your business. Having a better understanding of the different aspects of your store's performance, knowing your key metrics and adjusting your marketing strategy when necessary, has proven to be extremely important for everyone in the eCommerce universe.
With the help of our latest Analytics features merchants will be able to quickly gain access to lots of valuable information and important indicators and use it to make better decisions, improve customer satisfaction and boost sales.
Most Purchased Products
Having a deeper understanding of customer behavior and preferences is something that every merchant is aiming for. Sure, you can always track conversion rates or try to analyze your website heat-maps, but if you want to be 100% certain what your customers are into, focus on your most purchased products. Those are the items in your online store that are ordered the most via SMS.
There are a few reasons why this is a valuable insight: first (and most important), your bestsellers are the core of your business. These products have achieved the perfect price-quality correlation, making your visitors click on the Purchase button over and over again. Knowing your best-selling products will surely help you better plan production or better scale your purchases from suppliers and arrange shipments so that you never run out of stock. Furthermore, it will give you the certainty to increase the purchase volume in order to negotiate lower prices.
Another benefit of knowing your best-selling products is that you can analyze why those ones in particular became so successful, and then reuse these strategies for other products and further boost sales.
All this valuable information can be found in our latest Most purchased products section in the SMSBump Analytics.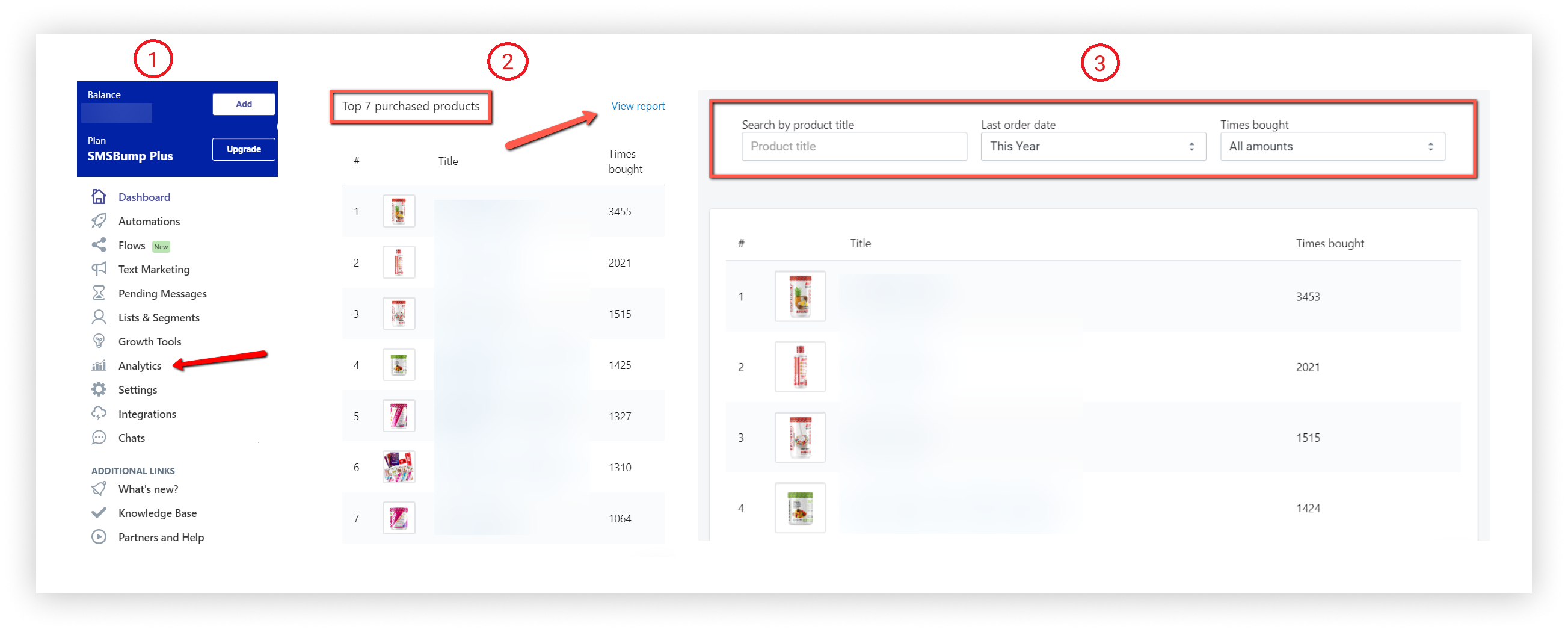 For a richer viewing experience, we are displaying the images of the specific products as well.
You can search by product title or separate products in categories, depending on bought amounts (for example, show only products that have been sold 500+ times). Another useful option is to set different time periods (Last 30 days, Last Month, etc) and see how your most purchased products change over time. This can be extremely helpful if you are trying to measure the results of a certain marketing campaign, or if you are simply trying to figure out some seasonal patterns - for example, are your best-selling products the same in the summer and in winter?
Knowing your top-selling products can be a true game-changer for your store's sustainability. Use this valuable information to optimize your production or delivery processes and schedules, to refine price margins and adjust marketing strategies, and you will soon enjoy a boost in sales and overall store performance.
Unsubscribed Users
After reviewing some of the reasons why people come back to your online store over and over again, let's discuss some of the equally important, but not so pleasant topics - what drives people away from your brand.
Surely, it is a difficult question to answer, but as always we wanted to offer merchants additional ways to improve and keep their subscribers close. This is why we developed our latest Analytics section - Unsubscribed users.
If after you checked the usual performance metrics (such as click-through and conversion rate, etc.) you are still not sure whether your latest text marketing campaign was а success, you can now go deeper and check how many people have unsubscribed after receiving a text message from that particular campaign (or any other). In order to view this information, simply open the Analytics menu in your SMSBump dashboard, click on Text Marketing and select some of your recent campaigns. At the bottom of the page you will notice a new tab - Unsubscribed Users.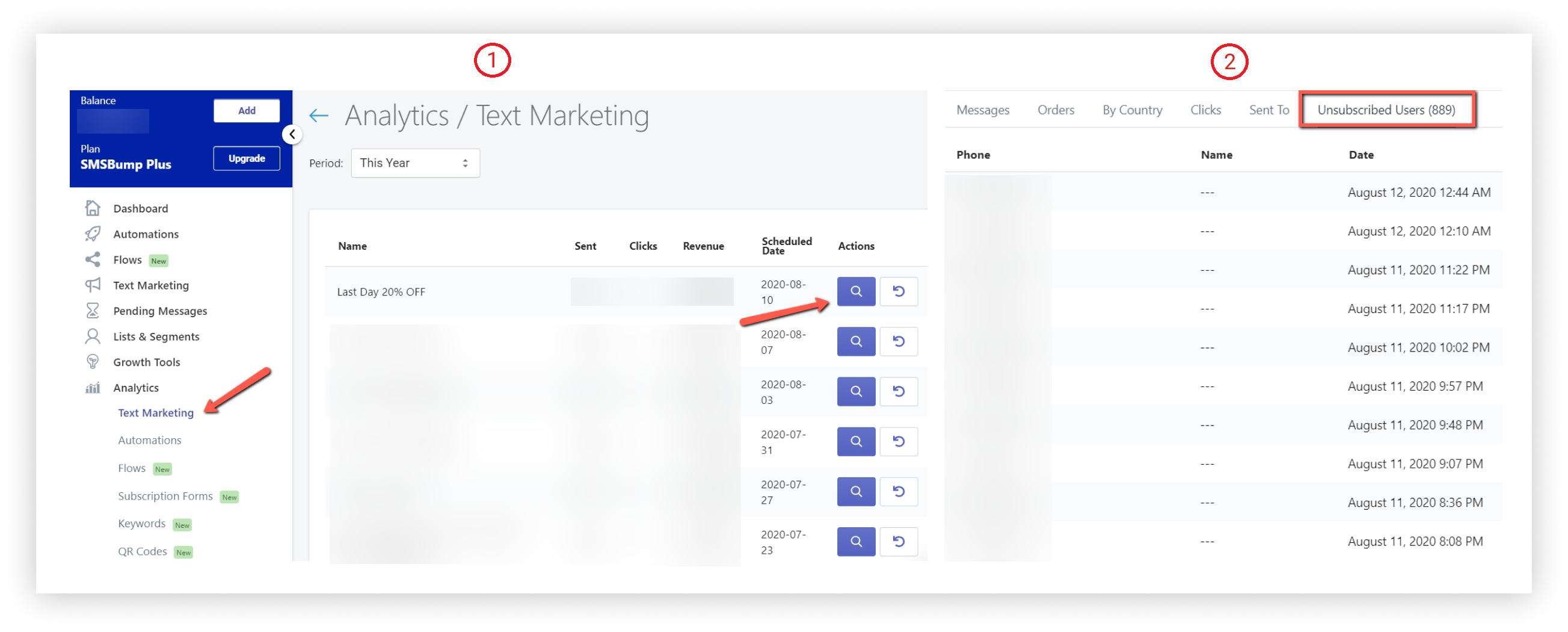 Click on the tab and you will see a detailed list of numbers with date - showing who has unsubscribed from this specific campaign and when.
But why is that so important? Well, this could mean that some part of your message was not received well by your subscribers - so much so that they decided to opt out from receiving texts from your brand in the future. Was the copy too salesy and pushy? Or maybe you overdid it with SMS campaigns this month? If you notice that some of your campaigns have led to a significant increase in the number of unsubscribed customers, take some time to analyze and try to avoid sending similar messages in the future.
Success comes at the price of continuous improvements.Sometimes we analyze our top performing campaigns and try to repeat their success. Other times we learn from our mistakes so we don't make the same ones in the future.
After all, it is simple math. It is equally important to try and acquire new subscribers as it is to prevent current followers from opting out from your text marketing list. Efforts in both directions will help your brand nurture customer relationships and grow your subscribers.
Integrations Analytics
Currently SMSBump supports over 24 Shopify integrations, helping merchants boost their lists, manage customer support, execute different strategies and improve overall store performance.
Integrations can make your SMS marketing campaigns more powerful. And the great news is that now we have added detailed information about the subscribers and revenue each of your integrations brings.
In your main Analytics dashboard you will see the top 5 integrations along with stats such as total number of orders, conversion rate and total revenue from each specific integration.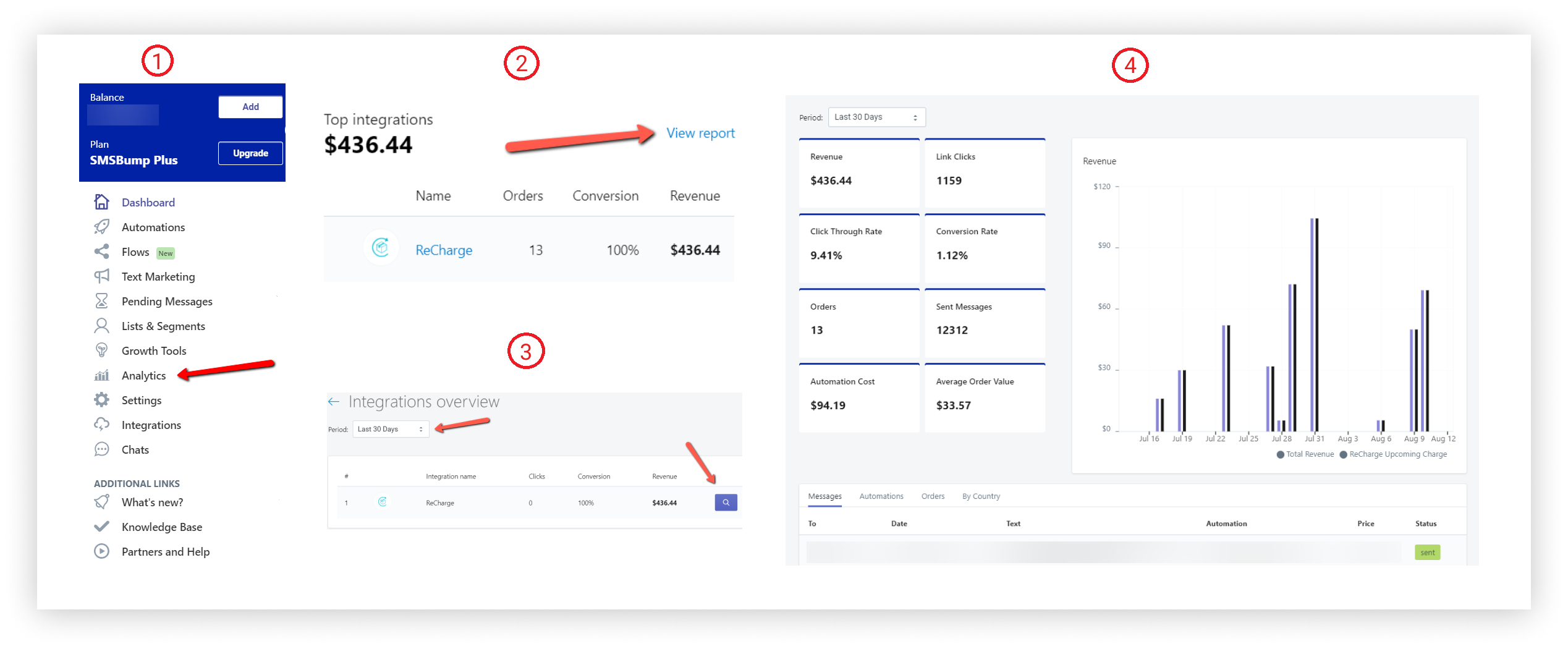 If you click on the Full report button on the top right corner you'll see detailed reports for each integration, showing you metrics such as Revenue, Link Clicks, AOV, etc.
With our latest Analytics improvement you can check your overall performance stats, monitor sent messages, check distribution by countries and much more. This is yet another great tool merchants can use to analyze and focus on the successful strategies and integrations rather than lose time, money and efforts on something that is not performing as well.
Analytics for the Win
They say knowledge is power. And this is exactly what you've been given right now: the power to know your best-selling products, top performing integrations and not-so-well received campaigns that made people unsubscribe from your list. Use it wisely and soon you will reap the benefits from it, by making more rational and informed decisions leading to better results and overall performance.
Mariya Arabadzhieva Todorova
Start growing today
Sign up today and join 90,000+ eCommerce businesses making it big with Yotpo SMSBump